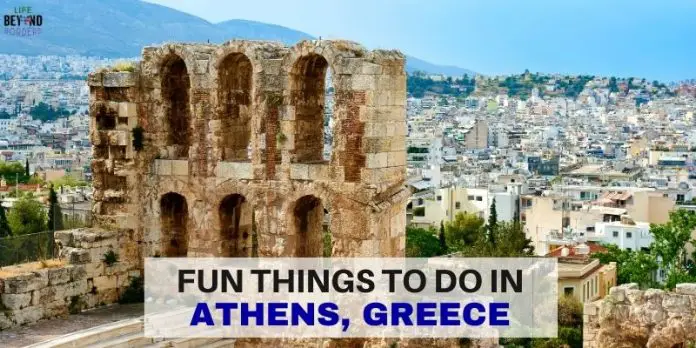 When you're gathered with your friends, discussing your next European trip and possible city break, and someone mentions 'Athens', what images does this throw up for things to do, especially fun things to do in Athens?
I'm guessing the Acropolis is the main one, maybe followed closely by the Acropolis Museum, browse the flea market of the Plaka District, shop in Ermou Street and see the Guards outside of Parliament Palace in Syntagma Square.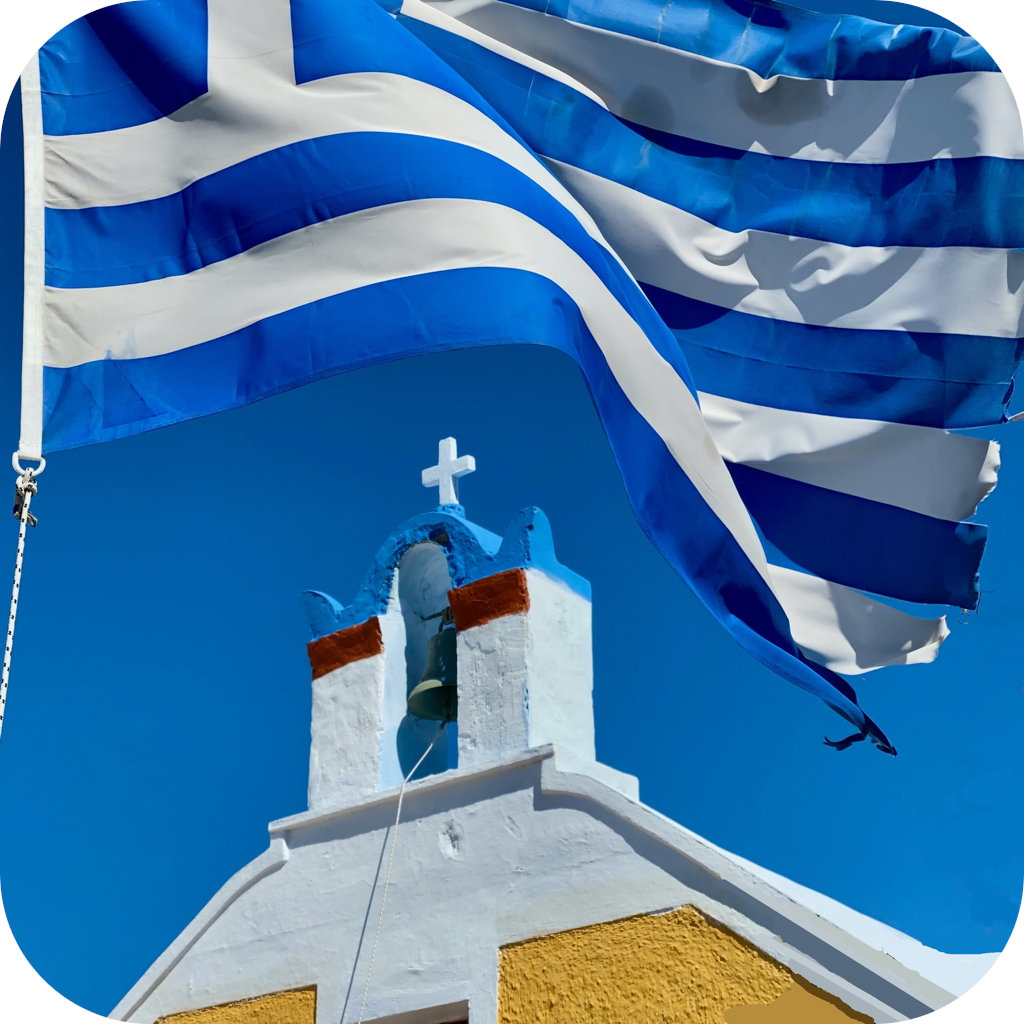 Looking to explore Athens and Greece from the palm of your hand? Then check out my Greece's Best Travel App for you iPad, iPhone or Android.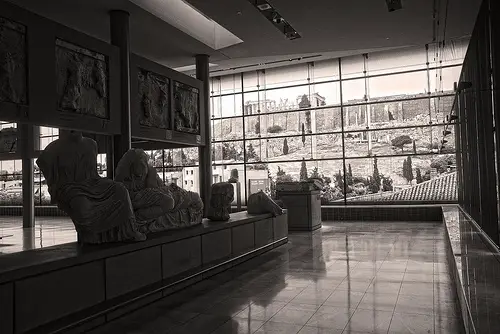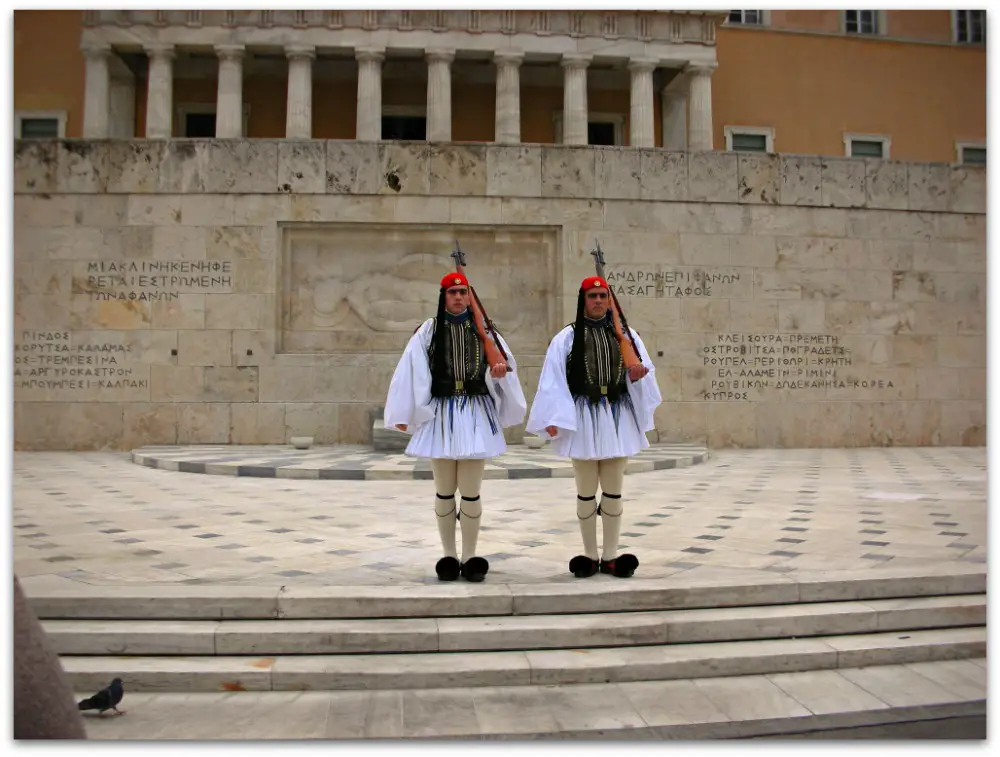 There's no doubt that these sites are a must visit, but there's so much more to visit in Athens than meets the eye.  I've lived here (and loved here) for coming up to a decade now. So let me give you my Insider's Guide to visiting Athens and tempt you to take a city break here after your Greek island trip (you may like my Insider's Guide to the Greek Islands to help you plan your Greek island getaway too).
Things to do in Athens Greece: Areopagus – the Hill of Ares
What's that? I hear you ask.  We all know the Acropolis and Parthenon are two very famous places to visit in Athens.  One of my insider's tips, though, is to actually go to just below the entrance of the Acropolis where you'll see some metal steps as well as rough, slippery steps carved out of the rocks.  Ascend either of these (only a short climb, but wear trainers if you're going up the rock steps as they really are slippery, even in dry weather due to being cut out of marble) and join others to sit and admire the 360 degree of Athens and all the way down to the port of Piraeus and further still, the nearby islands.  At sunset it's spectacular. Best of all, it's free.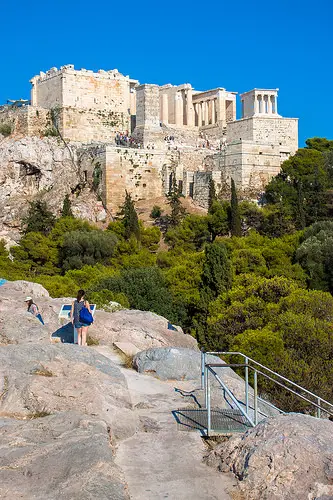 For those of you interested in mythology, it's supposed to be the site where Ares, the God of War, was tried for the murder of one of Poseidon (the God of the Sea)'s sons.
Unusual things to do in Athens Greece: Anafiotika – the hidden 'island' in the city
This has to be my favourite things to do in Athens, mainly because it is so hard to find. Directly below the Acropolis on the northeastern side, in the Plaka district, lies a neighbourhood built and designed to resemble the tiny island Anafi.  This is because it came into being in 1832, when King Otto of Greece brought over to Athens construction workers from this island to build his Palace.  The workers built themselves a little village to remind them of the island they so missed.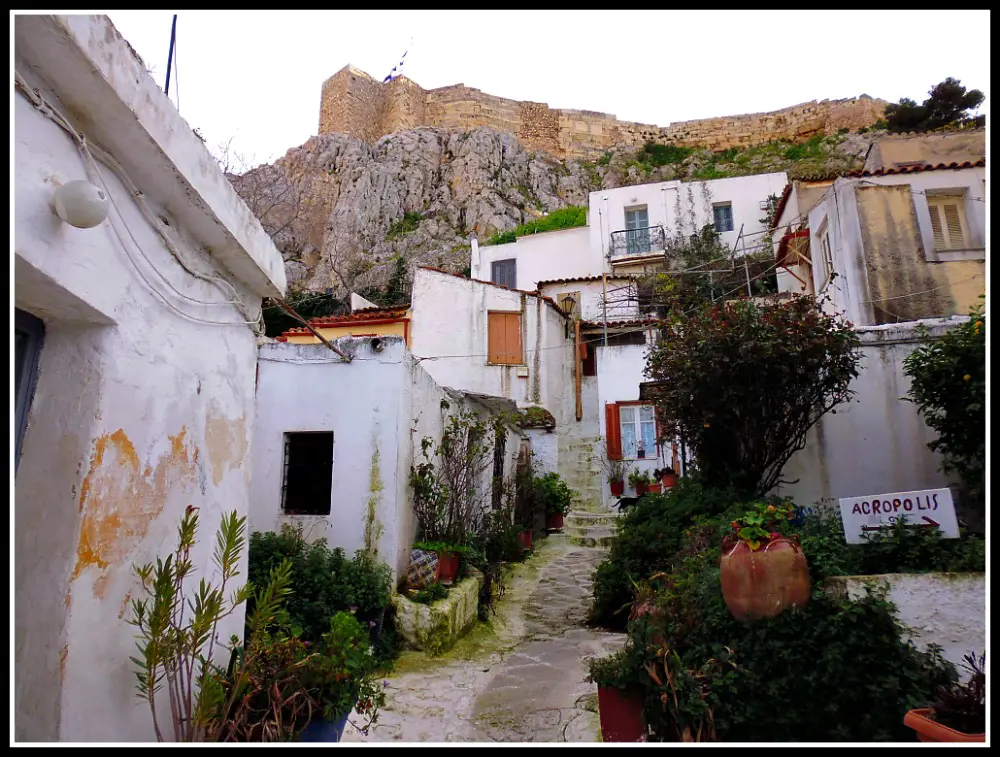 Today only 45 houses remain, and are lived in.  But it's fascinating to amble around the twisty streets and really get lost.  Read more about Anafiotika, (with map).
Things to do in Athens – Syntagma Metro Station Archaeological Collection
Not everybody's into archeology, and I respect that.  It's pretty hard to come to Greece, especially Athens – however, and not be confronted with archeology at almost every turn. It's just there, which is kind of wonderful if you think about it in this day and age.
This visitor's tip for visiting Athens is clever in that you don't actually have to pay to go to a museum…and it's unique in that it's located actually inside a Metro/Underground station – in the ticket hall.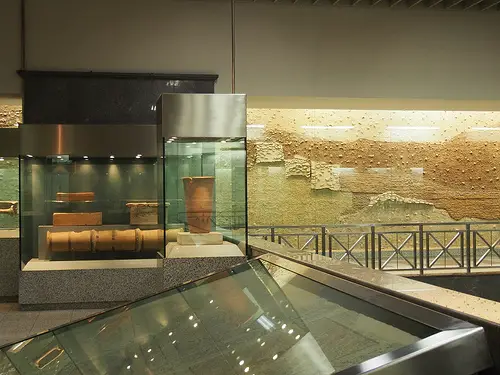 Enter or exit Syntagma Metro station, the main interchange station and right in central Athens and you'll come across the area with cases exhibiting various artefacts from the classical Greek, Roman and Byzantine eras – all found in the area when the Metro was dug up as it was being created.
Strictly speaking, it's 'free' – or more to the point, the cost of a metro ticket as it's just past the ticket barriers (€1.40).
Read more about the Syntagma Metro Station Archaeological Collection.
Things to do in Athens: Street Art Tour
There are mixed feelings about street art vs graffiti, but since the economic crisis of 2008, Athens has been a hub of really imaginative Street Art, and this is one of my favourite insider's tip for visiting the city.  I would recommend a three hour street art walking tour where you'll get taken to various neighbourhoods and shown the eclectic street art that adorn the walls.  I wrote a post about the streetart in Athens and as you'll see, you get to see how neighbourhoods have been transformed by these massive murals reflecting the plight of today's societal issues.

Things to do in Athens: Hidden Streets
One of my favourite places to wander down as I exit Monastiraki station (the main station you'll head to to explore the very touristy Flea market), is the 'Street of Lights'.
Keep walking down towards the main road from Ermou Street (which looks exceptionally busy and hassly) but bear with it, because on your right you'll come to Pittaki Street.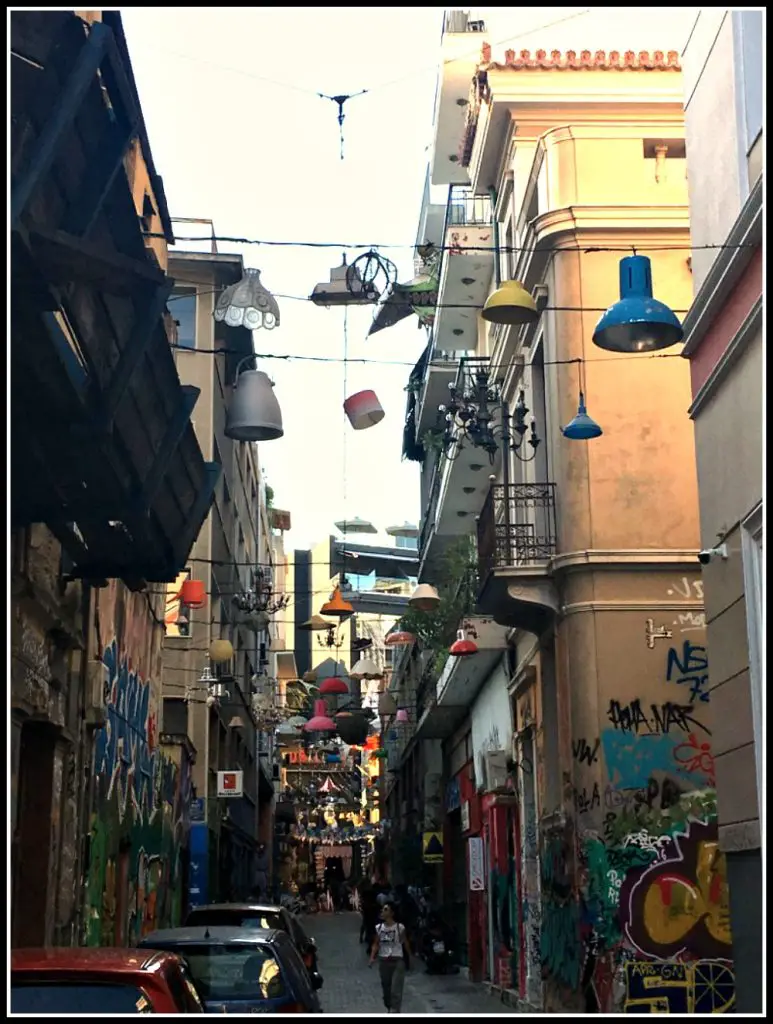 In a slightly run down area, and it was becoming more so, in 2013 the local Athenians decided enough was enough and started a project to 'lighten up' the area.  Collecting old lamps and even chandeliers by rummaging deep into their cupboards and scouring antique shops, they created a little haven amongst the clutter – and the result is lovely.
Things to do in Athens – Themed Cafe
Whilst we're on the subject of the 'Street of Lights' – right at the very end you'll come to a fairytale of a cafe, quite literally.  Little Kook Themed Cafe Athens is unique as it's one of a kind in Athens; waiting staff dress up as the fairytale of the month (Alice in Wonderland is a particularly 'trippy' experience!).  The menu (in Greek – ask for a translation) is on a scroll, yet not much explanation is needed as you view the iced cakes on offer at the counter.  It's a fun thing to do in Athens – great for families and big kids at heart.  Or hell, you don't even need an excuse.  I love it!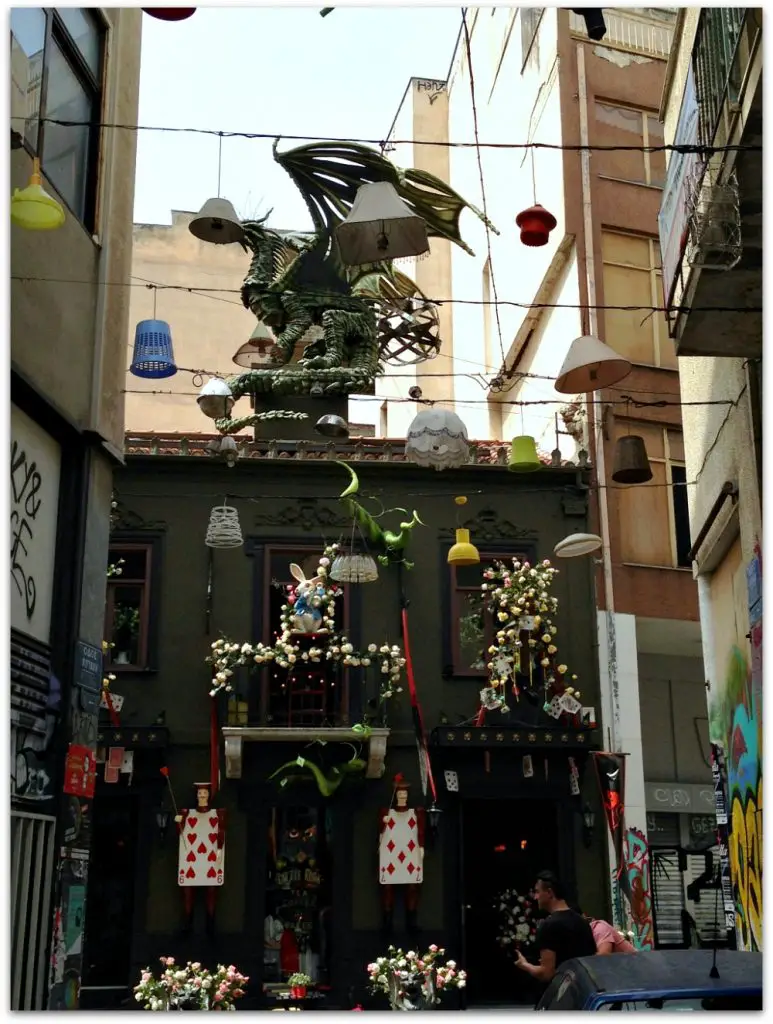 Things to do in Athens – Hidden Bar
My favourite hidden bar in Athens is literally hidden behind a door (blink and you'll miss it) down a side street in the Monastiraki Flea Market district.  TAF is housed in a neoclassical building from the 1870's, you open the door initially to an unremarkable inside area – but this opens out into a tree clad courtyard with bar area and young locals sitting and relaxing.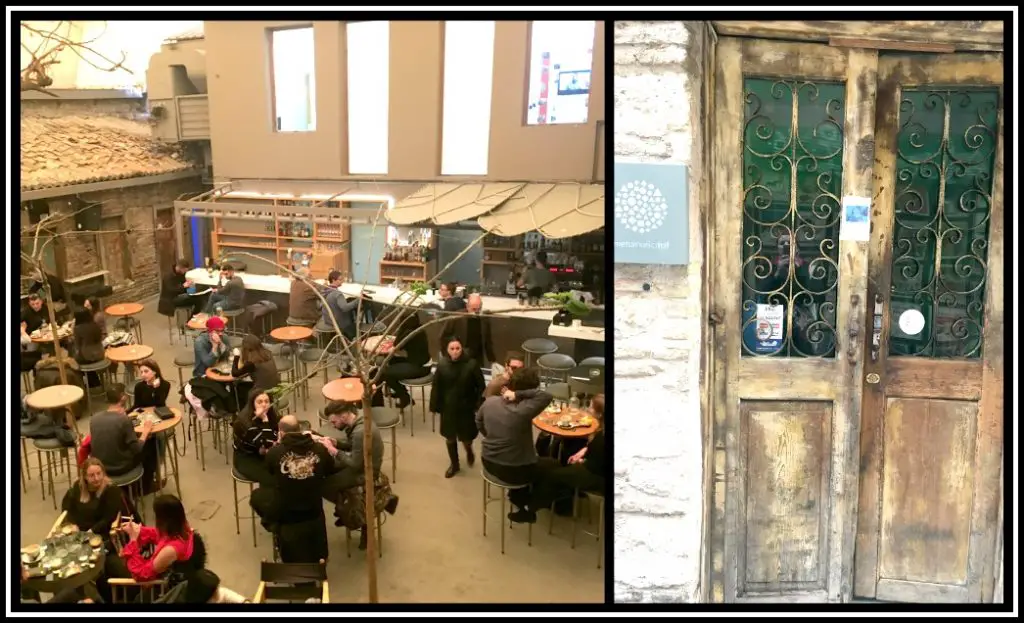 Around the square are two floors of buildings, the second floor divided into rooms where locals used to live, now housing art exhibits, (TAF is short for The Art Foundation).
Great cocktails and open from 10am to 3am daily.
Check out my Greek Island All Round Packing List too. It can give you some ideas of what to pack for your vacation to Greece: to the capital and its islands.  A free printable PDF is here too.
You're going to want to stay somewhere when you come to the capital. Small luxury boutique hotels at affordable prices have been springing up since the 2008 financial crisis. Try our Sir Athens – literally only four suites in the centre of the city, and yet not so central it's in the hustle bustle.  A perfect place to base yourself.
Just a half hour outside the city centre is Mount Parnitha. For a different and unusual day trip in Athens, come and visit the abandoned royal estate in Mount Parnitha.
Conclusion for Things to do in Athens Greece
As you've seen, there's so much more to this city than the average sites people come for. Come and stay a few days and explore.
Have you found a hidden secret in your city you're willing to share? Share in the comments.
PIN for later