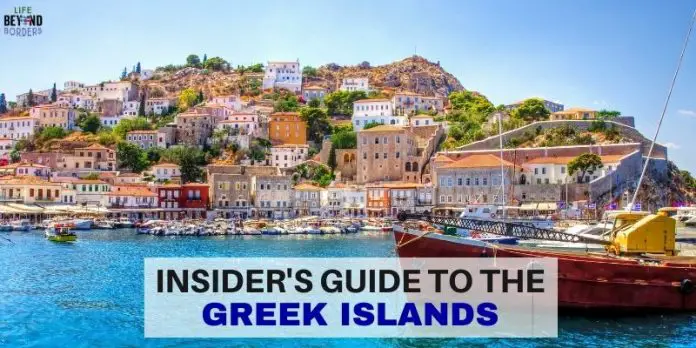 There's no doubt about it: Santorini and Mykonos top the list of 'Must See' Greek islands to visit – also the most widely known; Santorini because of its blue domed churches and whitewashed buildings staggering up the caldera (volcano) and Mykonos because of its nightlife (although Mykonos is more than just a party island).
But there's so much more to Greece's islands than just the main ones.  Here I give you a run down of my Greek island guide. In it, I'll hopefully tempt you away from the obvious islands and encourage you to explore the lesser known Greek islands – responsibly of course (especially when you read news of 'Brits Misbehaving Abroad' in package resorts areas of Crete).  I'll aim to take you beyond this package holiday style holiday.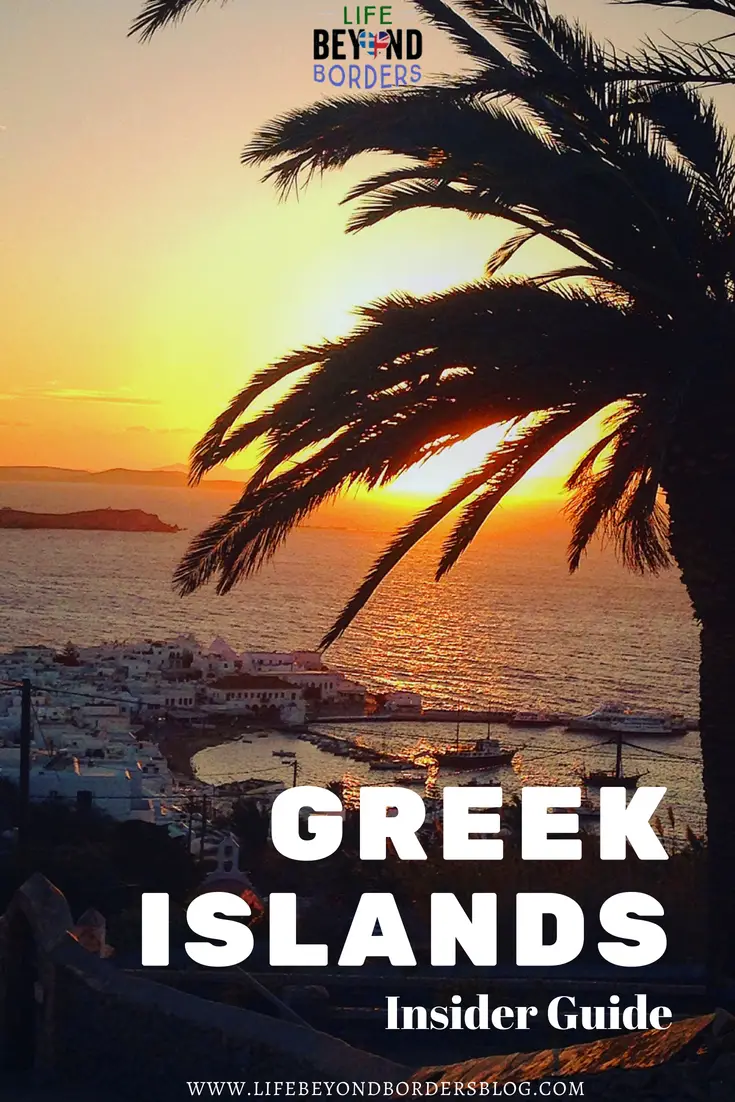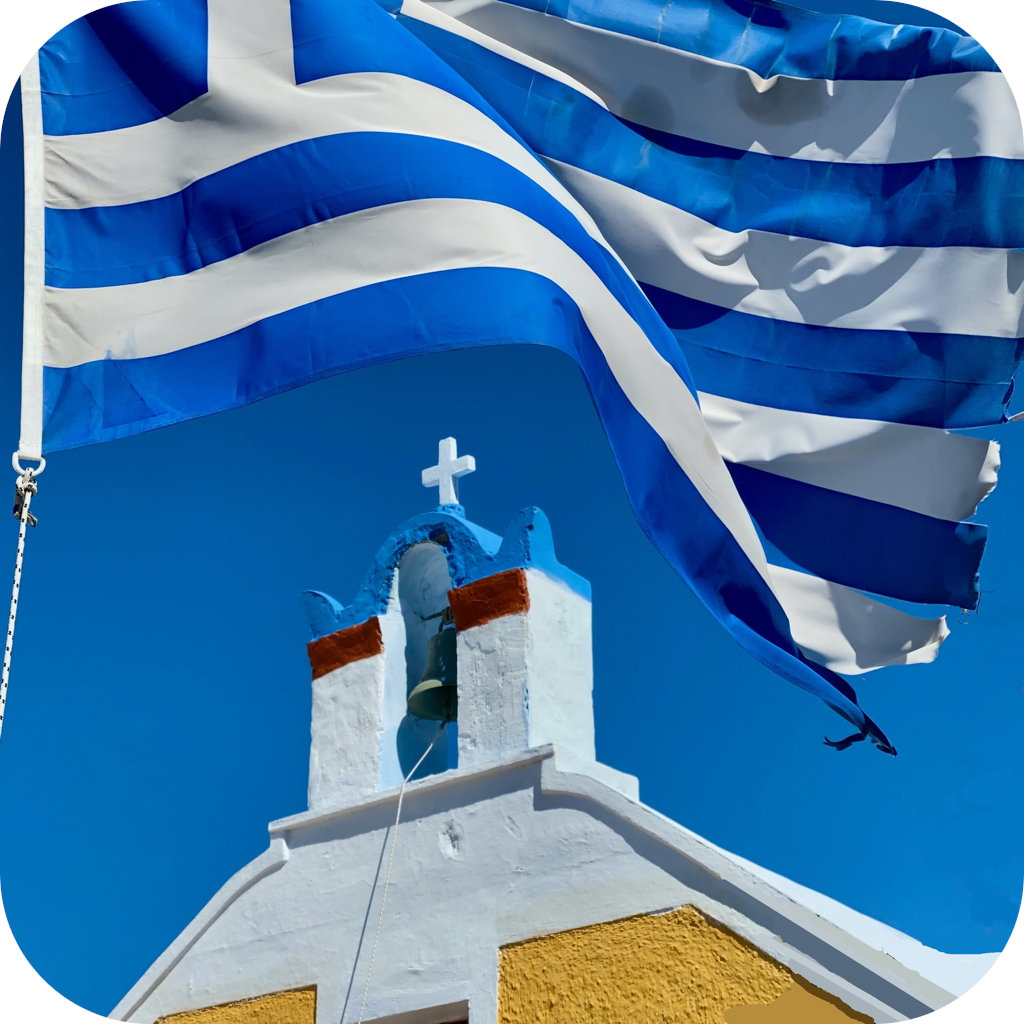 Are you looking for a Greece travel guide that fits into the palm of your hand? Then my Greece's Best Travel App for Android, iPhone or iPad is just for you.
Greek island guide
The Dodecanese islands are a group of 15 larger, plus 150 smaller, uninhabited islands located in the South East Aegean sea – nearer the coast of Turkey.  26 of the islands in total are inhabited.  You can read more in depth about my favourite Dodecanese islands with links to specific articles.  Here though, I list a few of my absolute favourites (by no means all of them):
Greek island guide: Astypalea
Shaped like a butterfly and only 44 square miles in area (114 sq km), the lesser know island of Astypalea has more tourists than locals in the summer months!
See more of Astypalea and the Greek islands by following my Instagram account.
Where to stay: I stayed at the Astypalea Palace Hotel which offered nine gorgeous rooms, one of them with VIP private pool.  There are other gorgeous hotel choices in Astypalea, ranging from small boutique hotels to self-catering.  Because the island's so small, most have sea views and views of the castle up in the Hora.
What to do: Astypalea has a range of gorgeous beaches to relax in such as Livadi – located over the hill from the main harbour.
You'll also want to take a walk up to the kastro (castle) in the Hora, sitting atop the main town and keeping a watchful eye over the island.  It's small cobbled lanes are great for meandering around and getting lost.
Good for: A real 'get away from it all' type of holiday as there are no package holiday hotels here.  There's a tiny airport taking small propeller aircraft (from Athens).  Excellent for the real Greek experience.
Greek island guide: Rhodes – the Old Town
Famous for beaches and nightlife, I have to say that my favourite part of Rhodes, however, is the Old Town.  Designated a UNESCO World Heritage site in 1988, it's a city within castle walls and is one of the rare 'living castles' in Europe – a living piece of history, if you will. My Rhodes Experience is one I would recommend to everyone.
Good for: Stumbling along cobbled streets in the daytime and night.  Very 'Games of Thrones' esque. Getting lost in time.
Where to stay: Rhodes Old Town has a number of boutique hotel options as well as quainter studios.  My favourites are: St. George's Studios, Zacosta Villa Hotel and for real luxury and that Game of Thrones feeling of sleeping in a castle, look at treating yourself to Kokkini Porta Rossa an old knight's house right in the Old Town castle walls.
What to do: Wander the streets of the Old Town, visit the Palace of the Grand Masters, hire a car and drive out the the coast.  See more things to do in Rhodes.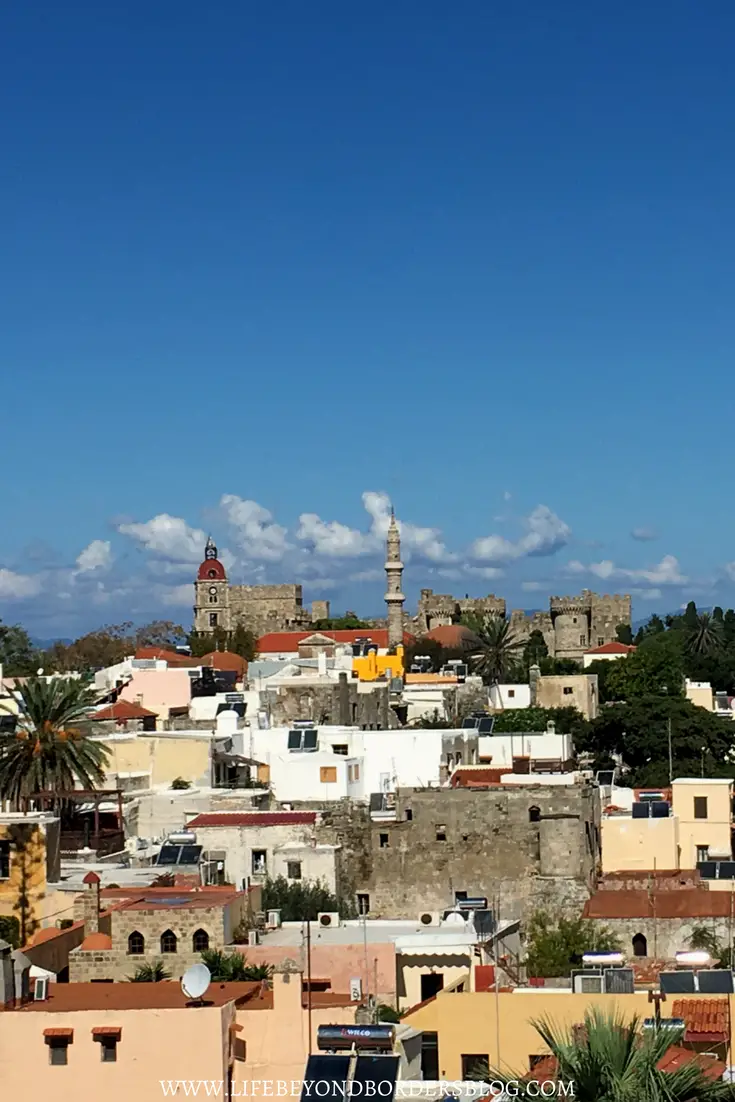 Greek island guide: Symi
A short ferry ride from Rhodes, and originally an economy built on shipbuilding and sponge diving, Symi is a stunning Venetian style Greek island, with houses seemingly spilling down from the Hora at the top of the hill into the harbour. It's permanent population is roughly 2,500 people and the island significantly increases in the summer months.
Good for: No airport and once again, no package hotel tourism makes Symi an attractive, traditional island.
Where to stay: The Symi Thea Hotel in the harbour is a lovely family run establishment in a Neoclassical building, done up to house 5 individual suites and with traditional furnishings, tiled floors and marble bathrooms.  I wrote about my experience in the Symi Thea Hotel here.
What to do: You can explore the harbour and sit nursing a coffee/frappe and watch the yachts mooring, or walk up the many, many steps of the Kali Strata to the Hora at the top of the island (or better still, thumb a lift up and walk back down).
Or explore the hidden coves such as Pedi beach.
More things to see and do in Symi.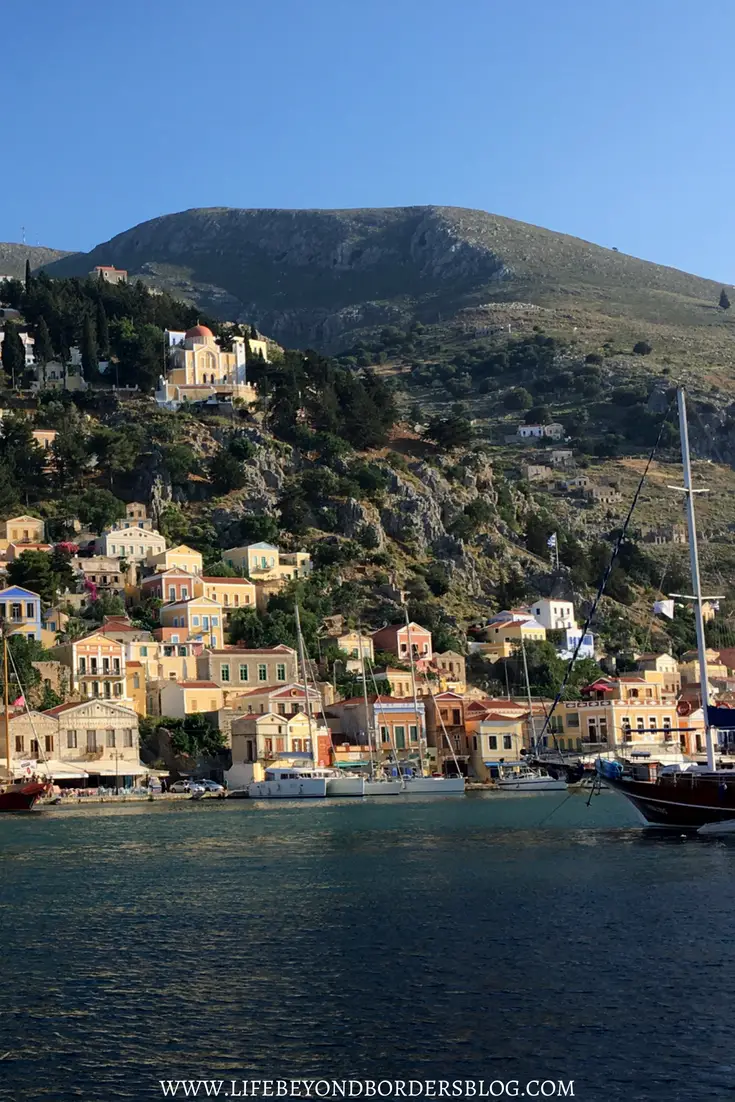 Of course, there are hundreds more Greek islands to visit that can be considered off the tourist trail.  Islands such as Sifnos, Serifos, Alonissos, Karpathos and the non motor vehicle island of Hydra, the Greek island with a difference, and even the more obviously touristy Greek islands such as Zakynthos can still have their appeal.
I hope you've enjoyed my round up of a Greek island guide and have tempted you off the tourist trail.
Spending time in the capital? Then read my Insiders Guide to visiting Athens and to get to the islands, my Insider Tips for Taking Ferries in Greece.  All great advice.
How any Greek islands have you been to?
PIN for later