You've come to Greece for your vacation and stayed in Athens for a few days, looking at the alternative guide to visiting Athens. Afterwards, most people naturally want to head to one or a few of the Greek islands – my Insider's Guide to the Greek Islands will help you choose which ones.
You have an idea of what to pack with my Greek island all round packing list, but what about how to travel to the Greek islands and using the ferries in Greece?  Here I put together what I hope will be a helpful guide for you for taking the ferries in Greece.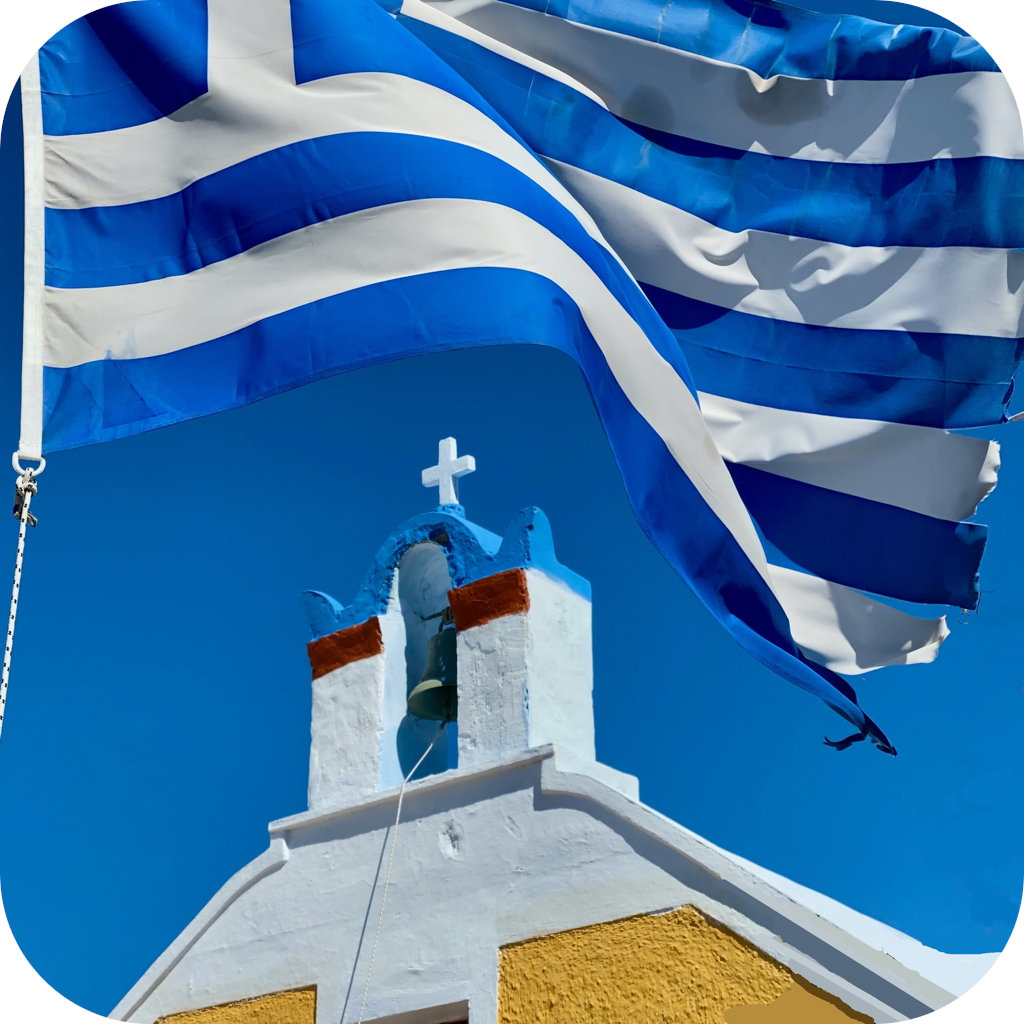 Are you looking for a Greece travel guide that fits into the palm of your hand? My Greece's Best travel app for Android, iPad and iPhone is just for you.
Insider tips for ferries in Greece: How reliable are ferries in Greece?
Ferries in the summer have a very reliable timetable, especially to the main Greek islands such as Rhodes, Kos, Crete, etc.  But smaller Greek islands such as Symi, Halki will see you having to travel to Rhodes and then connect on smaller ferries, for example.
Insider Tips: When do ferries stop in Greece?
Well, they don't really but winter timetables dramatically reduce.
Smaller Greek islands don't have airports making travelling by ferry a necessity, so it's important, I think, to get the whole experience, to treat the journey as part of your holiday. So if you want to go to a smaller Greek island – which is well worth visiting as they don't attract package tourism, I'd recommend planning your visit or allowing yourself enough time to be spontaneous.
Ferries in Greece are really quite luxurious, like mini-cruise ships, actually, with a choice of places to eat, either sit on the deck (and watch the sun set – it's beautiful), sit in an airline style seat or pay for a cabin.
Insider tips for ferries in Greece: Are they safe?
This is an excellent question. From a seafaring point of view, I have travelled on many different ferry companies in Greece to the islands and have never had a problem.  Blue Star Ferries is one of my favourites as they have great facilities and cabins (plus I have a loyalty programme with them!).  They operate mainly out of Piraeus and the ports around Athens (see below section).
From a solo female traveller aspect, again I have no problems. If you are travelling solo and want to book a cabin because your journey is long but can't afford the cost of booking a cabin alone, then many ferry companies give you the option of sharing with a person of the same gender in either a two of four birth cabin.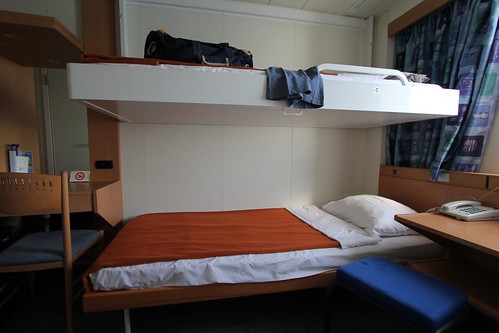 I always book a two birth one and have even made friendships with the interesting people I meet!
Tip: Sometimes you may be lucky.  Pay for a shared cabin and during off season (so not summer or spring), you may get lucky and have paid the cheaper price to share, but end up with the cabin all to yourself!  This has happened to me several times, but it's not guaranteed.
Procedure: You would request a shared cabin at booking stage, go to the reception desk of the ferry with your ticket on your date of travel and once you board.  If you've booked a cabin, you will be given a keycard and shown to it.
Leave your bags, go and get a coffee, sit back and enjoy the journey!
It's not necessary to get a cabin though: if you sit on deck, keep your bags with you (but mine has a padlock on it anyway and I take my hand baggage to the toilet with me) – just think what you would do with your luggage if you were in an airport.
Insider tips to Ferries in Greece – Wi-Fi
BlueStar Ferries has wi-fi, I can't remember, to be honest, about the rest of them but I can't see any reason why not.
You buy a ticket from the Reception – the whole journey from Athens to Rhodes which was an overnight and took about 11 hours (because it was going slowly and had many stops) only cost €5, but don't forget it depends on satellite service and if many people are trying to use it.  So my tip? Please don't get funny if it doesn't work.  Just go with it and relax…you're on a ferry / journey in a foreign country!  And besides, if you really need internet that badly, then use your 3/4G.
Here is a video I took of a departure from one of the Greek islands at night – taken a few years ago now:
Insider tips: Where do I catch the ferries in Greece to go to the islands?
There are several ports around Greece and the capital, Athens, where you can travel to the islands.  Click on the map below to give you further info.
Ferries to the Greek islands – Piraeus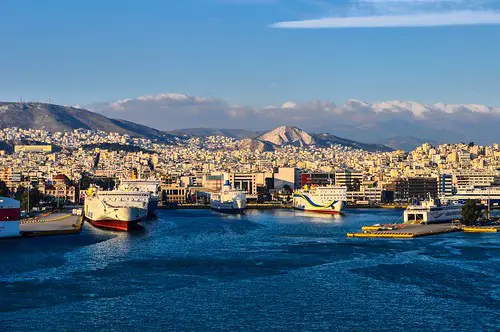 This is where a majority of the ferries go from.  Piraeus is directly linked from Athens airport by bus and also the city centre by a 30 minute metro ride…ticket costing only €1.40!
You can travel to many of the Greek islands – from the nearby Saronic islands such as Poros, the non-motorised island of Hydra and smaller islands of Aegina and Agistri – journey times taking up to roughly one hour depending on the type of ferry you take: hydrofoil or slow ship to islands as far afield as Rhodes and Crete (journeys can take up to 12 hours depending on stops and time of day).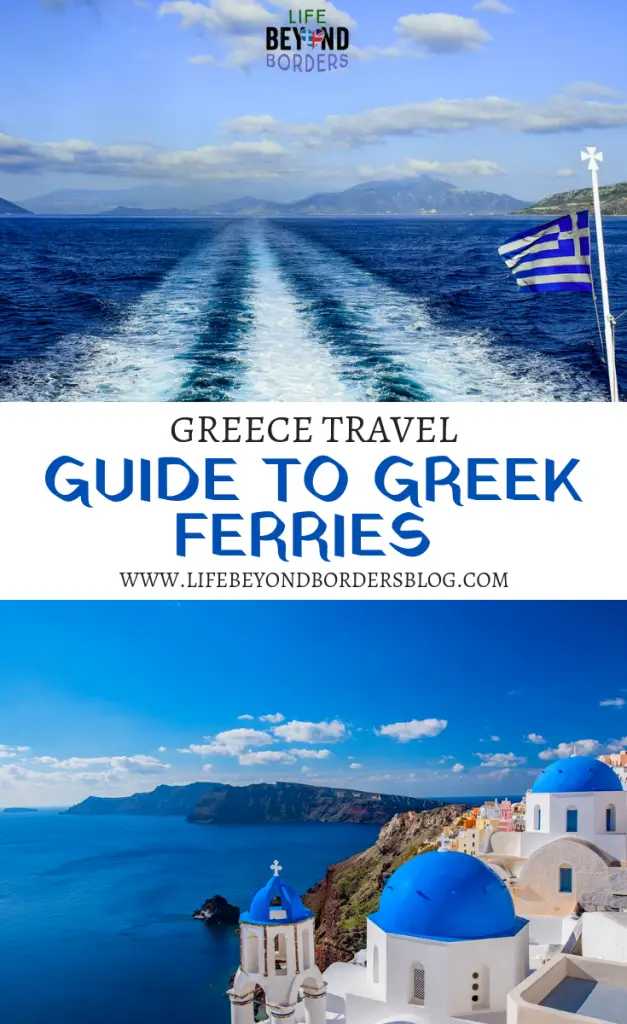 Piraeus is undoubtably the largest in Greece and one of the largest in Europe as it also has a major container port as well as cruise terminal.  As with most major port areas, it can be a little unkempt but there are interesting things to do here nonetheless.  The Hellenic Maritime Museum and Archeological Museum are interesting, as well as taking a stroll along the yacht harbour of Zea and take a coffee, admiring the expensive yachts moored here.  Fan of old neighbourhoods and neoclassical buildings? Then the colourful district of Castella, sitting atop Piraeus will suite you as you wander its streets and come across the large Prophet Ilias church and an open air theatre.
Fish restaurants are also popular here.  Varoulko is a Michelin starred fish restaurant in Mikrolimano Marina.
Ferries to the Greek islands – Rafina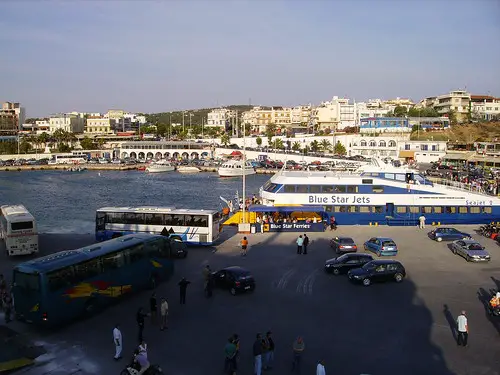 Rafina is actually the second largest port after Piraeus and is only 6 miles / 10 km from Athens Int. Airport and 19 miles / 30km from the city centre.
Routes served from here include to Heraklion in Crete, Santorini, Ios (in the Cycladic islands), Paros, Mykonos and the smaller islands of Tinos and Andros.
It's quite a commercial place so best to come and take your ferry and not really hang around.
Ferries to the Greek islands – Lavrio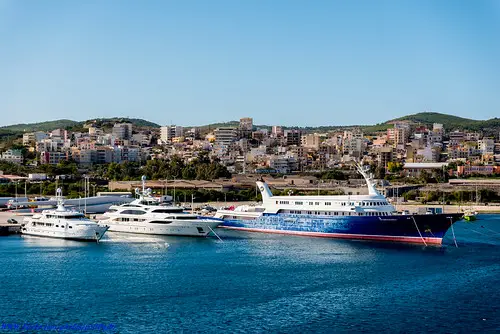 Along the Athens Riviera – approx. 45 minutes from the city centre of Athens and only 30 minutes from Athens Int. Airport out at Spata is the port of Lavrio.
It's much prettier than Piraeus as it's less busy and things to do here include a mining museum – showing off its local mining heritage.  There is also a 200 ft deep hole atop a hill – thought to have been formed many years ago by a meteor.  You can also see  a small island opposite Lavrio called Makronissos which served as a prison island.  This makes Lavrio worth spending a day to explore before hopping on your ferry.
Ferries from here mainly go to the Cycladic islands of Kea and the smaller one of Kythnos, plus in the summer the beautiful island of Syros which attracts many artistic types.
Ferries to the Greek islands – Ag. Konstantinos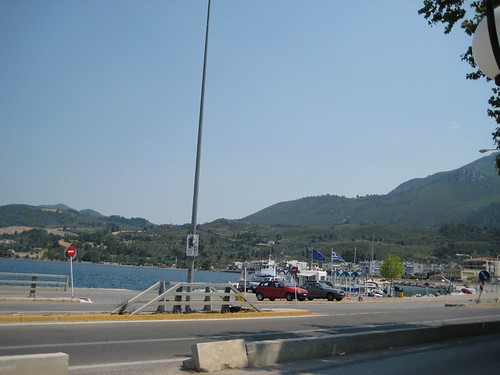 Here you would travel by public KTEL bus (some have free wi-fi on board) from the Liossion bus station, or contact Jetatours who run buses especially for people travelling from Athens (useful as they time the buses to connect with the ferry times).  In a roughly 2 hour journey to the town of Ag. Konstantinos, you would take ferries here to travel to the chain of islands known as the Sporades which encompass Skiathos, Skopelos (of Mamma Mia fame) and Alonissos – where there is a protected Marine Park for Monk seals and it's possible to see dolphins.
Skiathos has an airport though, with many European connections and from Athens. So if you're short on time,
Ferries to the Greek islands – Volos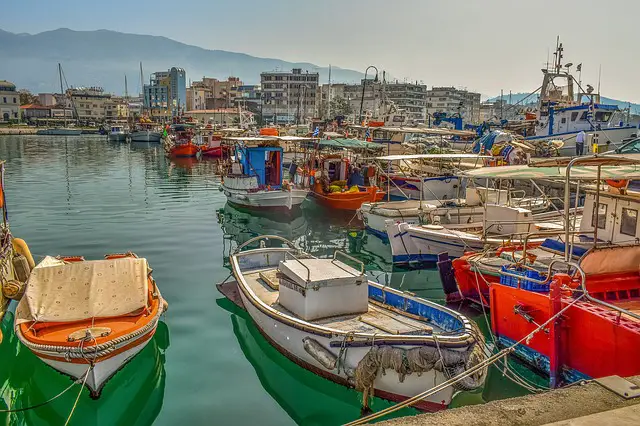 On the east cost of Greece, Volos is another way to travel to the Sporadic islands of Skiathos, Skopelos and Alonissos.
It's further than Ag. Konstantinos at about 4hrs 30 mins by national KTEL bus service.  Volos is considered the gateway to the mountainous Pelion region of Greece, so it might be worthwhile spending some time here to explore the villages of Pelion, enjoying the foods of Pelion and hiking in the region before then hopping onto your Greek islands ferry.
Ferries to the Greek islands – Kyllini
Kyllini is in the Peloponnese region of Greece and is the port used to travel to the Ionian island of Zakynthos and Kefalonia, if you're choosing not to fly.  Once on any of these main islands, you can catch smaller ferries to Lefkada and the beautifully traditional, quiet island of Paxos.
It's a 3 hour bus ride from Athens though, so you might be better off flying!  As popular tourist islands, Zakynthos and Kefalonia have many flights from across Europe and connections from Athens.
Ferries to the Greek islands – Thessaloniki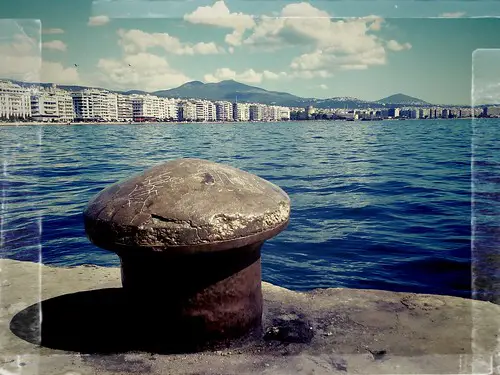 Islands served from Greece's second largest city in the north of the country include the Sporadic islands (also served from Ag. Konstantinos and Volos), Karia, Lesvos, Limnos, Chios and Samos in the North Aegean – but journey times can take up to 8 hours and Thasos.
Insider tips to Ferries in Greece – How to book
Link to book your Greek island ferries below.  I will receive a small amount of commission, at no cost to you:
There are also several agents around Athens that you can book from when you are here.  Just pop in and make your reservation.
Do you need to book in advance? It's very advisable to – especially in the summer. Personally, because I live in Greece I tend to be a little spontaneous and just book when I feel too hot.  This old post of mine describes how I ended up on Sifnos island travelling from Piraeus and another spur of the moment decision to go to Naxos.  In both these cases I went to Piraeus and took a chance – feeling adventurous. And as you will see, it was worth it.   But I travel solo and I appreciate that not everyone can afford the luxury of being spontaneous, hence the booking engine above will help.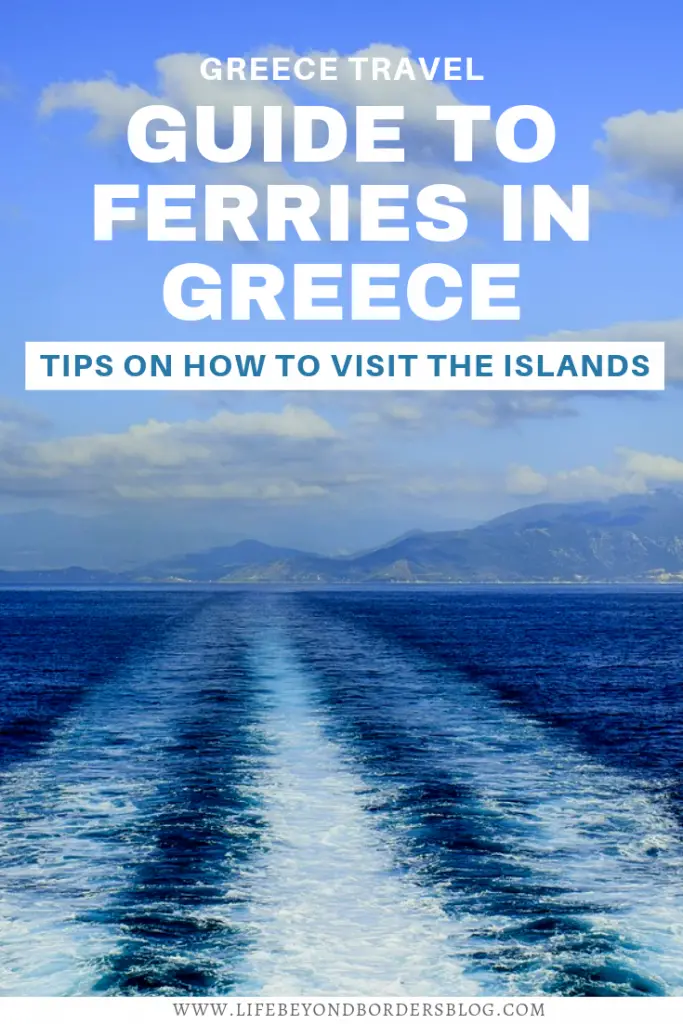 I hope my guide has been useful for you.  Have you travelled by Greek ferries? What was your experience?  Share in the comments.
PIN for later