Halki is roughly an hour away by catamaran from Rhodes.  After an early rise and breakfast (which I am not used to, but I can think of worse reasons to get up early), off I trotted to the port for my day tip to Halki.
I'd travelled by catamaran before, and been sick, so I was a little afraid.  No need to be – this journey was as smooth as a millpond.
Pretty
Halki's a pretty island – small, but pretty.  And God was it hot!  I arrived at 09:30 and had until 16:30 until I left.  So I checked out the hotels.
Hotels
Halki has only one hotel – the St. Nicholas Boutique.  It used to be an old sponge factory, but is now made into a boutique hotel with, admittedly, beautiful views and great swimming straight off the rocks into deep water. Alas, it's overpriced in my opinion – over 100 Euros per room, and €3.50 for a can of coca-cola!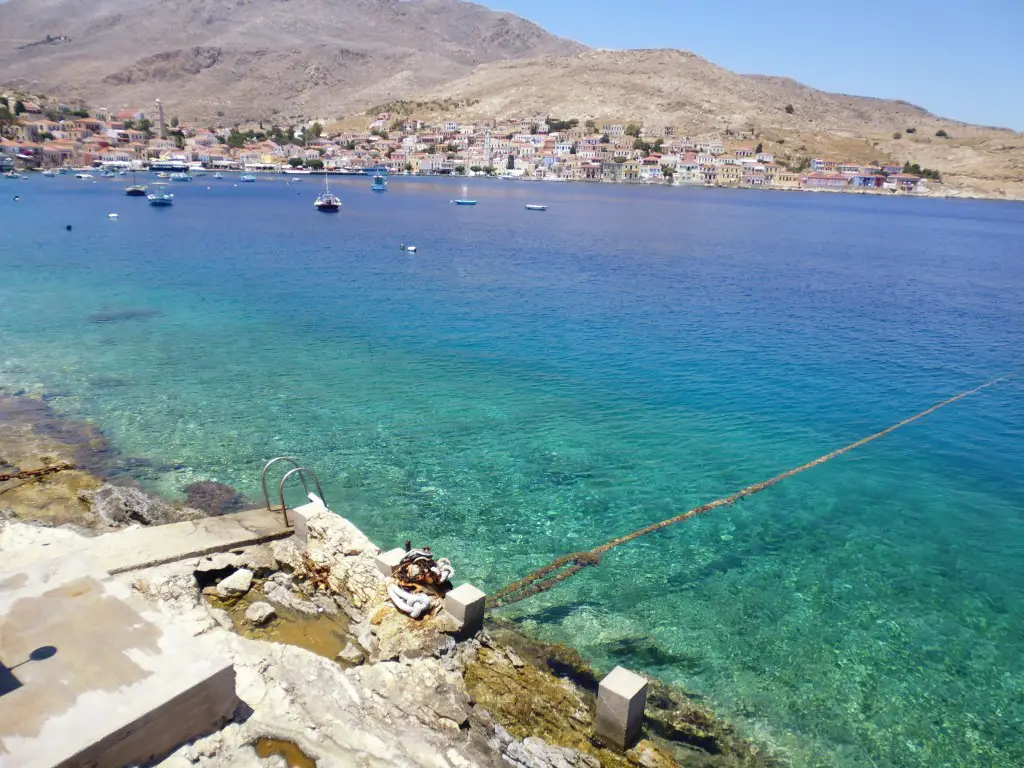 I met a fantastic English couple staying there, and together we swam, swapped life stories, then went into town for a souvlaiki.
Tips for Halki
Eat at the Magefseis Restaurant, a harbourside taverna with lovely service, and food.
Spend some time in the harbour – but no beach there.  Then walk over the hill (about 20 mins, more like 30 in the heat) to Pondamos beach.  Quite busy with Russian tourists in season, but at least there's a beach- if you don't want to swim from the rocks.
I, personally, wouldn't choose to stay there on Halki, a day trip from Rhodes was enough, and doable – only 32 Euros return.
But if you choose to say, use

Zifos Travel

.  They feature a range of studios, apartments and villas around the island on their site – hosting any number of people.  It's a good option – and cheaper!
Use your time to explore other, more beautiful islands.
All opinions expressed here are my own.