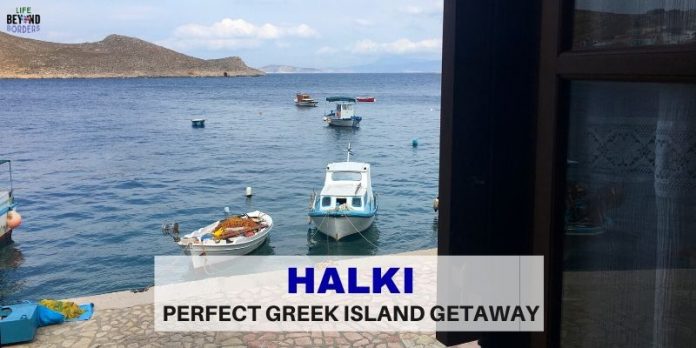 Halki is roughly an hour away by catamaran from Rhodes and is tiny, literally, at only 10 sq miles.
It's perfect as a day trip from Rhodes, or stay overnight (see Accommodation below).
I'd travelled by catamaran before and been sick, so I was a little afraid.  No need to be – this journey was as smooth as a millpond.
More Greek Islands to visit:
Things to do on Halki island – it's pretty
Halki's a pretty island – small as I say, yet pretty. Tiny secluded beaches such as Kania and Potamos, it's possible to walk around virtually the whole island in a day.
Note though, it gets so hot in the summer with July and August temperatures reaching up to 40 degrees celsius sometimes (90 degrees Fahrenheit) . I arrived at 09:30 and had until 16:30 until I left on the return to Rhodes ferry.
As a guidebook researcher my job is to check out accommodation on offer as well as cafes, restaurants and places of interest, so I started by checking out the hotels.
Accommodation on Halki island – Greece
Halki has only one hotel – the St. Nicholas Boutique.  It used to be an old sponge factory, but is now made into a boutique hotel with, admittedly, beautiful views and great swimming straight off the rocks into deep water. Alas, it's overpriced in my opinion – over 100 Euros per room, and €3.50 for a can of coca-cola.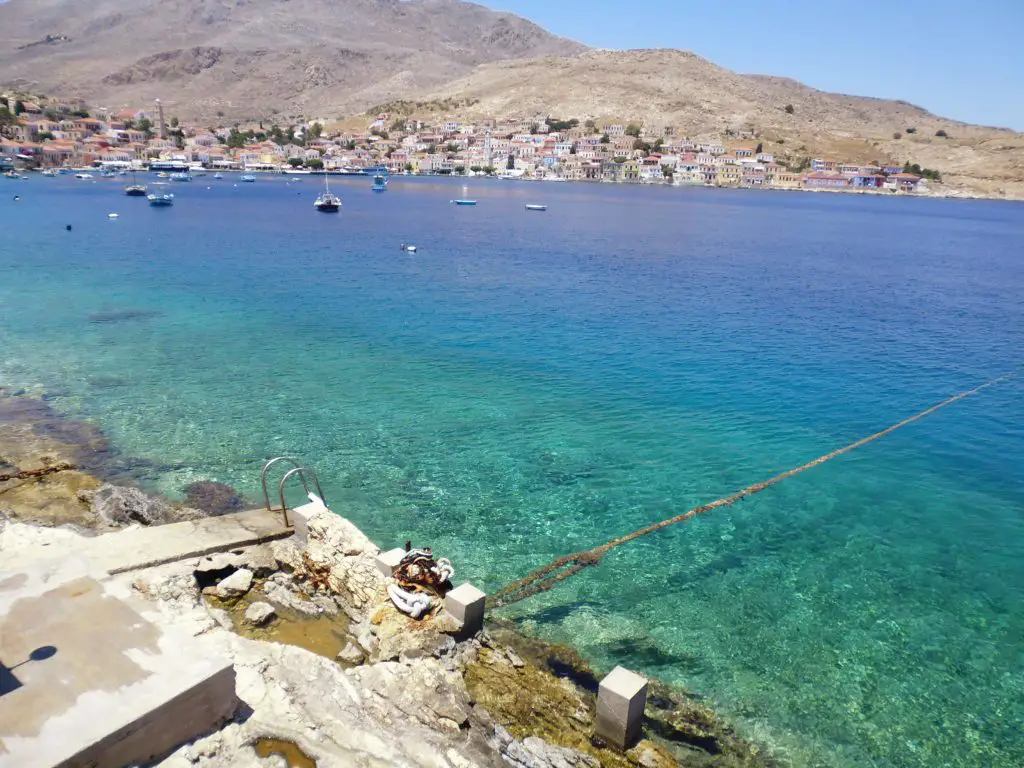 Tips for visiting Halki island – Greece
Eat at the Magefseis Restaurant, a harbourside taverna with lovely service, and food.
Spend some time in the harbour – but no beach there.  Then walk over the hill (about 20 mins, more like 30 in the heat) to Pondamos beach.  Quite busy with Russian tourists in season, but at least there's a beach- if you don't want to swim from the rocks.
Where to stay on Halki.  It's recommended you stay at least a couple of nights in this self-catered option; three beautifully maintained traditional stone houses.

Nissia Holidays

feature a range of studios, apartments and villas around the island on their site – hosting any number of people.  It's a good option.
Because there really is not a lot to do except swim, walk, eat and repeat, Halki is recommended as a short island break.
PIN for later