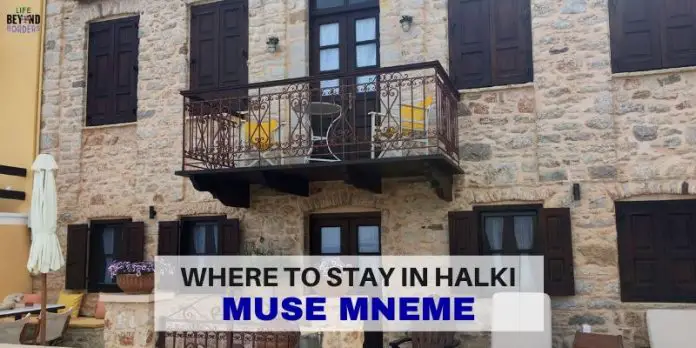 As a travel expert on Greece and guidebook updater for Rough Guide to the Greek Islands I feel fortunate to be able to visit out of the way Greek islands, less frequented and untouched by mass tourism.  One of those islands is Halki.
Halki is exceedingly small at only 11 sq miles and a year round population of roughly 480 inhabitants – increasing ever so slightly in the summer months.  People tend to visit as a day trip from Rhodes as it's only an hour by catamaran.
But in order to fully soak up and appreciate the small island atmosphere, I'd recommend a two or three night stay – and where better than a traditional stone house – that of Halkis Muses.
**This post includes affiliate links.  For more info, see here. Despite any complimentary services received, all opinions remain my own**
Having had experience of what it's like to undertake a mammoth update of a guidebook, I decided to take my own advice and stay some more time on this albeit small Greek island. Imagine my delight when Halkis Muses offered to accommodate me.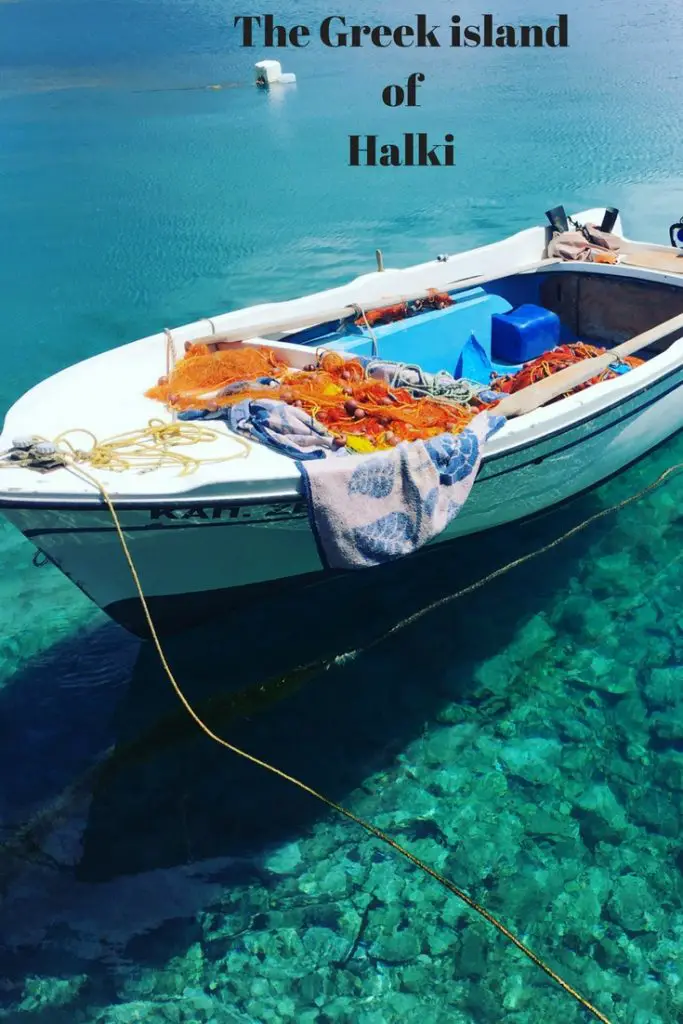 What is Halkis Muses?
To quote from their website;
The Muses are the inspirational goddesses of literature, science and arts. They were considered the source of the knowledge embodied in the poetry, lyric songs and myths that were related orally for centuries in the ancient cultures. According to historic Pausanias, the three original…muses were daughters of Uranus and Gea. The combination of all three Muses; Aede, Mneme and Melete, is important to Poetic Art.
So, Halkis Muses are four properties on the island of Halki; one villa, three houses each with their own distinguishing features and all individually named after one of the muses.
My Halkis Muses 'experience' was in Muse Mneme: The Muse of Memory.  I was afforded the chance to stay in this 110 sq m (1184 sq ft), two story property located right on the water's edge. It's nice to know that this stone villa was named after the Muse of Memory because all the owner's family have fond memories of the times they lived and grew up here.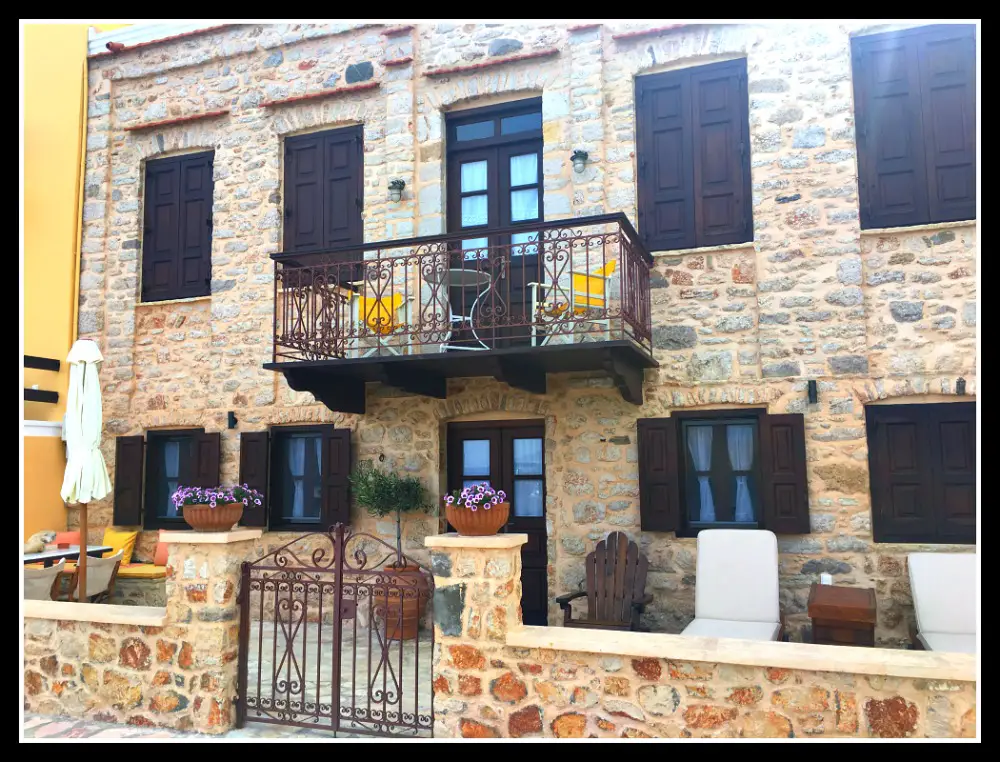 My Halkis Muses Mneme experience
Upon see in Muses Mneme from the outside, you immediately feel a sense of its past – and, strangely, peace.  It's probably because 'her' stone facade is literally a few steps from the water's edge, and the sound is so peaceful, hearing the water lap gently against the side of the harbour.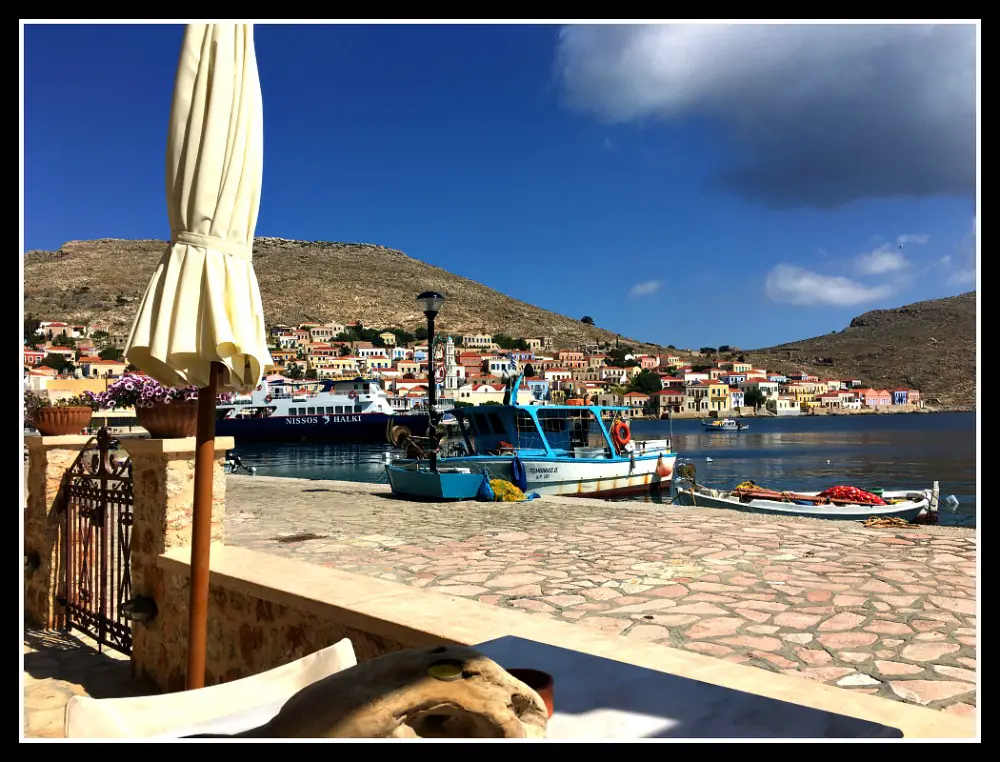 Upon entering this lovely house, you walk into the open place downstairs area that comprises of a fully equipped kitchen to your left and living area to the right – really tastefully decorated and, once again, that old stone wall interior oozes authenticity and originality, as well as warmth!
A wooden staircase to the upper level reveals a very high ceilinged master bedroom with double bed – and laptop (in case you haven't brought your own)…across the hall is the small bathroom and room with two single beds.
Mneme is great, therefore, for a family with two kids – but not only.  A couple or two couples could quite easily enjoy their time here.  Its situation – right on the harbour edge – is perfect and the lower level has outdoor seating, plus the upper level has this adorable balcony to view the goings on of the fishermen mending their nets below – perfect for eat breakfast and watching the world go by.
Amenities within Halkis  Muses
All of Halkis Muses properties come with:
High speed internet (and it really is high speed!)
Laptop
Fully equipped kitchen
Satellite/Smart TV
Maid Service (daily)
I really enjoyed my two nights in Muses Mneme.  It was relaxing, peaceful and literally a stone's throw from the 'centre' of Halki (well, to be honest, most places in Halki aren't far from each other as it's such a tiny island).
Practicalities
If you're coming to Rhodes on holiday, Halki is a great place to come either for a day, or for a three or four night stay. I'd highly recommend spending some time to explore and get to know this island, or just sit and relax, watch the world go by outside your door.  One of the houses of Halkis Muses is the perfect place to do that.  Check here for unbiased reviews about accommodation on Halki.
Don't overlook Halki island.  It's small, compact and as you've seen, offers a great range of accommodation.
PIN for later