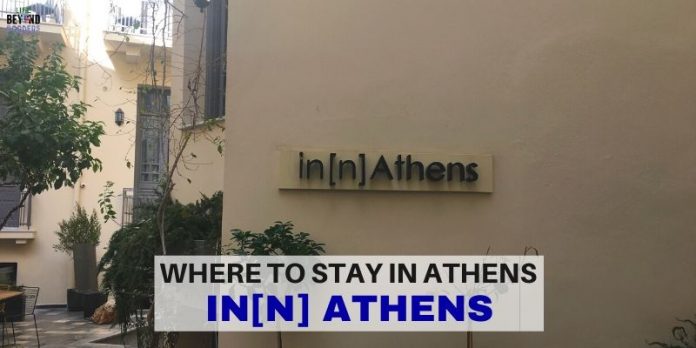 Since 2016 there's a trend for boutique hotels to open their doors in Greece, despite the financial crisis that hit the country hard.  The INN Athens opened its doors to the public in September 2015, offering the public a boutique choice of 22 rooms, comprising of:
1 Junior suite
4 suites at 28 sq meters
2 Ground floor Family rooms
15 Rooms with a choice of Standard and Deluxe at 17 sq meters
The INN Athens Boutique Hotel is located near Syntagma Metro station, right by Parliament Square and is a stones throw from the lovely National Gardens with all the flora and fauna on offer. It's the perfect place to come back to after a day's sightseeing.
Have a look at my Insider's Guide to Athens for tips of things to see and do during your city break.
Discover Anafiotika neighbourhood in Athens, a hidden 'island village' under the Acropolis.
See my Luxury Athens Beach Hotels for a guide on where to stay along the Athenian Riviera
Heading to the Greek island of Rhodes afterwards? Then treat yourself to a stay at Kokkini Porta Rossa in the UNESCO Old Town of the city.
**This post includes affiliate links.  For more info, see here.**
INN Athens Boutique Hotel – an oasis in the heart of the city
The piece de resistance of this hotel is its location.  Yes, as the above map will show you, it's in the heart of the city, meaning staying at the INN Athens whilst exploring this exciting capital city is an excellent choice.  But, it doesn't mean that traffic and noise have to bother you.
Tucked away down a side road off the busy Amalias Avenue, you enter the hotel by way of a small arcade via the ever popular By The Glass – a wine bar offering a selection of over 250 different wines and well placed to be so near the hotel.  Opening the (very heavy, because it's soundproofed) door at the end of this arcade, you enter an atrium..the 'start' of your INN Athens experience.
I say 'start' because you're met with a sound of, well, almost nothing…which is heavenly after the traffic and general business of outside.  In the centre of all this calm is a tall lemon tree with a table built around it, allowing you to sit and bask in the sun dabbled yard in peace and contentment.
But we can't stay out here forever!  We must check into our boutique piece of heaven.  So, let's follow the sign to Reception, just off to the right and down some steps where we'll enter and meet the staff.
INN Athens Boutique Hotel – a little bit of history
As I mentioned before, the INN Athens is one of several boutique establishments recently coming to life in the capital.  But it's not always been a hotel.  Its history is a mixed potpourri of establishments:
Accommodated Greek refugees from Asia Minor in the 1920s
Offices
A hostel in the 1970s
Bank Offices, just before being re-designed and opened in its current form.
The building itself is over 100 years old and has always belonged to the Ralli Family – Georgios Rallis a Greek conservative politician and Prime Minister from 1980-1981.
It's lovely to see the building now used in such a uniquely designed way.  Let's take a look inside.
INN Athens Boutique Hotel – the rooms
I was hosted in a suite room at the INN Athens, overlooking the atrium courtyard and that lovely lemon tree, adorned with fairy lights at night time which lent to the cozy atmosphere.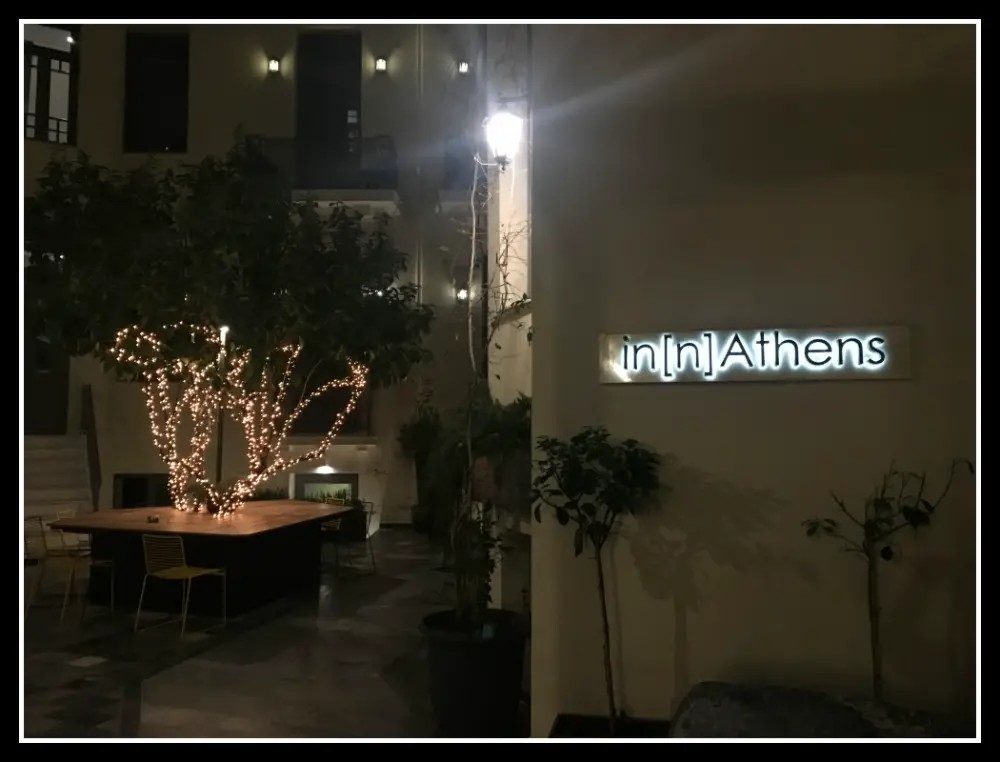 The bathroom was glassed off within the bedroom by frosted glass, and throughout the room, up cycling of marble off cuts could be found; the splash back on the sink, the walk-in monsoon shower, the table and bedside tables in the bedroom. This, coupled with the CocoMat bedding (see my post about my CocoMat hotel experience), wooden flooring and cleverly designed lighting and windows – designed to give the maximum filtered amount of light into what could have been an old, dark building – all lends to a contemporary experience, yet unpretentious.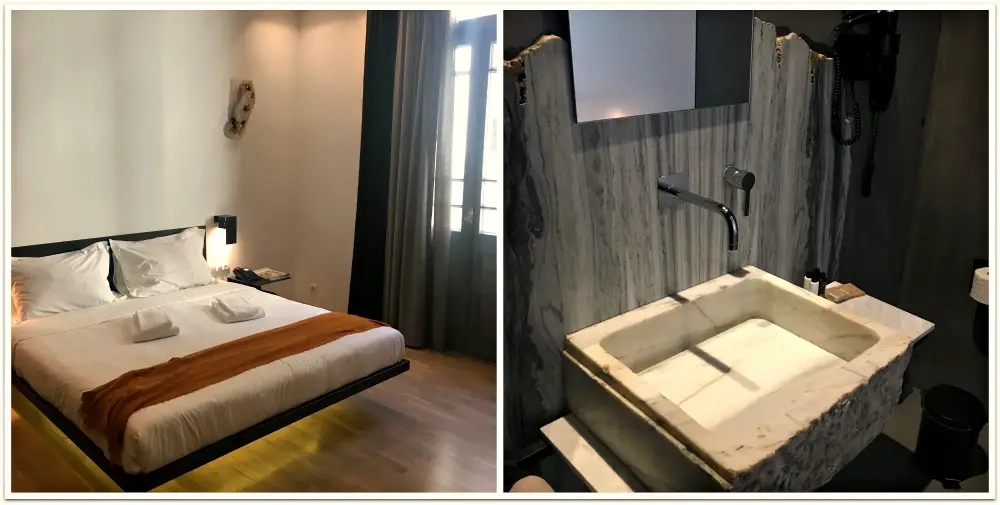 During my two night stay, I slept incredibly well, not really wanting to get out of my comfy bed.  And yet, even in the middle of the city, the sun dappled atrium was filled with the occasional birdsong in the morning, meaning that throwing the curtains back was a pleasure.
The Standard and Deluxe rooms, although smaller, all had their arty quirks and again, the up cycling of marble.
Breakfast
Served in the dining area that also leads onto the Reception, not only did you have your choice of fresh fruits, Greek yogurt, honey, nuts, fresh juice and croissants, but the chef could whip up an omelette for you – or how about an avocado or sweet coleslaw open sandwich?  For breakfast? I hear you think – trust me, it's delicious…especially the avocado sandwich…and nothing else is needed until lunchtime.
Conclusion and facts
Comfortable, stylish, friendly and unpretentious – that's my overall summation of the INN Athens.  And its main selling point?  How central the place is, and yet so quiet and calming.
The staff are friendly, professional and courteous, yet also 'Greek'.  I mean this in the best sense of the word i.e.: Hotel Manager – Manos Konstantinou – gave me a hug as I left, after having spent some time over the course of my stay chatting, drinking endless frappes with him, etc.
Philoxenia oozes from every poor of this establishment – that Greek word that is actually a philosophy and way of life…and not in a fake friendly sort of way.
---
Standard Room   17 sqm  €165 per night (August price – less in winter season) inc. breakfast
Deluxe Room       17 sqm (with atrium view and small balcony)  €175 per night (August price – less in winter) inc. breakfast
Suite                      28 sqm (with atrium view and balcony)            €210 per night (August price – less in winter) inc. breakfast
The INN Athens does offer several deals throughout the year.  You can book here – please note I will get a little bit of commission if you choose to use this link, but at no cost to you (and you'll be helping me to continue to fund my site to bring you great content!)
Thank you for hosting me at the INN Athens, and I do hope you, my readers, will be tempted to stay at this little gem of a place in the heart of Athens city.
PIN for later