Athens, Greece is predominantly a city break destination. In my Insiders Guide to Visiting Athens article, I give you ideas as to what to do on your city break.  However, Athens is also a great place to vacation if you want to be by the sea too as about a 30 to 45 minute taxi ride from the centre, you come to the Athens Riviera – synonymous with the rich and famous from way back in the 1960's.
**Note: I was a guest at the hotels mentioned but all reflections are my own**
My Complete Guide to the Athens Riviera for TripSavvy gives you more ideas of what to see and do there, but it's also a good, alternative place to base yourself along the Athens Riviera too.  So let me give you some ideas of where to stay during your Luxury Athens Beach break – proving you don't need to head to an island to enjoy island life.
Stuck to know what to pack for your Greece vacation? My Greek island all round packing list will help you. It's for any Greek destination; island or mainland and covers year round weather.
If you're looking to stay in the actual city centre, the small boutique Inn Athens Hotel is ideal
Where To Stay Along The Athenian Riviera, some history
1960's
Vouliagmeni and Glyfada are the names people associate the Riviera with.  It didn't start to develop as an area, and then a destination in itself until the 1960's when Glyfada and Vouliagmeni started to improve their facilities and infrastructure; tavernas, nightclubs, restaurants, casinos to boost the nation's burgeoning tourism industry – also a project to help lift the locals out of post war blues and provide them with somewhere special to spend their weekends.
It also started to catch the eye of international celebrities such as Frank Sinatra and the Beatles.
1980's and 1990's
By this time, Vouliagmeni and its surrounds had established itself as one of THE luxury destinations, attracting A-Listers, HNW's and Politicians alike (think Thatcher, Gorbachov, Paul Newman and Joan Collins – though I highly doubt at the same time!). More and more hotels were springing up, yet it wasn't until the…
2004 Olympics
THIS is when the Riviera really made leaps and bounds.  Beach facilities and nightspots were renovated from their 60's days to facilitate the high demands of the clientele, and place Athens in the spotlight as a destination, not least because of the Olympic Games, and continues to expand to this day.
Beaches, leisure and culture – the Athens Riviera has it all and being a mere 30-45 minute cab ride away from the centre, making it the perfect place to base oneself when in this city.
Where to Stay Along The Athens Riviera – the guide
As you can imagine, given the area's luxury reputation, all hotels along the Athens Riviera are of a luxury standard, albeit different stages of luxury.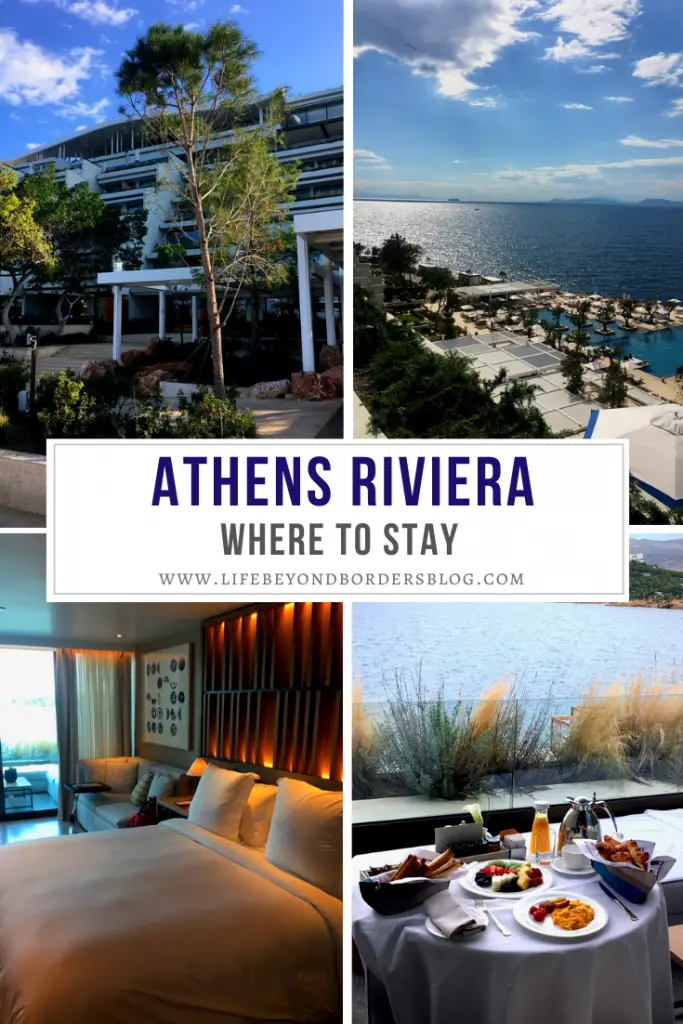 Luxury Athens Beach Hotel – Four Season Astir Palace
We'll start with the most ostentatious and, in my opinion, the one to really treat yourself to if you have the finances.
Four Seasons Astir Palace – with two hotel buildings, Nafsika and Arion and bungalows -only opened in March 2019, so it's less than a year old.  Its location on the Vougliagmeni Peninsular, sprawling over 74 acres (30 hectares) of pine forests with sea views across the Saronic Gulf make it a breathtaking base.
 

View this post on Instagram

 
But it's been around since WAAAAY before then. It's always been an Athens beach hotel since its inception in the late 50's and known simply as Astir Vouliagmeni.
It increased in size gradually over time, hosting a bevy of famous people – the last known guests as the Astir Vouliagmeni being President Obama and Vladimir Putin (no – NOT at the same time!)
Facilities at the Four Seasons Resort – Athens Beach hotel
Rooms
With a starting price of €304 (Euros) a night in low season (January) for a sea view room in Nafsika building (inc. breakfast) – you can see it's one to treat yourself.
Room sizes are excellent, at 44 sq meters and up and roll top baths with separate monsoon shower cubicles too.
200 Rooms
42 Suites
61 private bungalows
Spa
The spa offers a variety of treatments and there's a hairdressers, plus indoor pool – not to mention the spa bar and 2 fitness rooms.
Dining
The Four Seasons Astir Palace – Athens Beach Hotel (more a resort) has a variety of dining options:
Mercato – Italian cuisine
Helios – Latin American food
Pelagos – Greek seafood
Taverna 37 – Traditional Greek fair
Avra Lounge – You can get snacks here all day, plus their signature cocktails
All restaurants look out over the stunning Aegean sea, lending that Greek island feel and sunset views.
Things to do at the Four Seasons Astir Palace – Luxury Athens Beach Hotels
3 private beaches
salt water swimming pool
Tennis courts
Basketball court
Children's club
Water sports such as paddle boarding
Jogging or walking trails around the surrounding area
You can also have trips arranged by boat to the nearby Saronic islands and to Cape Sournion just around the headland – a MUST visit.
You'll see from my description of the Four Seasons Athens Beach Hotel that it's more of a resort – one you won't want to tear yourself away from.
Opinion: I like this because although it's a chain, it's not corporate in feel.  The staff genuinely seem to take an interest in you and whilst I'm sure it's down to excellent training – there feels more to it than just that.  I think it's the Greek 'filotimo' coming through – that genuine love of strangers and interest in them.
Even so, I am glad I was treated here because this is one hotel to really treat yourself to!
Where To Stay Along The Athens Riviera – The Athenian Riviera Hotel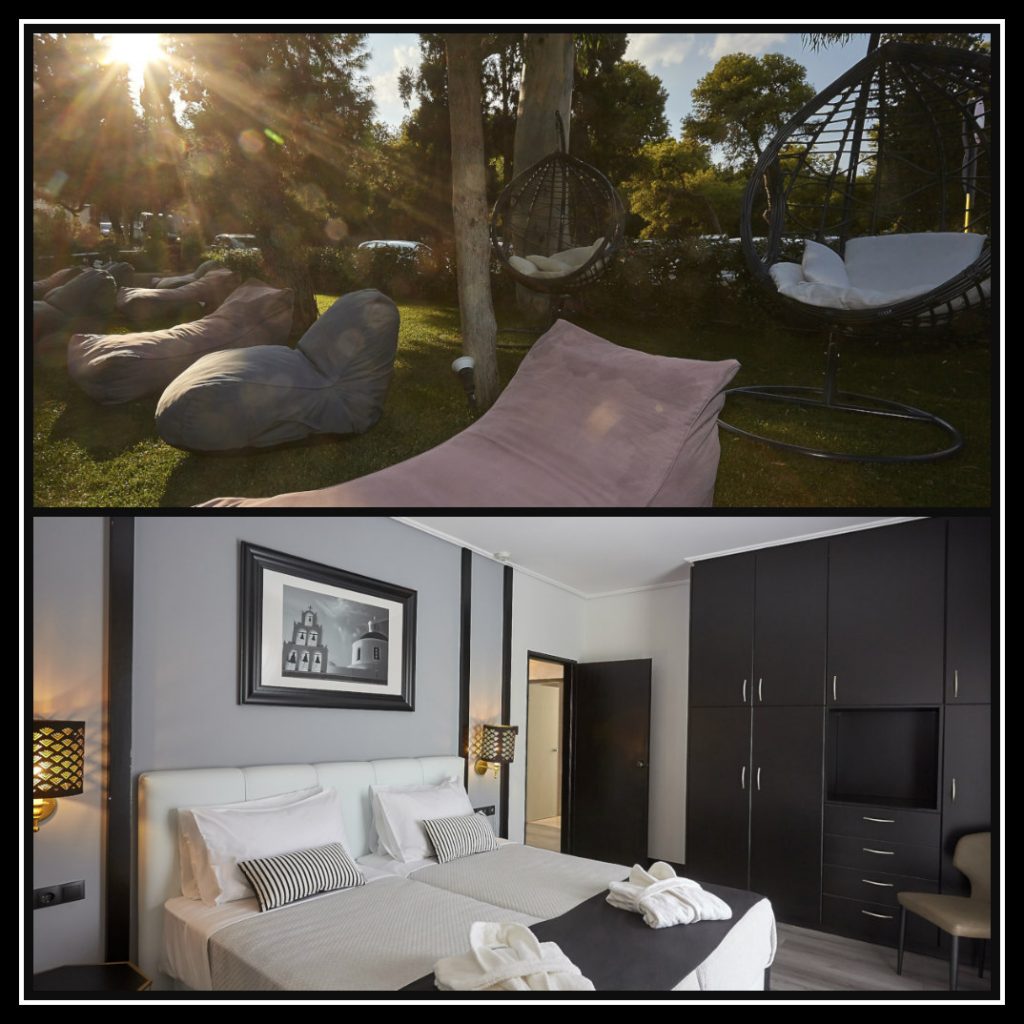 Built in 1979 and completely renovated in 2017, this wonderful 47 mixture of rooms and suites boutique property is a much more affordable option if you're wanting to be located along the Riviera.  It's calming, stylish and a 5 minute walk from the public Vouliagmeni Beach (€5 entry fee) and as the area as a whole is conservation protected, you're surrounded by pine clad forests too, with all rooms therefore offering lovely views.
Rooms
Starting price of €67.50 for a Classic Double / Twin room (Low Season – January) and €115 for the Junior Suite (same time period) the Athenian Riviera Hotel has regular offers, so check their website.
Room sizes range from a cozy 28 sq meters to 37 sq meters (suite) – so there's something for everyone.
Things to do
Beach nearby, there's a small swimming pool in use in the summer months and it also attracts Greek city dwellers who just want to come to the coast for the weekend. It's a great cozy addition to the area.  And be sure to check out the unique Vouliagmeni Lake.  Read more to see why this shouldn't be missed
Dining
One small restaurant on site with a la carte food.  My favourite is the Mushroom Risotto and parmesan flakes!
Opinion: I loved the Athenian Riviera Hotel.  It's cozy and warm, both in temperature and atmosphere and the fact it's open all year makes me feel like I can have an affordable break on the coast when I want to.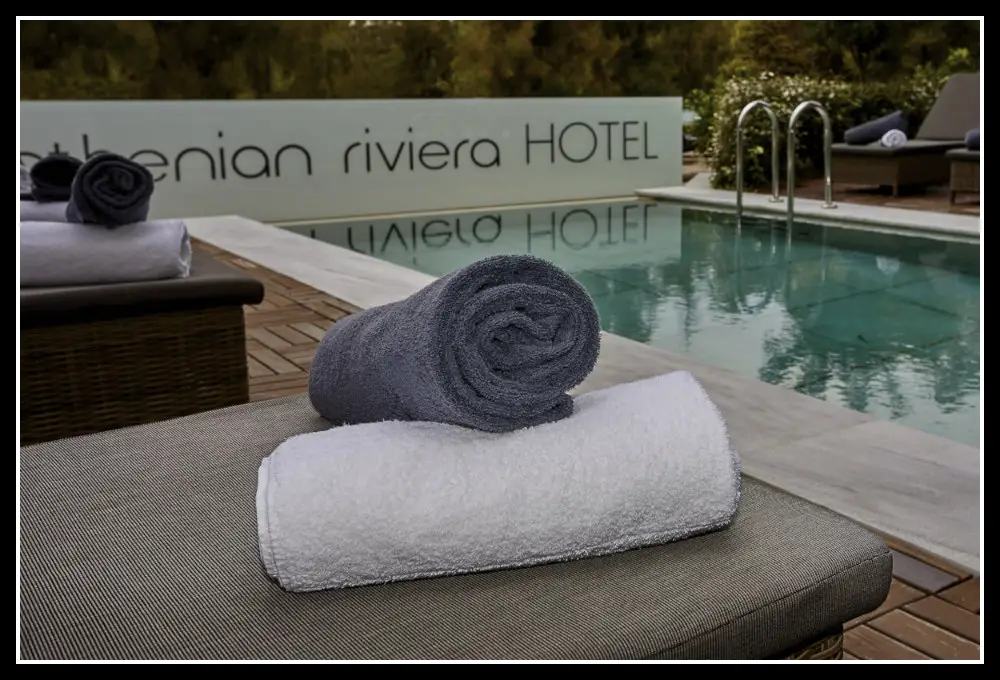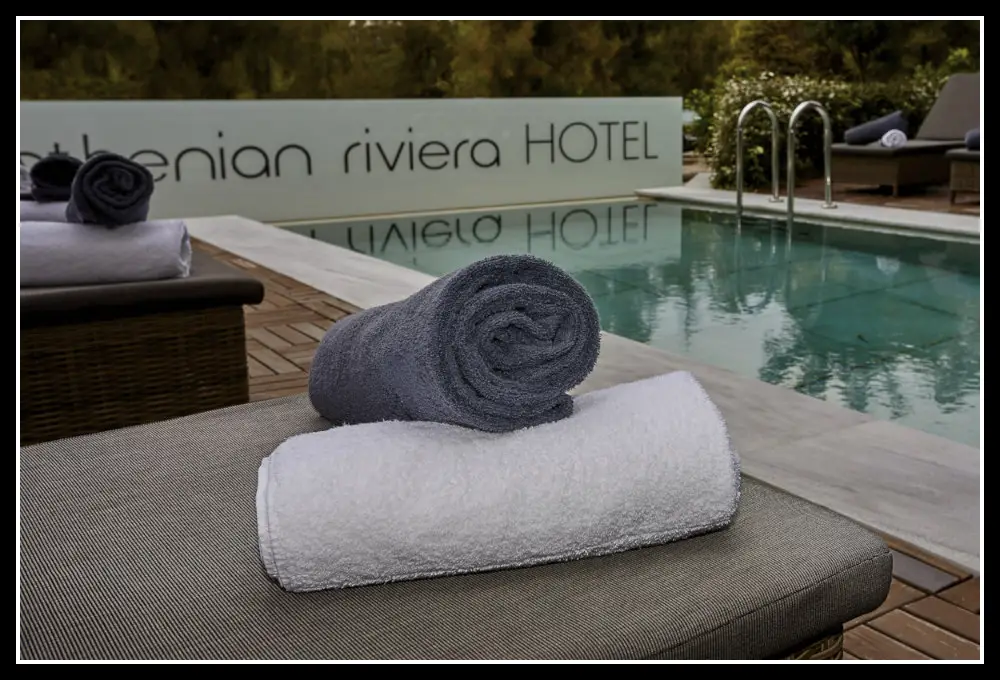 Where To Stay Along The Athens Riviera – The Margi Hotel
One of my favourite smaller Athens beach hotels, the Margi is walking distance to the beach and a member of Small Luxury Hotels of the World.
With a total of 89 rooms and range of suites, the starting price here is €173.
Margi Facilities
Large Outdoor pool
Spa offering massage with indoor pool
Selection of dining
Lovely fireplace in Reception (yes, Greece does get chilly in the winter)
Concierge service (as with most upscale hotels)
The Margi Farm
One of my favourite things about The Margi is that their produce for breakfast, etc mostly comes from their farm.  Located out in the countryside along the Riviera, you can visit it (by prior arrangement) and see the vast array of produce growing; vegetables, herbs and meet their many goats and their rescue donkey.
It's a wonderful place to have a fresh meal and Greeks also used it for wedding and baptism celebrations.  Be sure to book a visit when you stay at The Margi.
Where To Stay Along The Athens Riviera – Hotel Alex
Situated in a handy location if you're catching a ferry to the islands–near Piraeus in the unique neighbourhood of Kastella, the Hotel Alex is part of the Santikos Collection of hotels that also have properties on islands such as Skiathos, Skopelos, Alonissos (the Sporades chain of islands) and a Mansion in the beautiful Pelion region of the mainland–opposite the aforementioned islands where unique traditional villages, hiking routes and excellent food awaits you.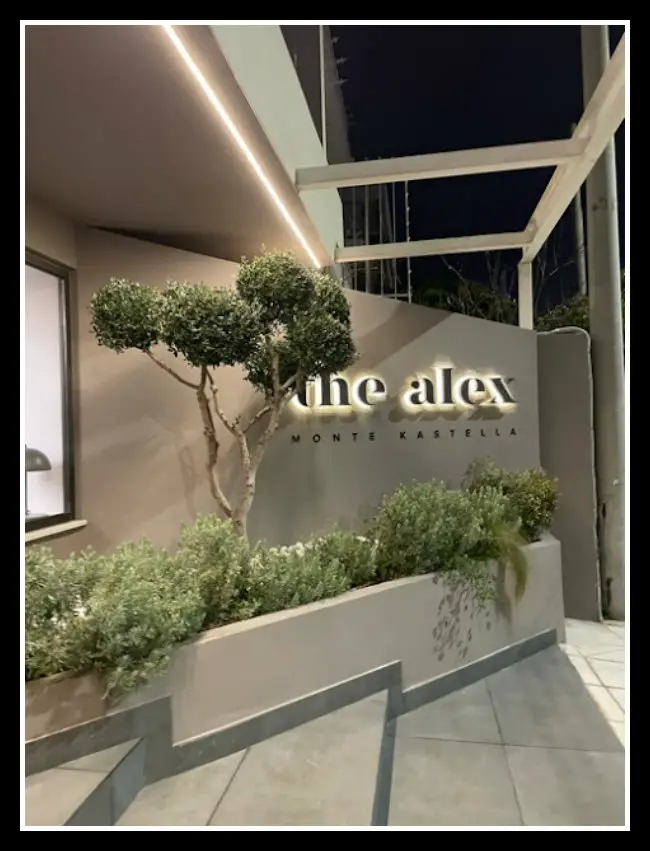 The Alex Hotel has a combined total of 34 comfortable rooms and suites and is perfect to stay and explore the cute Mikrolimano marina–teeming with locals drinking their coffees and eating throughout the day in the many choices of coffee shops and tavernas along the promenade.
The focal point of The Alex is its rooftop bar and restaurant–The Nest which offers exquisite views across the sea and Marina in one direction and farther away, the centre of Athens with even the Acropolis and Lycabettus Hill visible.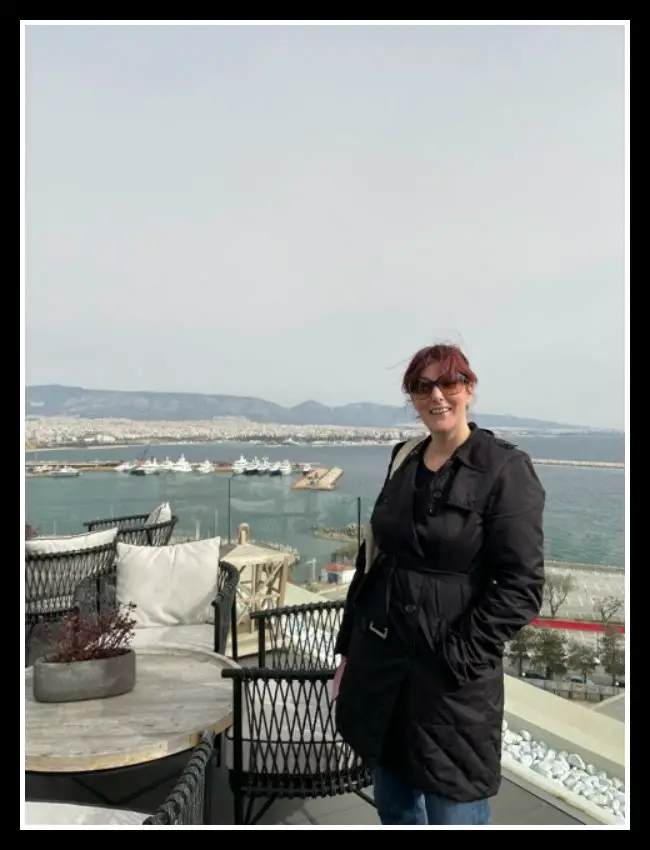 There's a whole host of food and dessert choices–all absolutely delicious, leaving you spoilt for choice.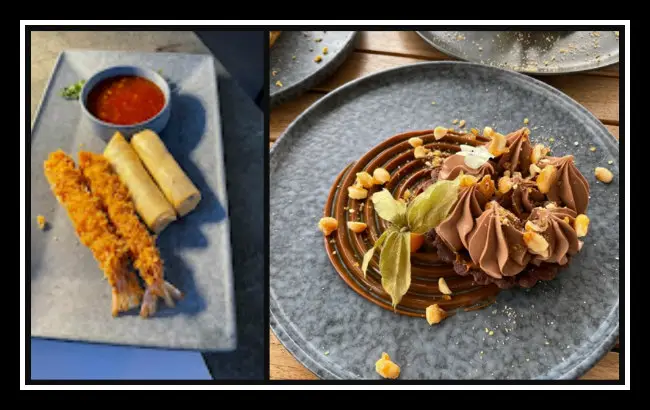 Where To Stay Along The Athens Riviera – Conclusion
I hope you've enjoyed my post about where to stay along the Athens Riviera. As you've seen, it's a very exclusive area with a good choice of places to stay, and at only half and hour (by car or taxi) from the centre, it's worth basing yourself here when you come to enjoy your Athens Citybreak.
PIN for later