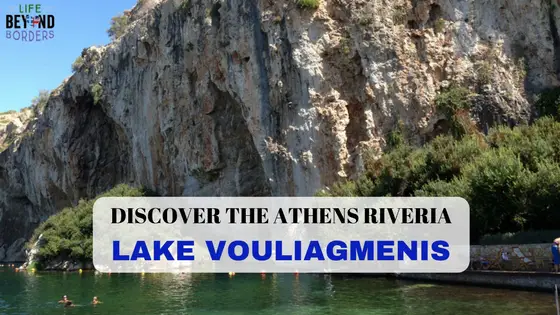 A unique geological phenomenon, that's how Lake Vouliagmenis on the Athens Riviera (the south coast of Athens, Greece) is described.  Why though?
What and Where is Lake Vouliagmenis, Athens Riviera, Greece?
To quote their website:
"Vouliagmeni Lake, in the heart of the Athenian Riviera, is the hidden treasure of Attica's nature. Situated on an idyllic landscape, this rare geological phenomenon is waiting to be discovered.
The lake's brackish waters, continuously replenished both by the sea and the underground thermal springs, offer a natural and unique thermal spa experience. The imposing rock, thermal waters, the labyrinthine underwater tunnels and the lush vegetation create a unique geological phenomenon. The lake's present form was created after the roof of the cave fell because of erosion caused by the high temperature of the running water."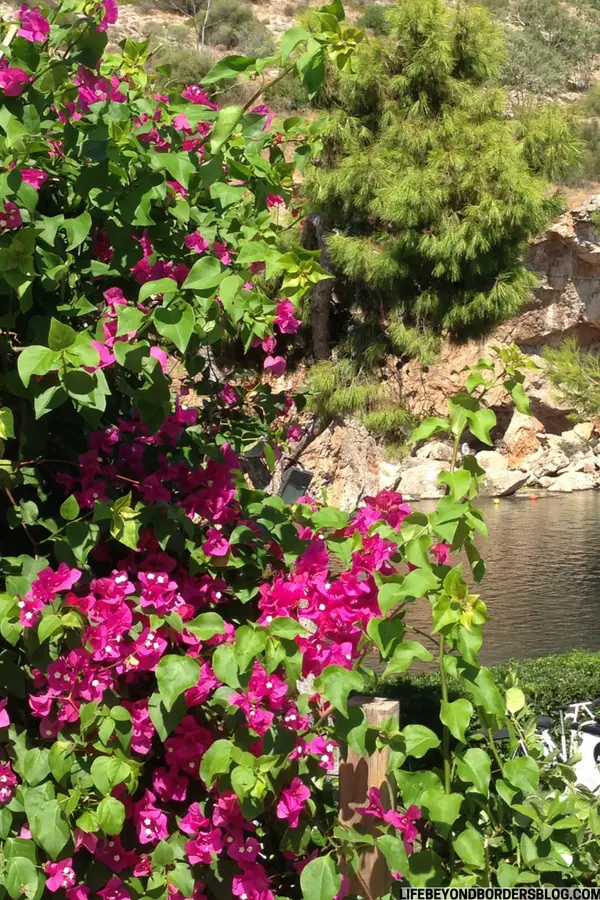 About an hour away from Central Athens (by public transport) – you can feel your cares and stresses slip away and you gingerly dip into the waters of this natural spa lake.
More to read:
Garra Rufa fish at Vouliagmenis Lake, Athens Riviera, Greece
If you've ever been to a fish spa – in Athens or elsewhere, you will know what these fish are: tiny, tickly little buggers that come and exfoliate your skin.  Unlike a fish spa – where you merely immerse your feet into a tank full of them – as you swim around Vouliagmenis Lake, stay still for more than 5 seconds and rest assured, they will swarm to your whole body like bees to a hive, and cover you.  Or they did me.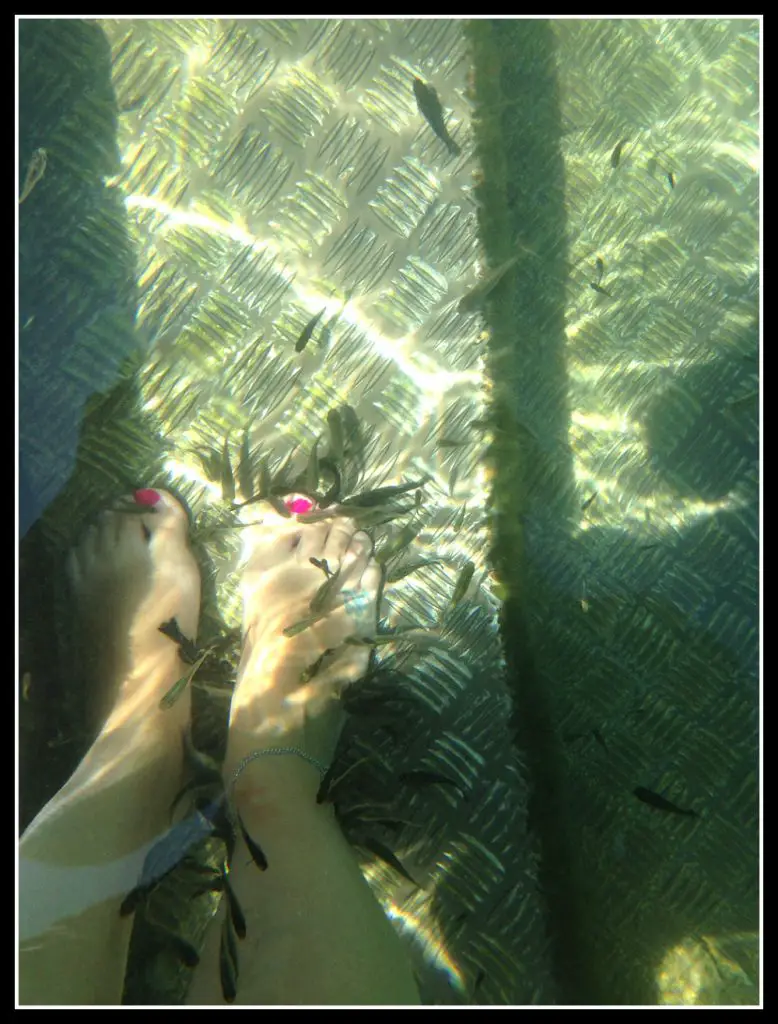 It was like tickle torture…but I knew it was supposed to be doing me good.  Read more about Garra fish.
An elderly Greek woman grinned at me. I must have looked as if I was suffering because she told me: "Just stay still, bear it…it is supposed to relieve stress and they go to the area you have the problem."
It was true.  They weren't just swarming around my feet, eating away disgusting dead skin at my heels, they were going to my right shoulder and settling there.  I'd had problems with it for a few days – tension from too much computer work.
I could only stay still for about 5 minutes – that was enough for me.  Then off I went for a swim again, in the lukewarm waters.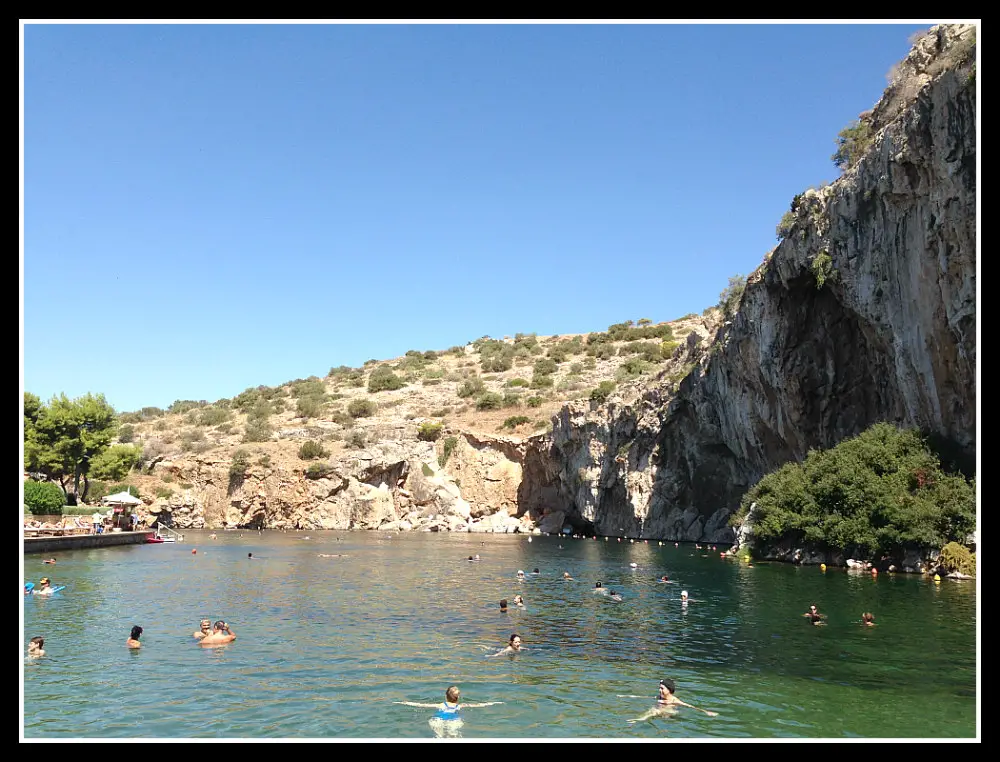 Year round swimming at Vouliagmenis Lake, Athens Riviera Greece
It's possible to swim here year round, due to the warmth of the waters.  The day I was there (early in September 2015), it was about 27 Celcius.  Apparently, the waters never fall below 18 Celcius…even in the winter.  To be honest, I'm not sure I'd like to swim there in the winter as winters in Greece can get surprisingly cold.
The water isn't clear.  The nearer you get to the centre of the lake, the more grows underneath (and don't forget those underwater caves,  who knows what's lurking in there!).  So if you like your water clear, maybe just stick to the edges and get eaten by the fish.  At least you can see what they're doing.
Lake Vouliagmenis, Athens Riviera facts
It costs €15 entry (at time of writing) and you can spend as long as you like
The Prive Area with less people and sun beds spread out is €35 for the day
It's open year round until sunset for swimming, until 2am in the summer for coffee
There is a cafe/bar on premises that serves delicious lunches or snacks.  Expect club sandwiches, pasta dishes or just chips (but not the disgusting french fries, proper wedges)
By public transport, take the

red

Metro line to Elliniko (the end of the line, about 20 mins from Syntagma) then either the 22 bus to bus stop Limni, or I would pay the extra to get a cab right outside Elliniko metro (about 10 Euros).  It's quicker as the bus will take you another half an hour or so
There are sunbeds, free parking and lifeguards on duty
There are often

Events

at the lake such as yoga, children's events and swimming classes
Vouliagmenis Lake and Athens Riviera – Conclusions
I loved spending a day here, it was a simple trip from the centre of Athens, and I left about 10am and had a whole day there.
See more about Vouliagmeni Lake by A Girl And Her Passport who came with me:
If you're looking for hotels along the Athens Riviera, check out the below link:

PIN for later