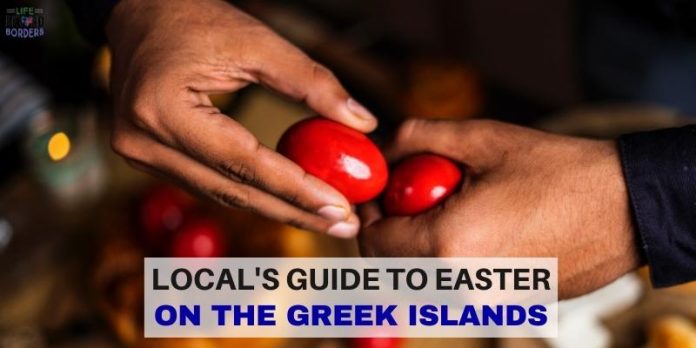 Greek Easter is the biggest celebration in the Greek Orthodox faith, bigger than Christmas.  It's a time for hope, when Christ is risen and is celebrated across the country, with some islands and regions having their own distinct style.
Whilst the Greek islands are the perfect place to be during summer, I'd recommend choosing an island to celebrate Greek Easter–or Pascha as it's called–to experience this distinct style.  So let's have a look at Greek Easter on the Greek Islands to help you choose where to go.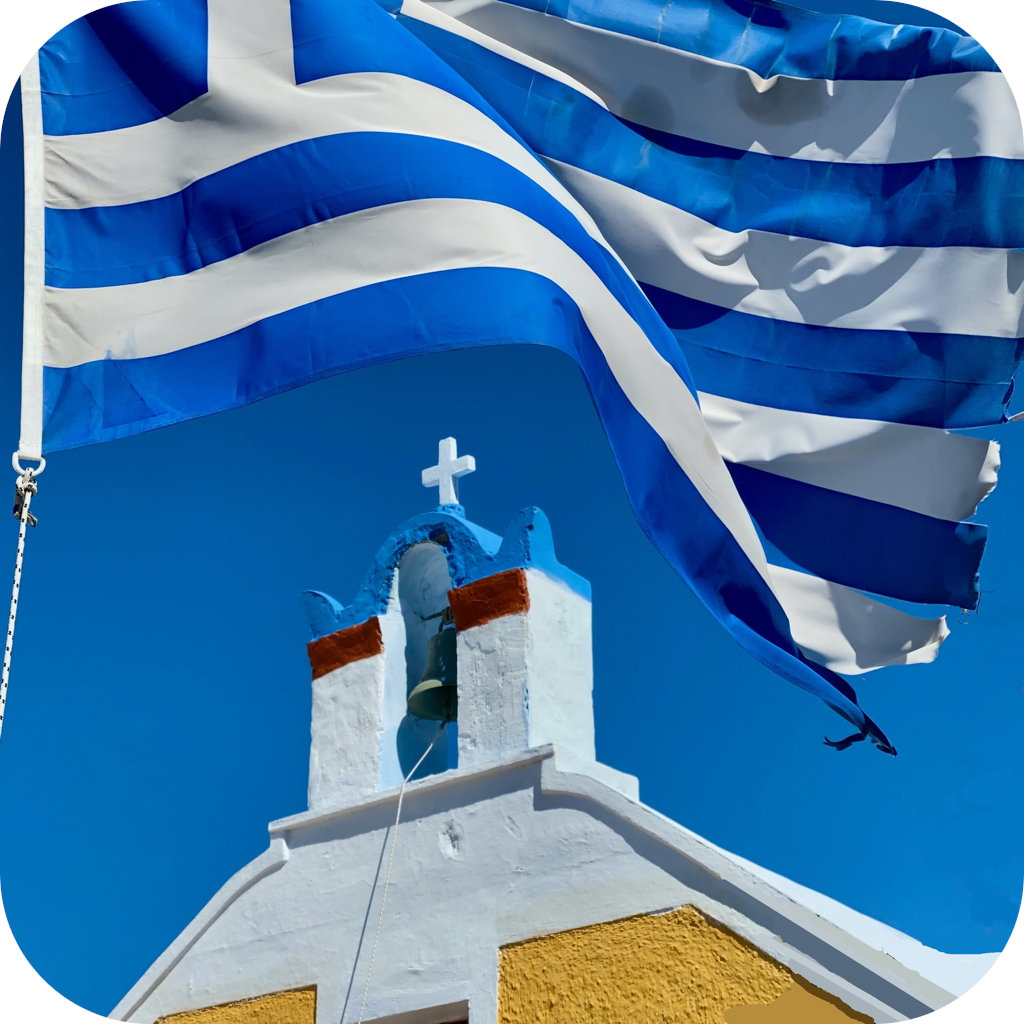 Greek Easter Traditions in general
The traditions of Greek Easter have been celebrated for over 2000 years.   It starts with a period of fasting–40 days before the Greek Easter Sunday on what's known as Clean Monday.  Note that Greek Easter doesn't always fall on the same dates as Catholic Easter as Greeks follow the Orthodox faith/calendar.
To help you plan for your next Greek Easter island visit, here is a list of Greek Easter dates up until 2029:
– 2023: Sunday, April 16
– 2024: Sunday, May 5
– 2025: Sunday, April 20 (coincides with Catholic Easter)
– 2026: Sunday, April 12
– 2027: Sunday, May 2
– 2028: Sunday, April 16
– 2029: Sunday, April 6
– 2030: Sunday, April 28
On Clean Monday–7 weeks before Easter Sunday–people take kites to the beach or the countryside and fly them with their families, symbolising the release and freeing of the body from sin.  Tradition tells us that the higher the kite flies, the more likely it is that God will hear their prayers for forgiveness.
Clean Monday is also the day when Greeks/firm believers will stop eating meat and dairy and a meal of seafood such as octopus, fish roe such as taramasalata and salads is eaten.  This is observed throughout the 40 days until Easter Sunday.
Where ever you go for Greek Easter, Red Eggs are broken at midnight on Easter Saturday or during the huge feasts on Easter Sunday.
Red Eggs are hard boiled eggs dyed red and is known in Greek as tsougrisma.  It symbolises the breaking open of Jesus' tomb and his resurrection.
It's played between two players: one holds his/her egg, the other lightly taps the top against the other's.  If you crack the end of your opponent's egg, you'll have good luck throughout the rest of the year.
 

View this post on Instagram

 
We then come to the actual four days of Easter itself.  As mentioned, Greek Easter is celebrated in different ways depending on where you go to in Greece, so let's look at how Greek Easter is celebrated on some of the Greek Islands.
Greek Easter – Corfu
Corfu is a popular Greek island for holidaymakers globally.   Many come to relax on the many beaches and enjoy the eclectic nightlife.  With an airport that takes both flights from within Greece and European destinations, it's easily accessible–also by ferry from the mainland.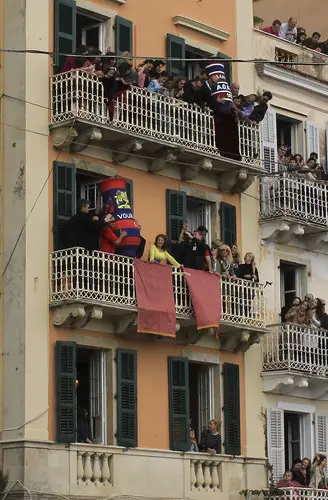 Holy Week starts on Palm Sunday, the week before Greek Easter and on Palm Sunday, a procession takes place known as the Holy Shrine of St. Spyridon, the saint who rid the island of the Plague in 1629.  This procession is in his memory where all 18 of the Philharmonic Bands of Corfu take part.
On Good Friday, Christ's descent from the cross is highlighted.  All churches have their own processions from the afternoon into the evening where the cross is paraded through the streets with the faithful following behind, culminating in the meeting point of the Old Town in Corfu.
Tip: If you feel too exhausted to follow this all day, just come at 10pm to Corfu Cathedral where the most impressive Epitaph makes its appearance, followed by mournful music played by the three main Philharmonic Bands.
Easter Saturday has another procession of the relics of Saint Spyridon through the streets of the Old Town and at 11am, bells will ring to indicate the resurrection.  This is when things become very interesting as in the Old Town, red pot throwing is the norm!  Locals throw massive botides–red clay pots–filled with water and laurel from their windows where they crash on the road.  It's said that in combination with the water and laurel,  evil is supposed to be chased away.
Tip: Get there early!  Everyone loves seeing this event–and don't worry, you don't literally walk under the balconies, they're cordoned off and police make sure people don't cross the line to risk getting hurt–or worse!  Although I often wonder if this event wouldn't be banned in countries like the U.S. or U.K. under Health and Safety!  This is why I love Greece.
Sunday is the time for another Procession of the Resurrection and the breaking of the fast.  Whole lamb is roasted on the spit and people gather at each other's houses or tavernas to eat to their heart's content.
Tip: Not for the faint hearted or vegetarians.  Of course, you can eat just the delicious salads, but whole lambs turning on the spit are a site to be seen everywhere on Greek Easter Sunday.
One thing's for sure–Corfu is THE Greek island to celebrate Greek Easter.
Greek Easter – Santorini
Everybody loves the volcanic island of Santorini. It's one of Greece's most popular islands, if. not THE most.  This is due to its unique volcanic structure and small whitewashed villages set atop the volcanic landscape, plus the black or red sandy beaches.
With its 'international' airport that accepts flights from around Greece and Europe–sometimes further afield such as some Middle East destinations and good ferry connections from Athens, this fairy tale island is easily accessible.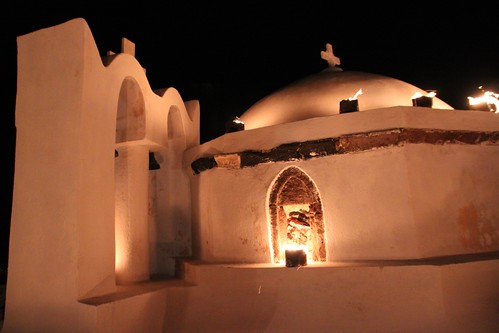 During Greek Easter, Santorini comes alive.  As seen above for Corfu, the structure of the weekend remains much the same, as it does throughout Greece ie: Processions and the eating of mageiritsa soup on Easter Saturday at midnight–made of all the 'innards' of the lamb that's roasted for Sunday so as not to waste any of the animal (be warned!).
The village of Pyrgos on Santorini is said to have the most impressive celebration. During the procession of the Epitaph through the streets, thousands of cans are scattered and lit around the rooftops and fields of the area, including up to and around the castle.  It makes for a beautiful night procession and is even recorded in the Guinness Book of World Records as being THE most beautiful Good Friday procession.
Food that is traditional in Santorini over Easter include Tsourekia–a type of brioche and melitinia–sweet pastries with cheese.
Greek Easter – Crete
Crete is another favourite destination for visitors to Greece and one island that should certainly be visited over Greek Easter.
The capital of the island is Heraklion and on Easter Monday, many Cretans 'celebrate their dead' and carry food and drink to the graves–which have been cleaned and spruced up for the occasion–of their relatives and picnic there.
It's a way to honour the dead and celebrate Christ's resurrection.
Greek Easter – Chios
The fifth largest of the Greek islands, Chios is known for exporting its mastic that comes from the evergreen tree of the same name.  Mastic products include gum and various face and body creams.
Chios is also thought to be the birthplace of Homer, the ancient Greek author and poet who wrote the Iliad.
Whilst famous for its mastic, it's the 200 year old tradition of the Rocket Wars in the village of Vrontados at midnight on Easter Saturday that many remember Chios for.
So what happens? Well, two 'enemy' parish churches of Saint Mark and Panagia Erythiani–'Red Madonna', both built on two hilltops about 400 meters from each other  spend the evening firing thousands of homemade rockets at each other's church—the more pious attending a service inside.
The objective is to hit the bell tower of each opposing church with the rockets made of wooden sticks loaded with an explosive mixture of gunpowder and launched from grooved platforms.
Does it sound dangerous?  Yes! But the churches and nearby buildings are boarded up especially for the occasions and actually, it brings a lot of tourism revenue as many people come to experience this unique event.
Greek Easter traditions on other Greek islands
On several Greek islands such as Symi, Hydra, Astypalea and around the mainland, an effigy of Judas is stuffed with straw and explosives and set alight on Easter Sunday.
See the video here.  It's pretty impressive and indicates that forgiveness for his betrayal isn't obtained easily.
See A Girl and Her Passport's experience of Greek Easter on Tinos

Greek Easter on Greek islands–Conclusion
You don't need to be religious to enjoy Greece during Easter.  As you've seen, there's so much culture and fun to be had. Where ever you chose to spend Greek Easter, as you can see there is a variety of choice and experiences to be had. Enjoy your Greek Island Easter experience.
PIN for later