A guide to Symi island, Greece – where is it?
Symi is about an hour and a half away by catamaran from Rhodes.  There's no airport there as it's a small island, so you'd fly to Rhodes – either directly from many European hubs or via Athens – and why not spend a few days whilst on Rhodes?
See my Things to Do in Rhodes article and furthermore, an Insiders Guide to Visiting Athens to get the lowdown on alternative things to do if you (hopefully) choose to stay over in Athens for a city break too.
One thing that strikes you immediately upon chugging up to the harbour of Symi is the way the colourful Venetian and  Merchant's houses seem to tumble haphazardly into the sea – ensuring a lot of 'Ooohs!' and 'Ahhhs!' from people on deck, prompting some tourists to forget they're alighting there as they're so busy taking photos.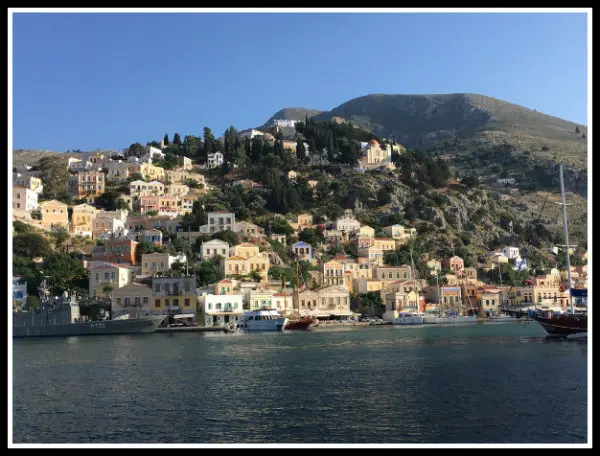 The harbour –  known as Yialos – is busy and the area consists of two parts: Yialos —bustling with tavernas, activity, cafés and hubbub. A great place to people watch, and to stay in the thick of things.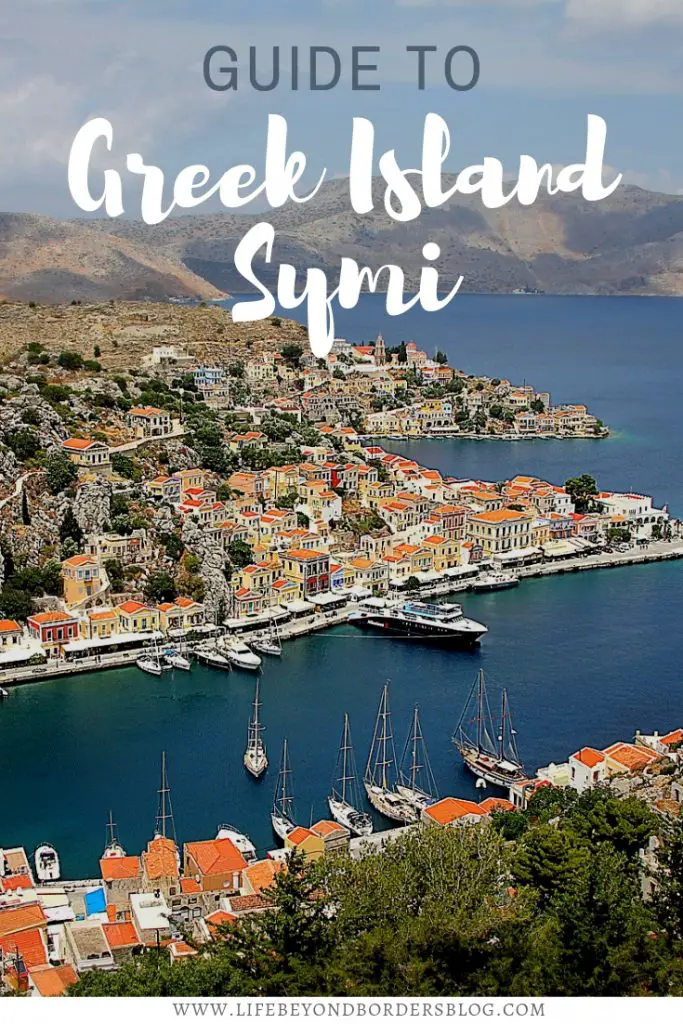 Then there's the Chorio—the upper town on the hillside.  It's quieter, but also more traditional and a great place to watch and greet the locals.  This is where I stayed in a restored house – a beautiful 'cave' like dwelling, the Blue House: bedroom downstairs, steep wooden stairs to the living and kitchen area. It was just so, well, peaceful!  Leaving my house in the morning, I "Kali mera"d a Greek man as I walked past his open door and he called out to me:
Welcome to my island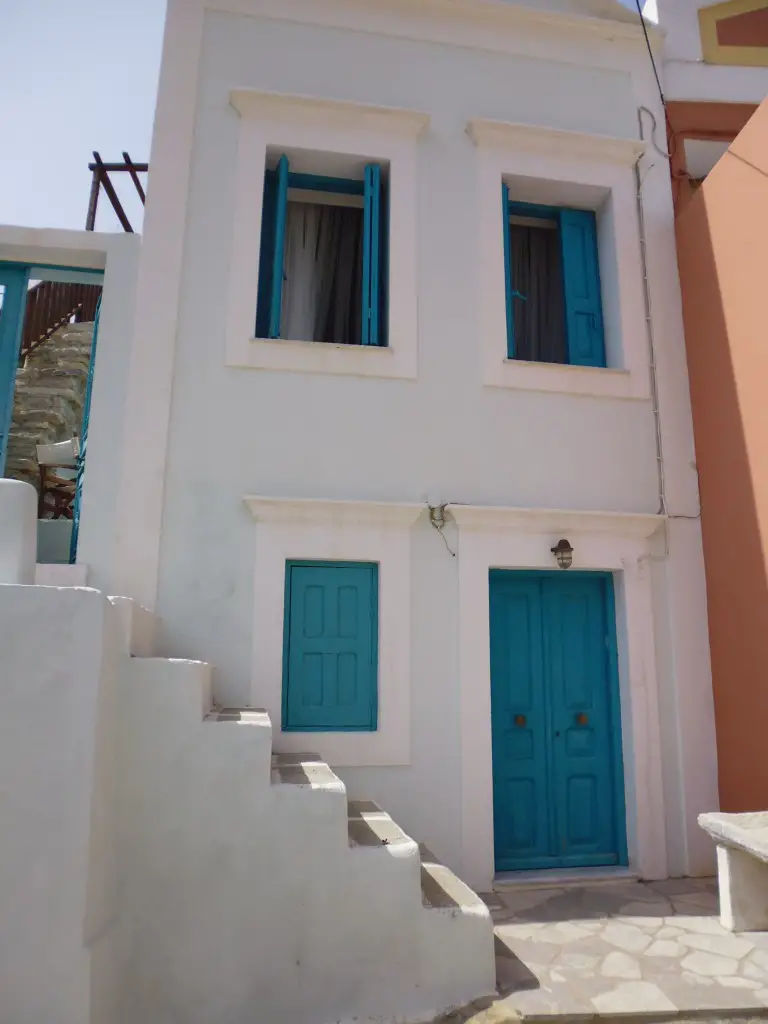 Guide to Symi Island, Greece: Where to eat
The Secret Garden: an old house between the Hora and towards Pedhi beach:  Michalis and his Belgian wife Katya have transformed their dwelling into a courtyard cafe / bar serving breakfasts, crepes, mezes and open until – well – whenever the last person leaves, which could be 6am.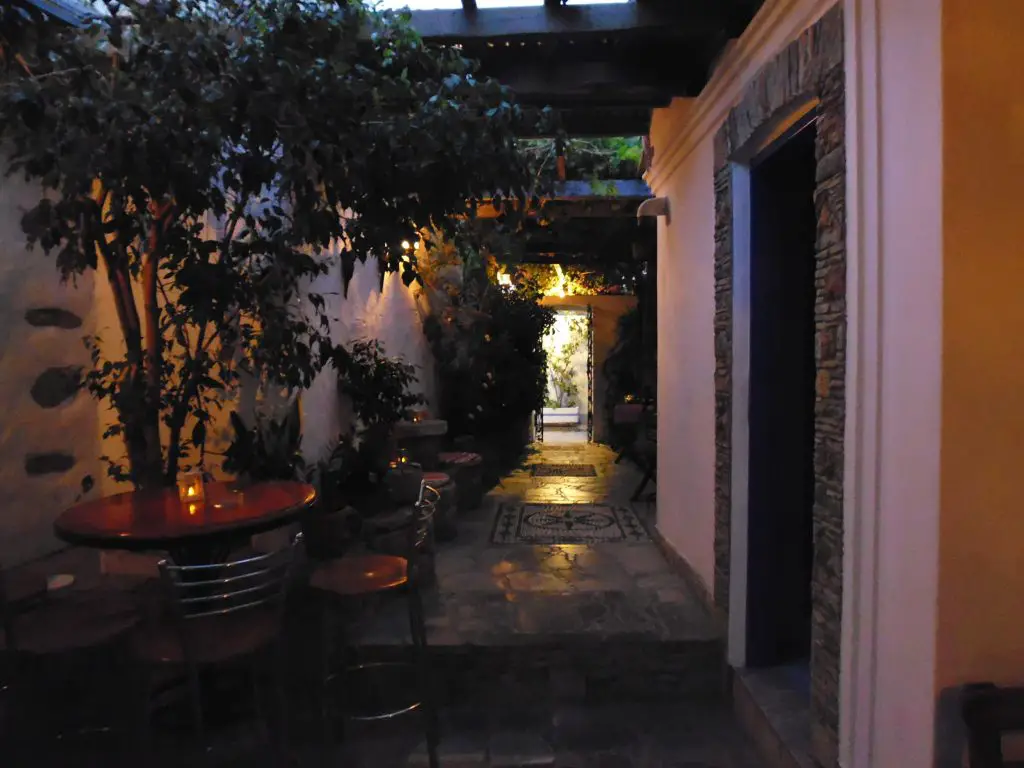 When in the Harbour, make sure you go to Pantelis Restaurant where you'll be served the freshest seafood, possibly in all of Greece.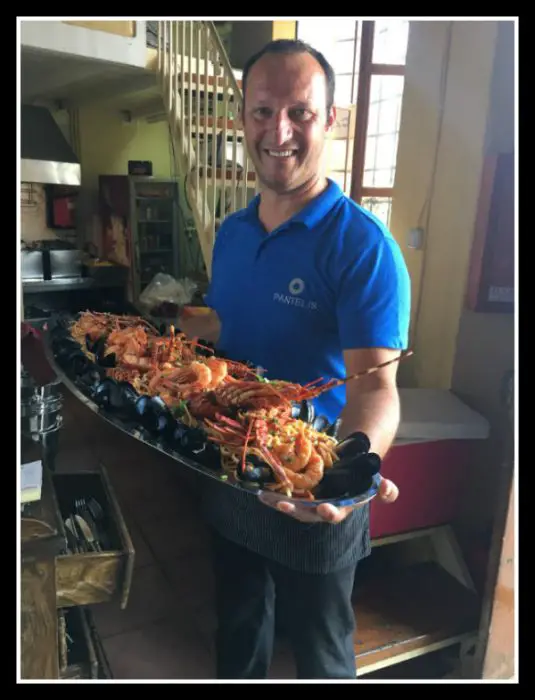 Guide to Symi island, Greece: Where to stay
I mentioned I stayed in a small house.  Symi is smattered with old Venetian Houses that are up for rent.
I also loved the Symi Thea Hotel – a family run place with rooms in a Neoclassical building with stunning views of the harbour.
Another favourite, and more luxurious option, is the Old Markets – an old agora trading place in the harbour converted to beautiful rooms.
The same owner has also restored and built a new property around the headland called Emporio.  It's located in Nimborio Bay and is the place to come and completely unwind.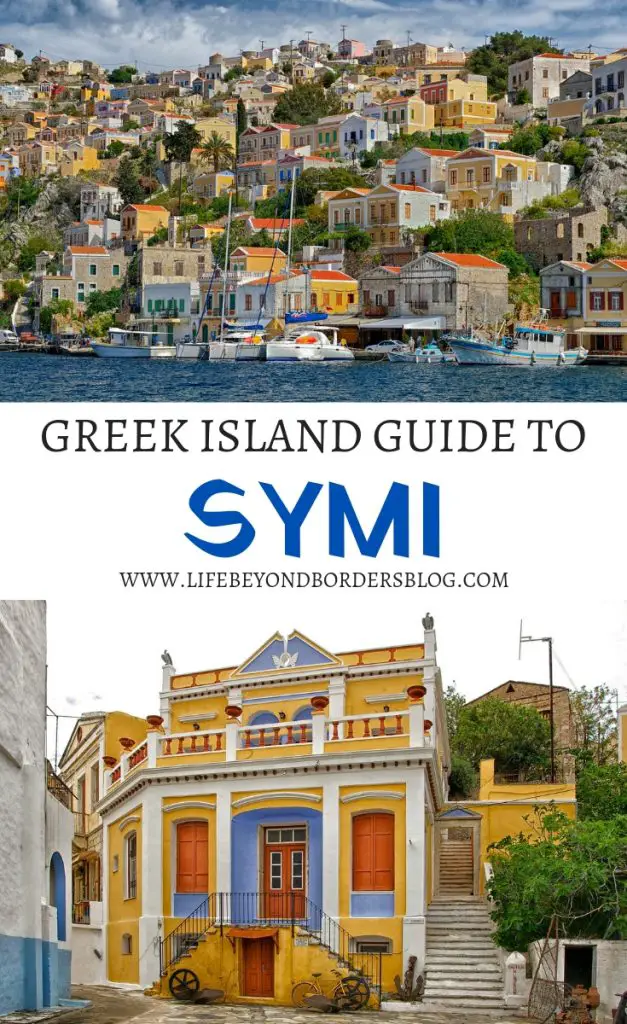 Guide to Symi island, Greece: Tips
It's perfectly safe to leave your door unlocked (maybe not wide open, but even then I wouldn't be surprised if it was OK).
Be sure to visit the Hora – maybe climb the 400 steps of the Kali Strata from the harbour to the Square  in the early morning, or early evening.
Water: very limited!  Freshwater is shipped in erratically, and the desalination is used in the winter.  Recycle your water as much as you can – respect the environment and your host island.
Pedi: Be sure to visit this beach around the other side of the island.  Hitch a lift with the locals (like I did), it's quite safe.
Architecture: the architecture here is stunning – Romanesque establishments which are a relic from the Italian occupation and wealthier times.
Download my Greek island packing list here
All opinions expressed here are my own, despite researching for various outlets such as Telegraph and Rough Guides
PIN for later