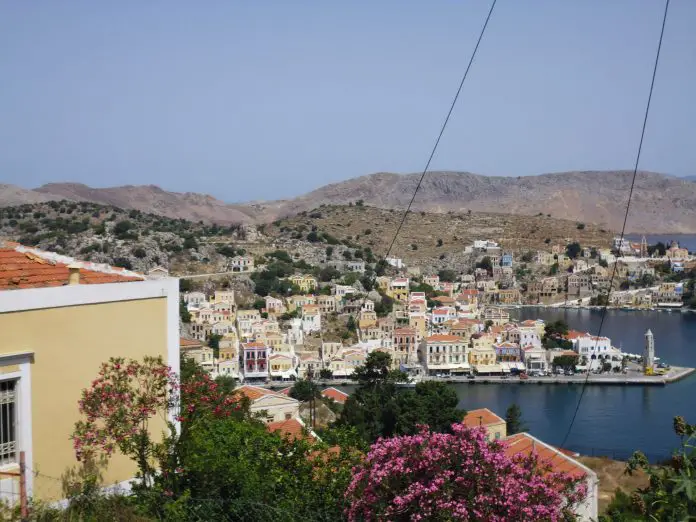 Before leaving for Symi, I stayed in Rhodes for a further two nights. Again in the Old Town (can't get enough of that place), but this time the Hotel Andreas hosted my stay.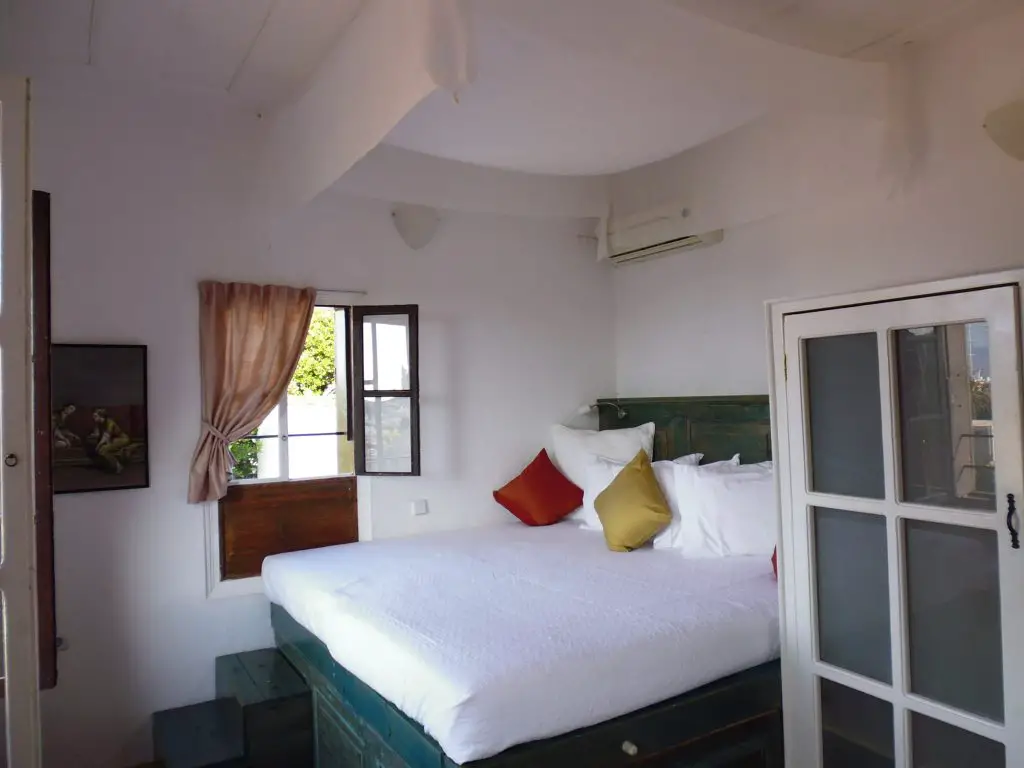 My bedroom in the Watchtower of the Hotel Andreas – Old Town – Rhodes
Andreas is an old Turkish mansion, converted into a seven bedroom guesthouse. I was incredibly lucky to be hosted by David and Constance, the owners, in the old Watchtower. Drifting off to sleep was a pleasure, gazing at the castle in the distance and feeling the breeze through the windows.
Symi
And so to Symi. About an hour and a half away, again by catamaran, I was whisked into a quieter world. To me, Symi consists of two parts: the Harbour area, or Yialos—bustling with tavernas, activity, cafés and hubbub. A great place to people watch, and to stay in the thick of things.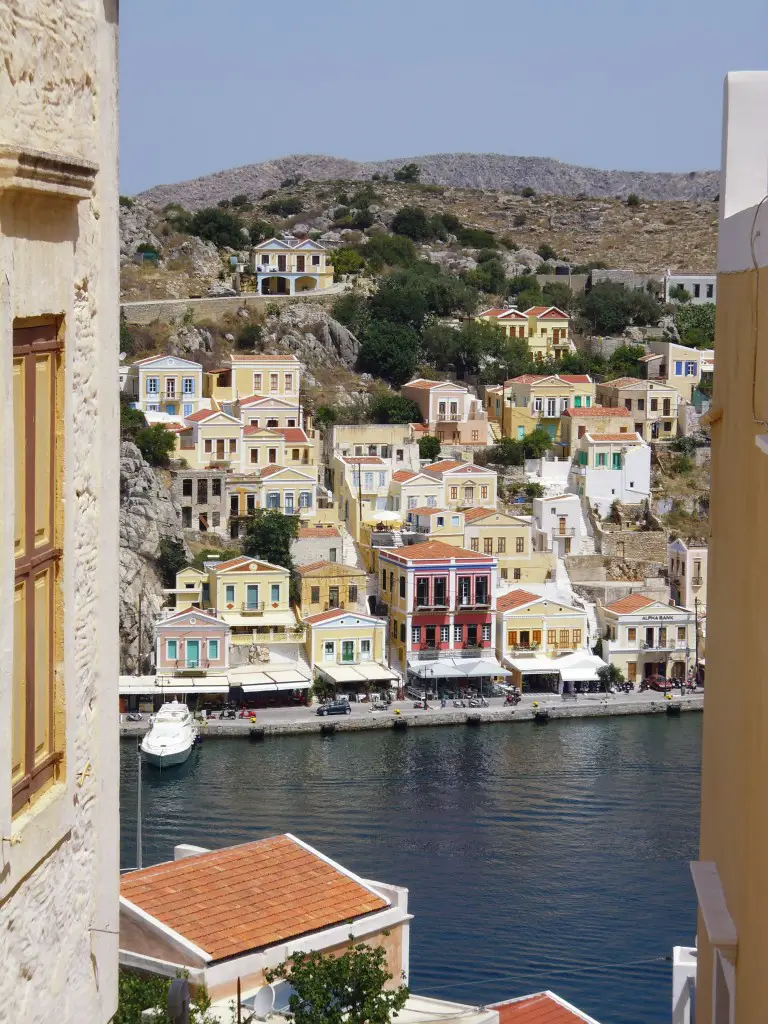 Then there's the Chorio—the town on the hillside.  It's quieter, but also more traditional and a great place to watch and greet the locals.  This is where I stayed, courtesy of and hosted by Symi Visitor who book accommodation in restored houses in either the harbour or Hora. They secured me a beautiful 'cave' like dwelling, the Blue House: bedroom downstairs, steep wooden stairs to the living and kitchen area. It was just so, well, peaceful!  Leaving my house in the morning, I "Kali mera"d a Greek man in his house, he called after me:
Welcome to my island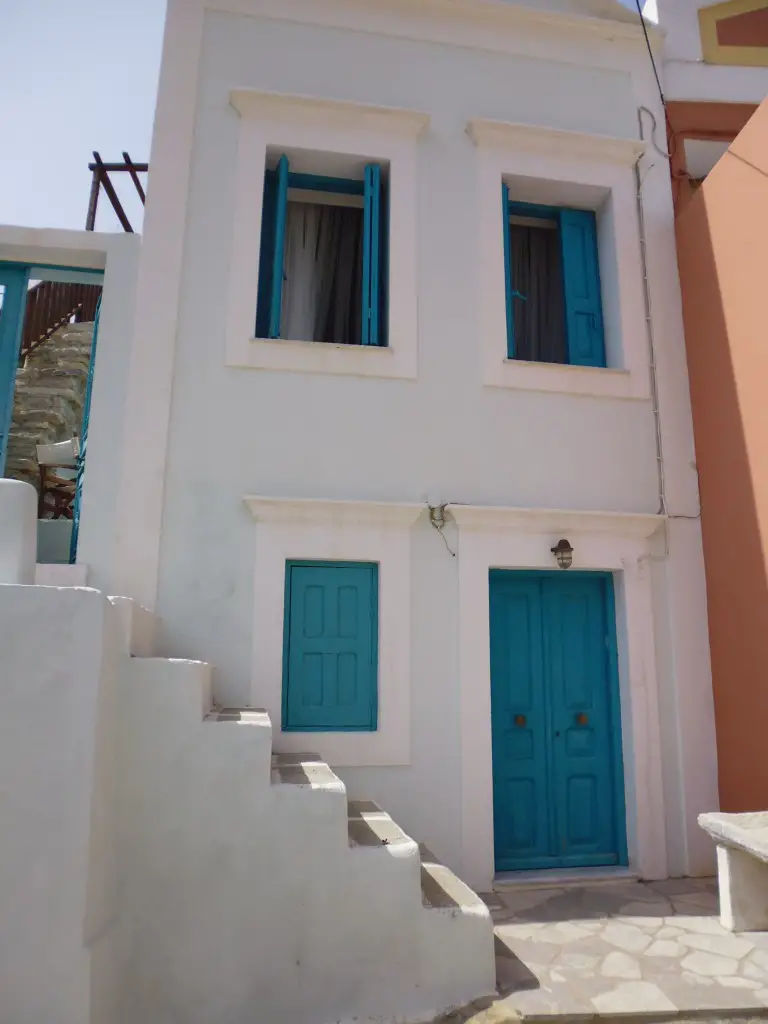 Expats
One thing I notice about Symi: there are a lot of expats here, but not the 'gin and tonic' brigade. They've established successful business—examples include the Olive Tree Café (think a lovely tea shop and cakes with Mediterranean snacks and a to die for view), Symi Dream run by Neil Gosling (talented photographer offering photographic walks twice a week, plus studio).  They all contribute to the local community.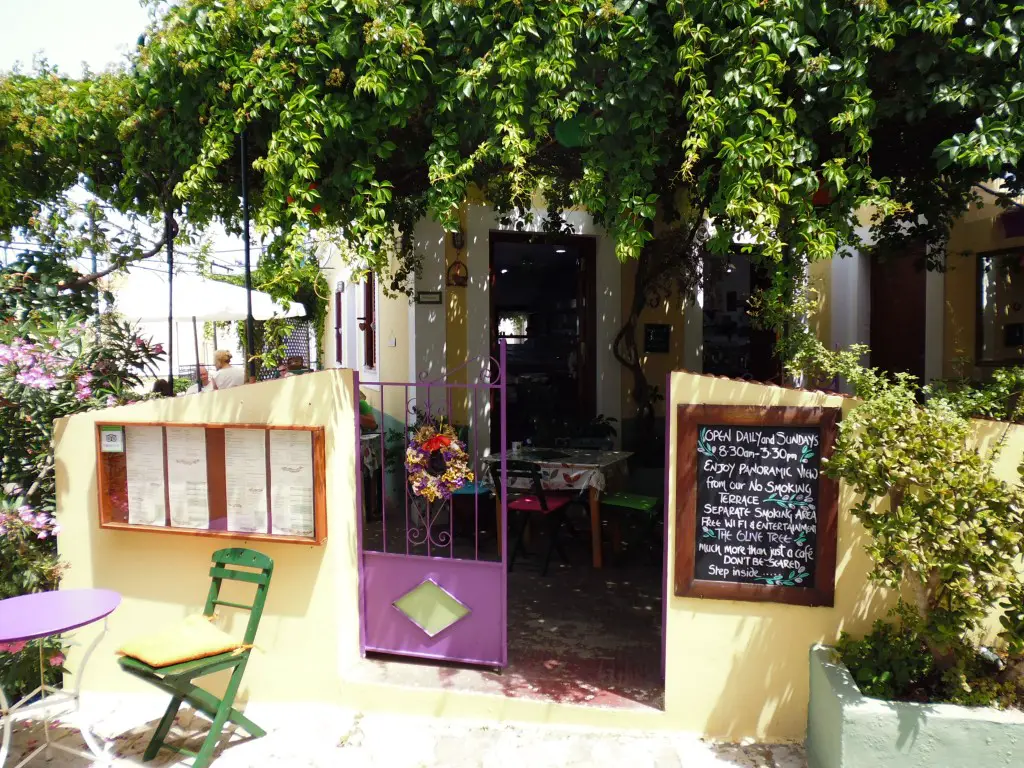 I loved the Windmill Restaurant in the Hora, run by Greek Michalis and English Rhiannon.  A professional dancer by trade, she's seamlessly made the transition into making freshly prepared mezes – how delicious. And in the winter, she teaches dance!
And then the Secret Garden: an old house between the Hora and towards Pedhi beach.  (Another) Michalis and his Belgian wife Katya have transformed their dwelling into a courtyard cafe / bar serving breakfasts, crepes, mezes and open until – well – whenever the last person leaves, which could be 6am.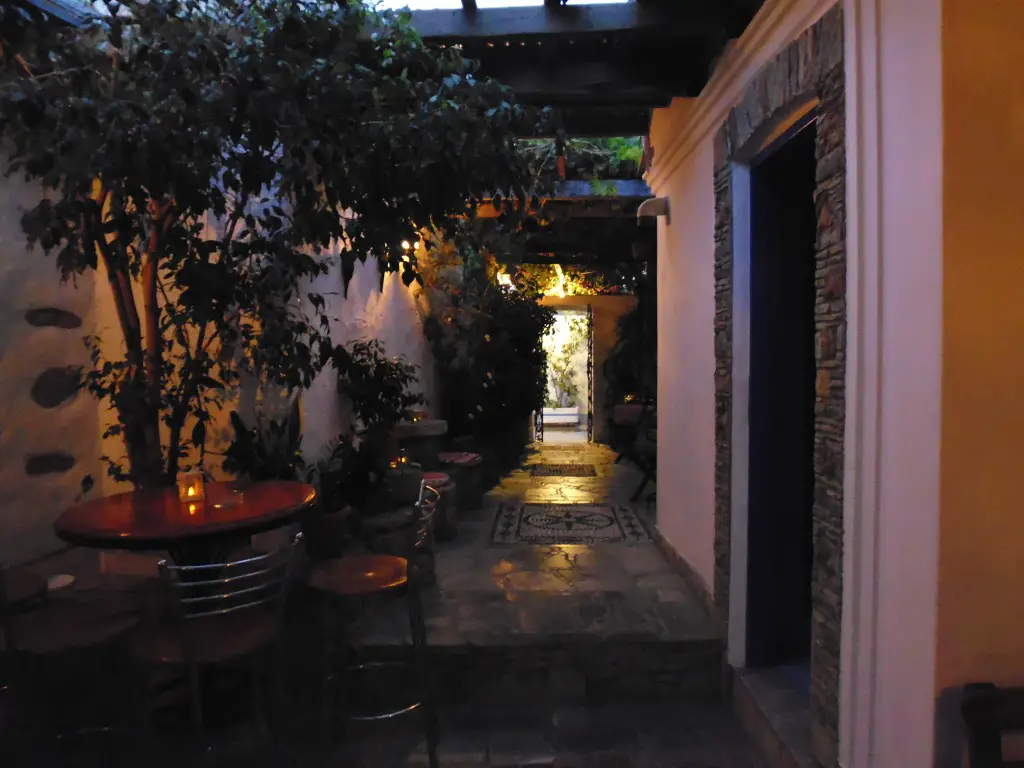 There are so many wonderful people on Symi.
The Greeks are friendly, greeting you in the street, wanting to know more about you and – in my case – insisting their children practice their English.
I'm impressed at how well the expats have integrated, with what appears – on the surface – a lack of cliquishness that I've found on other islands.
Tips for Symi
It's perfectly safe to leave your door unlocked (maybe not wide open, but even then I wouldn't be surprised if it was OK).
Come and book a rental home from Symi Visitor and stay for about five days, longer if possible.  There's so much to see and do, and you'll make friends and more than likely be invited to their homes.
Be sure to visit the Hora – maybe climb the 400 steps to the Square from the harbour in the early morning, or early evening.
Stop off on your way walking up the Kali Strata to visit Neil of Symi Dream.  His photography gallery is beautiful, plus he's a character in himself (you are, Neil).
Water: very limited!  Freshwater is shipped in erratically, and the desalination is used in the winter.  Recycle your water as much as you can – respect the environment and your host island.
Pedi: Be sure to visit this beach around the other side of the island.  Hitch a lift with the locals (like I did), it's quite safe.
Architecture: the architecture here is stunning – Romanesque establishments which are a relic from the Italian occupation and wealthier times.
All opinions expressed here are my own