Pelion in Mainland Greece is a very special region. I have written about The Villages of Pelion and Hiking in Pelion too.  Read those posts to find out more about this beautiful region of the country and what you can see there.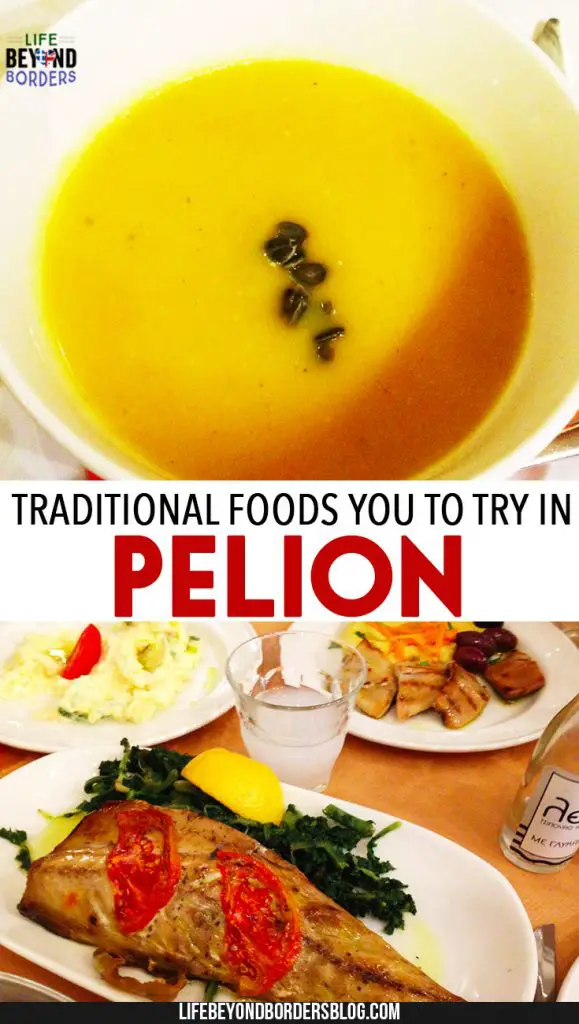 Another enjoyable aspect of Pelion is sampling the different foods on offer, and I wasn't disappointed when I sampled the food of this region.  In this post, my intention is to show you what to eat and where to eat it in Pelion, Greece and to tempt you with the array of gastronomy found there.
---
What to eat in Pelion – Meze at O Patis – Zagora Village
Some great food to eat in Greece and to share with friends, especially in the Pelion region, is meze. Meze is, to Eastern Europe and the Balkans, like tapas is to Spain: a selection of small dishes served to accompany alcoholic drinks.   In Greece, this alcoholic drink is usually tsipouro: a cloudy brandy style drink at 40-45% alcohol volume (no wonder food is served with it).
One of our stops on our village tour of the region included lunch / meze at O Patsis.  It included delicious regional and locally sourced meat, vegetable and herb dishes – and tsipouro, as you can see!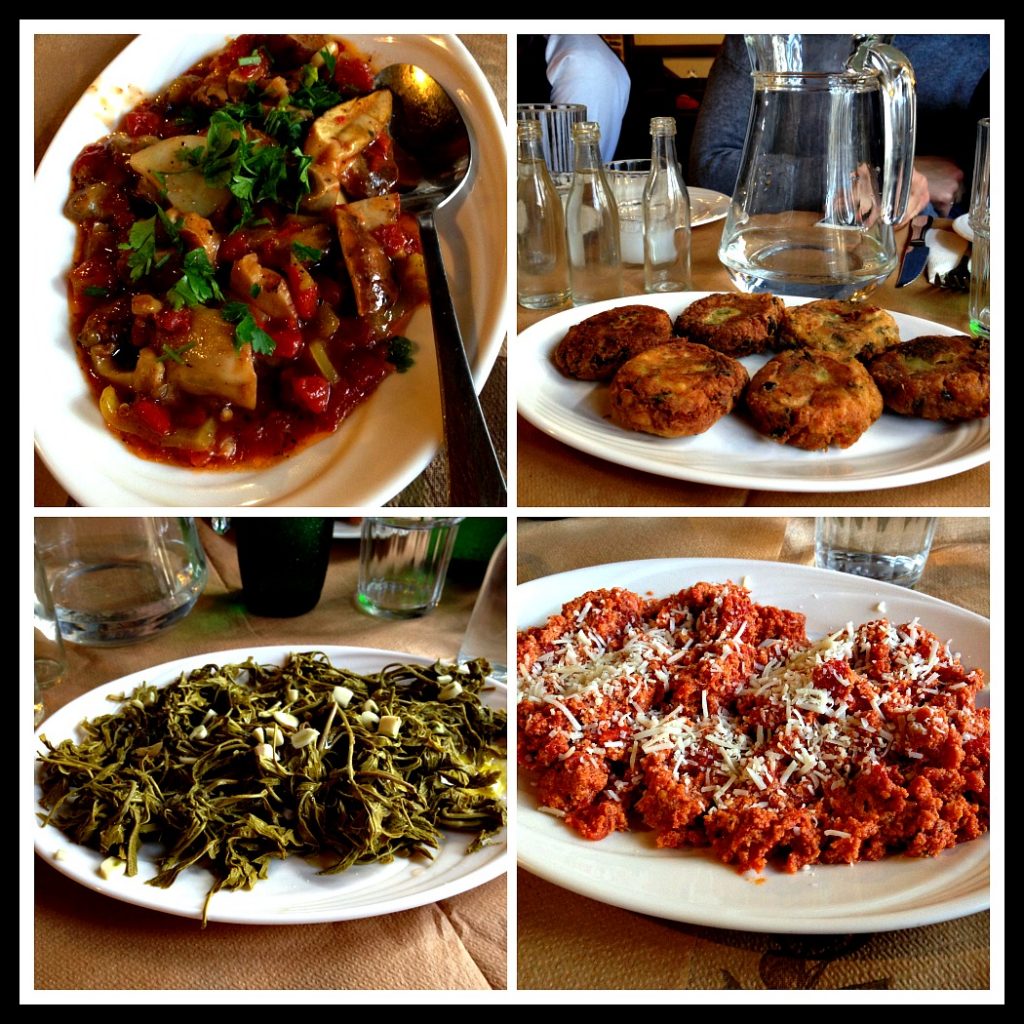 What to eat in Pelion – Fish with tsipouro in Volos
Another dish we had the chance to eat with tsipouro is fish.  We visited the biggest town in the Pelion region – Volos, nestled just at the foot of the mountain, by the sea of the Pagasitikos Gulf – and sampled many fish dishes, including prawns, crab and other such delights, at Lepi restaurant and, of course, more tsipouro.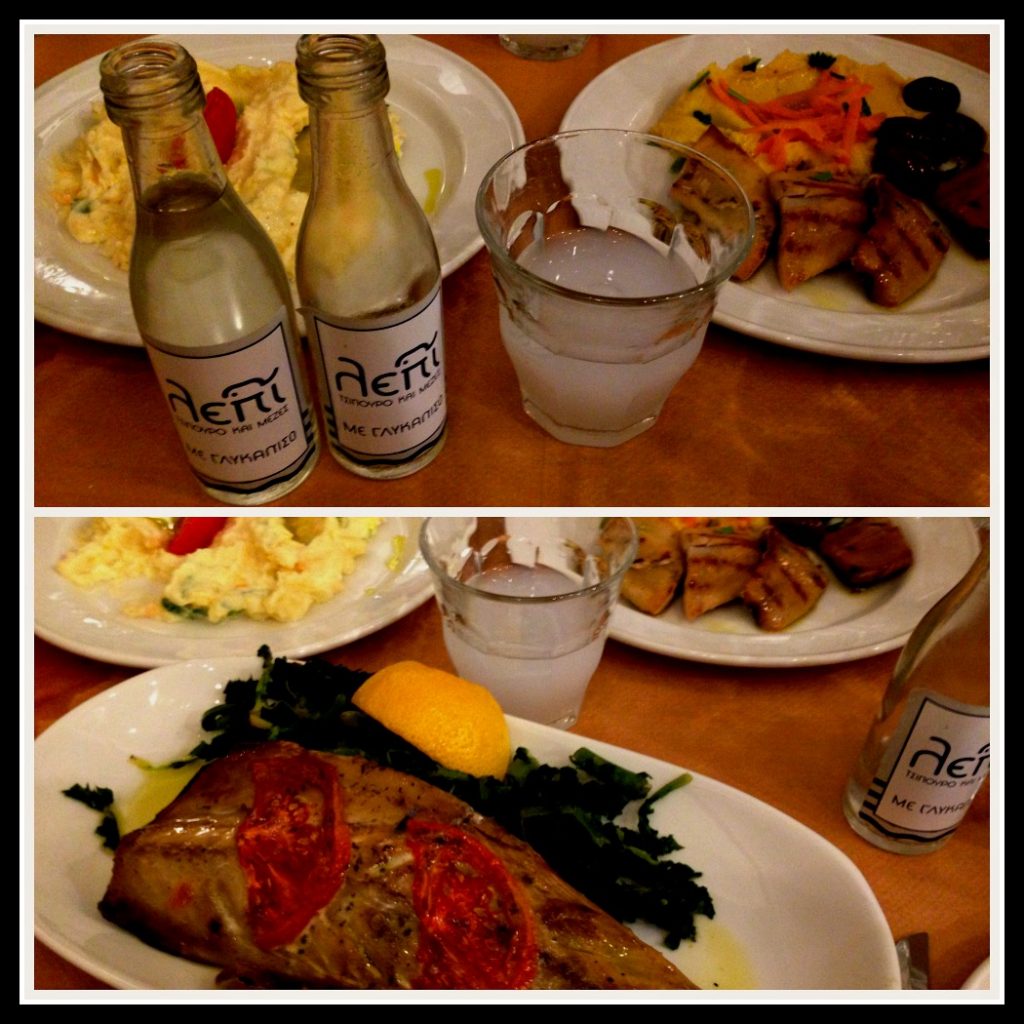 What to eat in Pelion – Award-winning gastronomy at Krista Hotel in Portaria
The Krista Gastronomy Hotel offers some of the best cuisine in the Pelion region.  All products are again locally sourced, with the vegetables grown in the hotel's own gardens. Specialities include:
Spetzofai (country sausages and peppers in a rich tomato sauce)
Sautéed wild greens with eggs
Falotyri (fresh creamy cheese)
Tsitsiravla (pickled wild turpentine shoots)
Trachana (fermented cracked wheat soup) with cheese or sausages
Boubari (oven-roasted sausages and potatoes)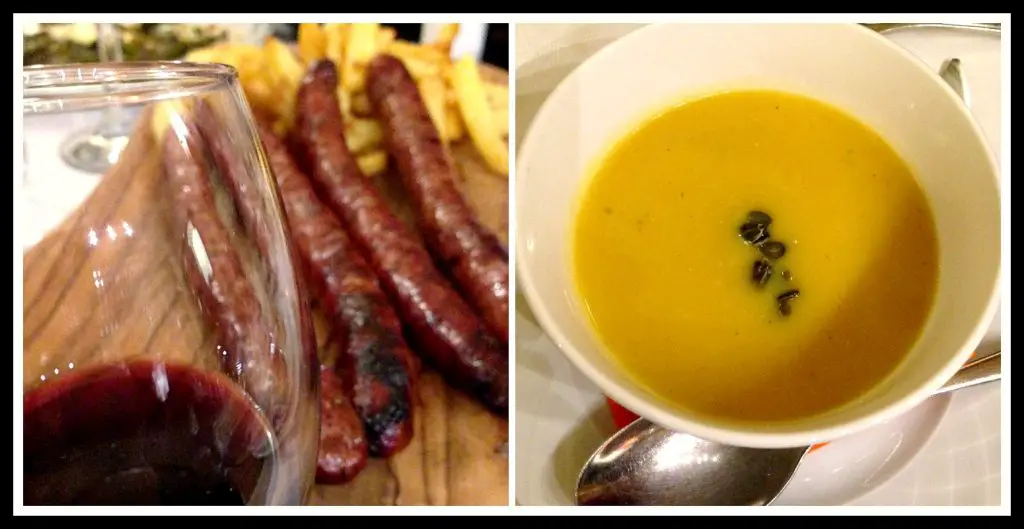 As you can see, by the end of our two day trip, the Travel Bloggers Greece were not left hungry! The food of the Pelion region of Greece is, indeed, delicious.
Have you been to Pelion?  Have you ever tried any of the food mentioned here?  Would you like to?  Leave a Comment.
Will you be going to Athens before or after your Pelion region trip? Then read my Top Things to Eat and Drink in Athens and Insiders Guide to Athens to help you plan your trip.
Pin for Later