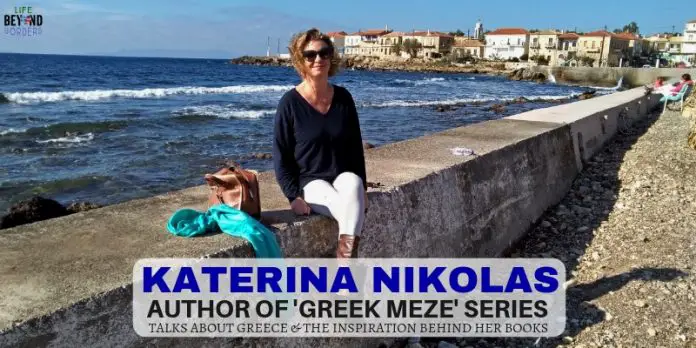 Many of you know my other 'job' is as an author and my novel – Girl Gone Greek has been out for over three years now. I also love reading, especially novels about Greece.  Therefore I loved coming across Katerina Nicolas and her "Greek Meze" book series.
Katerina has a degree in English literature and has worked in finance for years. She's been penning a living for ten years, with finance as her specialty and three years writing for a bridal company.
She is the author of the Greek Meze book series; a humorous look at life in a Greek village with larger than life characters.
I've read all the six novels in the series so far and loved them so much, I wanted to interview Katerina to find out more about her and her inspirations
**Note: There will be Amazon affiliate links in this post, meaning if you wish to purchase, I'll receive a small amount of commission at no extra charge to you**
Greek meze book series – the interview
Where do you live, and how long have you lived there?
I live just outside Stoupa in the Mani, near to the fishing village of Agios Nikolaos. I live in a stone house in an olive grove that I had built fifteen years ago. The cat decided to move in a couple of years ago after following my son home from a nightclub. He called it Houdini not noticing she was a girl, so she's now Houdi. The resident tortoises have been in the olive grove forever.
What's your favourite aspect to living in Stoupa?
It's so peaceful and relaxed. The whole area is incredibly beautiful and very inspirational. It's been a great place to bring up my son who's now away at university – what better playground than the sea? I love to sit by the sea in Agios with an iced coffee, watching the world go by, knowing something completely absurd could happen at any moment and end up in the books.
What was your first Greek Meze series novel? And why entitle the series Greek Meze?
Book 1 is Goat In The Meze. As I was writing it I realized it would make a great series as there are so many eccentric characters to develop. The title is the last thing I came up with and once I'd settled on it, Meze seemed perfect to use for the series. I didn't think anyone would mistake the series as meze cookbooks as the covers are too zany.
I have read all six novels – based in the fictional village of Astakos. How close to reality have you made the village? What influences did you have? 
I love that you've read all the books! Asktakos is visually inspired by the local village of Agios Nikolaos with shops, kafenions and tavernas based around the harbor, and the beach on the outskirts of the village – but as if it were in a more bygone era when donkeys and goats roamed the streets. The older characters in the book would have been around in the days before electricity, inside bathrooms, proper roads and all the other new-fangled modern conveniences arrived in the village. There are influences from other Mani villages too and their resident colourful characters.
I have found the characters hilarious and a joy to follow! We all know fiction occasionally resembles real life – but how close to 'real life' are the characters in the Greek Meze series?
Certain characters were inspired by real life with a hefty dose of poetic licence thrown in, but then took on a life of their own. Every off-the-beaten track Greek village will have its own bossy interfering Stavroula, the gnarled old fishermen who still think they're Greek gods when they draw their pension (and still attractive enough to seduce a Masha), and a kind-hearted practical Soula. Lots of readers tell me they spot the characters when they are holidaying on a Greek island and they look out for the favourite fashion of hideous old lady dresses.
Many of the crazy things that happen in the books were inspired by actual events. One of my favourite moments was watching an ancient old man who could barely stand up unassisted drive his car into the back of another vehicle and then calmly start eating his tinfoil wrapped sandwiches, demanding someone bring a brandy to the now dented car to steady his nerves as the whole village erupted into yelling around him. I used that incident for Nitsa in the taxi. As far as I know, the fish van has only ended up in the sea once, but the Thomas character lost his van to the sea twice.
Any plans for a 7th book?
I'm currently writing 'Hiking the Icon', Book 7 in the series. I hope to have it available in January 2019.
Tell us one rare gem we wouldn't know about Greece – given you live in a place in the middle of nowhere.
Where I live isn't nearly as backwater as my fictional village as progress creeps in and it's less in a time-warp than it was. But there are some locals who have delusionally persuaded themselves that chickens really are vegetables in order to brandish their nonexistent vegetarian credentials. Having once recklessly said they'd gone veggie they are stuck in the position of making it fact without losing face: it's really an extension of the Greek loathing of following rules which means there's always an ashtray under the 'No Smoking' sign and an on-going dispute over the ownership of a hundred-year-old olive tree or the paternity of a goat.
Thank you Katerina! I love Greece as much as you and certainly enjoyed you taking the time to be interviewed.
You can buy the Greek Meze series on Amazon   here, just in time for Christmas!
PIN for later

PIN for later