My novel's been out since 2015  – but let's have a look at the development of writing Girl Gone Greek.
Update: You may also follow my Girl Gone Greek website for more background information about the characters and how it's been written into an award-winning film script.
Back in the summer of 2010 I was back in the UK visiting family.  One lazy summer afternoon, I was dozing in bed.  You know that halfway stage between sleep and being awake?  Well, that's the time for me when all my thoughts come together and I think random strangeness.
Except this time was a 'Eureka!' moment.
Why not start a novel about your experiences and travel in Greece?  It's nice you've got a blog, but why not push yourself that bit further? And people might be interested in the colourful characters you've experienced in the country
my inner voice was telling me.  And so I (not quite) leapt out of bed, grabbed my laptop and started to randomly type.
Five years and a lot of blood, sweat, tears and laughter later, Girl Gone Greek was finally born. Her gestation period was a long time – but we had fun together.  In fact, at times I didn't want the fun to end…that's why her development and final birth took five years.
Coming to Greece and don't know what to pack? Then take a look at my Greek island all round packing list, for any time of the year.
How about buying something for yourself of loved ones when here? Then read my Best Souvenirs from Greece article to help you decide what to buy, apart from my novel, that is
The pain and process of writing Girl Gone Greek
But with the ups also come the downs. As Girl Gone Greek developed her own voice and personality, out came a lot of myself too.  I found myself remembering past experiences that were quite painful for me and my book developed beyond just a 'life in Greece' novel.  Writing became a cathartic process and I found ways to weave a positive out of the negative…even to turn it into humour.
Ithaca in 2012
I attended a Writer's Retreat on the Greek island of Ithaca in 2012 with Homeric Writer's Retreat and this further inspired me.  The workshops, feedback on my book from Chuck Sambuchino of Writer's Digest and these stunning views – who wouldn't be inspired!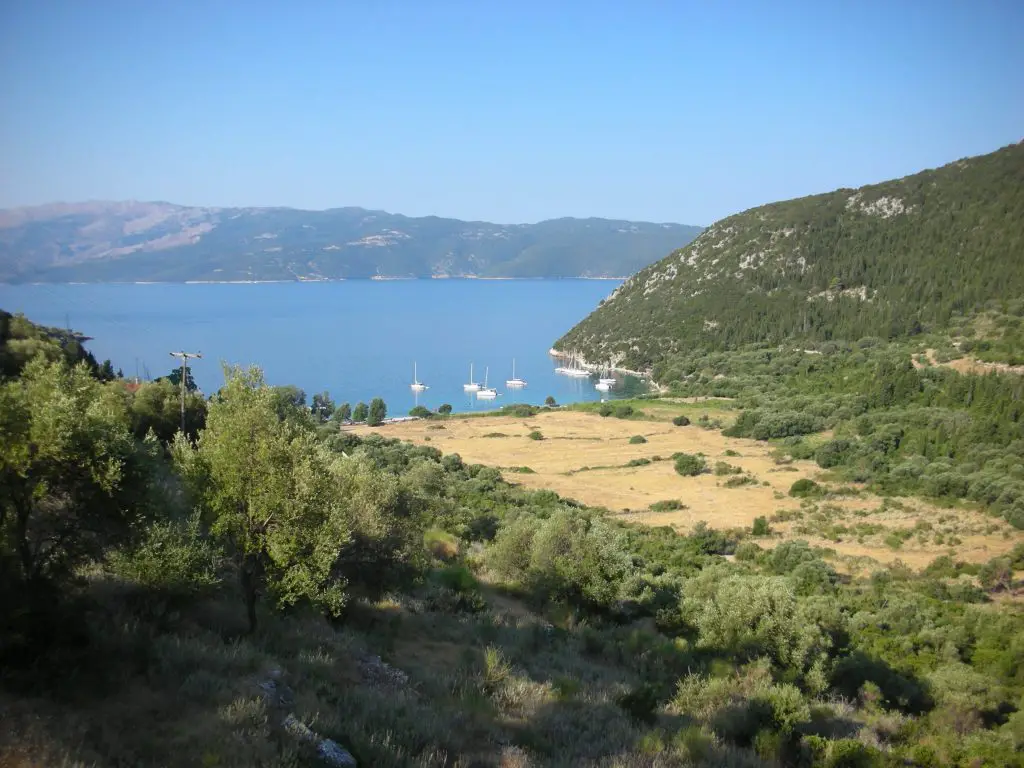 Girl Gone Greek – what inspired the title?
The title for my book came last, actually.  I let her develop and grow, and knew a title would come to me.  Then I remembered: Back in 2013 I was interviewed by online women's magazine Girl Gone International about my life in Greece. I was a Girl Gone International – more specifically, I was a Girl who'd Gone Greek.  I contacted the magazine and asked if they'd mind if I used this title.  They were delighted and gave their blessing (follow Girl Gone International on Facebook).
I even had someone help me make a book trailer:

Girl Gone Greek: Self-publishing vs Agents
As with every 'birth' there're ups and downs.  The final push (Girl Gone Greek's equivalent of 'crowning') was trying to seek agent representation.  Admittedly, I didn't send to many as I knew deep down that I wanted to self-publish.  Inevitably I was turned down by all agents I approached – so self-publishing on Kindle (for the digital) and CreateSpace (for the print copy) became the best option for me.  Queue the 'final push.'
Publishing tools: Bleeds, margins, The Greek Eye
I knew someone in Athens who was a professional typesetter – thank goodness for her!  I could not have made the interior of my book look as professional as I consider it to look without her.  You'll see inside my book that sometimes, the chapters are divided up. My typesetter had the brilliant idea to design a Greek Eye to use as a symbol, instead of the usual asterisk or line.  It looks great, even if I do say so myself.
Page bleeds, margins, InDesign (a version of Adobe that you typeset the book in, then convert to a PDF) – oh my goodness, what a learning curve!  And THEN my poor baby had to be converted to digital format.  Luckily Kelly at KMD Web Designs – for a very reasonable price – converted the file in the correct format for me, without loosing any of the lovely formatting from my print copy such as the eye, or any Greek lettering I've used throughout.  And she did this in record time too.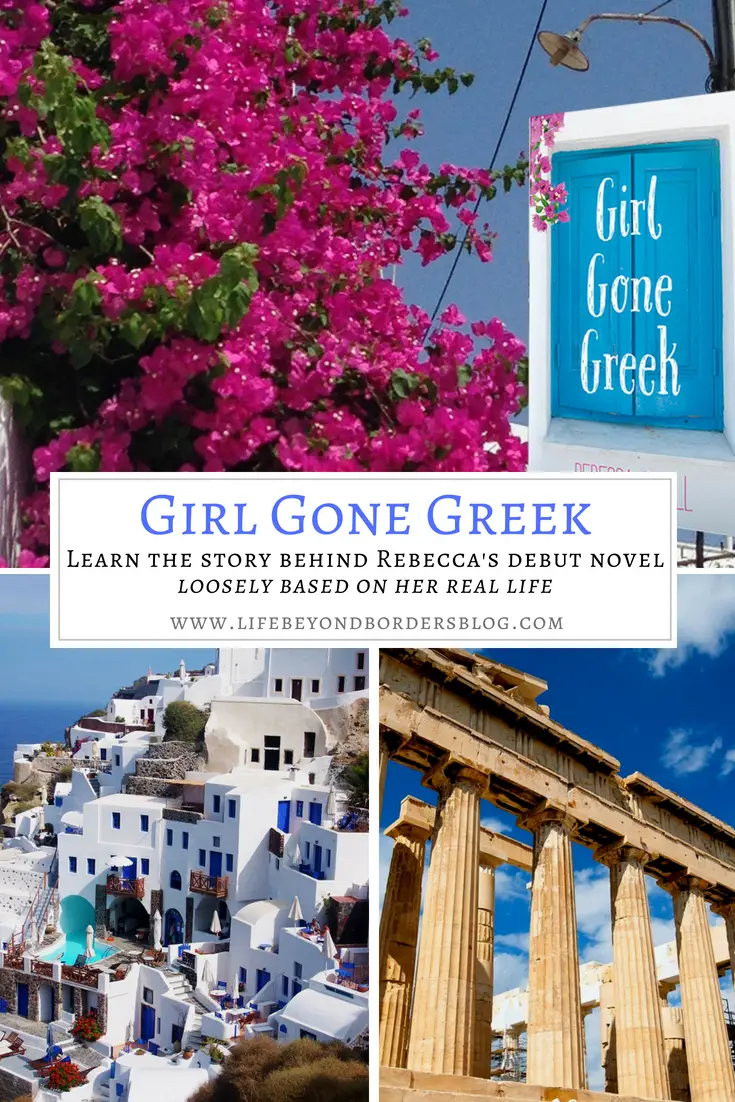 Girl Gone Greek – the Book Cover
Simon Avery of I Do Book Covers designed the great cover for me – both print and digital copy at a discounted rate if you order the two together. I couldn't decide what to go for – he made seven completely different designs for me to choose from, all were very clever…but I went for this simple one that screamed Greece to me and we added the finishing touch: the purple/pink bougainvillea (my favourite flower and colour).
I really hope you're compelled to read Girl Gone Greek
You can purchase her from:
or
PIN for later