You've come to Greece for your holidays and your friends and family are good-naturedly envious.  You feel obliged to bring a Greek souvenir back for them as a gift, and also for yourself because there's no doubt that a trip to Greece is memorable, whether that be to the mainland, capital or islands.
Read my Insiders Guide to the Greek Islands for my ideas of what islands to visit, combined with my Greek islands all round packing list to help you know what to pack when coming, as well as my Insider's Guide to Visiting Athens for my recommended hidden spots of the city and what to see.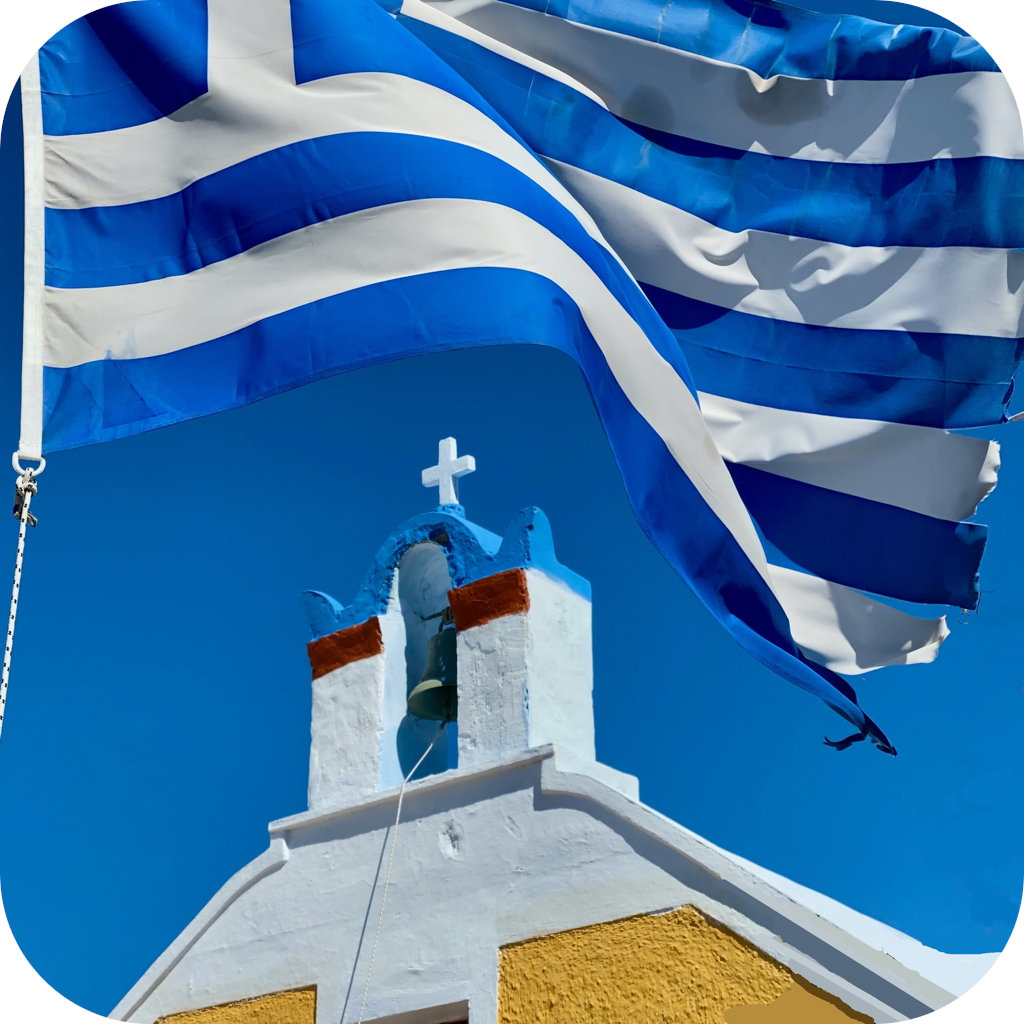 Want a guide to the country in the palm of your hand? Then you'll love my downloadable Greece's Best Travel App for iPhone, iPad and Android.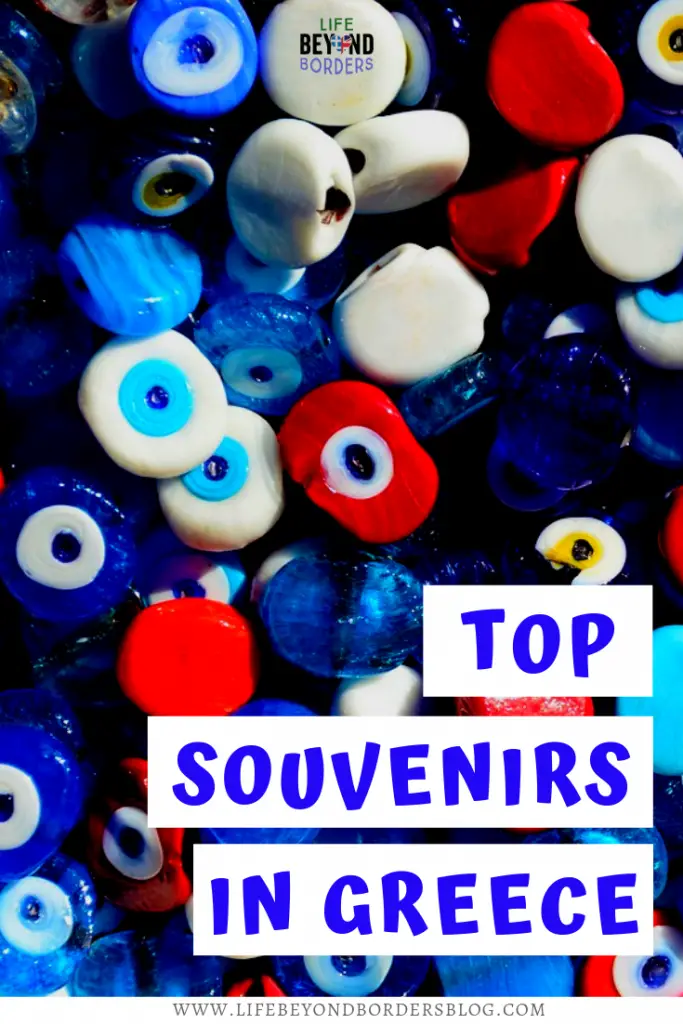 There will be some affiliate links through this post – meaning if you choose to purchase anything, I will receive a small amount of commission
But what Greek souvenirs are you going to take back for your friends, and yourself?  And what will fit in your luggage? Here, I take a look at some of the best souvenirs from Greece to give you some ideas – also where to find them and hopefully something a little different than the bog standard glow in the dark Parthanon lamp!
Best Souvenirs from Greece – Worry Beads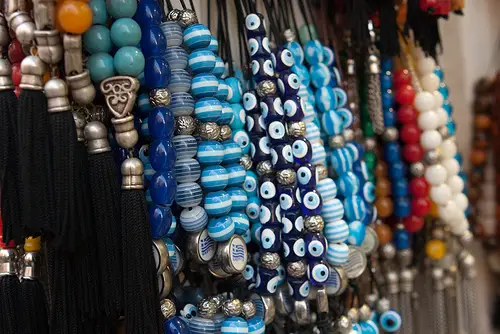 Kompoloi are a string of beads found used by elderly Greek men (usually) as they stroll down the streets.  Interestingly – and I never knew this – there is the Quiet and Loud method to using them: Quiet is usually used in the home where the user threads them – using thumb and forefinger – from the base to the end, then repeats the other way. Loud is more common in public and involves more of a clicking ie: palm up, beads resting on the finger divided into two groups, then swing one end up to click against the other group, repeat on the other side. There's quite an art to it, as you can see – especially as the user usually has his kompoloi arm behind his back!  Best to come to Greece and witness for yourself.
Kompoloi can be found everywhere: in tourist places such as Plaka in Athens or all over the islands. The beads are either dark or colourful, and it's nice to choose from such a variety. They make a great Greek souvenir to take home as they are light, fit in your hand baggage and are very traditional.
Best Souvenirs from Greece – Tavli Board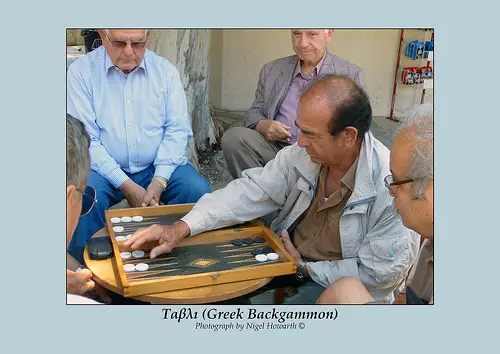 Ahh Tavli: walk past any coffee shop or kafenio (a place usually frequented by older men, drinking their coffees, frappe's (think froffy coffee milkshake) or even a little bit of ouzo with small meze's) and you'll see young and old deep in concentration or playing tavli.  To my mind, this is one of the best souvenirs one can buy from Greece because it is so typical of Greek every day life (rather like kompoloi). We know it as backgammon and I won't go into details about how it's played, just to say it involves two players and is one of the oldest board games around.

Tavli boards are a little big, so think about whether you have room in your hold luggage to fit this Greek souvenir…but it does make a lovely reminder gift for yourself of your holidays; strolling the streets and seeing it played. It can be bought in any tourist area, especially Plaka district in Athens (see below).
Best Souvenirs from Greece – Mati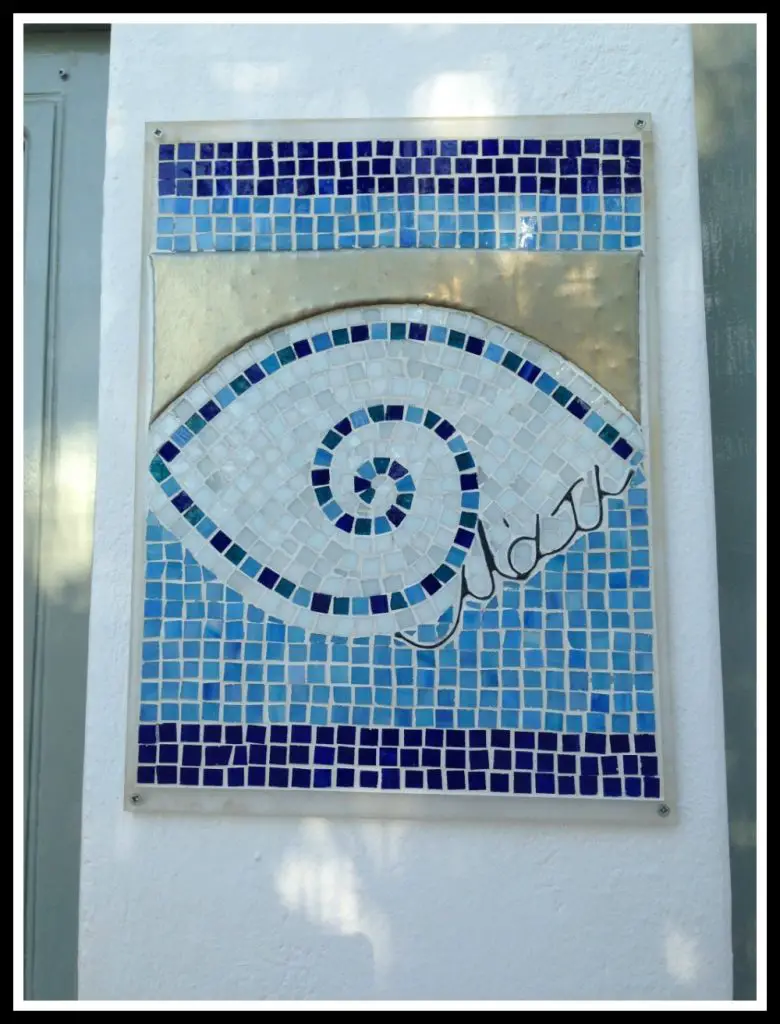 "What's a mati?" I hear you ask – and with good reason.  Well, if someone glares at a person in Greece, you may see the recipient of the glare cross themselves.  You may also see many Greek people (mainly women – and older women) wearing jewellery with what looks like a blue eye; bracelet, necklace, even on their key fobs (I have a small eye bracelet on my wrist just with cotton thread.  Yes, I believe in it too, and I'm not an old woman!).  It's thought the person glaring is throwing negativity your way, especially jealousy because you may be: pretty, kind, just simply because that person's in a foul mood and taking it out on you.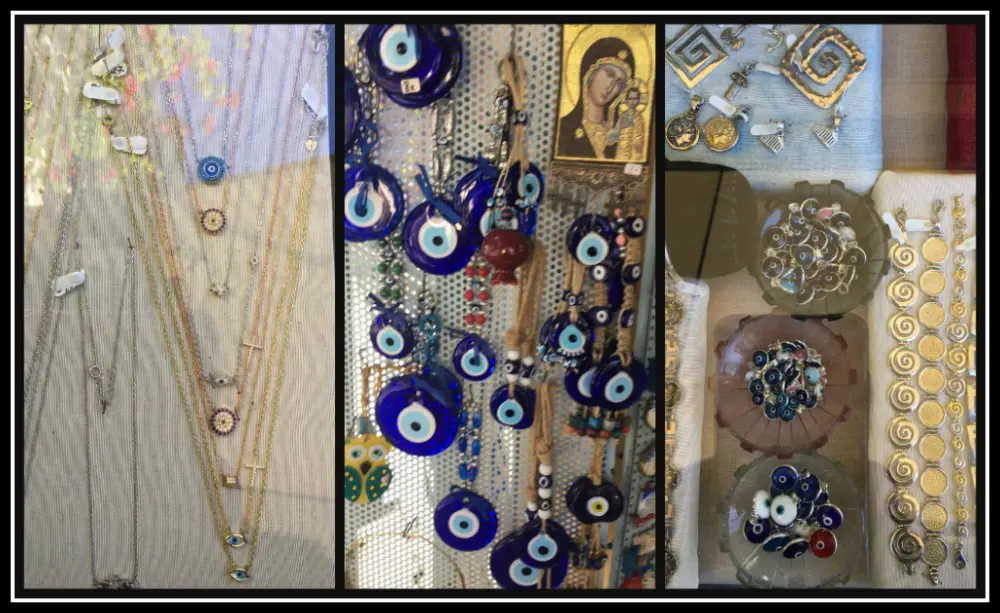 So the evil eye charm – mati – is said to prevent the curse from happening, or reaching you.  Someone gives you a curse in the glare, but the eye is almost like a protective shield. Symptoms of 'being cursed' include feeling sick and especially a very bad headache. Whether you believe in it or not; the mati jewellery and paraphernalia sells very well in Greece. It can be found everywhere. It makes a great Greek souvenir, especially with the superstition behind it, or is it superstition?  You be the judge.  You can even find the mati engraved in the paths sometimes, as seen here on Rhodes island.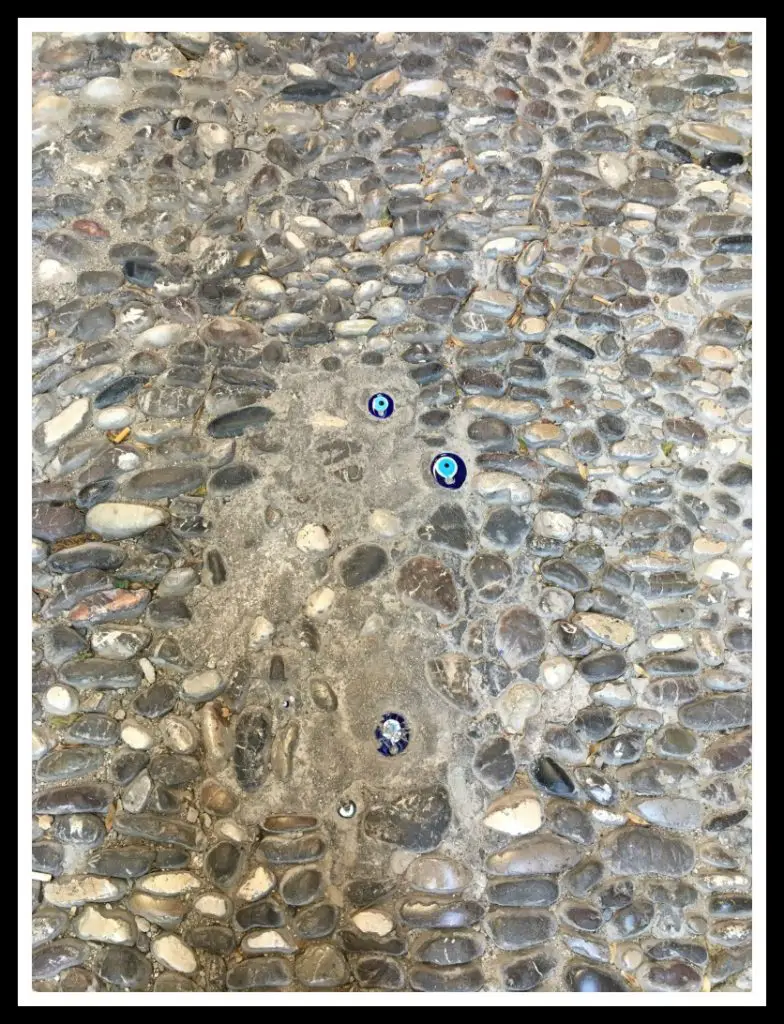 Best Souvenirs from Greece – Meli
Meli is Greek for honey and is one thing Greece is popular for in the food stakes (apart from olives). Did you know that Greece has more bee hives per acre than any other country in Europe? It produces all kinds of variants of honey; with orange, thyme, lemon – for example, and the best thing about Greek honey; it's natural.  Hardly any of the processed stuff you'll find in your own supermarkets.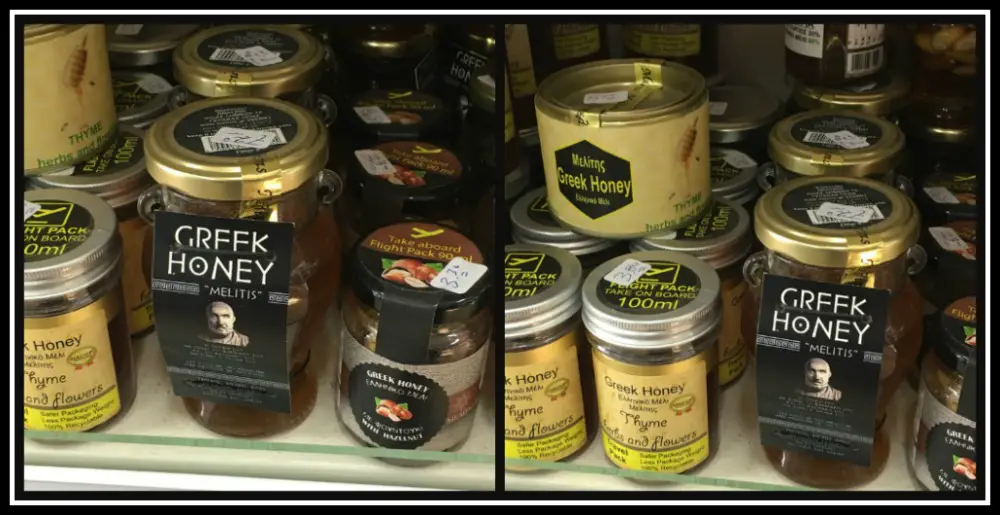 Honey dates back to Ancient Greek times where Hippocrates, the Father of Medicine, believed honey caused warmth, cleaned sores and ulcers and softened lip ulcers. Aristotle believed honey prolonged life – and I am sure there are studies out there that prove this. In fact, just think how you feel when getting a cold and you put lemon and honey in hot water…delicious (especially if you add brandy!)
Be sure to buy some meli to wrap in your hold luggage and take home (and some olives too).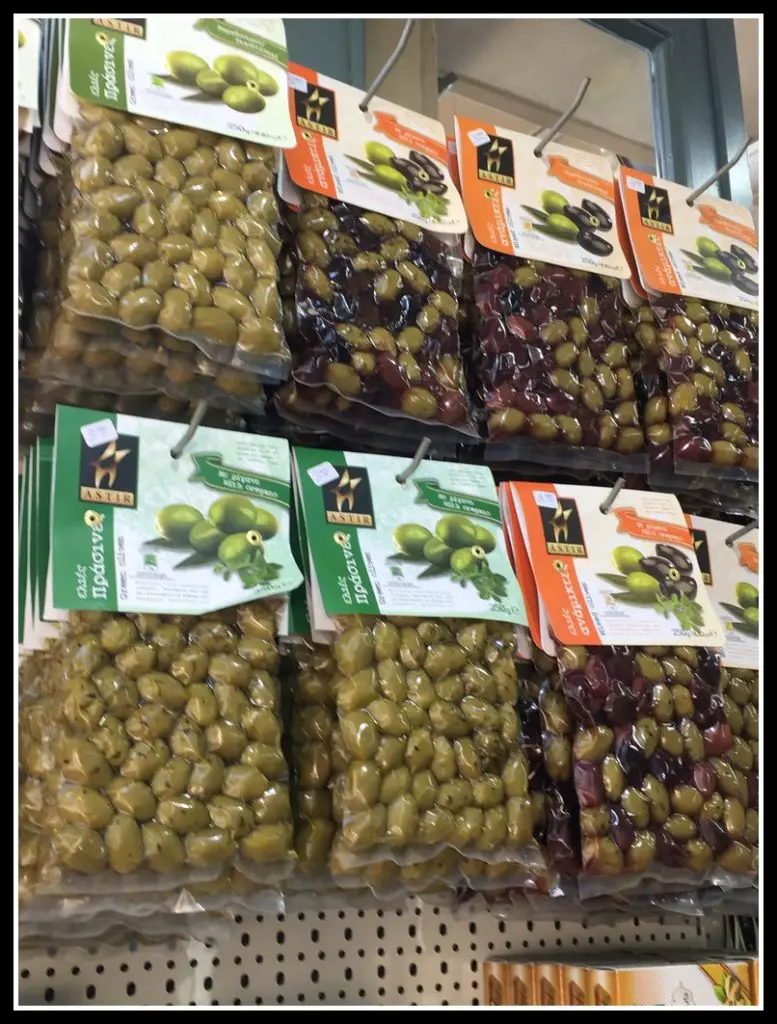 Best Souvenirs from Greece – Pistachios
Even if you're not particularly a nut fan, pistachios are regional to the Greek island of Aegina – just a short ferry ride from Athens.  Pistachio trees have been growing on the island since 1860 and the climate lends a particularly good flavour and smell to the nuts.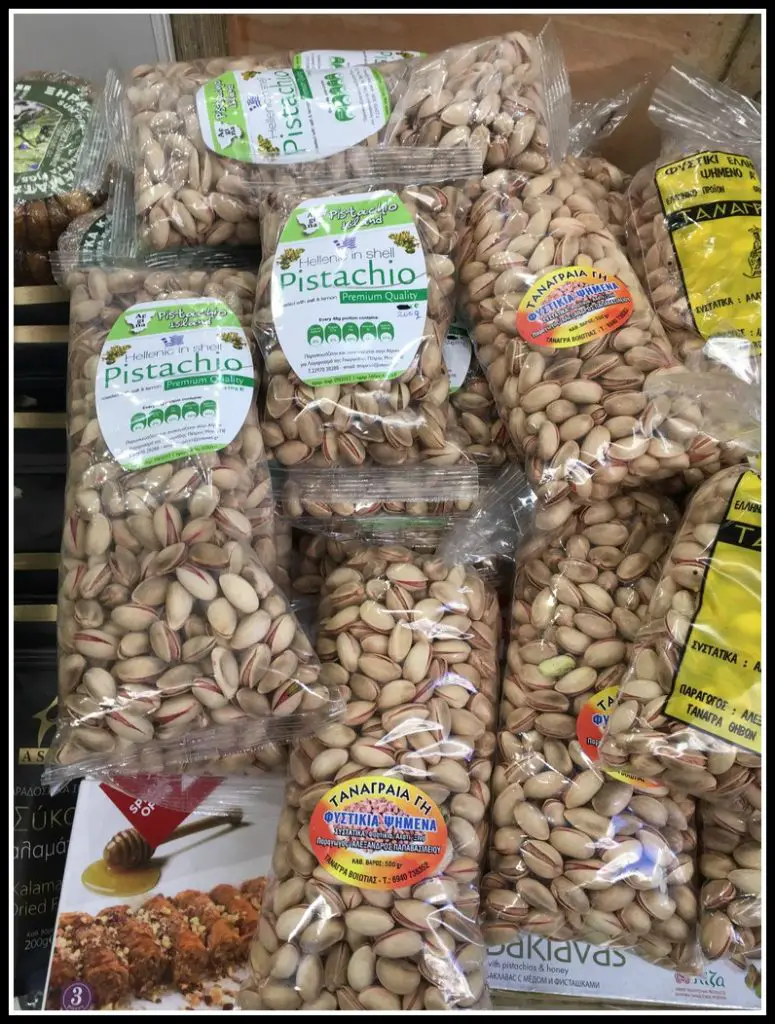 The harvesting of them is particularly interesting – similar to olives; large tarpaulins are placed on the ground around the trees and during the month of September, if you visit Aegina don't be surprised to see people beating the branches of pistachio trees to make the nuts fall to the ground, they're then gathered in the tarp for harvesting.
You'll see them for sale all over Greece, but especially along the promenade of Aegina.
Best Souvenirs from Greece – for something a little different
If you're looking for something a little different; maybe old drachma notes and coins, wooden carvings, paintings and even the odd antiquity, then a visit to the Athens Flea Market in Plaka is a must.  You'll find all sorts of odds and sods.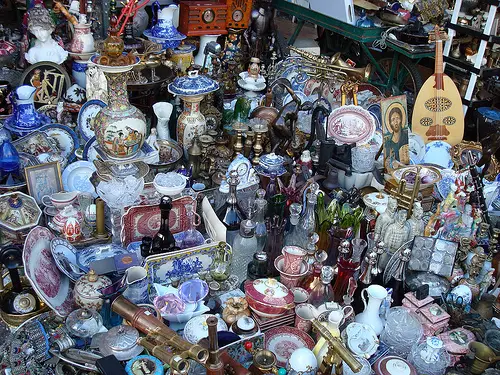 You may even be able to find some vintage stuff such as copies of old 1950's taverna menus (in Greek) – but still just that little bit different.
The Plaka district can be found near the Acropolis, just by Monastiraki metro station.  It's a great place to browse away the hours.
Best Souvenirs from Greece – the usual postcard and fridge magnet
It's nice to take home a small item as an every day reminder to prop up on your mantlepiece such as a postcard, or how about having sunny feelings every time you open your fridge with a fridge magnet? Obviously there are a plethora of postcards and fridge magnets for sale – and it is possible to find 'nice' ones and not tacky.  My favourites are usually ones with the ubiquitous colourful doors or wooden shutters that so symbolise the country.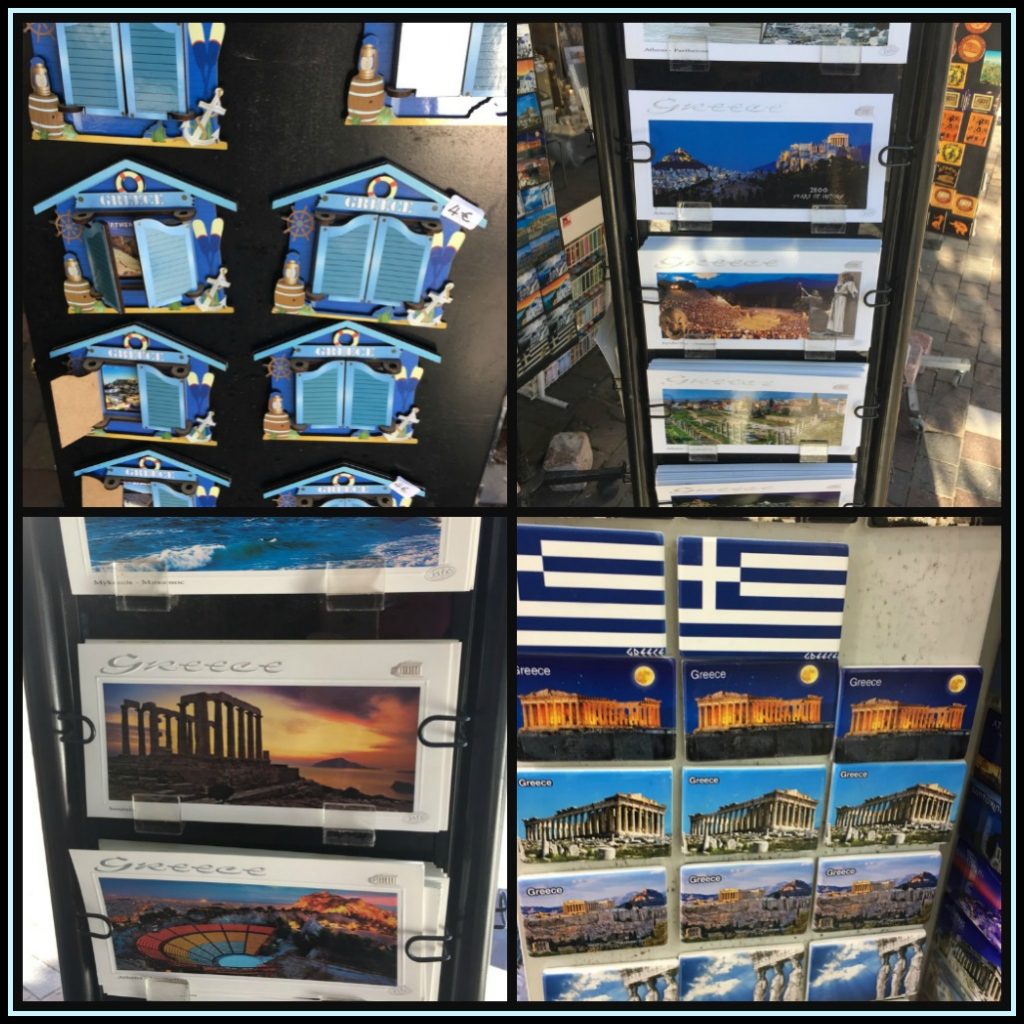 I hope I've tempted you with a few different ideas of best souvenirs from Greece to take away with you after your visit.
What's been your favourite treasure from a trip to Greece, or your favourite memento from a trip abroad?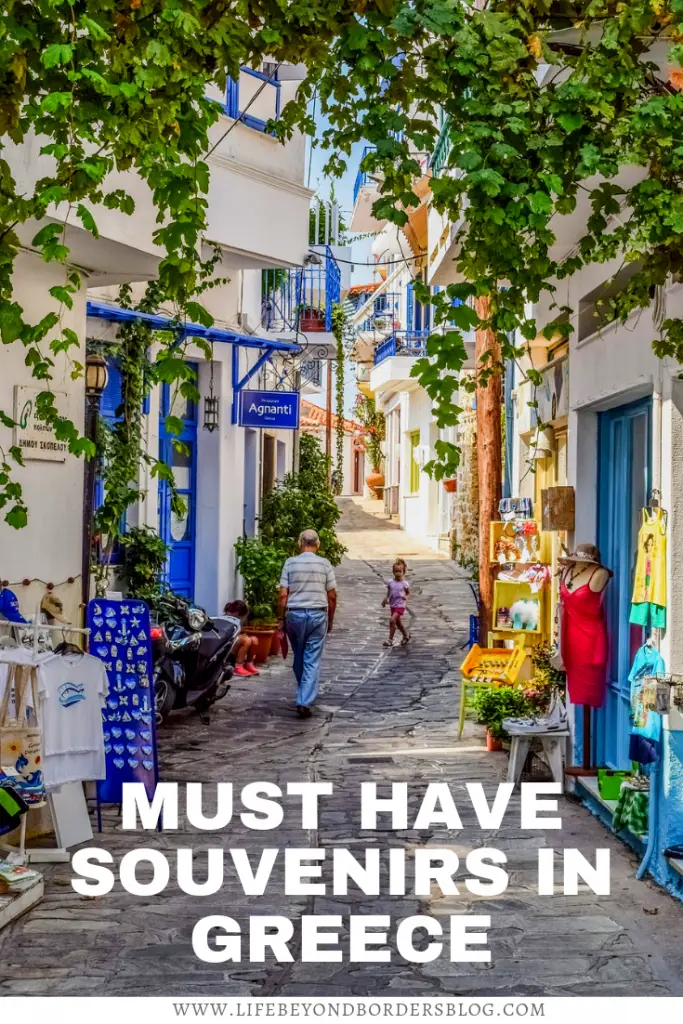 For some pre-Greece reading, why not check out my travel novel Girl Gone Greek, 'loosely' based (wink wink) on my first year living in Greece as an English language teacher, or for some historical fiction, Chrissie Parker's novel Among The Olive Groves – based in WWII times on the island of Zakynthos.  Both (I have to say) make good reading companions. Take a look at my recommended buys for a visit to Greece below:
PIN for later