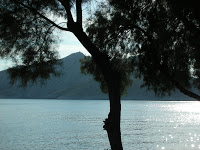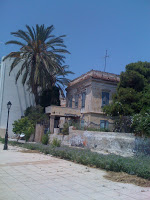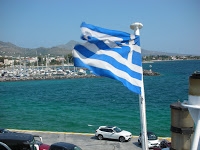 I'd recommend Aegina to anyone who wants to escape Athens for one night/2 days.  It's beautiful and luckily only located about 1hr 15 mins from Athens by ferry (less time if go you choose the Speedcat). 
As you know my past experience with Speedcats has been, somewhat, dodgy.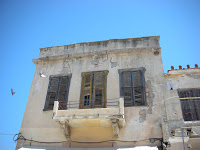 Gorgeous old buildings
So I prefer the slow boat option:  can walk around on deck and have the HILARIOUS task of trying to board the thing and learn how to be 'Greek' about it:  keep your bulky shoulder back on said shoulder and BARGE your way through the crowds, knocking people into the water as you (well, not literally, but nearly).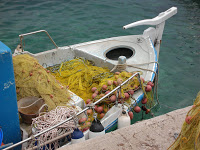 Fishing boats
It WAS funny though.  The port policeman was yelling at an old lady to stand behind the yellow line as she may get hit by the 'flying ball'.  This is when someone from the ship throws down the huge rope to the man on the ground, the man then attaches it to a 'post' on the ground to keep it stable.  But the rope is attached to a smaller rope and all balled up at the end, so it's THIS that is thrown, then the huge rope follows.
Back to Aegina:  it's part of the Saronic Isle (not sardonic as in sarcastic).  Not many sandy beaches, but lovely rocky ones and I had my first swim of the year (yippee!!)  Also caught out in a massive thunderstorm and what can only be describes as monsoon!  (See pics).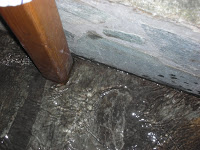 Small flood at our table!
So, after all the stress and tension these days, it's nice to escape – and after my first swim and lots of fresh air, I feel sleep too – off I go to bed then.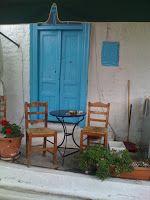 Nice places to have coffee