The land of the Ancient Gods and the city that introduced Democracy to the western world knows how to celebrate life, and that's through food. Eating Greek dishes isn't merely an activity to fill your stomach, it's to be appreciated and enjoyed with good company, hence mealtimes can go on for two, sometimes three hours in Greece. Here, then, are my top recommended Greek dishes to try when in the capital city.
Download my Greece's Best Travel App to have Greece and Athens in the palm of your hand with iPad, iPhone or Android to help you with your planning.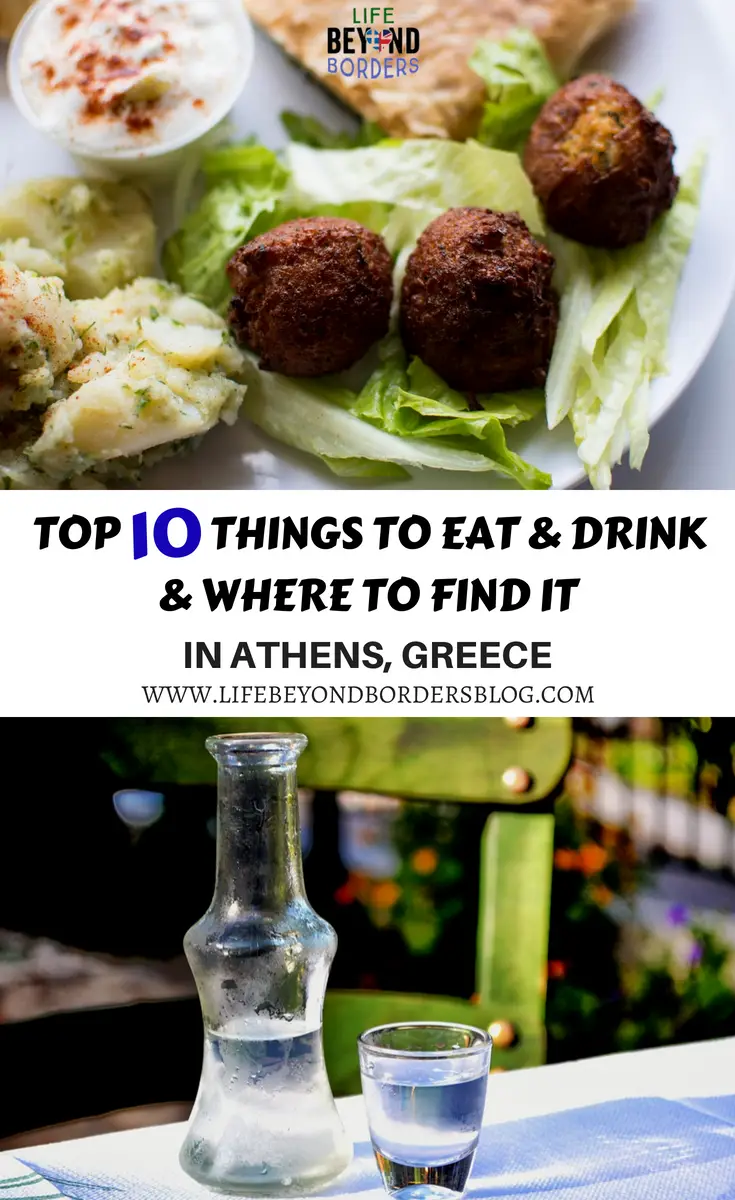 This post is a great guide for those coming to Athens for a day via cruise.
Top things to eat and drink in Athens
Note: Most of Athens' good eateries are found in the city centre; about a 9 mile / 20 minute / €17 taxi ride away from the cruise terminal at Piraeus.
The Greek version of Spanish tapas, mezeis made for sharing and can be eaten to accompany an alcoholic drink or as a main. It consists of a variety of dishes including dolmades (stuffed vine leaves), tzatziki (yogurt and garlic dip), any number of Greek or Cretan salads (with feta or local homemade cheese) and meat, cheese and spinach pies with filo pastry.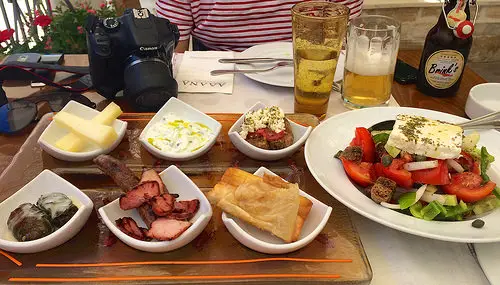 Very popular for a snack as you wander around the sites, and eaten regularly by the locals, koulouriis a simple ring of bread sprinkled with sesame seeds or cheese and olives and is sold from koulouri stands all over the city.  To koulouri tou Psyri is the bakery that supplies the majority of stands in the Athens area and is located in the Psyri neighbourhood of Athens—near Monastiraki.  You can buy them directly from here too.
You've probably eaten Greek yogurt before, but you won't have tastedit until you try it from the oldest dairy in Athens.  Founded in 1931 and situated in the less than salubrious Omonia district of Athens, a short walk from Monastiraki, Stani is popular with locals and the yogurt and other dairy desserts on offer (such as rice pudding) uses sheep's milk, thus ensuring its thickness and freshness.  Served with Greek honey, you're in for a real treat.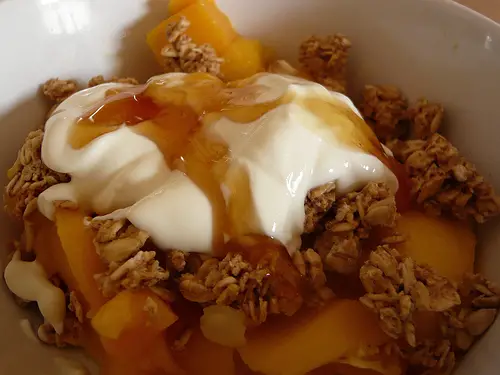 Top Greek Dish – Souvlaki
You can't come to Greece and not try souvlaki! The Greek version of fast food, it's actually quite healthy.  Cubes of grilled pork, tomato, onion, parsley, tzatziki and fries fried in olive oil are wrapped in pita bread.  The locals tend to go to Kostas, operating since 1950 and located just off Mitropoleos Street near Syntagma Square.  You'll find every food outlet and restaurants serves souvlaki, but avoid the ones in touristy Monastiraki.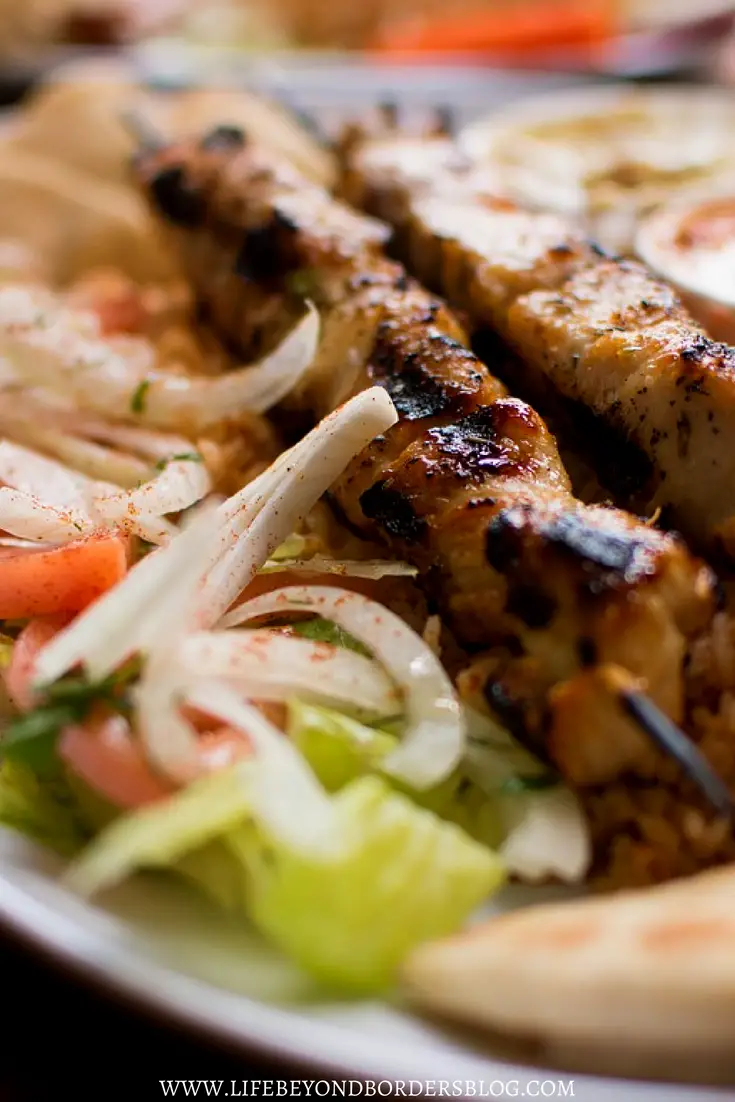 Not usually thought of as a Greek dish, but a legacy of the Ottoman Empire, falafel is the equivalent of a vegetarian souvlaki. Falafels are pita breads filled with chickpeas, tomato, lettuce, cucumber, aubergine, tomato and yoghurt sauce.  Falafellas in Aiolou St No. 51 is the place to buy yours.  Centrally located, it's frequented by locals and tourists alike.  Be prepared to queue, but the wait is worth it.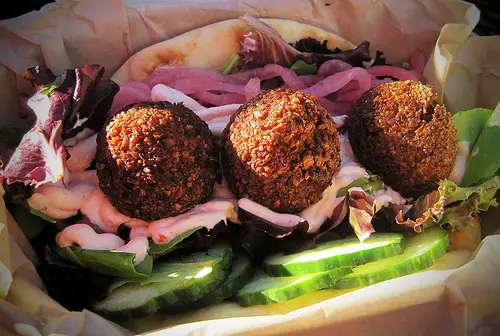 Greek food with a difference – Chicken mastihato
This dish is one of many Greek dishes with a twist served in one of four family restaurants in and around the capital—Tzitzikas Ki O Mermigas. The chicken fillet comes on a "kadaifi" pastry nest with creamy Chios mastic sauce and bacon.  Decorated to take on the aesthetics of a small, 1950's Greek village store and popular with locals, nevertheless the more touristy Syntagma Square location is the best one to eat in if you're time is limited as it's more centrally located; Mitropoleos Street 12-14.
So now you've decided to visit Athens and try out the local food, read all about the Best Souvenirs from Greece and where you can buy them

Loukoumades
Loukoumades are small, yeast-risen puffs deep-fried until golden brown and drizzled with honey and sprinkled with cinnamon and icing sugar. Some are injected with the cream of your choice; banana, lemon or chocolate—but it's nicer to eat them in their simple form.  The centrally located, traditional sweet shop Krinos in Aiolou St No. 87 (near Falafellas) has been making and selling this traditional Greek dessert (among others) since 1923 and is the place to buy them.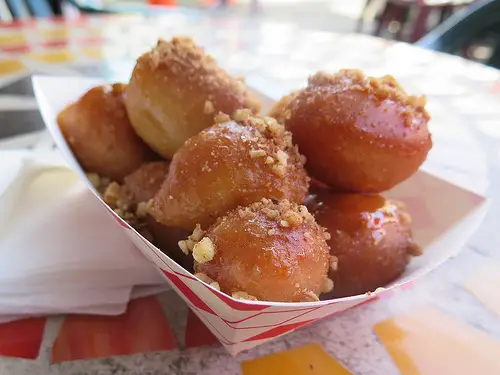 If you're not a fan of licorice, then don't try this strong, Greek liquor.  Drunk in small shot glasses, sip it with or without ice, and sip it you should! Great with mezes, ouzo is best drunk in an ouzeri; a café that specializes in stocking many forms of this drink and accompanying it with many types of traditional Greek food.  To Kafeneon is one such ouzeri; located in the central tourist area of Plaka, around the Acropolis—on Epiharmou St—yet is exceedingly popular with locals. Their ouzo comes from the Greek island of Chios.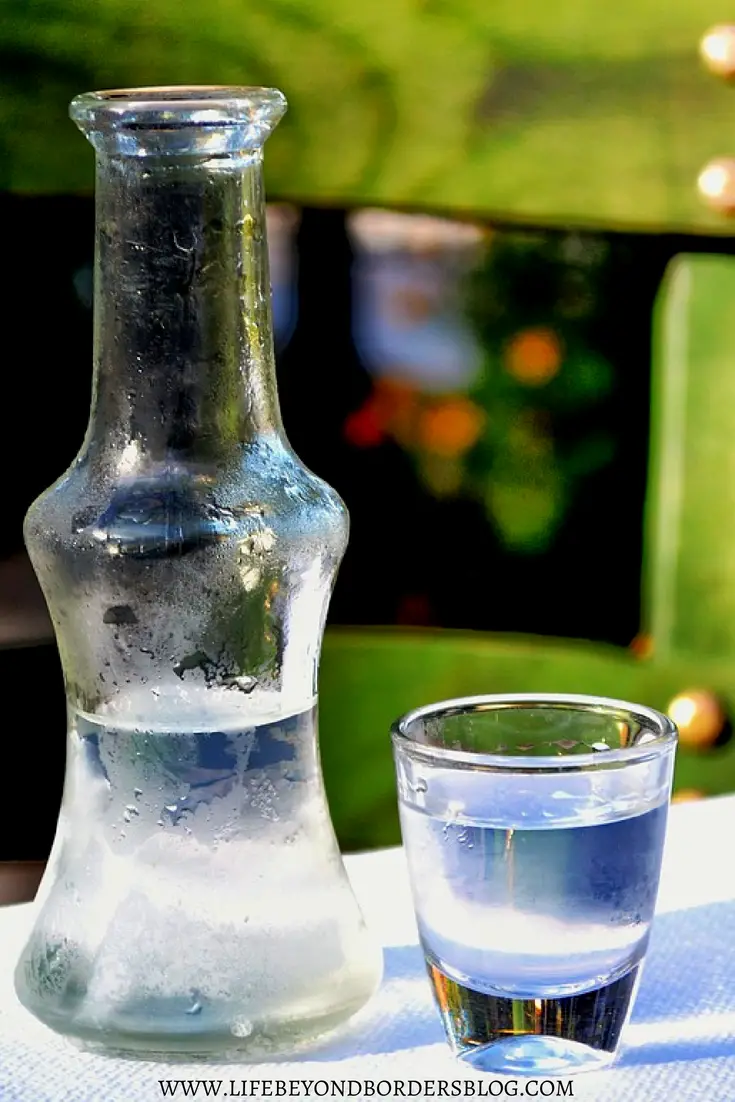 Making good Greek coffee is an artform.  The ground coffee beans are brought slowly to the boil on a brikiand your desired amount of sugar is added, and then poured into your cup.  Like everything else in Greece, it's designed to be sipped and enjoyed slowly.  You can only drink it to a certain point though; once you get to the—what can only be described as 'sludge' at the bottom—you'll be chewing it off your spoon. Greek coffee can be ordered in any café—but the best non-touristy places in central Athens are located in Iroon Square in the neighbourhood of Psiri, near Monasteraki.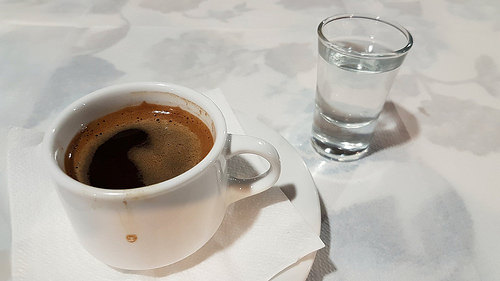 Another Greek favourite (and Greeks can sit all day sipping this 'buzzing' drink), frappe is instant Nescafe mixed with water, milk, lots of sugar and mixed to a froth and served with ice—perfect on a hot day after exploring the sites.  If caffeine is not your thing, then be sure to ask for a decaffeinated version. Again, in central Athens the Psiri neighbourhood near Monasteraki is teaming with cafés little known to tourists, but well frequented by locals.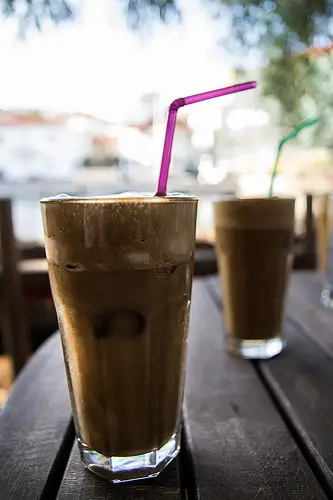 I hope you've enjoyed my rundown of the top ten things to eat and drink in Athens, Greece and where to find them. What is your favourite Greek dish? Share in the comments below.
Header image © jcvelis of Pixabay
PIN for later