Being from the UK, I've never thought of a High Tea London experience before. I get used to drinking cups of tea at home, and whilst I don't quite eat cucumber sandwiches with the crusts cut off, I do enjoy egg mayonnaise sandwiches.
But with various Royal Weddings that have taken place, I though a High Tea London experience was just what the Doctor ordered.  After all, High Tea sounds a very Royal concept.
**Disclosure: I was a guest at The Berkeley and my experience was hosted.  Opinions reflected here are my own**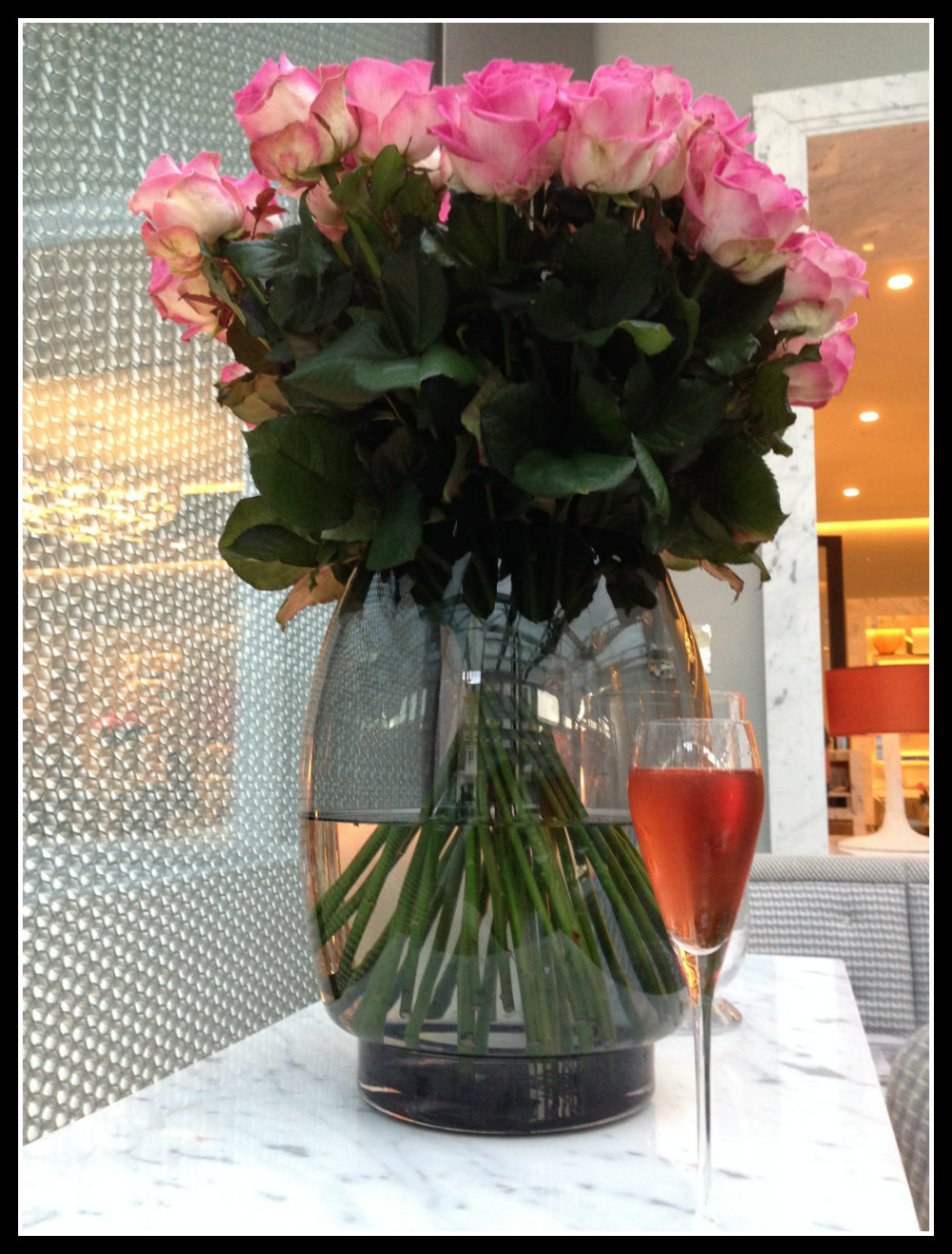 So whilst in London, whether for the Royal Wedding or just to sightsee Buckingham Palace, be sure to fit in a High Tea Experience (let me assure you – it does not involve a cup of Tetley or PG Tips and egg mayonnaise sandwiches).
High tea in London with Prêt-à-Portea
Prêt-à-Portea is the legendary High Tea experience offered at The Berkeley Hotel in Knightsbridge, London (not far from Harrods).  Their Afternoon Tea experience is called Prêt-à-Portea as it has a very fashion world theme and twist to it.  Served in their Collins Room, one is advised that whilst there is no strict dress code, do not turn up with baseball cap, sportswear or shorts. Just use your common sense and dress in a smart/elegant manner as befitting gracing a 5 star establishment.
High Tea with a fashionista twist?  Let's explore that further…I'm intrigued, hence why I was so excited about my Berkeley Hotel experience.
Their menu is changed every six months to keep in with the fashion trends.  The food served reflects this.
High tea in London: menu
On the menu was:
Savoury
Roast corn fed chicken, celery and spring onion emulsion, baby gem
Duck egg mayonnaise, beef tomato and mustard cress on white bread
Home cured smoked salmon, celeriac remoulade, watercress on malted brown bread
Salt beef brisket, gherkins & Applewood on a Brioche
Grilled aubergine, Piquillo pepper, martini olives, feta and hummus on onion bread
A spinach and feta muffin, crispy kale
A beetroot gazpacho with tahini yoghurt
Scorched tuna, horseradish beurre blanc, soya tapioca
Notice the crusts are cut off?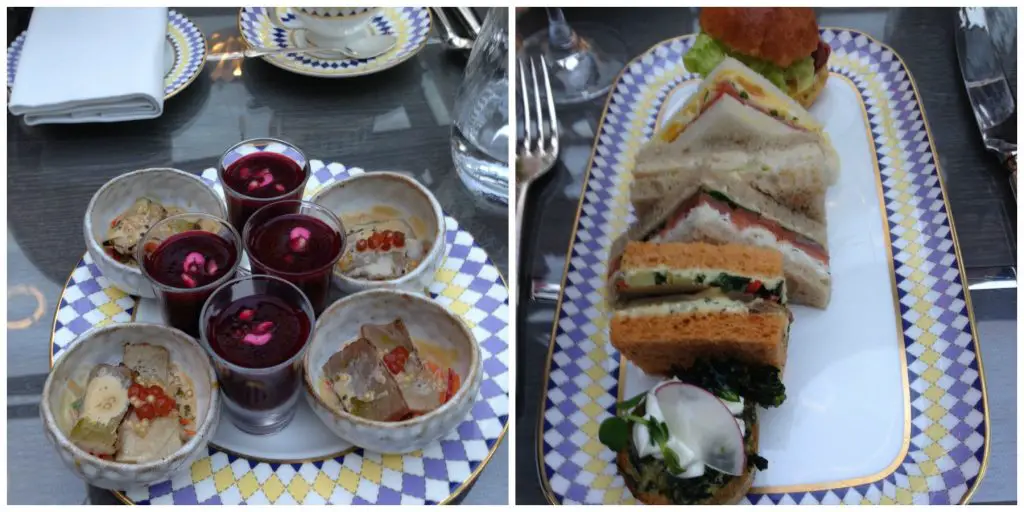 See what I mean about the egg mayonnaise?  Except this was of the duck egg variety! This, my dear friends, is a positively high class experience, and with a glass of Laurent-Perrier Rosé champagne to start the whole experience off with, how positively charming!
Not being too sure what to expect at first, I was really pleasantly surprised at the eclectic tastes these little bites emanated.  As you can see, they were small, yet very filling.  My favourite?  The duck egg mayonnaise, mustard cress and beef tomato on white bread, closely followed by the beetroot gazpacho with tahini yoghurt (the very purple dish as seen in the picture above).
Sweets
Now onto my favourite part of the experience, the desserts.  As mentioned, High Tea at Prêt-à-Portea follows a fashion world theme to their dishes and this is particularly reflected in their sweets served on a high tower platter.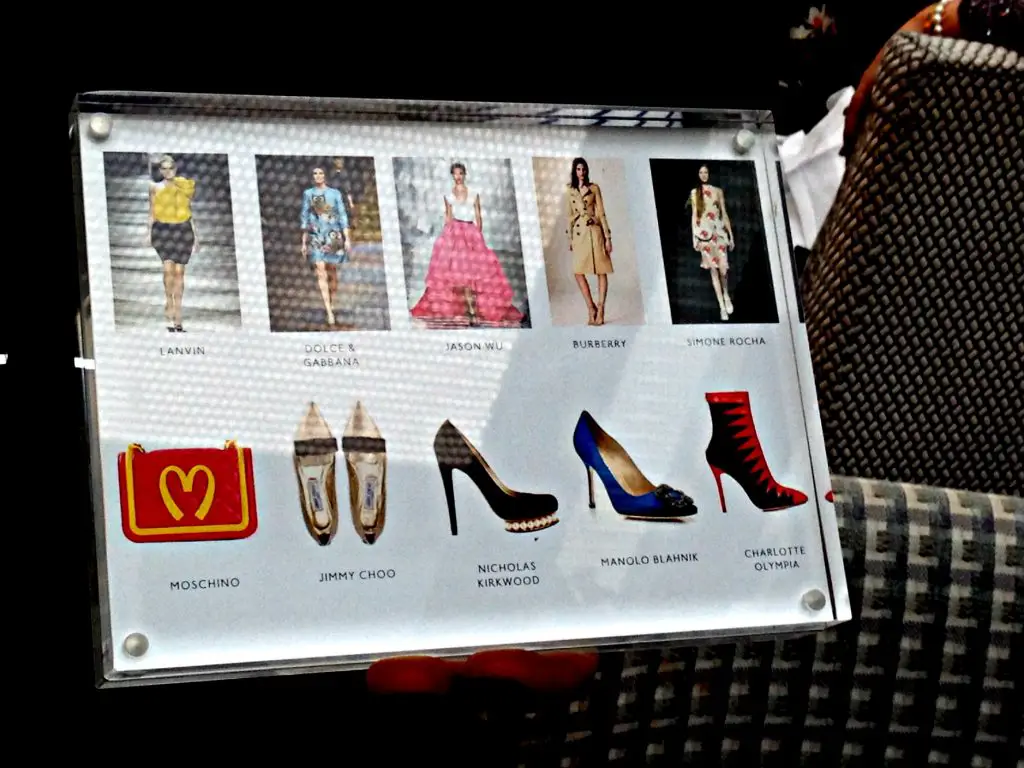 The selection you can choose from (listed in order of the pictures above):
Lanvin's

 almond sponge, honeycomb and chocolate mousse draped with a light meringue ruffle

Dolce and Gabbana's

 duo of blackcurrant bavarois and star anise pannacotta, topped with chocolate owl dress design

Jason Wu's

cherry bavarois and coconut cream topped with a funky pink skirt and biscuit heel
Burberry's classic trench coat chocolate biscuit with creamy royal icing

Simone Rocha's

 embroidered tulle dress vanilla éclair filled with salted caramel crème patissière
Moschino's blood orange Victoria sponge 'yellow M' handbag encased in red chocolate

Jimmy Choo's 

glittery gala pointed-toe shoe velvet praline cream cake with hazelnut croquant and sweetheart bow
Nicholas Kirkwood's pearl pump sachertorte layered with raspberry, chocolate ganache and Valrhona crémeux, topped with delicate silver pearls
Manolo Blahnik's Hangisi pointy toe stiletto ginger biscuit

Charlotte Olympia's

 cinnamon biscuit boot with black and red icing
Whilst it all sounds quite overwhelming (I certainly struggled to take it all in at first!), I can assure you this High Tea with a fashionista twist is well worth it.  See below for pictures of the actual desserts themselves. You'll note once again they come in small portions, but very much worth it: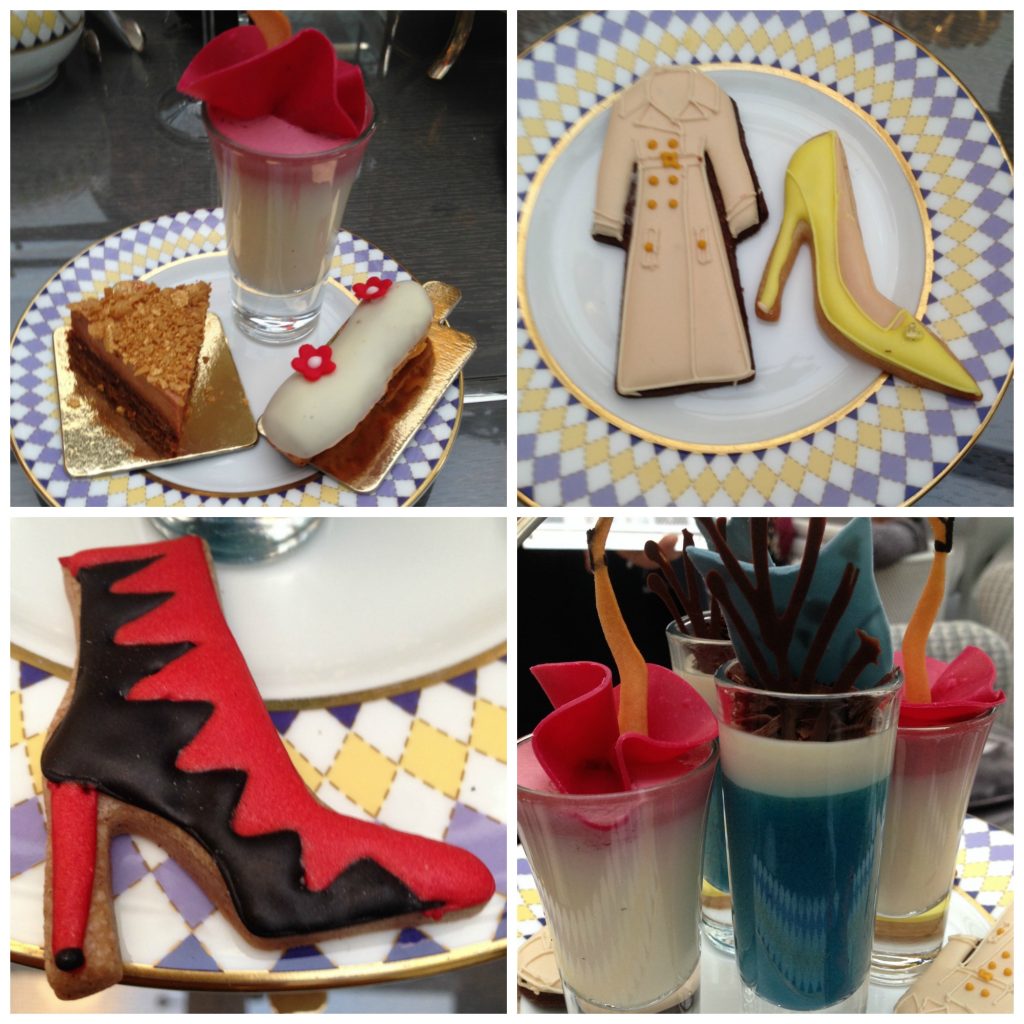 As if that weren't enough, the choice of teas on offer were staggering (remember; no PG Tips or Tetley here!)
I, however, decided to go for a decaf cappuccino.  Look at the attention to detail here too: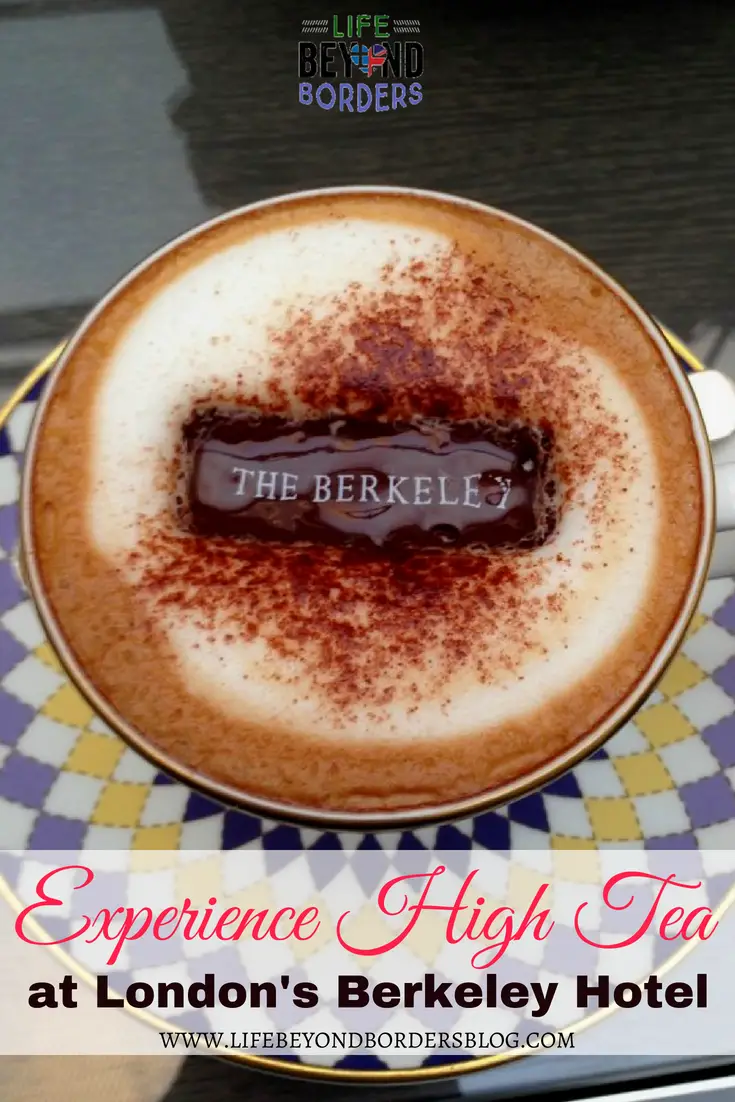 High tea in London: the practical details
£52.00 per person without champagne (12.5% discretionary charge added to the bill)
£62.00 per person with a glass of Laurent-Perrier champagne.  Extra glass at £15.00 and 12.5% discretionary charge added to the bill
£70.00 per person with a glass of Bollinger Rosé or Ruinart blanc de blancs champagne. Extra glass at £24.oo and 12.5% discretionary charge added to the bill
Allergies such as gluten and nut free can be catered for – just be sure to tell them at time of reservation.
The Berkeley isn't the only place to offer Afternoon (or High) Tea.  Take a look at Visit London's website to see the numerous places that offer this experience around the capital, all offering a different menu.
I certainly enjoyed the modern twist and theme to The Berkeley's High Tea.  It celebrates its 10 year anniversary in 2016 and the pastry chef – Mourad Khiat – chose his 10 best creations to share with the patrons.  I certainly enjoyed it and would recommend my readers to try it just once.
Have you ever had a High Tea fit for Royalty experience in London or the UK?  Where was it?  What was on the menu?  Share in the comments.
PIN for later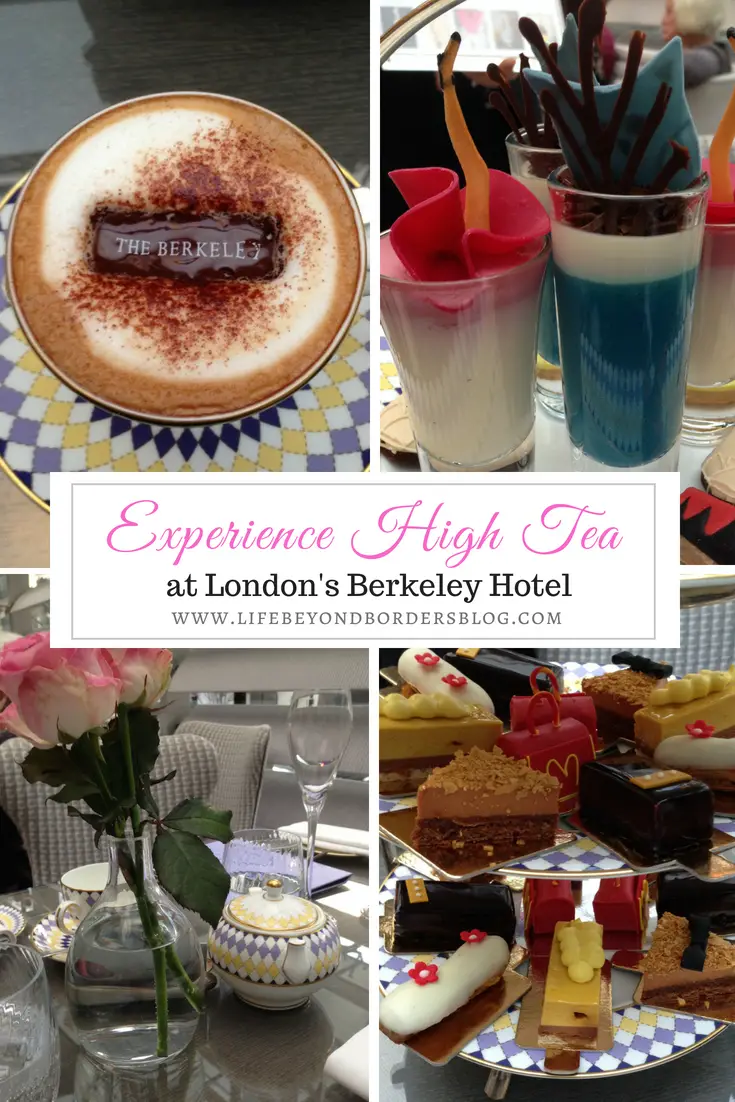 This post was originally written in DEC 2016. It has been revised and updated in MAY 2018