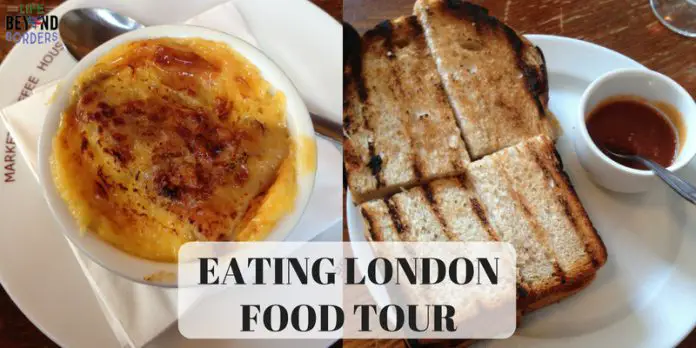 Who doesn't enjoy sampling the local food of a country or town they're visiting?  I've written about my luxury High Tea London experience at The Berkeley Hotel and as my followers will know, I'm from the UK so don't really think of sampling 'local cuisine.'
I tried the Paris Food Tour by Eating Europe so when the Eating London Food Tour company offered a chance to sample the delights of the East End, I thought 'Why not?"
**Disclosure: Despite any complimentary services received, all thoughts and opinions remain my own**
Best Food Tour in London by Eating London Food Tour
The particular tour I took was THE EAST END OF LONDON FOOD TOUR.  They also offer Twilight Soho Food Tours as well as tours in European countries and cities such as Italy, Amsterdam and Prague.  I chose the Eating London East End Food Tour because the brochure description told me I would sample typically British delights such as fish and chips, bread and butter pudding, bread and bacon sarnie (sandwich) and the chance to try ale and cider in a typical East End pub with a resident cat…of course, if I was in any doubt about taking this particular tour, the chance to see a cat swung it for me.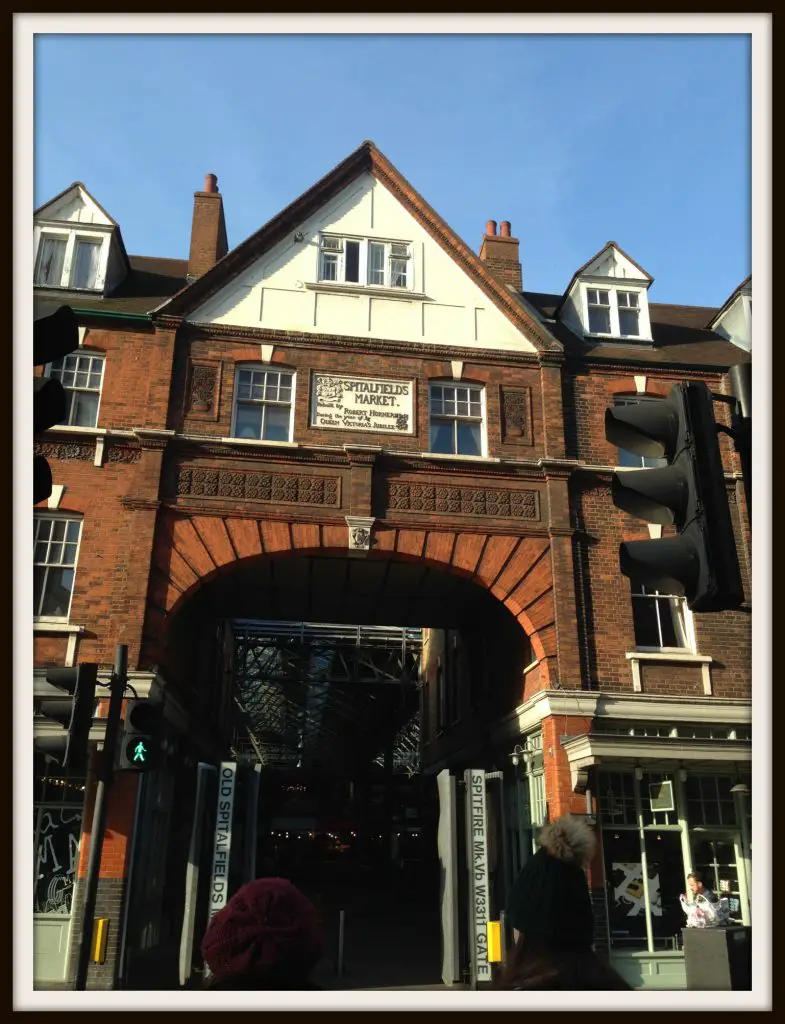 Eating London Food Tour – Best Food Tour, a history lesson too
Not only do Eating London Food Tour's offer you the chance to sample local cuisine, but it's an excellent opportunity to learn more about the area – more than you would if you were a tourist; in the East End tour this meant seeing Georgian style mansions built for the French silk-trade, the Jewish centre (with the most famous bagel shop this side of the Atlantic), an old building used for location filming of films such as 'Suffragette' and oh, the Street Art!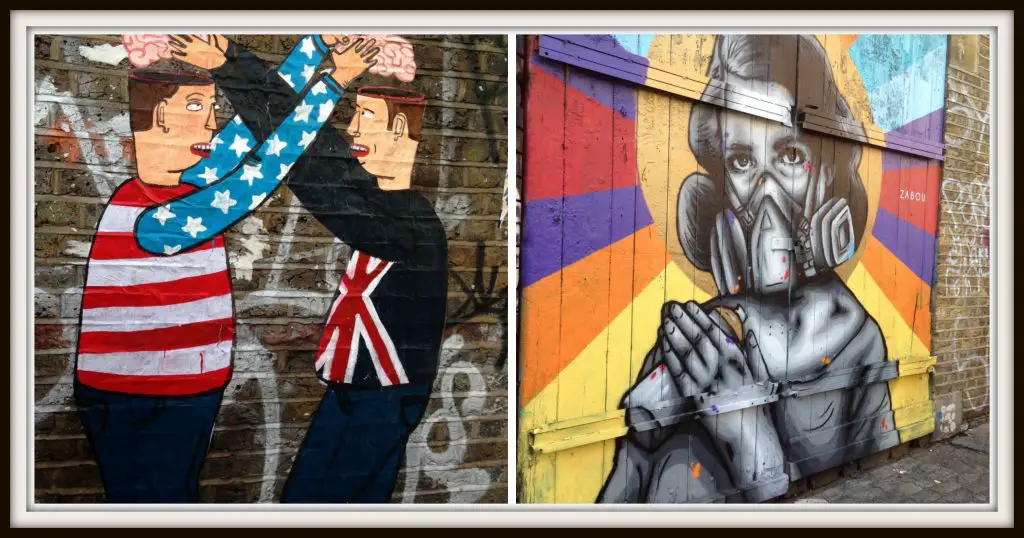 Come with me as I reminisce and share with you my experience:
Eating London Food Tour – The East End of London
Our small group of six people met our tour guide – Madi – just inside the famous Spitalfields Market, an old hospital in 12th Century London and an area of extreme poverty atypical of Victorian London,  but after an influx of Irish, French and Bangladeshi communities in the 17th Century and, more recently significant regentrification, it's now a thriving community of eclectic independent shops, food outlets and venues for events  In fact, to be honest, to my mind the area's gone too much the other way and with the influx of hipsters and artists and new digital businesses, has out priced the area.  Anyway, I digress: After the introductions and comments about how lucky we were with the weather (indeed, for a November morning, although cold, bright sunlight welcomed us), we were off on our way to our first stop.
St. John's Bread & Wine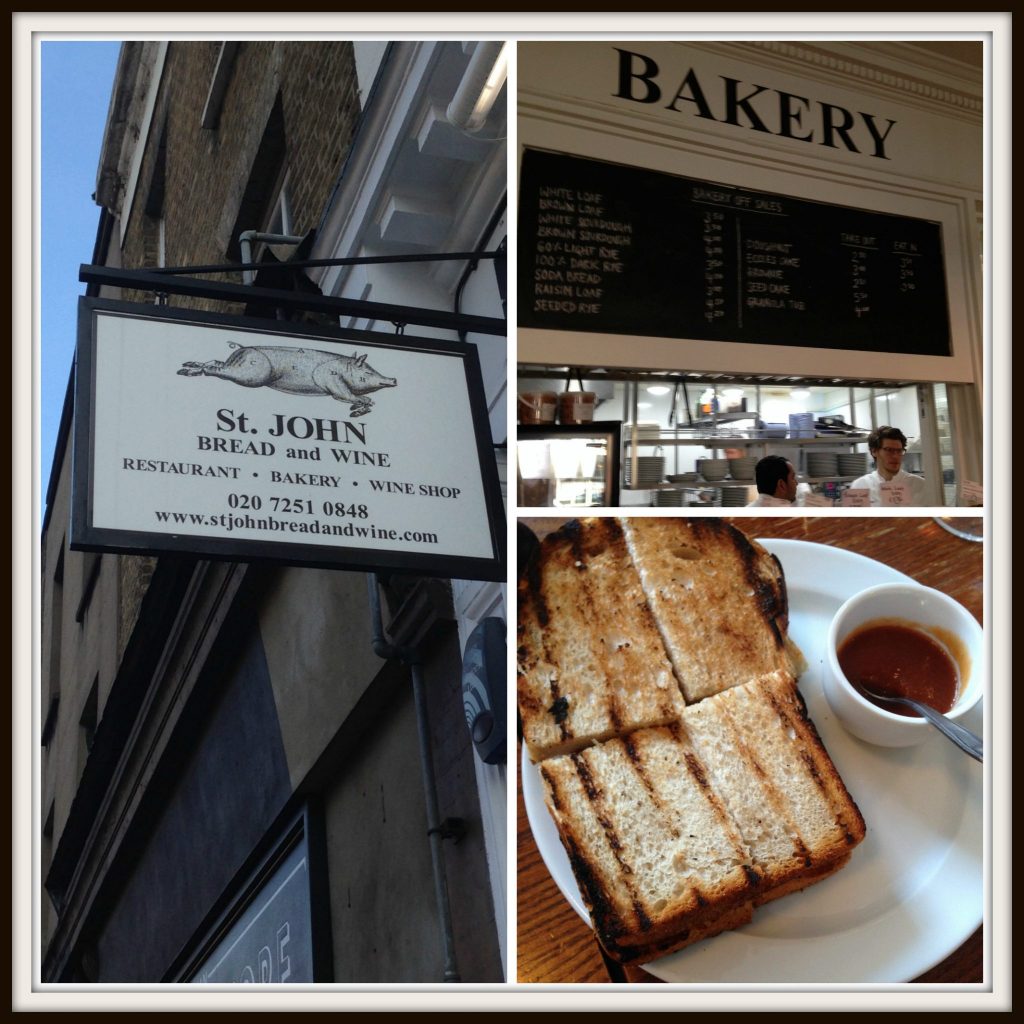 Housed in a former bank, our little group settled into a table and sampled a real bacon sandwich with homemade bread.  What's so special about the bacon used in Fergus Henderson's acclaimed restaurant is that the whole animal is used and for the bacon, the rare Gloucester Old Spot pig.
To top it off, even their ketchup is homemade!  Their secret ingredient that gives it a fruity tang?  Well, you'll just have to go on a tour to find out!
A great place for a bacon sarnie or a full fry up, any time of the day.
The English Restaurant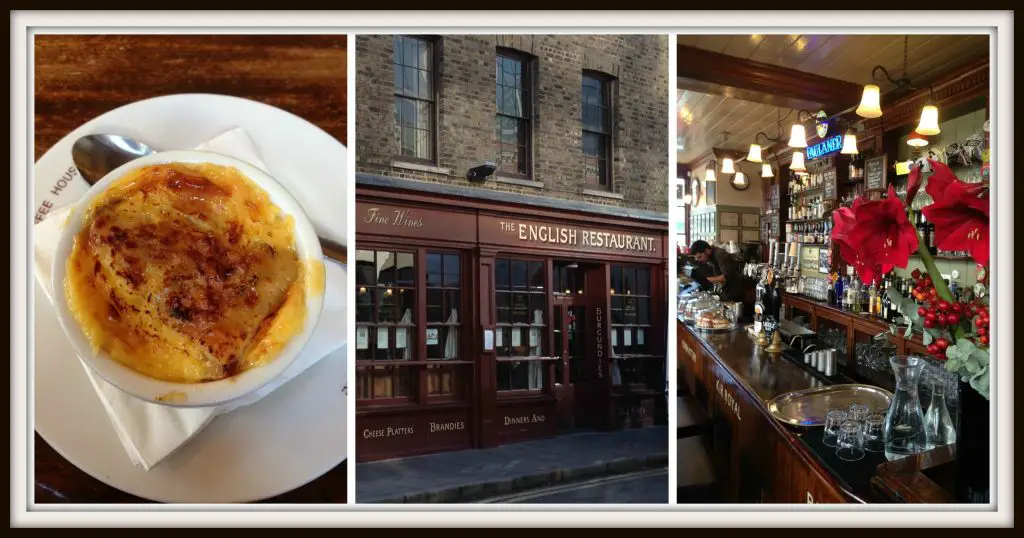 After that taster of a savoury, it was time to sweeten our palette with a dessert.  What better place than at the oldest house in Spitalfields for some Bread and Butter pudding with homemade custard?  Once a house, then a bakery, then nut roasting house and now a restaurant using only locally sourced products, this Grade 2 listed building (meaning no significant changes to its interior and exterior can be made) looks like it's straight out of a Dickens' novel.  Perhaps it inspired Oliver Twist – who knows? And the bread and butter pudding?  Oh yum!
Androuet Cheese Room – Eating London Food Tour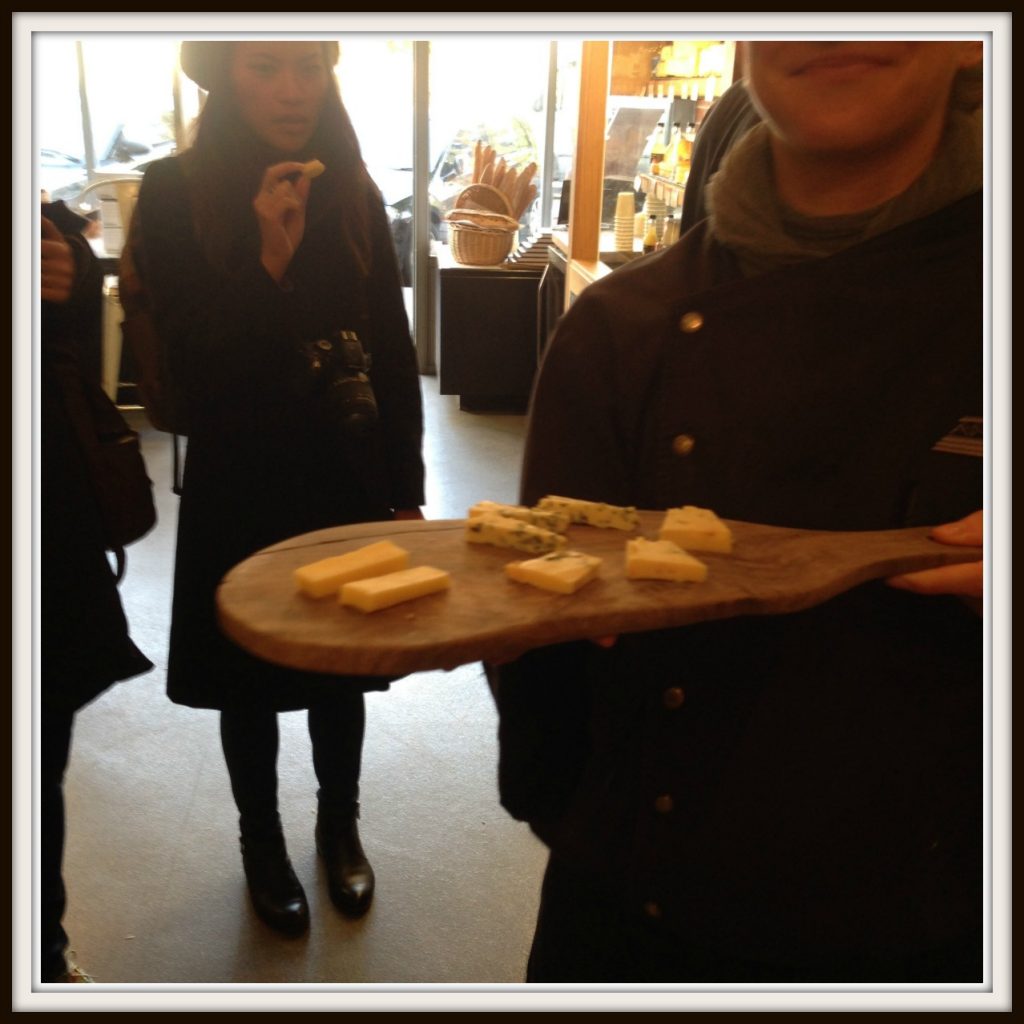 No time for us to get too comfy by the fireplace though…it was on to our next destination.  After having been treated to small samples of savoury and dessert, it was now time to try some typically British cheese.  The Androuet Cheese Room is run by two brothers; master cheese mongers and cheese maturing experts.  Admittedly their shop stocks over 700 varieties of English and European cheeses and we were blessed with the opportunity to try mature cheddar and stilton on homemade crackers.  With a cafe at the rear of the building, if you're a cheese freak, this is the place for you!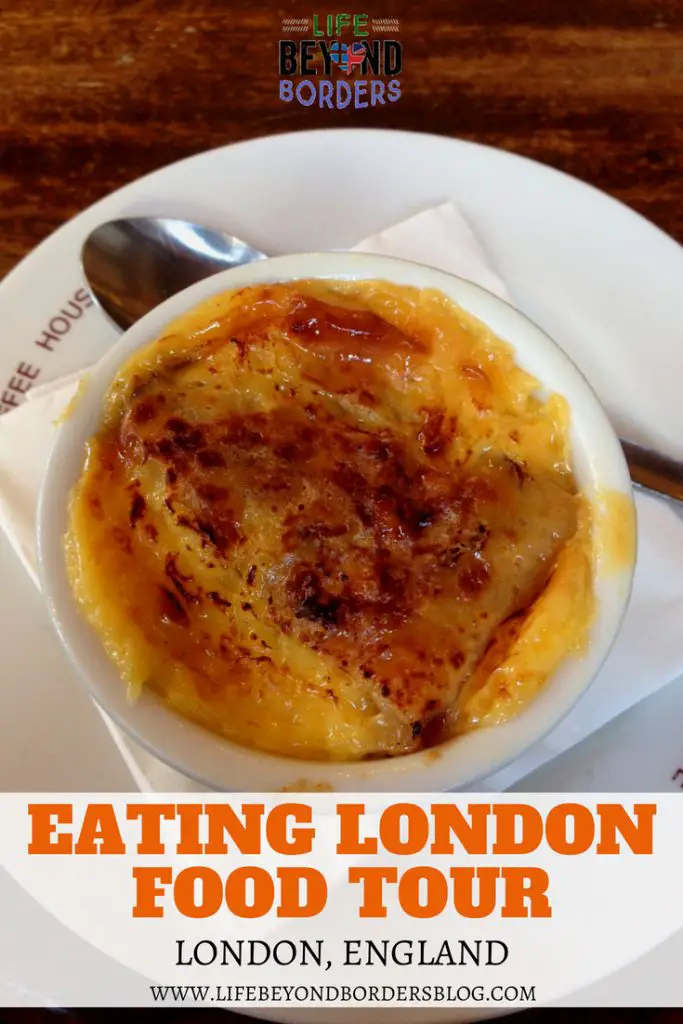 By this time, despite the great portion sizes i.e.: not too big, I was getting quite full.  But I had no time to be full, because onwards to:
Poppies Fish 'n' Chips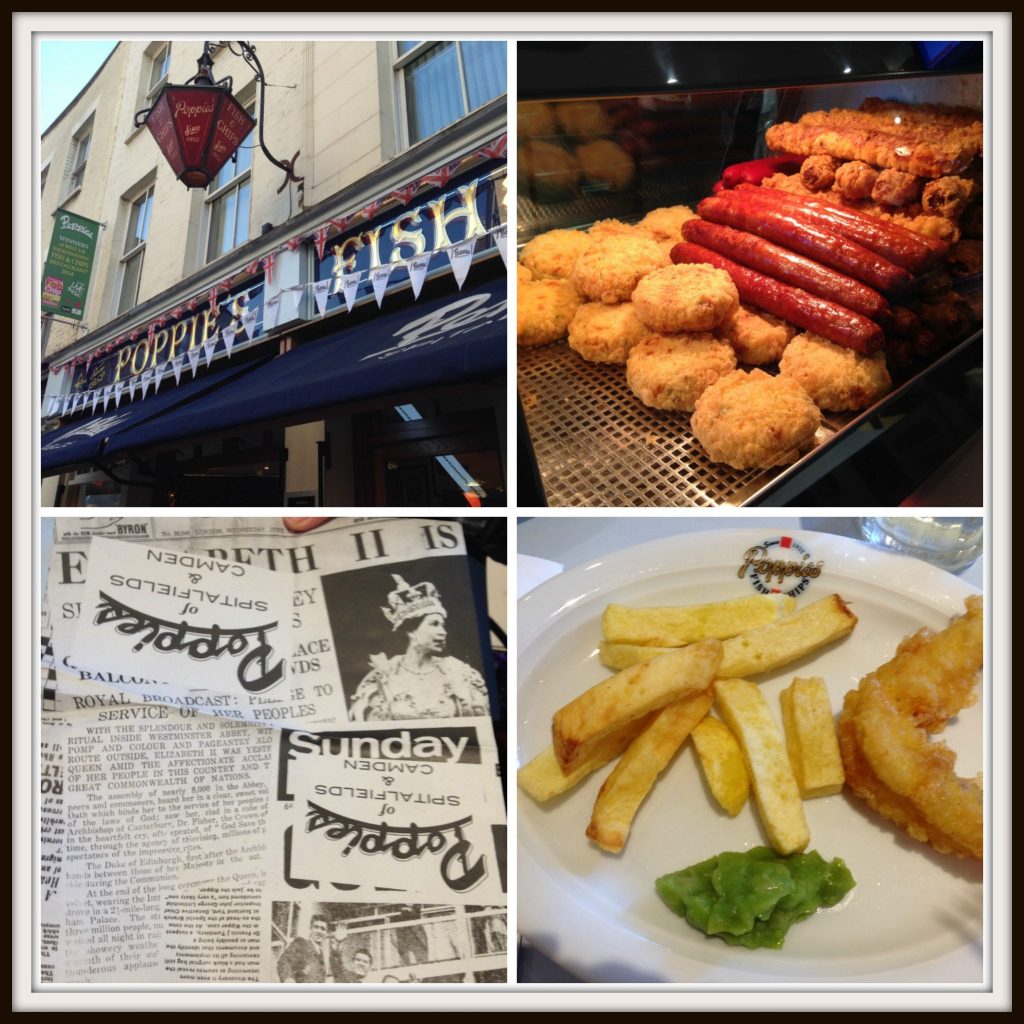 What traditional British Food Tour would be complete without visiting a 'proper' fish 'n' chips shop?   Although I say 'traditional', but did you know it was actually the Portuguese that introduced Britain to hot batter in the 1860s, and the Belgians that introduced the chip to Britain.
Since opening in 1952, Poppies has won numerous awards such as the National Fish and Chips Award in 2014.  Her chippy shops re-create the ambiance of a 1940s seaside town with war memorabilia on the walls, old tunes from the jukebox.  It's a sheer pleasure to be inside.
And not only that; we sampled our cod, chips and mushy peas the traditional way, out of newspaper.  Don't get all health and safety conscious on me now; the shop has gone to considerable expense to re-create the newspaper so that it doesn't rub off on the food and it health and safety conscious.   What a great experience!
By this time, you're just about ready to roll down the streets of the East End of London, and the Eating London Food Tour company knows this, that's why they schedule in a stop at a traditional pub next:
The Pride of Spitalfields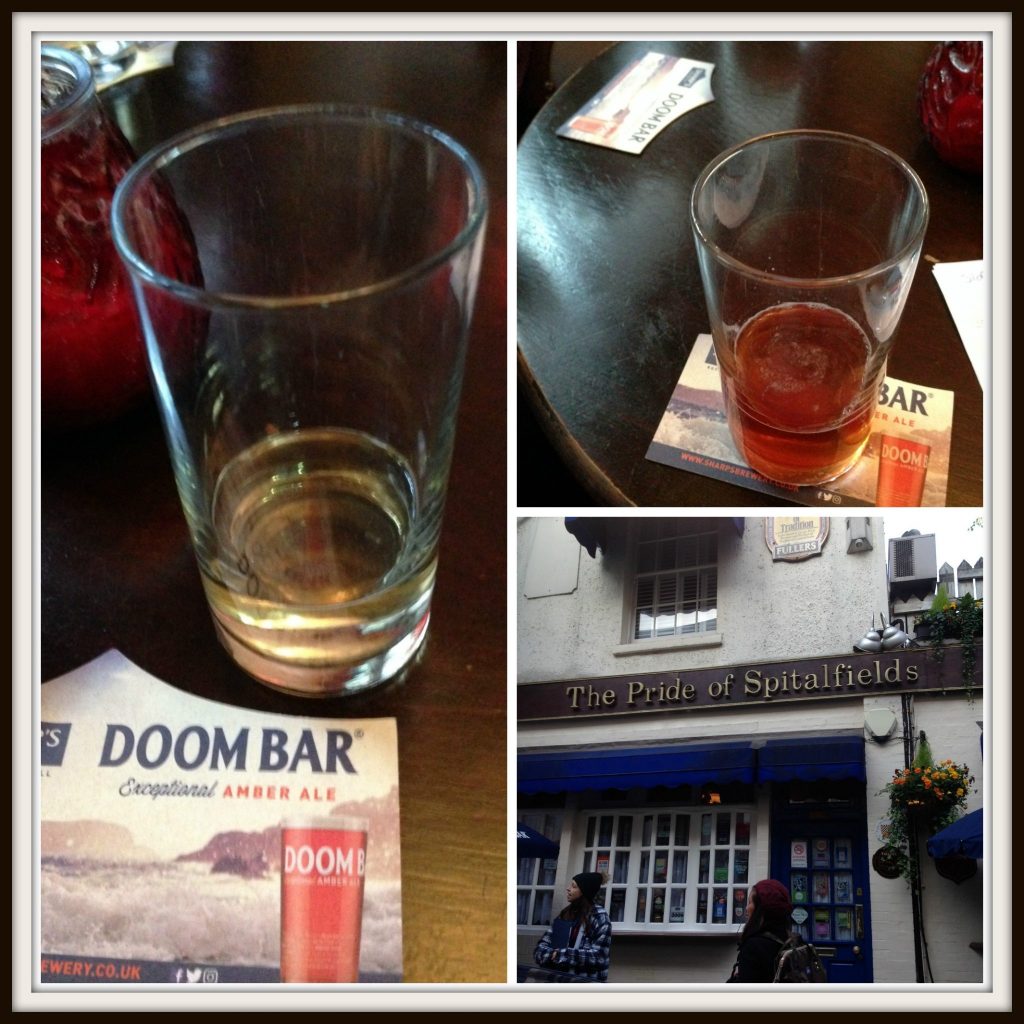 A quintessentially British pub and pretty much unchanged; roaring fire, floral carpets, old ale pumps, wooden bar, the Pride of Spitalfields can be found down a quiet cobblestoned street and offers real ale and cider as well as your regular pub drinks.  We tried the Firestarter Ale – a non-carbonated, pasteurised and filtered real ale and then a 90% proof cider.  Yes!  This fermented apple juice was pretty strong and won the National Cider Award in 2012.
With Lenny the Pub Cat purring around my ankles and someone opening the piano to have a little trill of an East End song, it wasn't time to get too comfy though as onto our next food stop!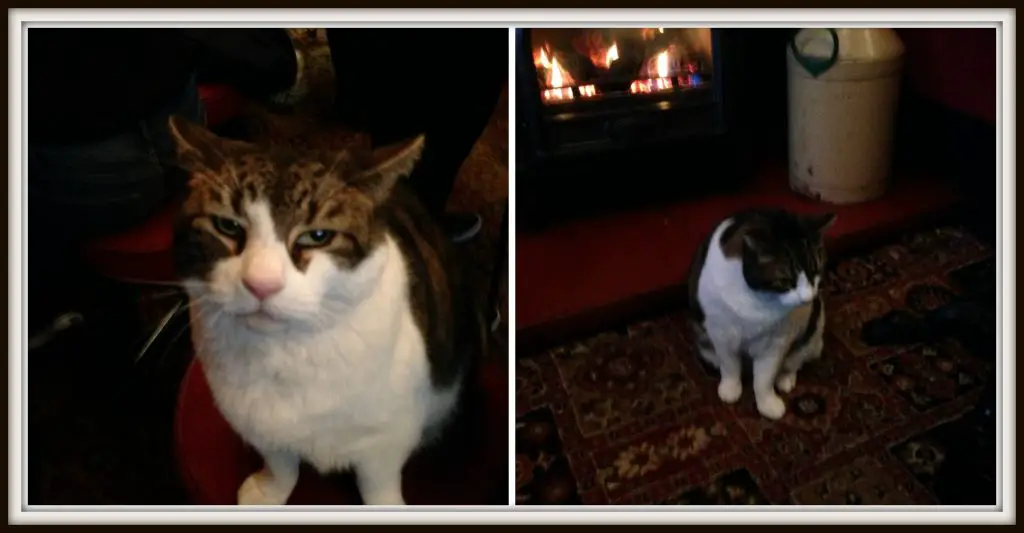 Aladdin Curry House on Brick Lane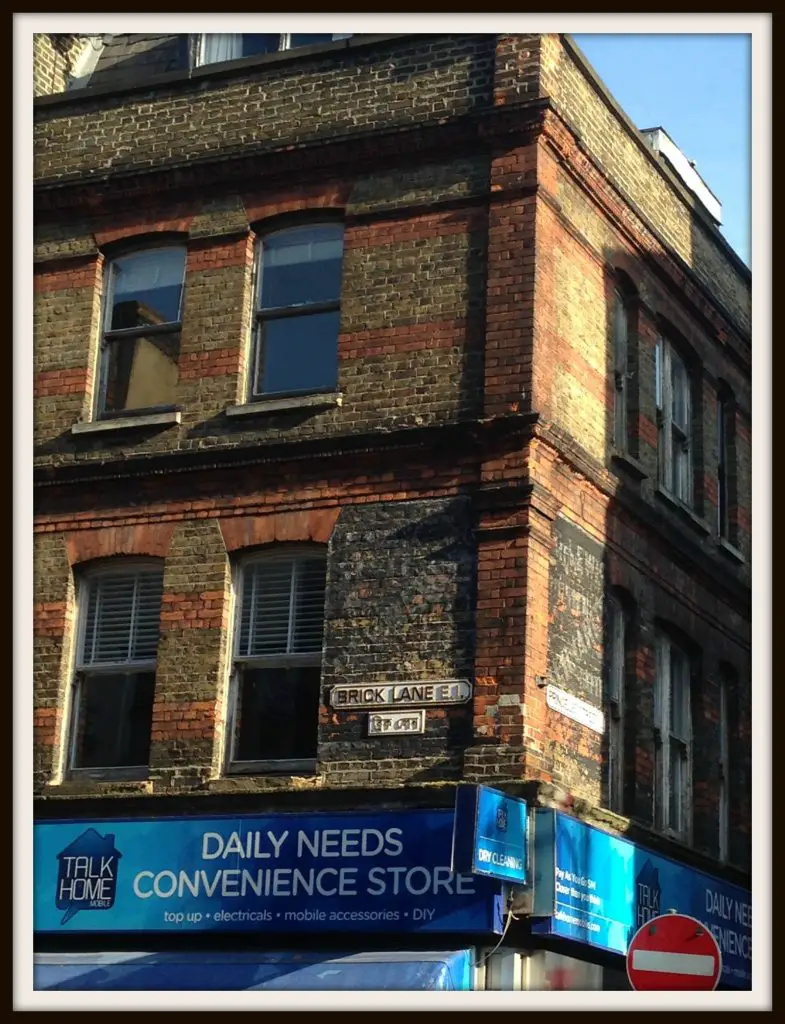 Brick Lane is a very popular area of East London.  Once known as Whitechapel Lane, in the 17th Century it saw swathes of immigration from the Bangladeshi community and nowadays has been regentrified with markets, the Old Truman Brewery and much street art, but with over 50 curry houses to choose from, our mission was to come to try a curry along Curry Mile.
Aladdin offered us that opportunity and we were given three dishes to sample:
Vegetable Bengali
Garlic Chicken Tikka Masala (my favourite)
Lamb Bhuhan: Lamb, Cucumber and Tomato.  The hottest dish.

By this time our tour was approaching the three hour mark so I really started digging into the Tikka Masala, but Madi warned me we had another two stops yet!
Beigel Jewish Bakery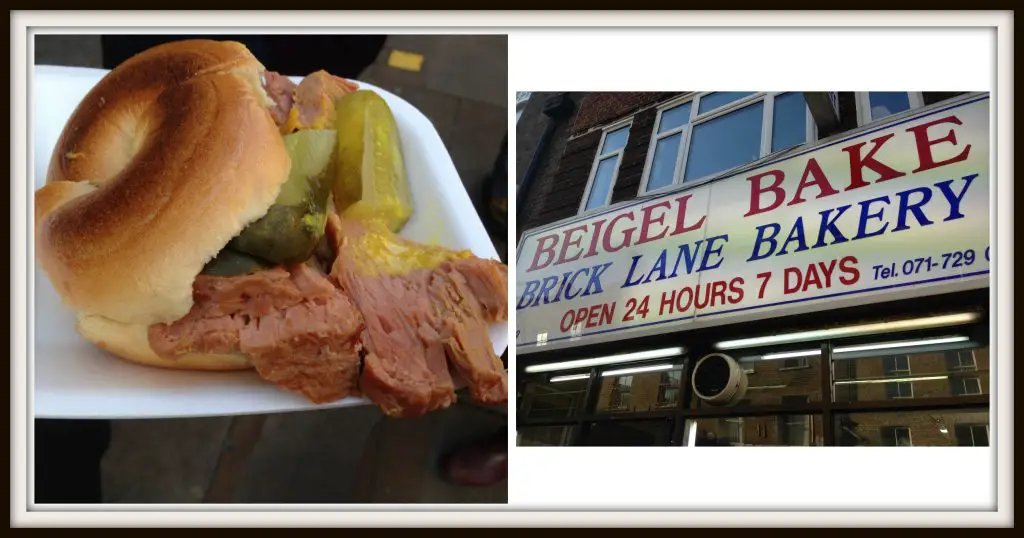 What I love about the East End of London is its diversity.  Brick Lane for its curry houses, yet just down the same street, this Jewish Beigel house (yes, 'Beigel' is spelt correctly…it's the Jewish way).  The owner – Sammy – came from Israel nearly 50 years ago and has been baking savoury beigel's ever since.  The salted beef is prepared the Jewish way, by boiling it and this 24/7 shop serves the beigel's with a gherkin and lots of mustard.  In fact, so popular this place was, we were warned of the queues, and people were, indeed queuing out of the door!  Our food tour meant that Madi popped inside to get us all a sample.
I'll be honest, it wasn't my favourite dish as I am not a gherkin fan – but the history of the place was interesting.
Pizza East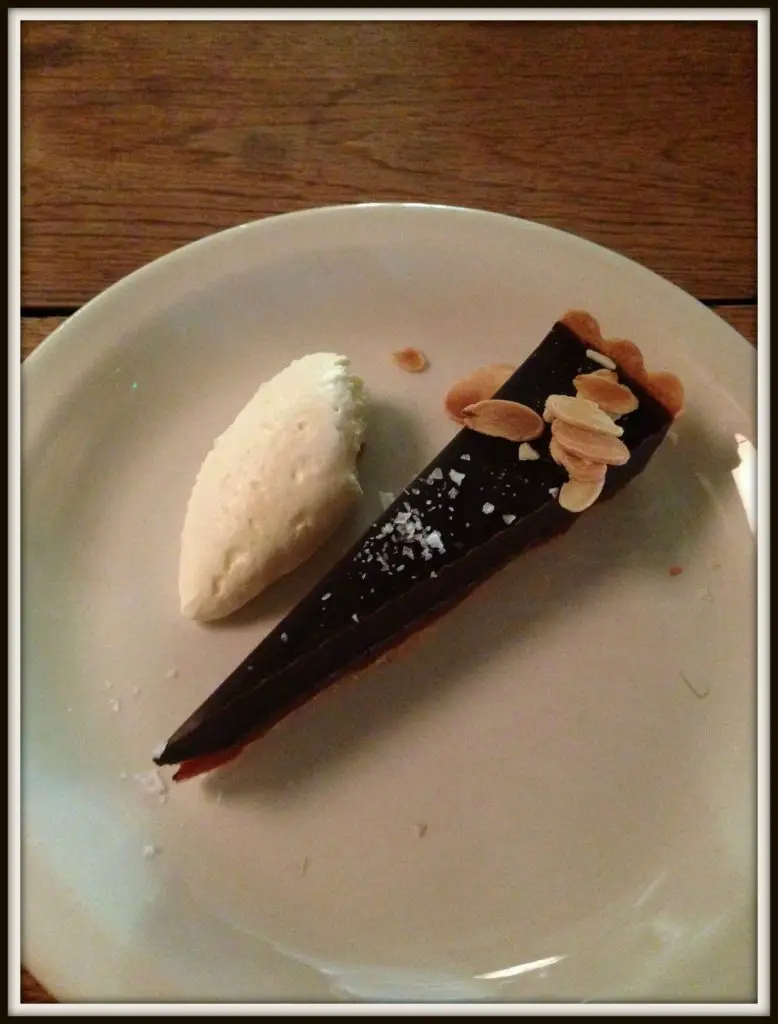 And finally onto our last stop on our Eating London Tour – not to eat pizza as the heading might have you believe, but to have a sample of the best salted caramelised tart you can imagine!  Pizza East is described as being one of the 'hippest restaurants in London' and 'shabby chic environment'.  The interior was pretty cool, I have to admit, and so was the tart!
And so on full stomaches, we bid each other all farewell.
Eating London Food Tour – some tips:
Wear flat shoes/trainers.  The tour takes a total of about 4 hours
The East London Eating Tour departs every Monday to Saturday at 10:00, 10:45 and 11:30 from Spitalfields Market – about a 5 minute walk from Liverpool Street Station
I suggest eating a piece of fruit before you go on the tour just to sustain you – but not a huge breakfast
Take a bottle of water – although our guide gave us a bottle too
The tour is great as it gives you small samples of each dish
It's perfectly OK to not like a dish and feed back as to why.  In fact, Eating Food Tour London encourage feedback
If you have any dietary requests i.e.: diabetic, Gluten free, be sure to give the food tour company at least 48 hours notice so they can accommodate you
Cost: Adult: £69  Adolescent (13-17 years): £54  Child (4-12 years): £42.  Includes all food and a Food Lover's Guide to London printed guide.
Poppies Fish 'n' Chips, Beigel Bakery and Pizza East are featured in Time Out London's Top 100 Things to Eat in the Capital
My favourite? Would have to be Poppies Fish 'n' Chips, the pub (merely for the cat) and the Salted Caramalized Tart at the end.
Have you been on a food tour in London?  What did you think?  I must admit, I learnt a lot about the food in my home country, and I'm glad I went on the Eating Food Tour of the East End of London.
PIN for later