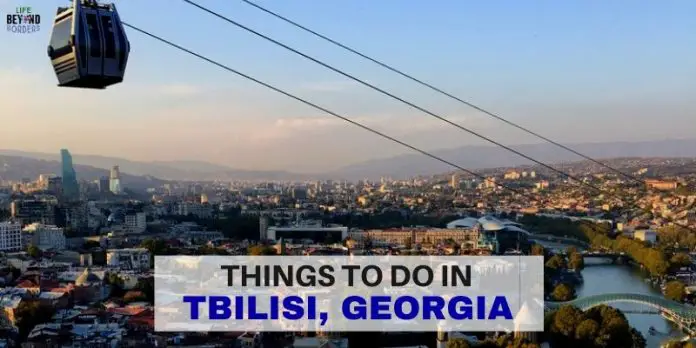 Tbilisi wasn't even supposed to be on my itinerary for visiting the Caucasus, pretty much landlocked country of Georgia – but I'm so glad it was added by the Georgian National Tourism Administration – who hosted me.
**There will be adverts through the post. If you choose to book, – there will be no extra charge to you**
It was a flying visit as I was due to explore a different part of Georgia – so what can you see and do in Tbilisi and surrounds with just 48 hours? Quite a lot it turns out, especially with the help of InterGeorgia Travel, my guide throughout.  Let's take a look at things to do in Tbilisi and surrounds in 48 hours.
Tbilisi – the capital of Georgia. A bit of history.
Tbilisi never used to be the capital. That honour went to Mtskheta, a mere 12 miles north. 'Tbili' in the first part of the name of Tbilisi means 'warm' and indeed, there are hot springs here that can be seen in the Old Town – we'll get to them.
The fable tells us that the King of Georgia – King Vakhtang Gorgasali was hunting with falcon – which then spied a pheasant and chased it.  The King also gave chase on his horse, not finding either bird.  He eventually found them 'cooking' in a bubbling spring in the ground.  Yes, it's sad that both birds died but the story goes that the King realised its importance for natural resources, hence decided to build a city here.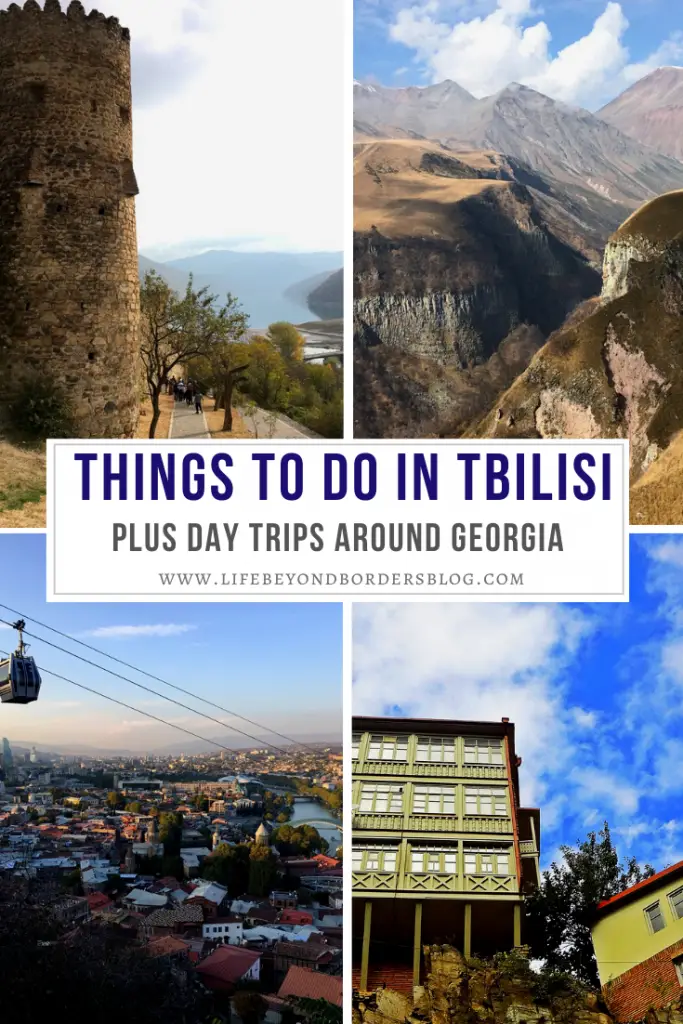 Tblisi, therefore, is 1500 years old and whilst the fable is a good one to tell, my guide tells me it's probably because, being surrounded by mountains and the fact that the country is the crossroads of Europe and Asia and its proximity to the lucrative Silk Road, it's always been a source of interest to surrounding foreign powers – hence to base the capital geographically in a place that is hard to reach made sense.
Nowadays it's overwhelmingly Eastern Orthodox Christian in religion, and this is visible in the number of churches around Tbilisi and surrounds, but coincides with also being home to people of multiple cultural, ethnic and religious backgrounds – most likely due to its strategic geographical location.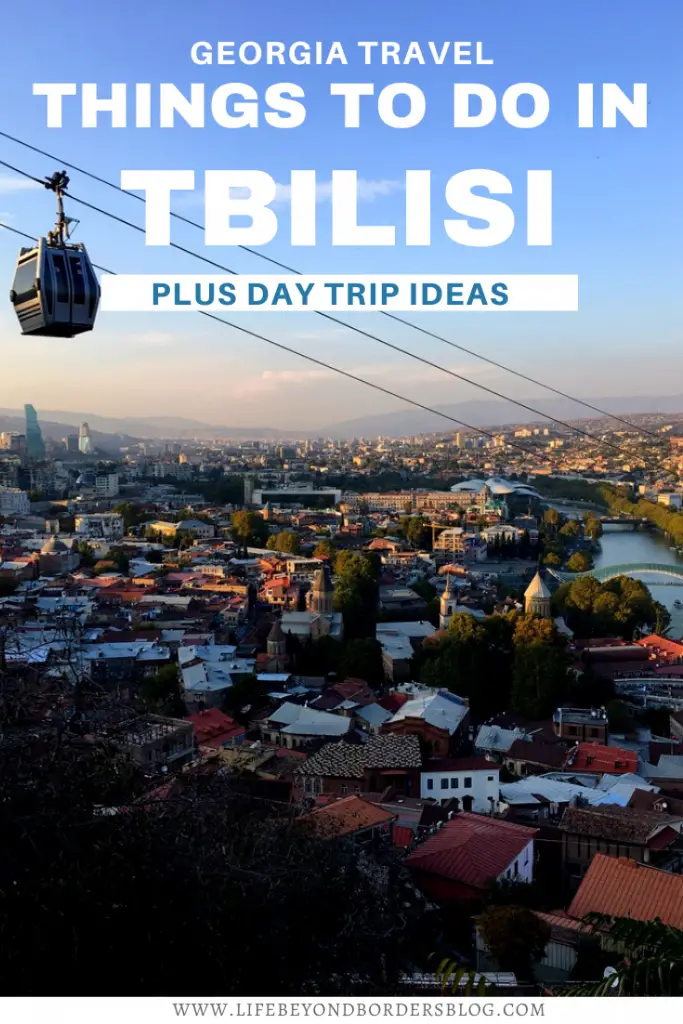 Things to see and do in Tbilisi, Georgia
A city tour of 5 or 6 hours is great to see the highlights of the city and understand its eclectic past.
Bridge of Peace
Made of steel and glass – stretching 150 meters (490 ft) over the River Kura that winds its way through the city, the pedestrianised Bridge of Peace opened in 2010 to connect the Old and New parts of the city.  It's a beautiful sight at night as 90 minutes before sunset, over 1000 LED lights are switched on, giving it an air of romance.
Trivia: It cause some controversy between politicians, urban planners and architects as they felt it was too 'new' looking and would not contrast well with the old architecture.  And indeed, sometimes Tbilisi – and Georgia – has this odd juxtaposition of beautiful faded vintage mixed in with the new glass buildings and several grey, dour tower blocks thrown in for good measure as a hang over from the Russian occupation days.
It is also nicknamed 'Always Ultra' after the female sanitary pad as many compare the shape of the bridge to this.  What do you think?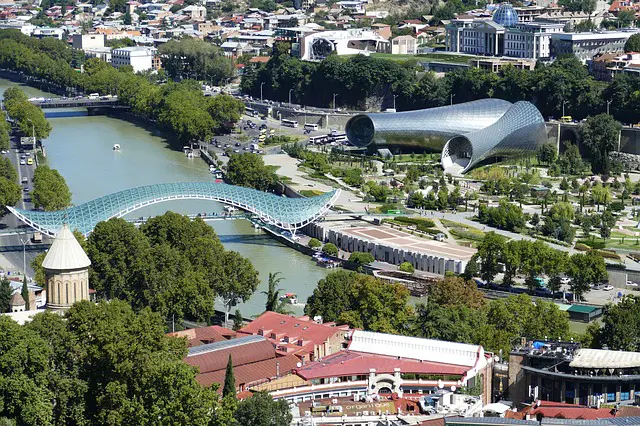 Cable Car to Mother Georgia Statue, the Narikala Fortress and views of the National Botanical Gardens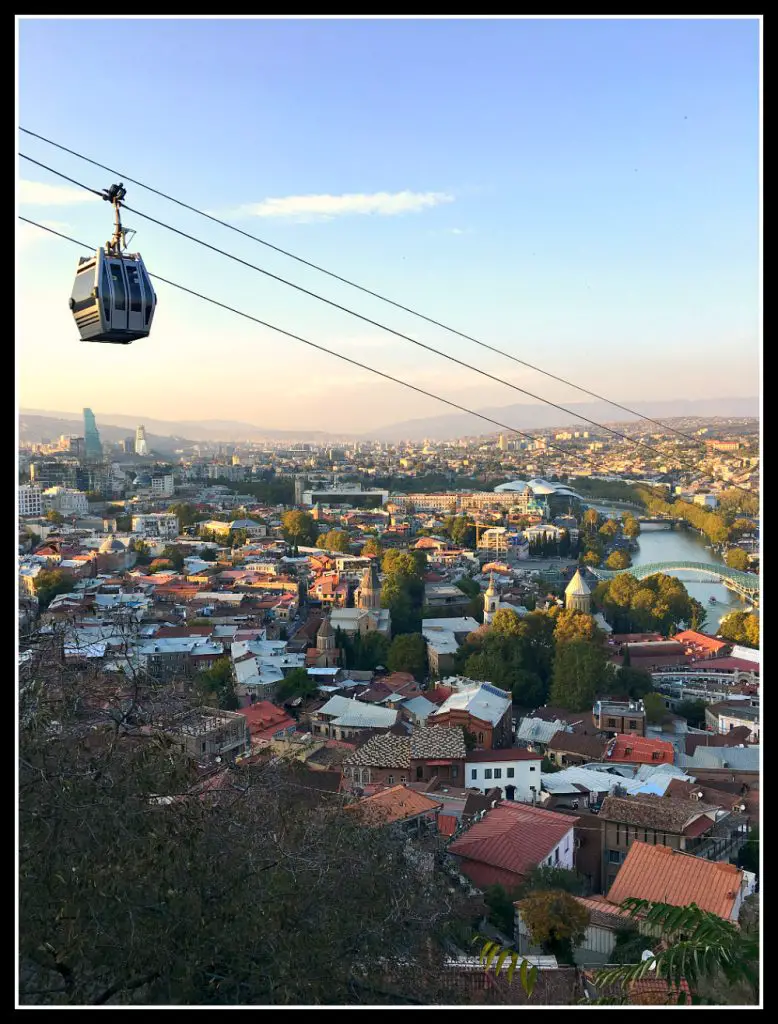 After walking across the Bridge of Peace, pay a mere 6 Lari (USD$2, GBP£1.60) to travel by cable car for about 10 minutes up to Mother Georgia Statue (Kartlis Deda) – worth it as the walk is a killer (best walk down!)
Mother Georgia stands atop a column and is the symbol of Georgia: holding a bowl of wine in her left hand as a show of friendship to those who come in peace, and a sword in her right for her enemies.  Very powerful message for this landlocked country.
Here you'll also find the Narikala 4th Century Fortress which has two walled sections and looks over the sulphur bath area of the Old Town whilst the National Botanical Gardens, also viewed from the top of the cable car drop off point, has a research centre which has helped bring it back to life after a period of decline.
Old Town
Picturesque narrow streets with small houses adorned with colourful wooden balconies, the Old Town really is an example of vintage boutique wonder.  Smaller hotels have sprung up here and it's an ethnic melting pot with Orthodox Churches next to Synagogues and Mosques.
Remember the story of the King's falcon and pheasant?  The Abanotubani district in the Old Town is where the Hot Springs are – now with 5 or 6 different spa baths offering services with mixed spas (30 Lari / USD$10 / GBP£8) or a private spa for 100 Lari (USD$34 / GBP£26).  There's a wonderful place to walk here too – across a lovelock bridge with waterfalls and small river that feeds the spa.  Here you'll see restored old houses with the ubiquitous wooden balconies.
Things to see and do in Tbilisi, Georgia: surrounds
Zhinvali Dam and reservoir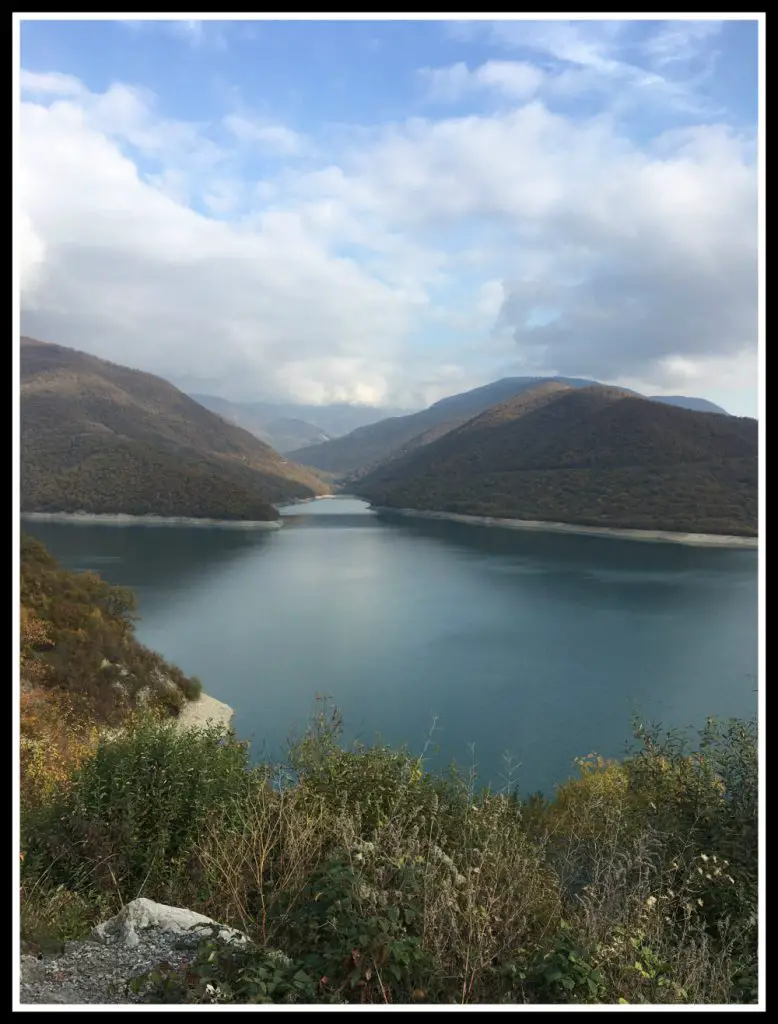 An hour's drive out of Tbilisi and you're surrounded by the Lesser Caucasus' and extreme natural beauty.  Heading towards the 'old military road' you'll drive past a massive reservoir and dam system – Zhinvali. It's on the Aragvi River and the dam, built in 1986, in turn formed the Reservoir.
More importantly, it's on the way to:
Ananuri Monastery Complex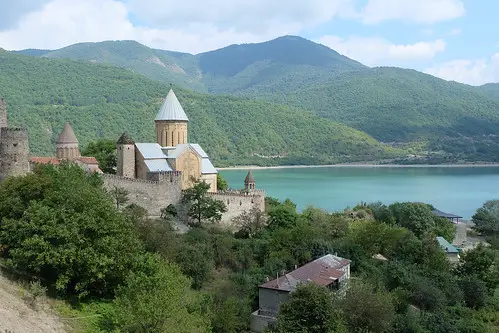 Ananuri used to be a castle complex ruled by the Dukes of Ananuri since the 13th Century and was the scene of many battles.  It's also acted as a shelter during many of the Soviet invasions that have taken place over time.
It's 45 miles / 72km from Tbilisi and has the fortuitous position to overlook the Aragvi River.
It's chequered past has left the castle in ruins, but the Church of the Virgin inside the complex – prominent for its tall square tower has the graves of some of the Dukes of Aragvi.  It's a fantastic place to visit for the views alone.
TIP: bring a scarf and a wrap: one for your head and one to wrap around your trousers if you're a female because you won't be admitted otherwise.  They do have ones in a basket at the entrance, but who knows who else has wrapped their hair in it?!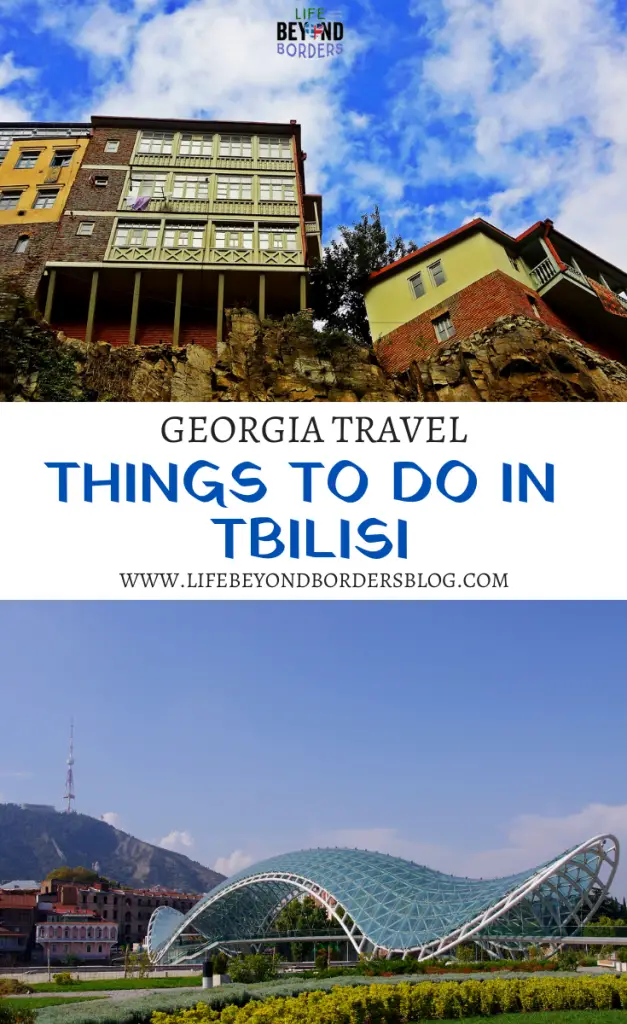 Things to do in Tbilisi, Georgia: Gudauri Ski Resort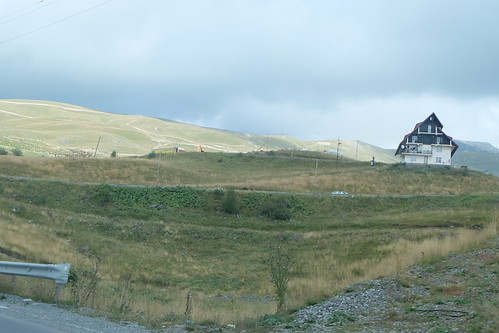 Further along the old military road, as it's known, about 2hrs 15 mins and 75 miles north from Tbilisi –  quite near the Russian border, lies the ski resort of Gudauri.
I didn't get to go skiing as snow starts to cover the 7,200ft elevation from late November, yet the views over this mountain range are spectacular – and the air so crisp and clear.
It's a new resort, only opened in 1989 and in 2023 – will host the World Championships.  Expect to find hotels and apres ski – not on the scale of Swiss resorts, but even so – at a fraction of the cost you get to experience a different ski experience in a different culture.
Why not combine it with a Tbilisi city break?
Things to do in Tbilisi, Georgia: Gergeti Trinity Church – Tbilisi and surrounds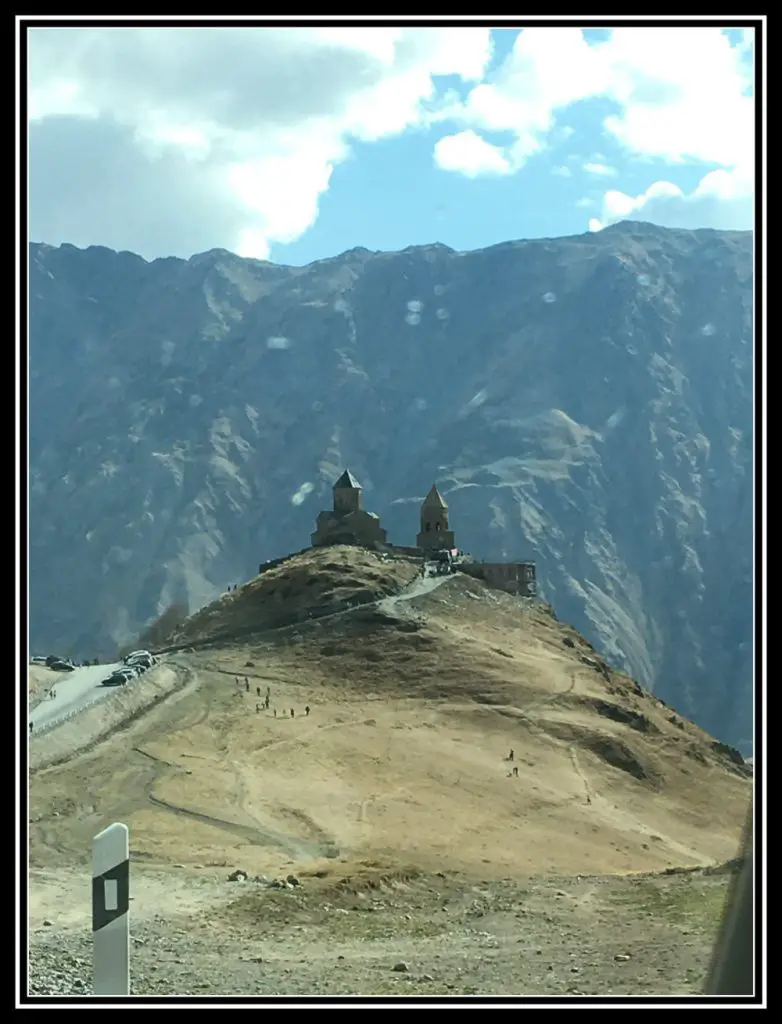 One of the most awe inspiring places for me to visit was the Holy Trinity Church of Gergeti – situated at an elevation of 7120 ft / 2170 m under Mount Kazbek and COMPLETELY open to the elements.  Despite the interior being humbling (and once again ladies, wrap around skirts to cover trousered legs and head scarfs are required and provided at the entrance) – the scenery was phenomenal, nestled as it is with the backdrops of the mountains.
It's a popular place to trek to from the nearby town of Gergeti and as late as December 2018, a paved road was constructed, making driving there much easier.
The Old Capital of Mtskheta
This is one of the oldest cities in Georgia and the old capital – a  mere 12 miles/20km north of Tbilisi. With its many significant monuments, in 1994 the town was established as a UNESCO World Heritage site.  Of these is:
Svetitskhoveli Cathedral
In the centre of Mkskheta, this is the second largest Orthodox church in Georgia and is known as the burial place of Christ's mantle – the robes he was buried in with a long protracted story where you can read more here. It's stunning inside and you don't need to be religious to appreciate its splendour.  Furthermore, the polyphonic singing of the choir brings tears to the eyes.
Practical advice – Things to do in Tbilisi, Georgia
There are plenty of places within Europe and the UK that fly to Tbilisi, including cheap airlines such as Wizz from Stansted.
Check out my recomended anti-theft travel items – great for where ever you travel to.
My Best Carry On backpack – Hynes Eagle is great for your short break to Tbilisi, Georgia.
I was hosted at the Iota Hotel in Tbilisi. Get great hotel deals here:
Have you been to Tbilisi or Georgia?  What was your favourite part? Did you love it as much as I did?
PIN for later