Having penned a post about recommended anti-theft travel items and included in this information the Hynes Eagle 40L backpack review, having received the product to trial  – and having had plenty of opportunities to do so on both land and air, I am happy to write my Hynes Eagle 40L backpack review.
**I received this product for a fair and honest review, which I shall give**
As a regular traveller and very frequent flyer, I really was on the lookout for a cabin bag I could comfortably take all my clothes in and my laptop yet be small enough to 'squash' (without creasing) into the overhead compartment, without being frowned at by a member of cabin crew, or a member of Groundstaff at the last minute taking it away from me.  Not too much to ask for?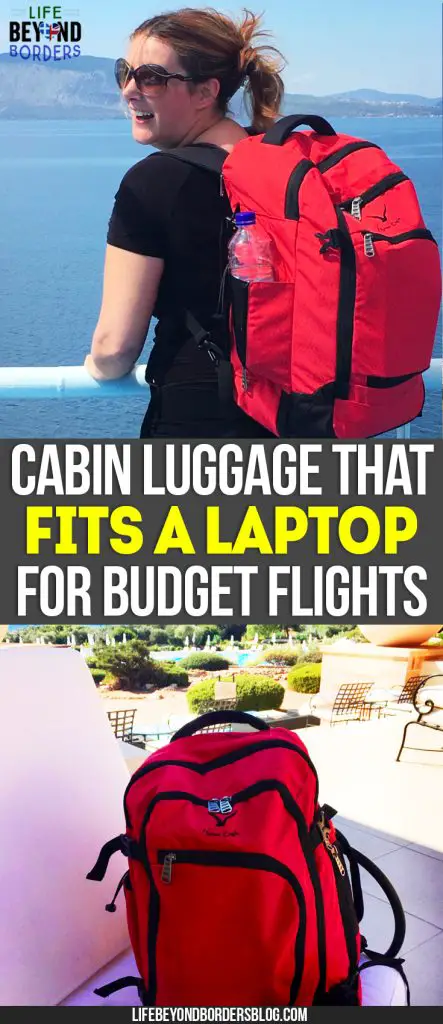 When I saw the adverts for Hynes Eagle and checked out their range, I was immediately impressed by their website and range, and – I have to admit – by the colours of their bags.
Realising I couldn't expect to place my clothes inside without getting somewhat squashed, I knew I'd also have to invest in some packing cubes – very worthwhile, let me tell you.
Hynes Eagle 40L Backpack Review – on land
I'm used to using wheelie bags at all times for my clothes, and then taking a separate laptop backpack for my electricals and laptop.  This was becoming cumbersome as it meant having two lots of luggage.
Imagine my delight when the Hynes Eagle 40L backpack also fits my 13" Macbook.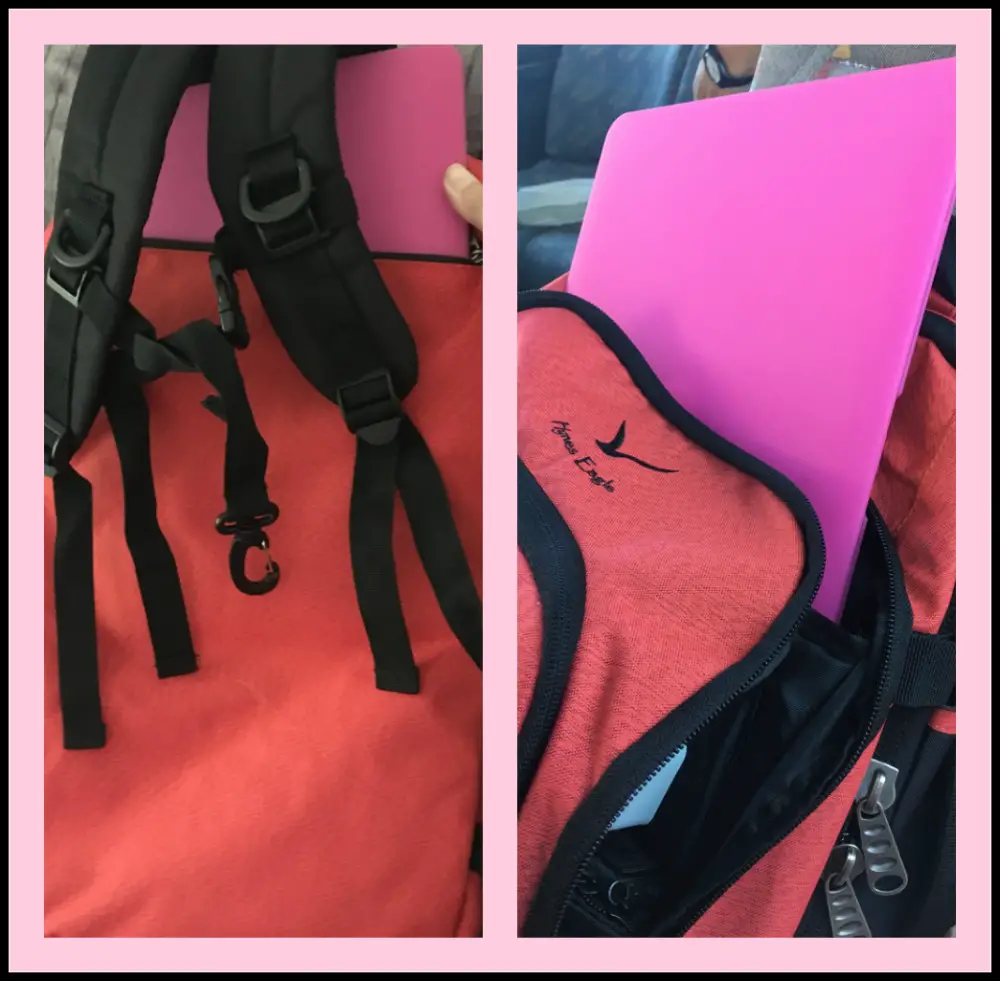 The best bit about the Hynes Eagle 40L Backpack: I could stick it either in the pouch in front of the bag – especially designed with electrical items and bits and bobs such as pens, etc in mind.
I could also roll up and store my chords, adaptor plugs and USB sticks in the special portable electronic accessories organiser (which slotted in nicely on top of the case)
OR
I could slip the laptop in the back of the case, where the straps are usually tucked away. This added a layer of security for me, knowing my laptop was pressed really close to my back.
The backpack also has a small strap you can secure around your waist/bust area…which for me takes that pressure off the shoulders when walking around with it.
All in all, whether taking the coach, metro or ferry to a Greek island, it's a great product to have.  Be sure to scroll through the Instagram images below of my Hynes Eagle 40L Backpack in action.
Follow BeyondBex on Instagram for more great Greek (and worldwide) images.
Hynes Eagle 40L Backpack Review – in the air
As explained, the most important aspect for me when I travel is to be able to take cabin baggage.
With airlines such as EasyJet and Ryanair increasingly putting restrictions on hand baggage – and with a lot of U.S. carriers too, I really needed a backpack that I could fit my clothes comfortably into – either with packing cubes or not, fit my electrical items and have it comfortably slot into the overhead compartment.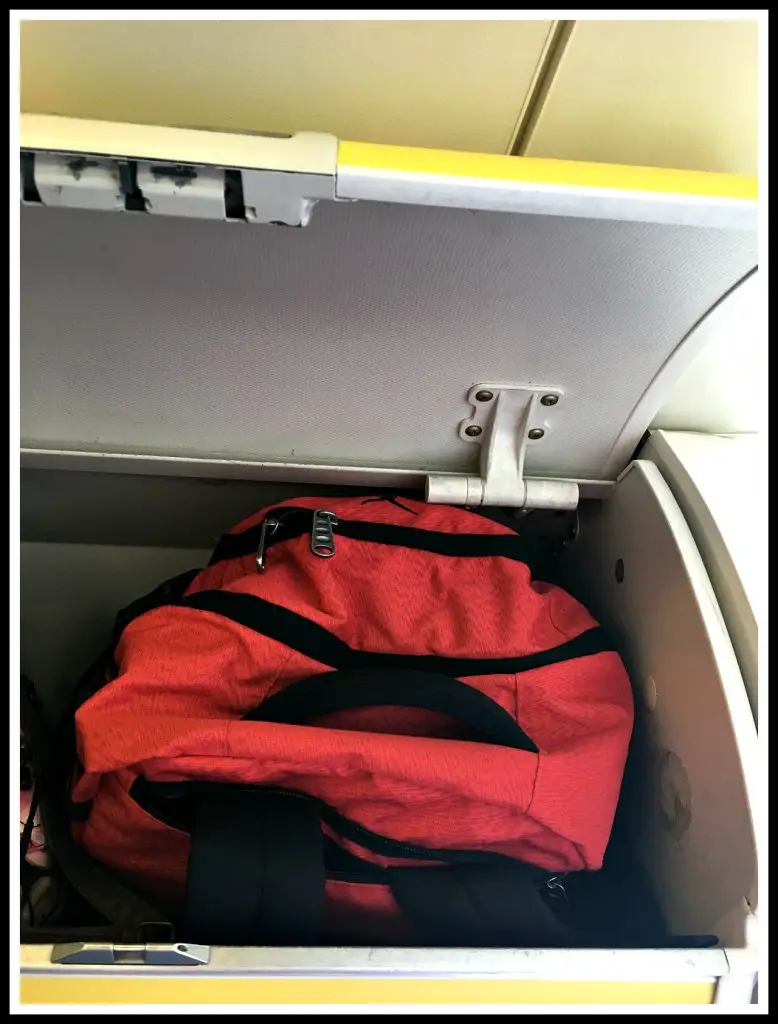 Well, as you can see, my Hynes Eagle 40L backpack does exactly that.  This was taken on my Ryanair flight from Athens to Rhodes where I packed lightly for five days for my Luxury Hotels in Rhodes Old Town stay.
What was so nice about it was that I was able to fit a mixture of thin clothing for daytime, but it can get chilly and rainy in Greece during the autumn, so there was plenty of room to pack thicker clothes too.
Overall Opinion of the Hynes Eagle 40L Backpack
I've even used my Hynes Eagle 40L Backpack on an international trip, but only a short trip, not a four week stay.
I'd say I'm happy to use it whenever I go for weekend and week long trips, even using it as a laptop bag when I go out co-working with friends, or a small hike and packing food and water.
I would highly recommend Hynes Eagle as a brand. Their delivery from their HQ in the U.S. was fast, well packaged and I love their range of carry on bags, duffle bags, travel accessory bags and laptop bags in a choice of sizes and colours.  I hope you enjoy your Hynes Eagle product(s) as much as I am.
PIN for later