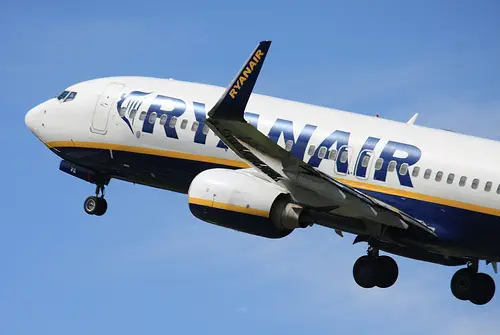 I recently visited Rhodes in the Dodecanese chain of islands in Greece.  The fantastic Aegean Airlines flies domestically on these routes, but Ryanair has recently opened a new hub in Athens serving Thessaloniki (in the north of Greece on the mainland), Rhodes and Santorini islands, amongst others.  It's a good option for a cheaper alternative.
**This post includes affiliate links which means I will be compensated should you choose to utilise them.  This is at no extra cost to you and in no way affects my experience with the airline.**
I'd actually flown with them before – again to Rhodes – at the end of 2014, but have to say, I was not impressed.  I know they offer cheap fares, but the mentality seemed to extend to the level of service as well, almost as if the unwritten smallprint read:
You've paid a cheap fare, what do you expect?
It was hard to coax a smile out of the crew on that flight – this recent experience couldn't have been more different.
Have you ever experienced a delay with Ryanair? Then you could be entitled to compensation.
---
I'd decided to pay an extra €10 Euros to reserve my seat.  Past experience showed me that 1A was the best seat: Window, with nothing else in front of it.  It also entitled me to Priority Boarding.
My bag was hand-baggage size, which was a relief as I'd heard that low-cost airlines sometimes make their hand baggage dimensions less than other airlines.  It was nice to be one of the first to board.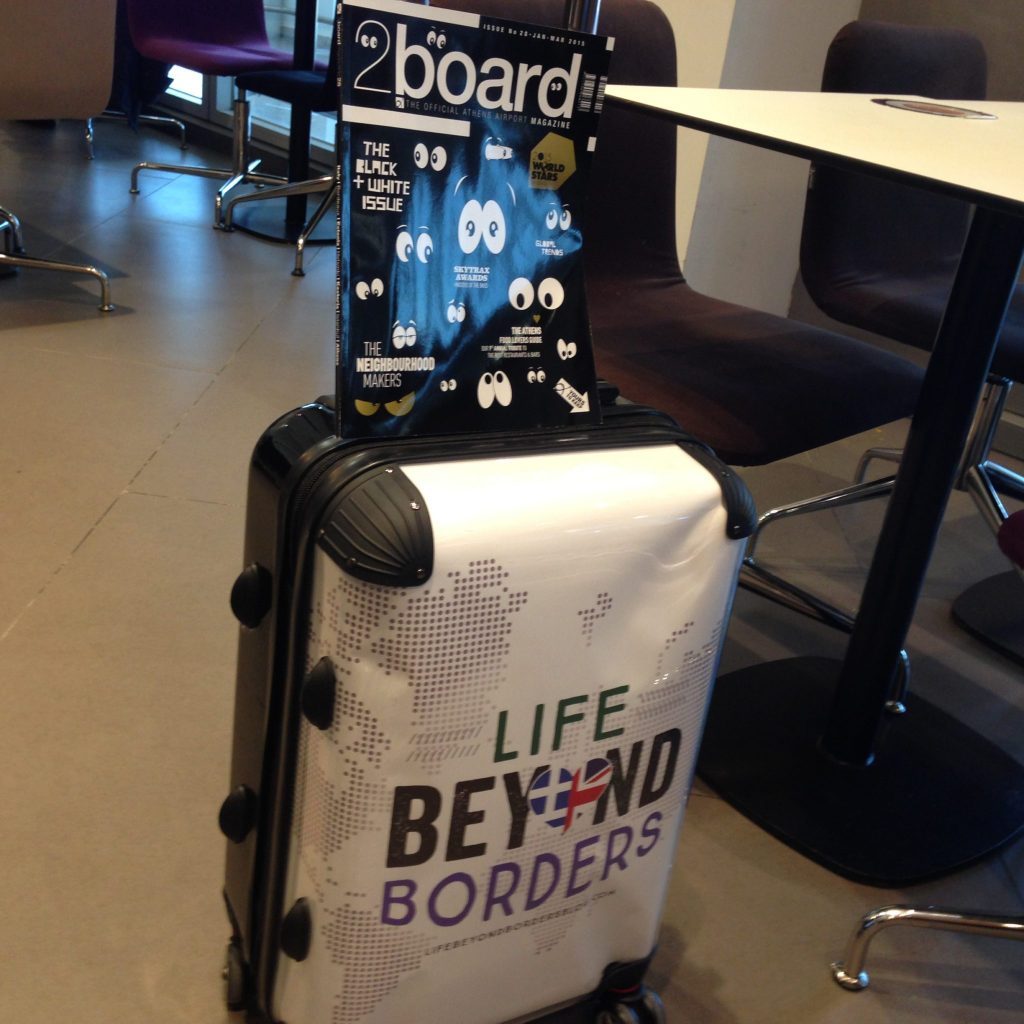 Here, let me help you with that
came a broad Irish accent.  I turned to find a smiling stewardess assisting me with placing my luggage in the overhead compartment.  This was a first!  My past experience has witnessed people struggling to squash their bags inside.
I settled into my seat, watched as the rest of the passengers boarded, noting how said Irish stewardess greeted everybody – I mean everybody – with a smile, checked their assigned seat and directed them to it.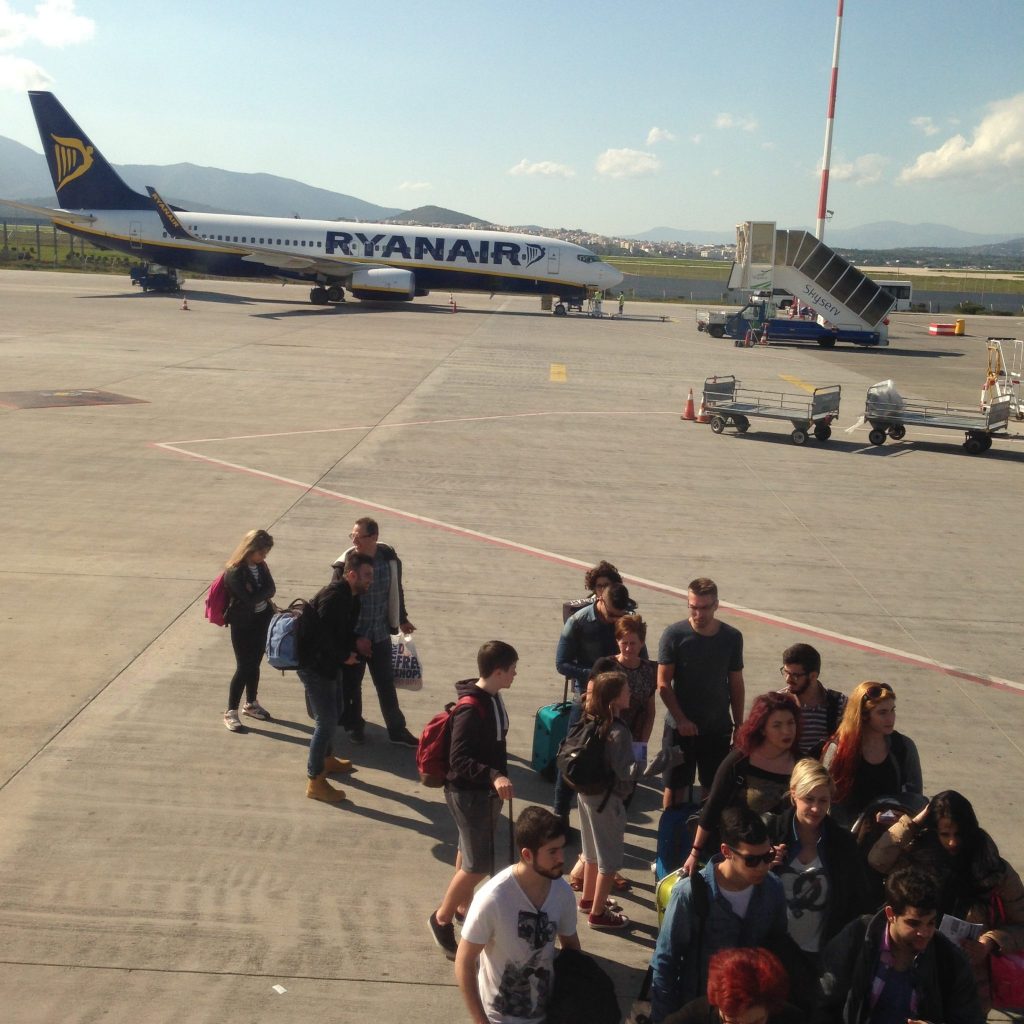 Ready for take off
Once we were all buckled in, the crew gave their safety demonstration. As I was in the front row, I was told individually where to find my life jacket.  A lot of importance was placed on the demonstration: you know how people tend to merely sit there, listening to their iPod, reading a magazine or gazing into space?  Well, I've worked for airlines before and know how rude it is to be standing in front of a plane load full of people, not paying the slightest bit of attention to you.  Out of politeness, I always focus my attention on the 'manual' safety demonstration.  And actually, it's for our own good anyway.
Ryanair makes a point of asking people to pay special attention:
And if you are listening to headphones, we ask you to please remove these now
YES!  I wanted to punch the air.  At last, one airline at least is politely asking those who're constantly plugged in to give them their full attention.
Ryanair Inflight experience
OK, you have to pay for snacks on Ryanair, but we all expect this.  easyjet are the same, and increasingly many more airlines are too.  For example, Icelandair have introduced a tiered fare system in Economy.  The cheapest fare – for anywhere on their route – is without food and you have to purchase everything on board, even on long haul flights.  Note: Icelandair do not accept Debit cards, even if they have the Visa symbol on them.
I was so chuffed when I saw Mini-Cheddars on the menu.  Living in Greece, it's hard to find these and I always place an order of these with friends who go home…so imagine my delight when I could purchase on board!  A nice little start to my mini-break.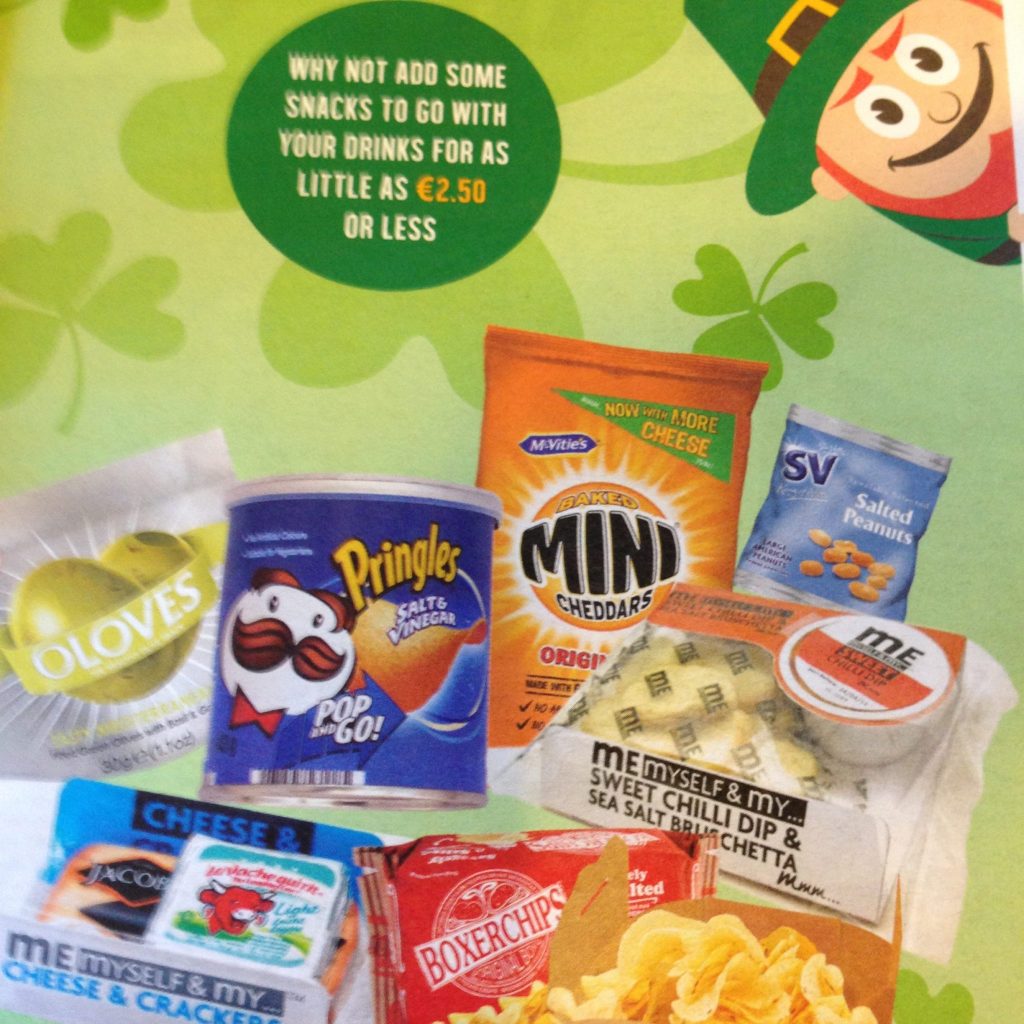 To top it all off – the clear views on our 40 minute flight were spectacular.  And despite such a short flight, and despite having to do so much in a short space of time, I have to say, the crew were friendly, professional and didn't show their stress at being so obviously busy.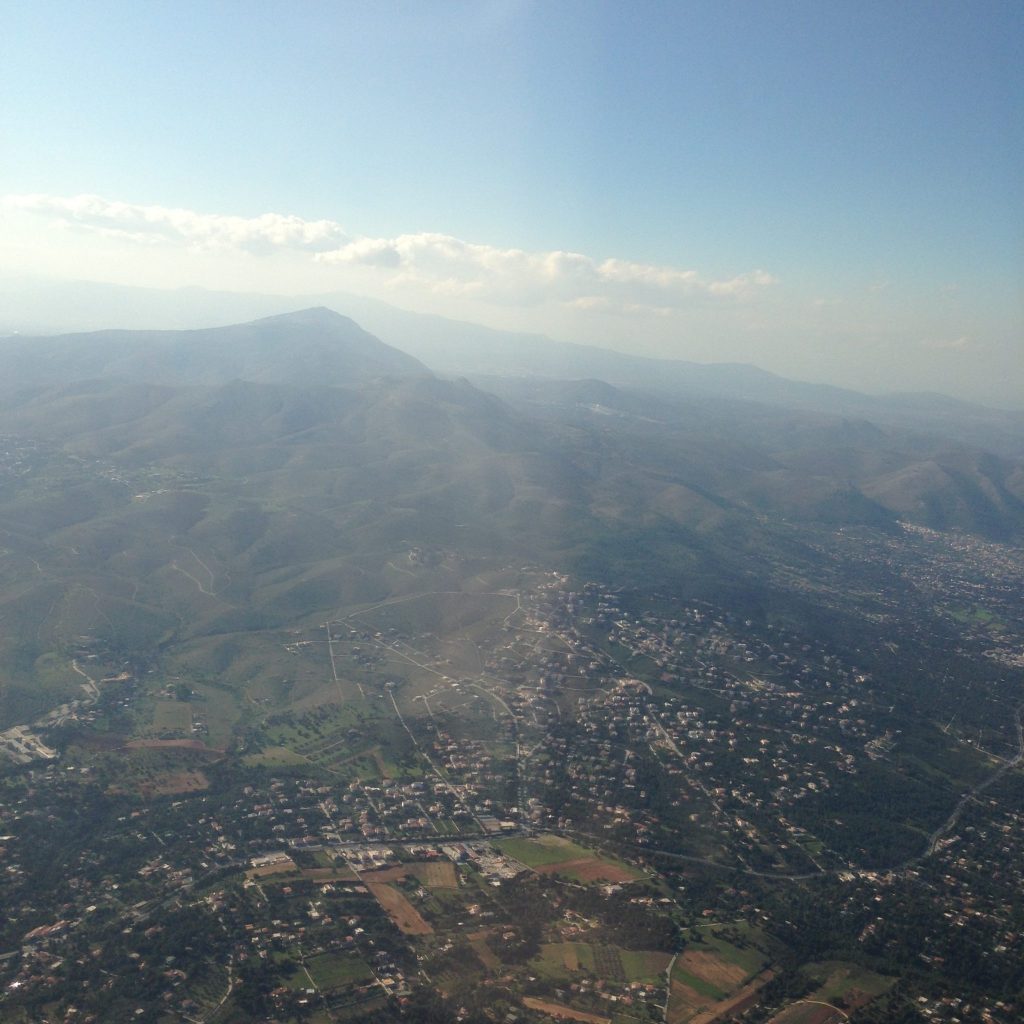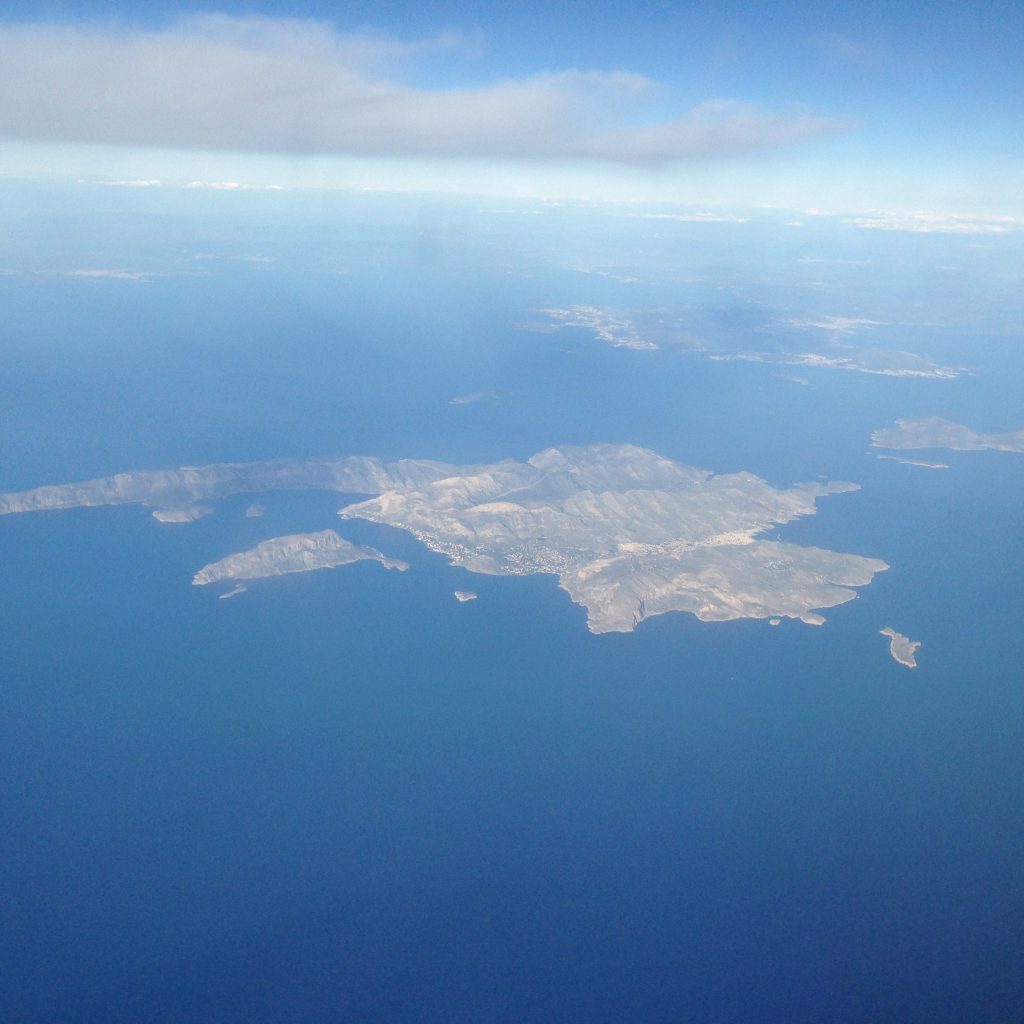 And in case you're wondering, the flight back was as equally professional.
And did you know?
Ryanair offers some of the cheapest Duty Free goods.
How come?
Well, the friendly crew member told me that it's because Ryanair is the world's biggest scheduled airline, hence they can afford to keep the cost of Duty Free goods down. (Note: I dunno if this is because the crew receive commission on goods they sell and they were keen to get me to purchase, but that's the cynical side of me slipping out.  I will check the prices next time I fly and research it).
Thank you, Ryanair.  It was a pleasurable experience, both outbound and return.  It made a nice start and end to my mini-break.  I will be using you again.
Pin for later