When going on your travels, you have many things to consider.  Depending on the location, time of year, type of holiday and even hemisphere will affect whether you pack warm or cool clothing. And do you take a backpack or wheelie bag, hand baggage or checked? So many things to take into consideration.
In fact, if you're considering travelling to Greece, take a look at my Insider's Guide to the Greek Islands to help you choose what time of year to go and my Greek Island All Round Packing Guide to help you decide what to pack. You can also download a free printable PDF copy.
One thing that shouldn't be overlooked is how to pack and keep your belongings safe when travelling – and not just your passport or money.
Here I've compiled my recommended anti-theft travel items for you to consider.
**This post will contain affiliate links, meaning I earn a small amount of commission if you choose to purchase from this site.  This is at no extra cost to you** **Some travel products have been trialed out by me in order to see if they work. This is indicated throughout the post and an honest opinion is formed**
Recommended anti-theft travel items – basics
One thing that I think we can safely say we all like to travel with, regardless of season or weather, is the basics such as:
underwear (yep, definitely a necessity!)
t-shirts
tank tops (maybe)
items such as travel scarfs (good because they double as a pillow or head scarf)
leggings
What if I told you that the above items can come with hidden pockets to help you keep your valuables safely hidden away? This is where travel company The Clever Travel Companion comes in. They offer a range of innovative clothes such as:
male and female underwear with secret pockets
scarf with two hidden zipper pockets
unisex tank tops with hidden pockets
leggings and long johns with – yep, hidden pockets
(my favourite): Women's fitted v-neck t-shirt with two hidden pockets
I trialed the t-shirt and it's great for travelling in the sense that I can store my passport, London Transport Oyster card or even credit/debit cards, etc in these pockets.  And the bonus?  The pockets face backwards, meaning your belongings rest against you easily and don't look bulky.
Looking for some travel slippers? My CP Slippers are a great travel product: easy to pack and slip on where ever you are.
Recommended anti-theft travel items – trousers and dresses
I was very excited to come across the company Scottevest.  They have a range of clothing available for men and women – the ones that caught my eye were the Women's Travel Pants and even Dresses and Skirts, all with hidden pockets.  Their website is great as when you hover over the item you are interested in, it shows you what items can be tucked away and fit, and where.
Scottevest Women's Cargaux Travel Pants with 11 hidden pockets and adjustable ankle ties. Two colours: Black and grey
Scottevest Dress with 7 hidden pockets, including in the back waistband. Made with cotton and spandex, it's great for style and comfort, and perfect if you need to look smart too.  Available in a range of colours.
A slightly above the knee Scottevest Skirt which is made from a mixture of poly and spandex.  With 4 pockets, it's great for travelling and casual/smart.  Only available in black.
Recommended anti-theft travel items – jacket
There are a range of jackets on offer out there.  It's hard to know what to choose.  I like the Global Travel Company's Women's Soft Shell Joey Travel Jacket.  It comes with a range of unique features such as:
Zip Off Sleeves
Sunglasses Pocket (2)
Side Vents (Soft Shell)
iPad/Book Pockets (2)
Water Bottle Straps (2)
Hidden Pockets (2)
Earphone Holders
Detachable Hood
Microfiber Cloth
Built in Eye Mask
Cuff with Thumb Hole
Water Resistant
Built in Luggage Strap
Waist Adjuster
I was afforded the opportunity to trial out the jacket and found it stylish, yet practical. In fact, sometimes I can feel I have an item, but am so busy patting myself to see exactly where it is!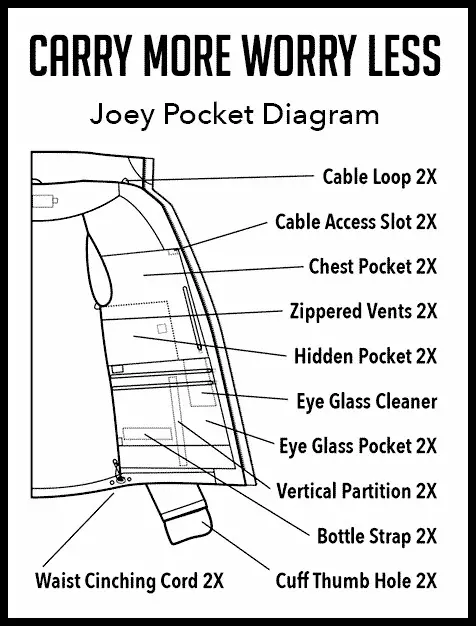 I particularly find the thumb cuff hole useful in this style of jacket because it means I don't need to bother with gloves (in some seasons)…I can just cover my hands with my sleeves, yet still able to freely use them. There's room on both sides of the jacket to spread your items out – and I recommend you do this.  You don't want to be left lop-sided!  I have to admit: placing a water bottle in your jacket can weigh it down a little unnecessarily, in my mind.  But there's no real reason to 'hide' a bottle of water…maybe it's just for ease of storage. I use my Joey Travel Jacket mainly for the essentials.
Recommended anti-theft travel items – Rucksacks/Hand baggage
No doubt about it: travel packing is an art – and I think it's fair to say that most of us prefer to keep our luggage with us, whether for convenience reasons, or safety – especially if packing a laptop, Kindle, etc.
There's a range of hand baggage on the market that has been specifically designed to conform with the ever stricter budget airlines hand baggage rules. One of these is Hynes Eagle, a U.S. Company that also offers business bags, laptop bags and travel accessories such as packing cubes and really useful portable electronic accessories organiser (for your cables, etc) – and able to fit in hand luggage (packing cube size).
I was fortunate enough to be able to trial out the following products by Hynes Eagle and highly recommend them; specifically for hand baggage and the handy electronics organiser. Most importantly, it keeps my laptop secure (scroll through the little slideshow of Instagram images below).
Recommended anti-theft travel items – Personalised luggage
For those of us that love our wheelie bags, both cabin and hold sized (and I am also one of them), what better than to actually personalise your luggage with a picture, or logo of your blog, book cover (as I've done) or company? That'll ensure no-one accidentally/on purpose walks off with your luggage.
I love my personally designed wheelie cabin and hold bags by Personalised Luggage. As you can see, it has a design of the book cover of my novel Girl Gone Greek and also one of my site.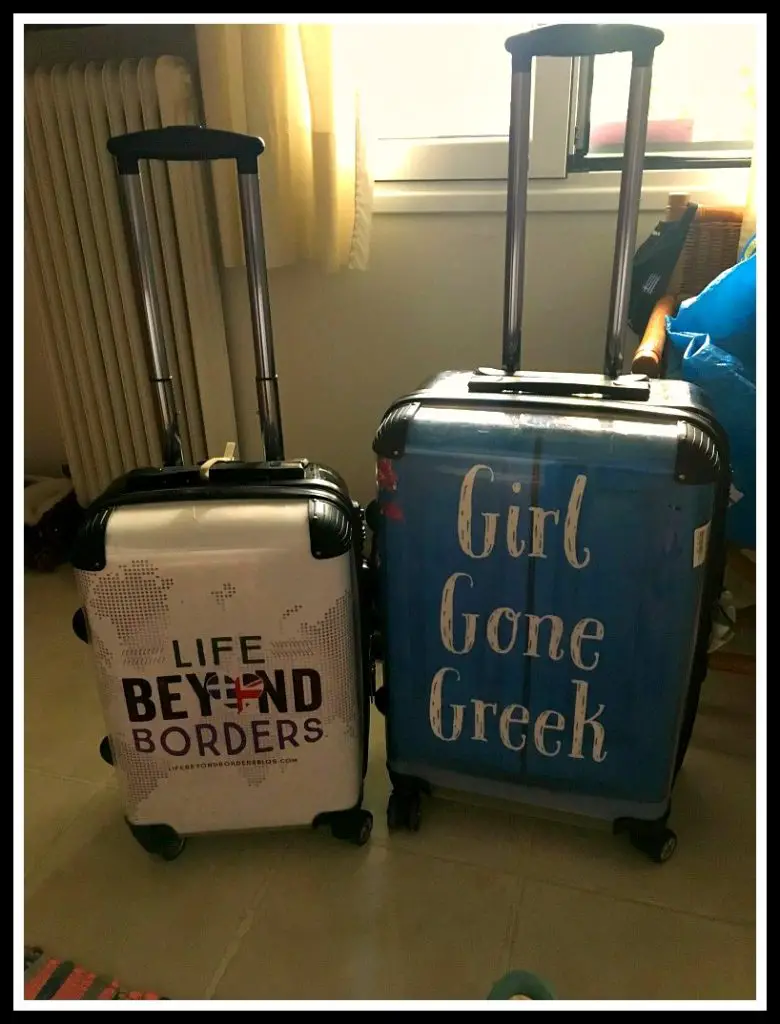 Head to the Personalised Luggage site and if you're interested in purchasing your own, when it comes to checkout time, quote code: BY16 TO RECEIVE A 10% DISCOUNT!
What are your favourite theft proof travel goods?  Do share in the comments.
PIN for later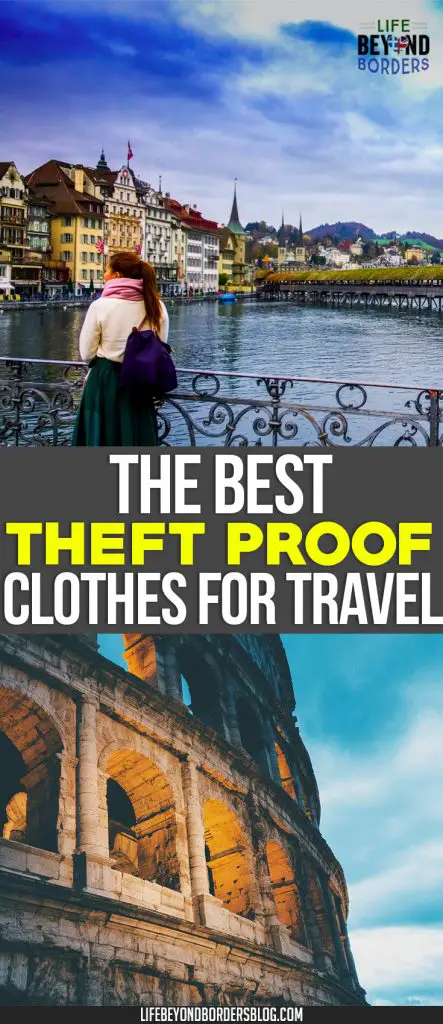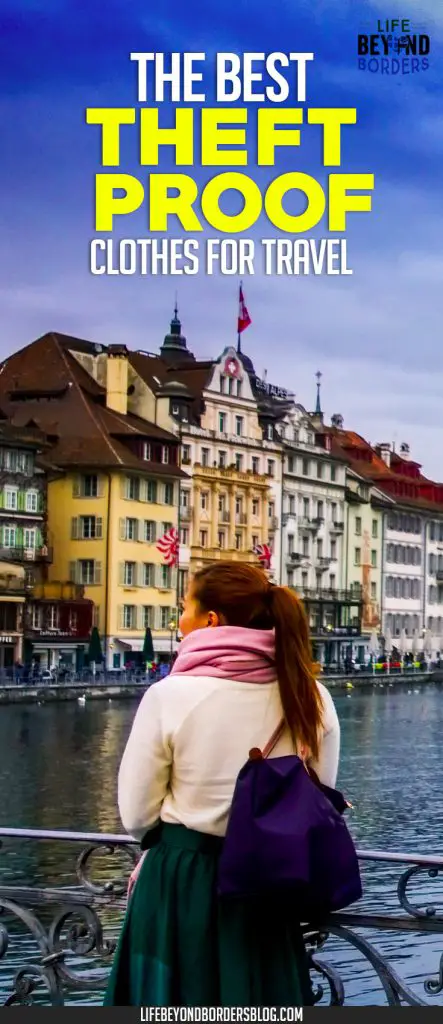 Header Images © Bence Boros & Bhuwan Dhingra