I've been sea kayaking in Mykonos, Greece but never paddle boarding, and certainly not in my own country, the UK.  Figuring the weather was always too cold to do such activities, I was a little reluctant at first when Rob of Rob Mc Paddling invited me to experience paddle boarding in Devon, and during the month of March no less! The weather in Britain is dubious at the best of times.
Due to a set of unfortunate yet conversely fortunate circumstances, I was actually ill with that vomiting virus during March (enough details I think!), meaning that as the paddle boarding day loomed grey and rainy – as was to be expected, I couldn't go.
But we re-scheduled for August – and I'm so glad we did.
**My paddle boarding experience was provided for me free in order to trial it out. All thoughts and opinions remain my own**
Paddle Boarding along the Grand Western Canal – Devon
No getting out of it this time.  The day loomed a little grey (it's always grey at least once a day in the UK, even in the summer), but by the time midday rolled around, the sun was peeking through the clouds.
So, with trepidation but also excitement, I drove to our meeting spot to see what this Paddle boarding lark is all about.
Rob McPaddling
Rob is an affable chap.  Living in the north Devon (or Cornish? – anyway, it's the border) town of Bude, he jokingly relays how there's a little completion between the surfers there, and people who like to kayak and paddle board like himself.  I had tried surfing once, many years ago and yes, I have to admit – they felt like quite a 'cliquey' bunch, a superior air to them (just watch the film Point Break and you'll understand).
But not so with Rob.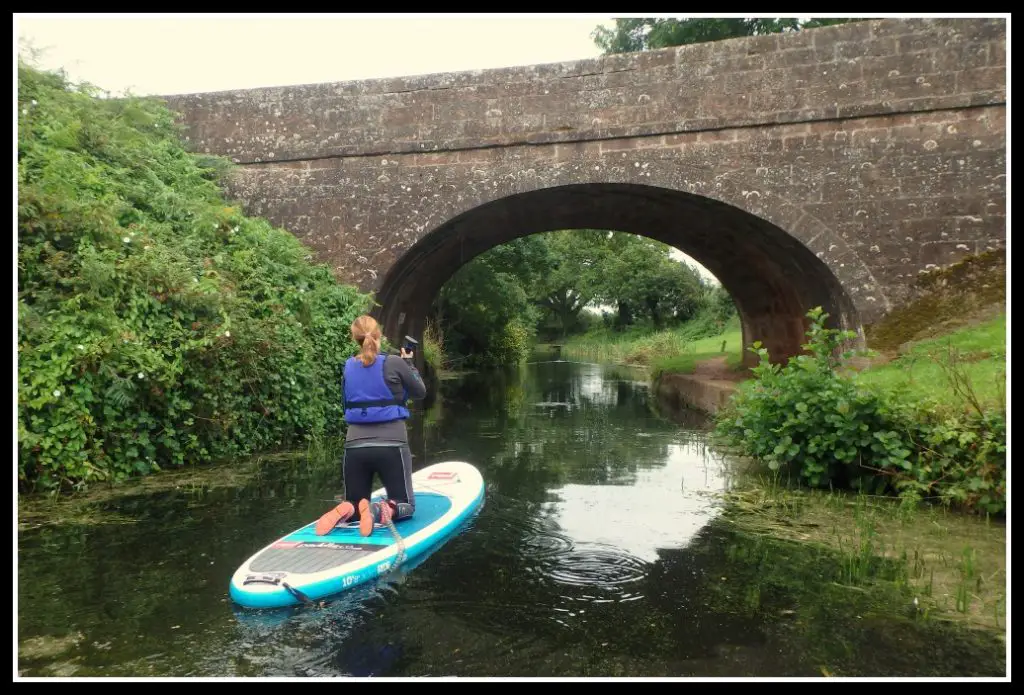 My Paddle Boarding Devon experience
Sensing my nervousness, Rob explained to me that this isn't a competition and I can do as much or as little as I like.  It's not about perfecting any skills – or pushing boundaries – it's about having fun.
I relaxed immediately.  I knew then that I wouldn't have to 'pretend' to be OK with something I wasn't.  So I peeled on the two piece wetsuit over my costume with less trepidation.
A bit about the Grand Western Canal – Mid-Devon
My Paddle Boarding experience would be along the Grand Western Canal in the town of Tiverton, mid-Devon. It used to run from Taunton, Somerset and ended in Tiverton, Devon and dates back to 1796, where the Bristol Channel in the north was linked to the English Channel in the south.
As well as horse drawn barge rides, it's beautiful to walk along and observe the wildlife and there are some beautiful pictures that can be taken on the walks, especially of the old stone bridges spanning the Canal.  Come and take a look around Tiverton as I show you around this mid-Devon town.
We joined the Canal at the Swan's Neck – named because the canal literally loops like a swan's neck.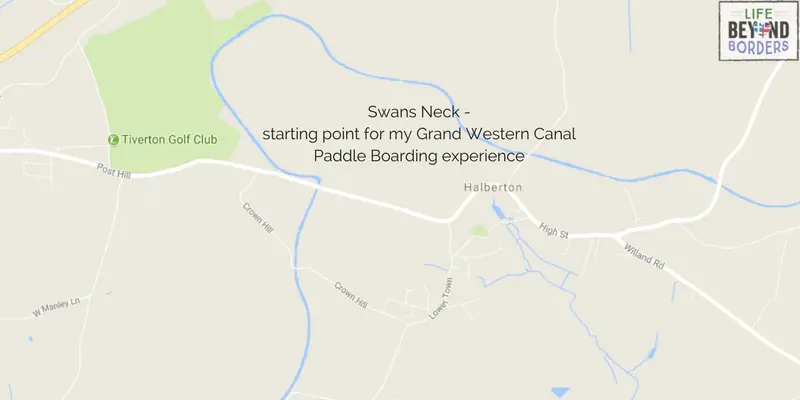 Rob had inflated the boards and I'd donned myself with the wetsuit, and after a slight wobbly time getting on, I managed to kneel up and we set off.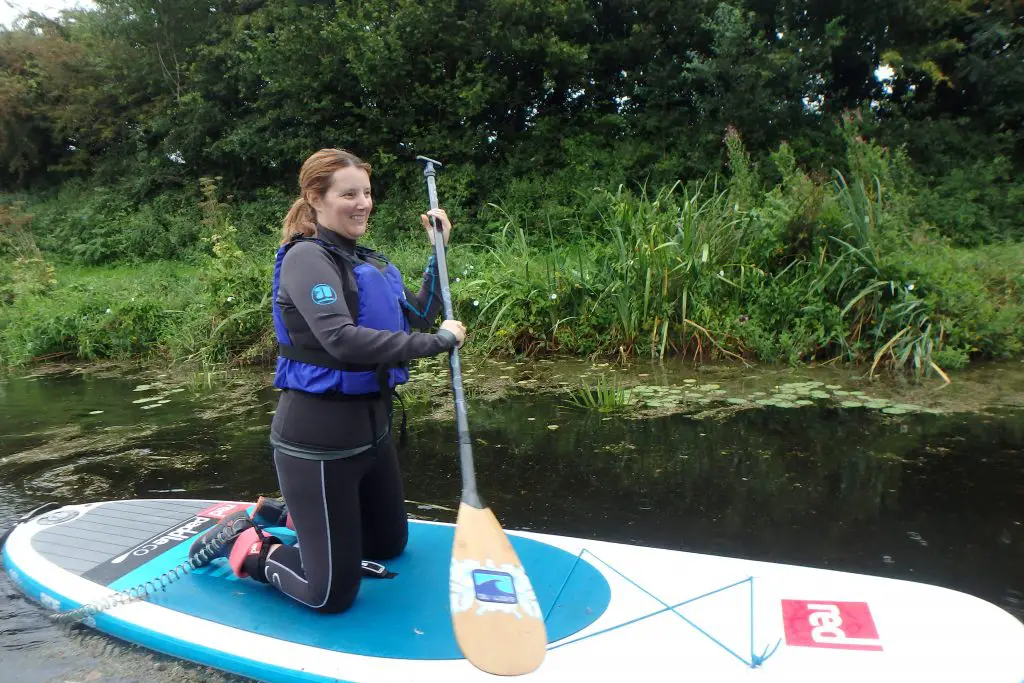 We spend approx. two hours on the water in total during which time I managed to get relatively comfortable and take in the scenery around me; ducks, even a kingfisher!
Standing whist paddle boarding
Rob managed to get me standing – which took up probably about 30 mins in itself to get me to do!  Trust me, it is not easy and I literally only stood for a photo op because I was wobbling around so much, not confident to try to paddle whilst standing.
Once I was back sitting down, I could comfortably practice turning the board around and enjoy nature.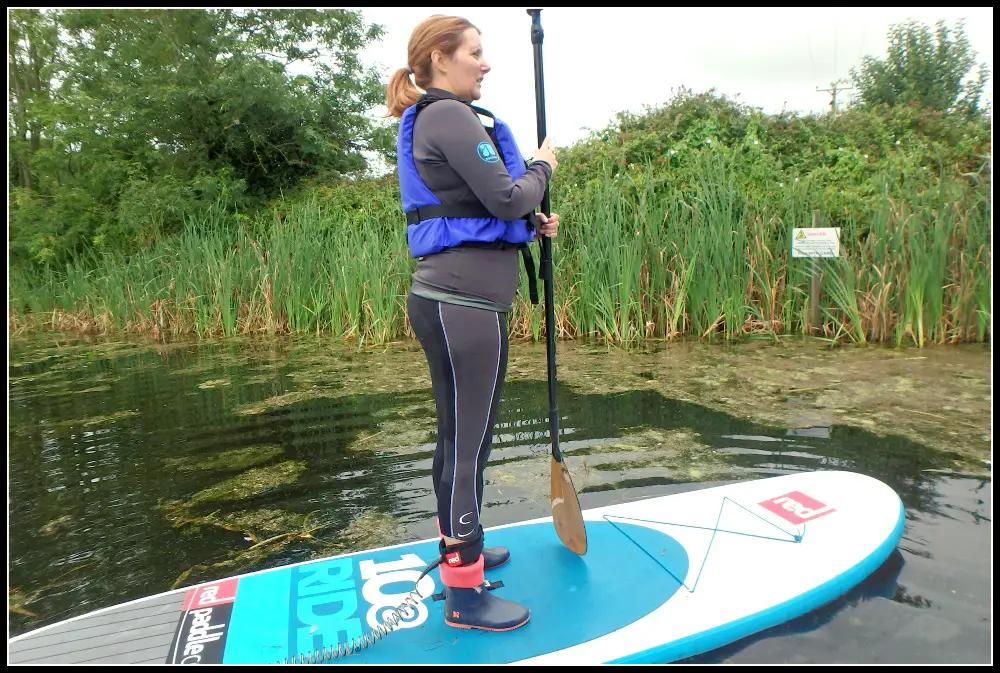 Paddleboarding in Devon: Overall thoughts
I did enjoy it, once I'd got over the initial fear. Rob is a professional and makes sure you're comfortable and do things at your own pace. He also only ever takes out small groups, ensuring a real personal experience.
Next time I am back, maybe I will brave Rob's experiences sea kayaking or paddle boarding in the sea.  Weirdly, I feel better about this because the Canal has pike inside, making me really nervous if I fell in!  I never fell, but I'd prefer to fall into the sea, even the British sea.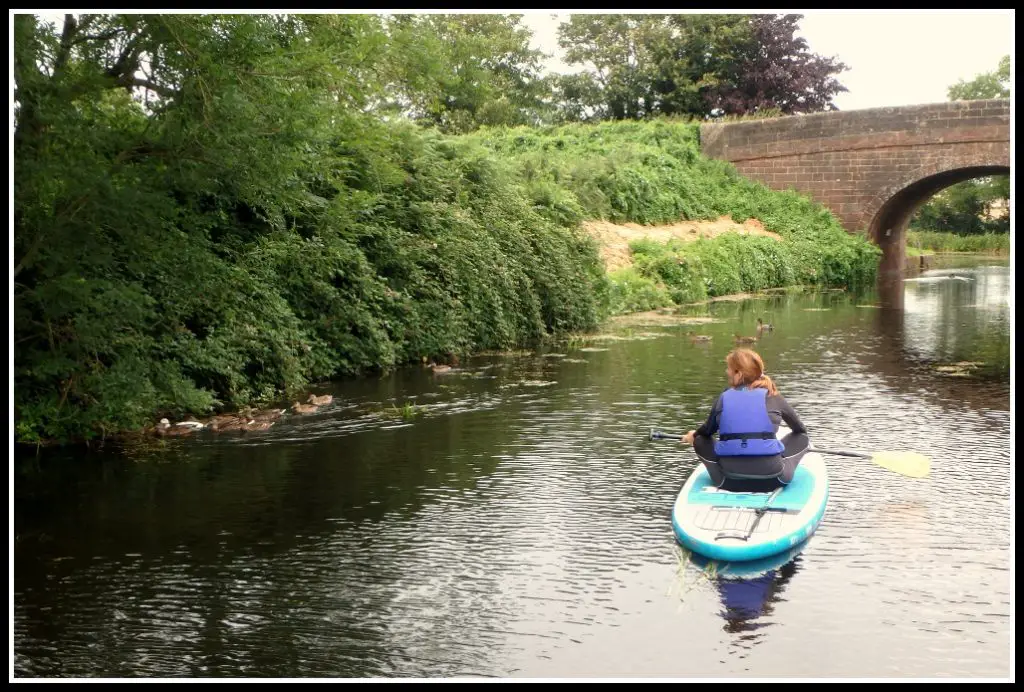 If you're in the West Country area of the UK at all and fancy undertaking something slightly different, Rob McPaddling takes people out year round, either Paddle Boarding or river/canal/sea kayaking.  See his list of Frequently Asked Questions to discover more ie: what to take with you, etc. You'll need to Contact Rob at [email protected] to get an indication of pricing, as it's a very tailor made experience.
Enjoy yourself!  Hotels and small B&B's to book in Tiverton, near the Grand Western Canal.
Pin for Later