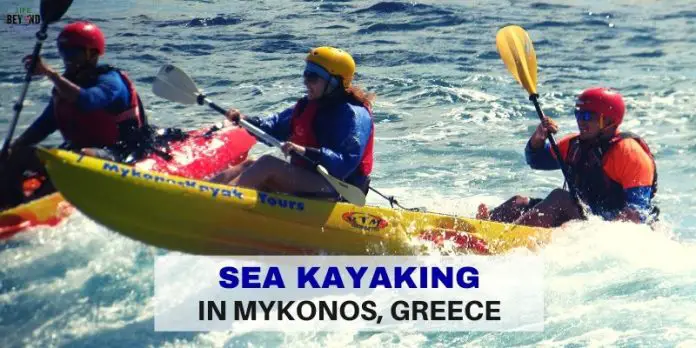 When one thinks of going to the Greek islands, it's usually to spend time relaxing on the beach, sunning oneself and swimming. When one thinks of going to Mykonos in particular, images of lazing by the beach all day then partying the night away are what comes to most people's minds as Mykonos is renowned for being THE party island. There is, however, much more to the party island of Mykonos than meets the eye. When I visited Mykonos back at the end of September 2016, the weather was still warm, if a little windy.  I was delighted to be offered the chance to go kayaking in Mykonos with Mykonos Kayak Tours and Trails.
For a recommended list of what to pack when travelling to Mykonos or, indeed, any Greek island, see my Greek Island Packing List and get the free downloadable PDF here.
Full day's kayaking on Mykonos
The day dawned bright and early at9:30am – and my friend whom I was staying with drove me out to Agios Sostis beach, to the north of the island in a little horseshoe shaped bay known as Panormos Bay (see map).
Agios Sostis is beautiful with its small church, rugged views and the delicious Kiki's Taverna which offers grilled meat and the most delicious array of salads you've ever seen.
My top things to eat and drink on Mykonos also helps you decide where the best food is on the island.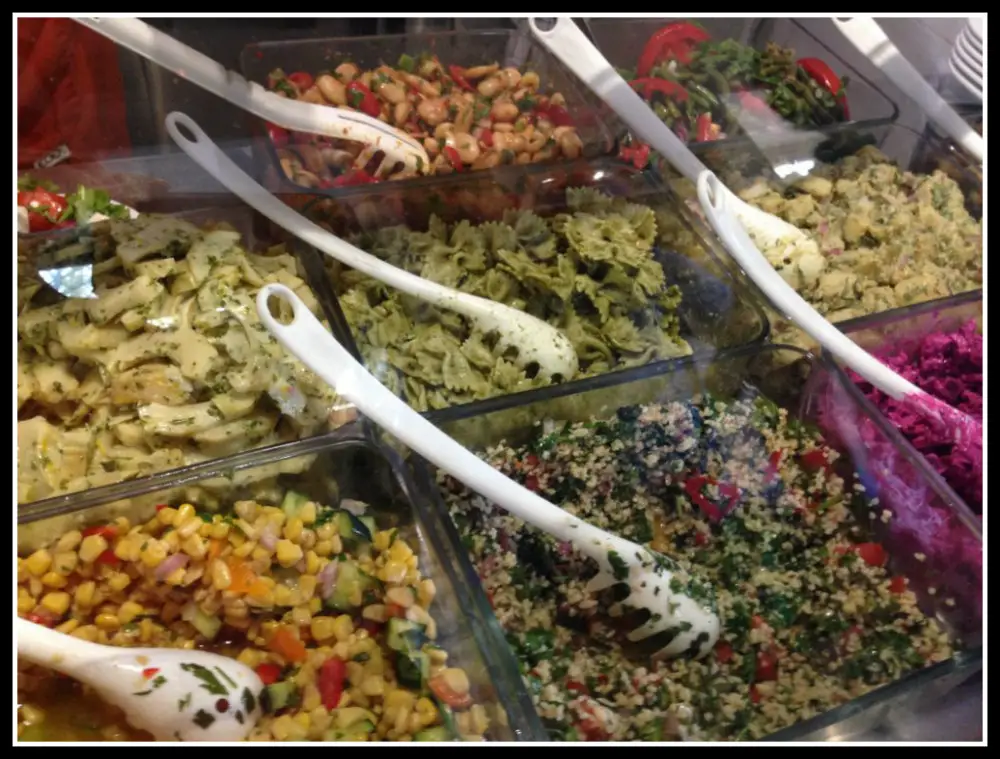 So from the outset, my kayaking in Mykonos experience was already one of aesthetic beauty.  But I was also very mindful of those winds blowing off the sea – Is it safe?  I'd never kayaked before, so was naturally a little concerned.  September can be a very windy month in these islands…not cold, but windy due to the Meltemi winds.
Mykonos Kayaking Tours
Mykonos Kayaking Tours and Trails is a small family run business, and it doesn't even feel like a business.  Husband and wife team Kostas and Jo – together with their two sons Nikos and Alexi – started their 'business' actually as a hobby back in 2007.  As they grew more and more in love with the nature around Mykonos; the caves one can explore, the wildlife, they discovered they wanted to share it with people, and so the hobby turned into a business.


When the summer season comes into full swing, further guides come and help and all guides, including the family, are BCU Certified – British Canoeing Union, so you can rest assured that you're in safe hands.  This certainly put my mind at rest as I watched the swell of the sea!
My experience of Mykonos Kayaking
As mentioned before, my friend dropped me off at the meeting point – Agios Sostis beach. Jo and Kostas can go and collect you by minibus from your hotel or wherever you're staying in Mykonos though, and will liaise with you well beforehand as to pick up time, etc.
Our group of about 18 of us gathered around the entrance to the church and had our safety briefing.  We were made up of individual travellers like myself, couples and small groups of friends.  There's a small little storage area affixed to the church where the life jackets, wet suites (if you want one), snorkels and masks are kept (yes, we also had the chance to go snorkelling! But more on that later) and we kitted ourselves out.
Then we were divided into two groups because, as you can imagine, 18 is rather a lot to all kayak in one go.  I decided to go with the group who would snorkel first.
Snorkling in Panormos Bay
Our group first went to snorkel around the bay, just from the beach at the base of the church.  Jo came with us and managed to catch a few sea urchins that we'd use in our picnic lunch later in the day.  OK, don't expect Caribbean like waters when you snorkel, but there's some pretty fish around and it's always fun to see what's swimming around under you.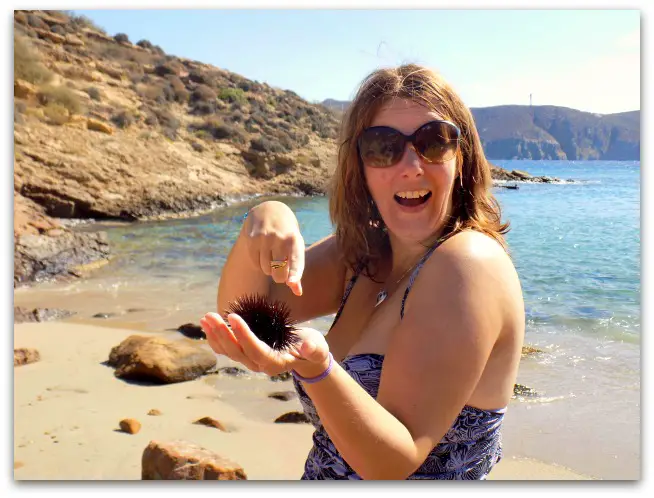 Then came our turn to sea kayak.
Reef riding
As mentioned before, I was growing concerned because the wind had picked up and as a first time kayaker, I had no idea if this was safe or not!  It turned out for this trip, we would go 'Reef Riding.'   Reef Riding entails two people in a kayak and the main rower sits behind, i.e.: the 'professional'.  We paddle up to the small channel in the reef and wait for the waves to come (against us) and literally paddle into them!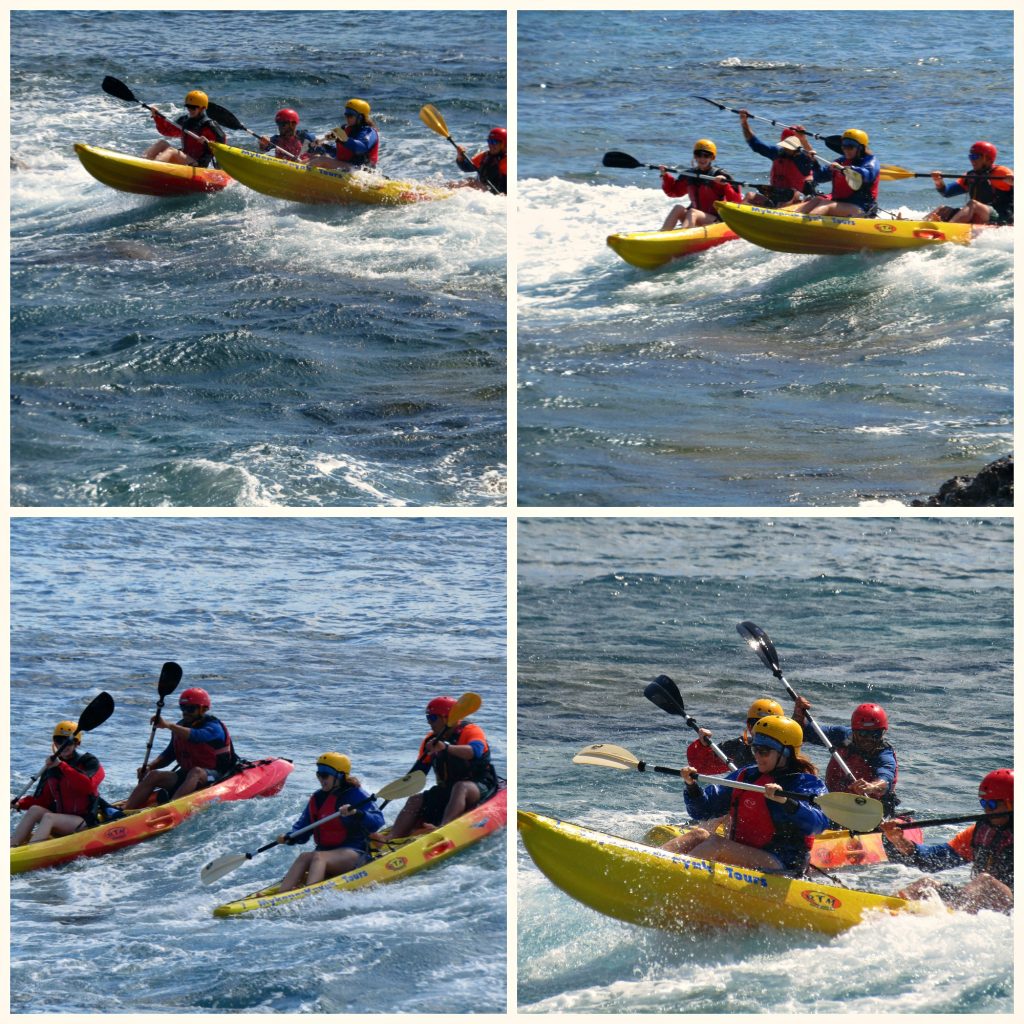 It sounds dangerous, but after my first attempt (and with the knowledge I had one of Jo and Kostas's son rowing in the back), I realised how exhilarating it was to feel the power of the sea and wanted to go again, and again, and again!  We were invited to ride straight through the channel if we wanted to, but were warned that we weren't guaranteed we wouldn't capsize…so naturally I declined!
Lunch
And then came one of my favourite parts of the day: food/lunch.
Kostas and Jo offer a 'picnic' lunch but it is far from a picnic in the sense of the word that we're used to.  This is a 'Greek' picnic, eaten sitting at Jo and Kostas's place near the church, sitting outside, and as Greeks love to celebrate food, you can imagine the size of the picnic:
Three different types of cheeses, mostly made from sheep's and goat's milk
Homemade Tzatziki (yogurt, garlic and cucumber dip)
Fresh bread
Fresh tomatoes and cucumbers
Fresh olives
Different selection of meat cuts
Honey drizzled on bread
Tiropita (feta cheese pie)
Spanakopita (spinach and feta cheese pie)
and any number of salad items.  Asked if I wanted seconds and I had to respectfully decline…it was all very delicious, but I was pleasantly full.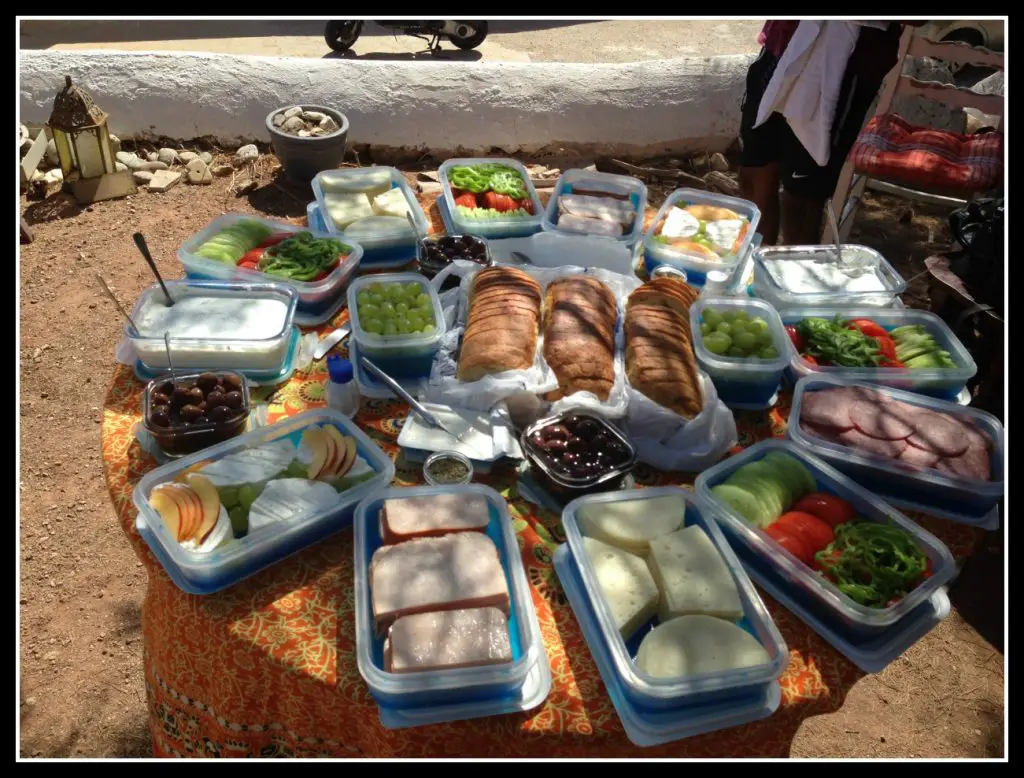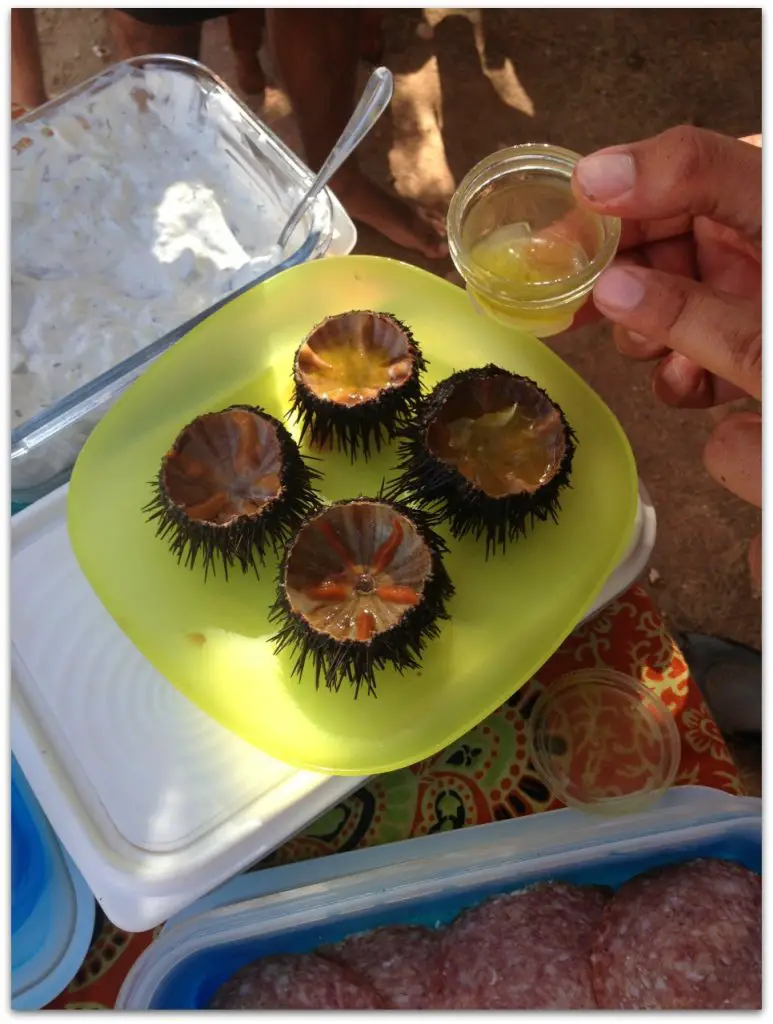 We then passed the afternoon away by catching up, chatting about our experience and towards 3pm, Jo and Kostas started the rounds to take people back to their hotels or cruise ship via a stop to take photos along the way.
Conclusion for Sea Kayaking on Mykonos
For its price at €90, the kayaking in Mykonos trip is good value and includes:
Sea Kayak
Paddle
Life Jacket
Snorkelling Equipment
BCU Certified Guides
Local experts
Safety Demonstration
Paddling Lesson (before you set out on your Reef Ride or Kayaking trip)
Full picnic lunch
Snack
1.5 litre of Mineral Water
Photos (taken by Kostas and emailed to you after the trip.  This is great so you can concentrate on enjoying yourself)
Transfer to/from hotel/cruise ship
Stop off to take more pictures along the way
What to wear / bring
Shorts, t-shirt, cap/sunhat, suncream, water shoes/sandals, towel
**Note: I was a guest of Mykonos Kayak and all thoughts/opinions expressed here remain my own**
Have you ever been kayaking on a Greek island?  Did you enjoy it?  Share your Comments here.
Pin for later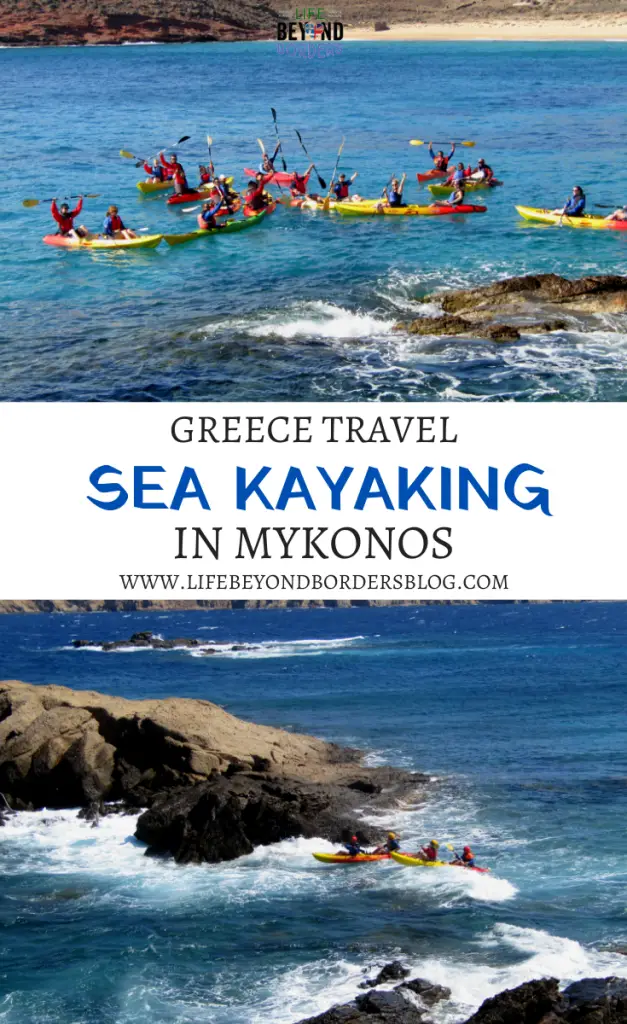 All photos © Mykonos Kayaking
**Originally posted in MAR17. Revised and updated in AUG17**