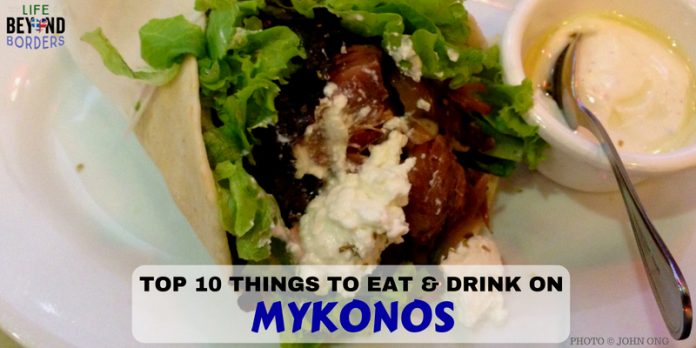 Mykonos is one of those Greek islands like Santorini that many travellers will know of instantly. Therefore much of Mykonos caters to the tourist hordes that descend upon it annually. It is possible to find good, locally produced and international food on the island, served in tavernas run by families that have been handed down through the generations. From the cruise ship terminal in Mykonos Town, it's possible to walk to many of them, unless stated. Let's take a look at the top ten things to eat and drink and the best restaurants in Mykonos and where to eat them.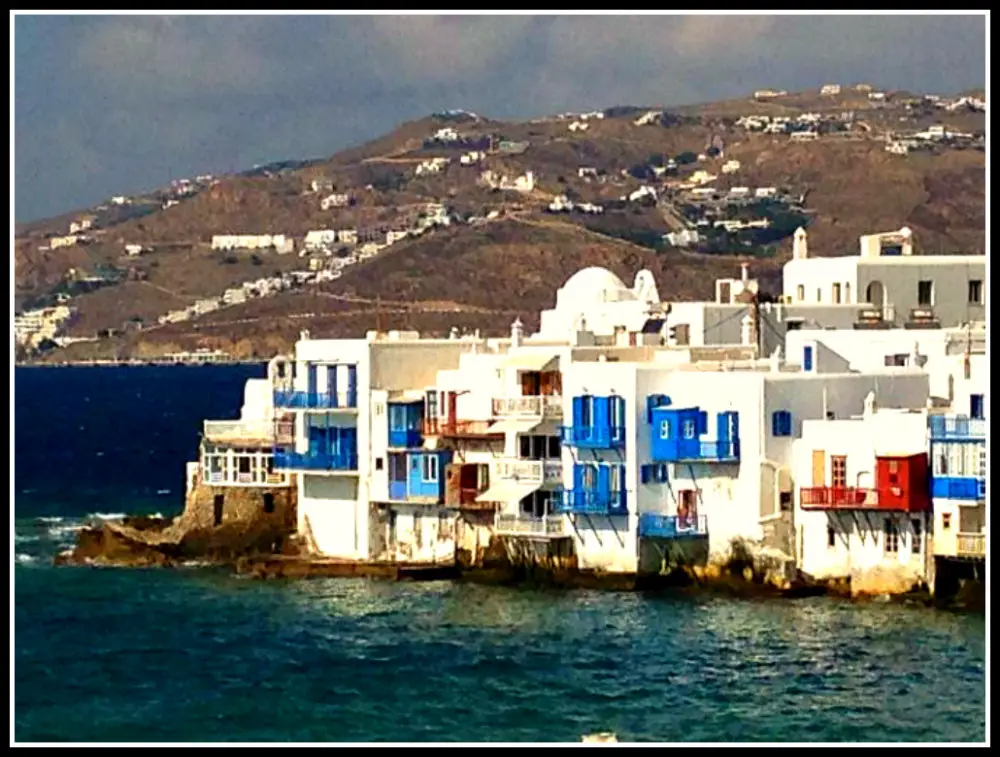 Top things to eat on Mykonos: Kopanisti
Kopanisti is a spicy soft cheese, fermented over several months in clay jugs and is specific to Mykonos. Made with cows, or a mixture of cow, lamb and goat's milk, its spiciness comes from just the right amount of bacteria formed during the fermentation process. It's usually served on a Greek salad and is a light, simple dish to eat at lunch with a beer.   Among other Greek meze delights, eat kopanisti and salad at Paraportianni Taverna. Located in the square behind the city hall in Mykonos Town, the tavern has been run by a retired naval man/fisherman for the last 25 years and is one of the few remaining intimate Greek cuisine establishments still run by a Mykonian family.
Top things to eat on Mykonos: Pizza and Pasta
Yes, pizza and pasta might be Italian in tradition, but Mykonos caters to an eclectic mix of pallets, and the Italian cuisine found at the Mykonos Mediterraneo Ristorante Pizzeria is really something special. Operating since 1998, their specialties are the t-bone steak, pizzas and home-made pasta. Located in Mykonos Town behind the grammar school, this Italian run joint is also a popular hangout for the locals to socialise and is the best restaurant in Mykonos to enjoy pizza and pasta.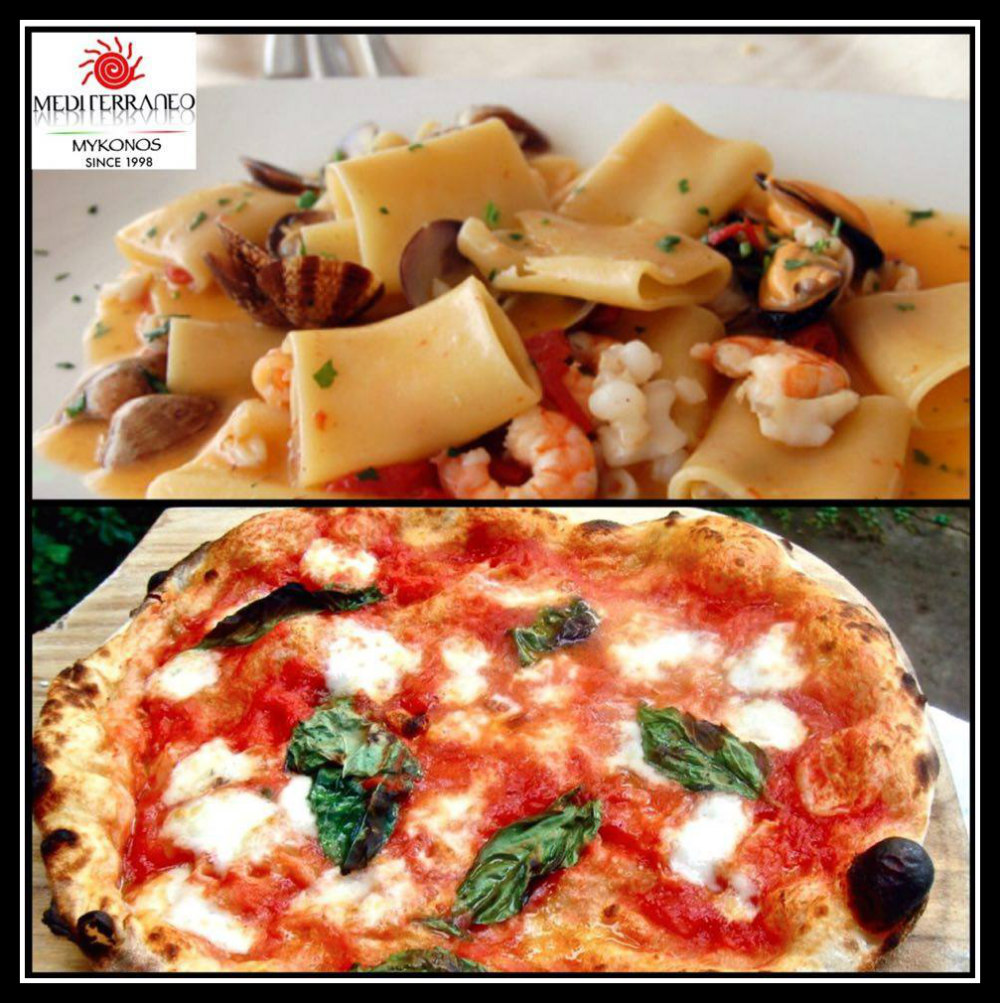 Top things to eat on Mykonos: Gyros
This traditional Greek fast food can be found all over Greece and the islands. Similar to a souvlaiki, the slices of grilled pork or chicken from the rotisserie accompany tomato, onion, parsley, tzatziki and fries fried in olive oil and are wrapped in pita bread; it's delicious to eat as you wander the streets of Mykonos Town. Fani's (behind the bus station in Mykonos Town) is the best place as Fani makes the tzatziki sauce himself.   Be sure you like garlic!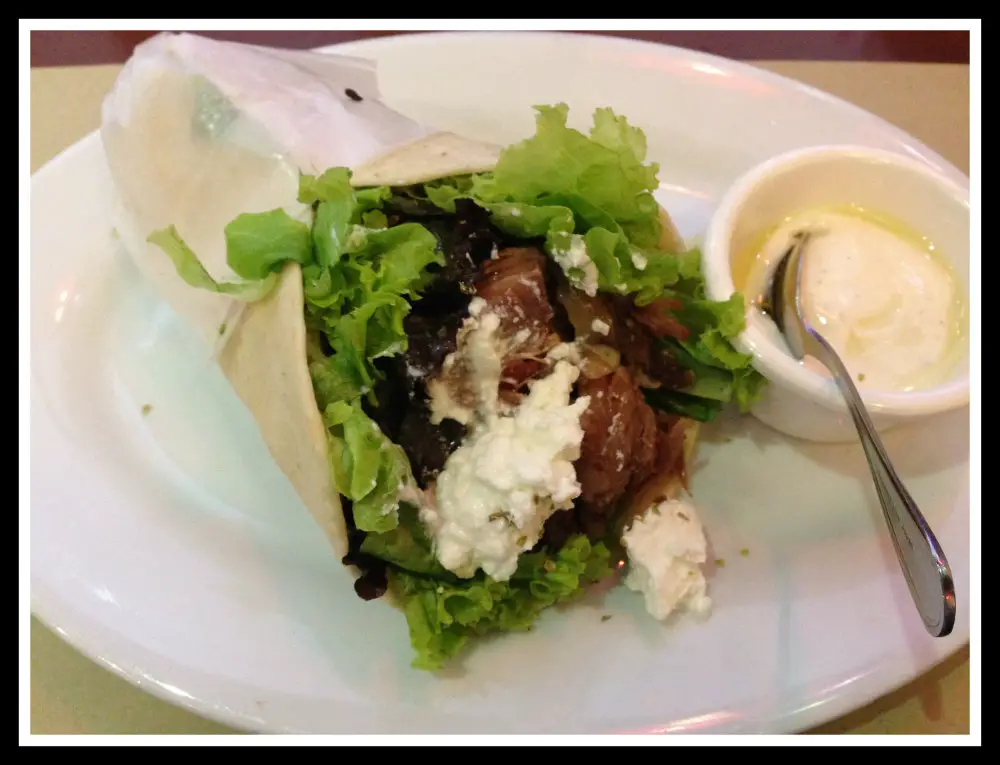 Top things to eat on Mykonos: Seafood
Reputedly the best place on the island to eat seafood, Apaggio Restaurant, located in front of the entrance to Santa Marina, the 5 Star resort on the island, specializes in seafood of all variety.  About a 2.5 mile / 11min taxi ride from Mykonos Town, their oysters, paella, octopus and urchins are a favourite as well as the over 50 varieties of ouzo. Its location by the sea makes this a perfect environment to come and experience fresh seafood on Mykonos.
Top things to eat on Mykonos: Grilled meat and salad
Kiki's Taverna at Agios Sostis Beach is a 5 mile / 19 minute taxi ride from Mykonos Town. Established before the arrival of electricity to that part of the island, Kiki's sits above one of the few undeveloped beaches on the island. It's by far the best place on the island to eat very simple dishes and is frequented year round by the locals. Although the menu never changes and is limited to a few main dishes, with a variety of 10 different salads—the food is always fresh and the taverna sits next to the church of Agios Sostis overlooking the beach. Meat is grilled outside.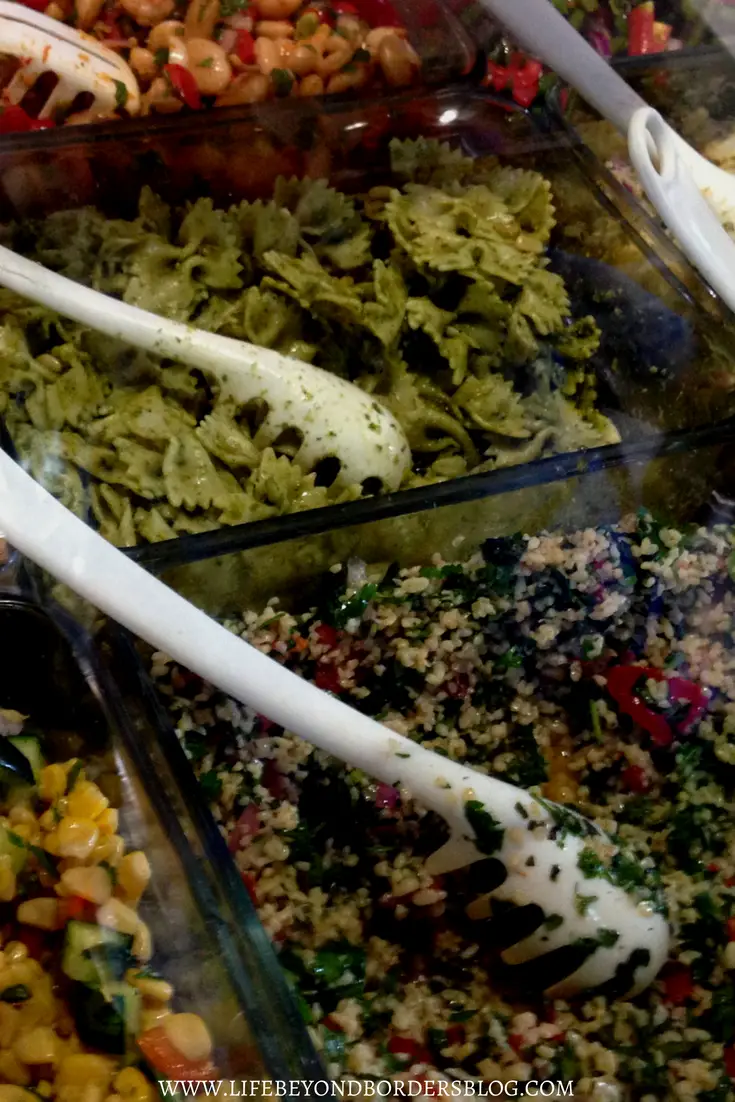 Top things to eat on Mykonos: Amygdolota
Amygdolota is a small round cookie made with almonds, rosewater and caster sugar. They melt in the mouth and are traditional in the Cycladic chain of Greek islands—of which Mykonos belongs, but the Amygdolota differs here because they are baked, not eaten raw as on other islands. You can buy these treats from many bakeries, but the best is Kyklameno Patisserie, on the peripheral road about 5 minutes outside of Mykonos Town. Their 30 years of experience make it a popular place for locals to buy their sweets.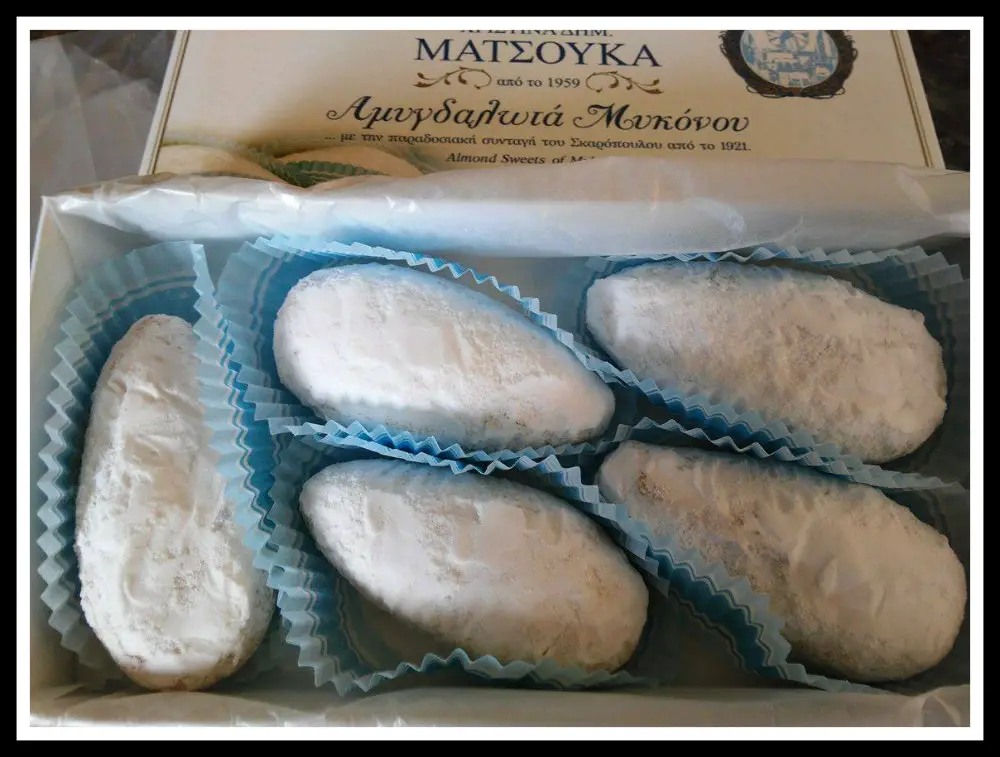 Top things to eat/drink on Mykonos: Soumanda
This thick, milky, non-alcoholic sugary drink made with sugar, almond essence and rose petal water is traditional to Mykonos and so sweet it makes you suck in your cheeks! Served in most patisseries, the best soumanda can be found in Skaropoulos' Pastry Shop, about 10 minutes by taxi outside of Mykonos Town heading towards the monastery of Ano Mera.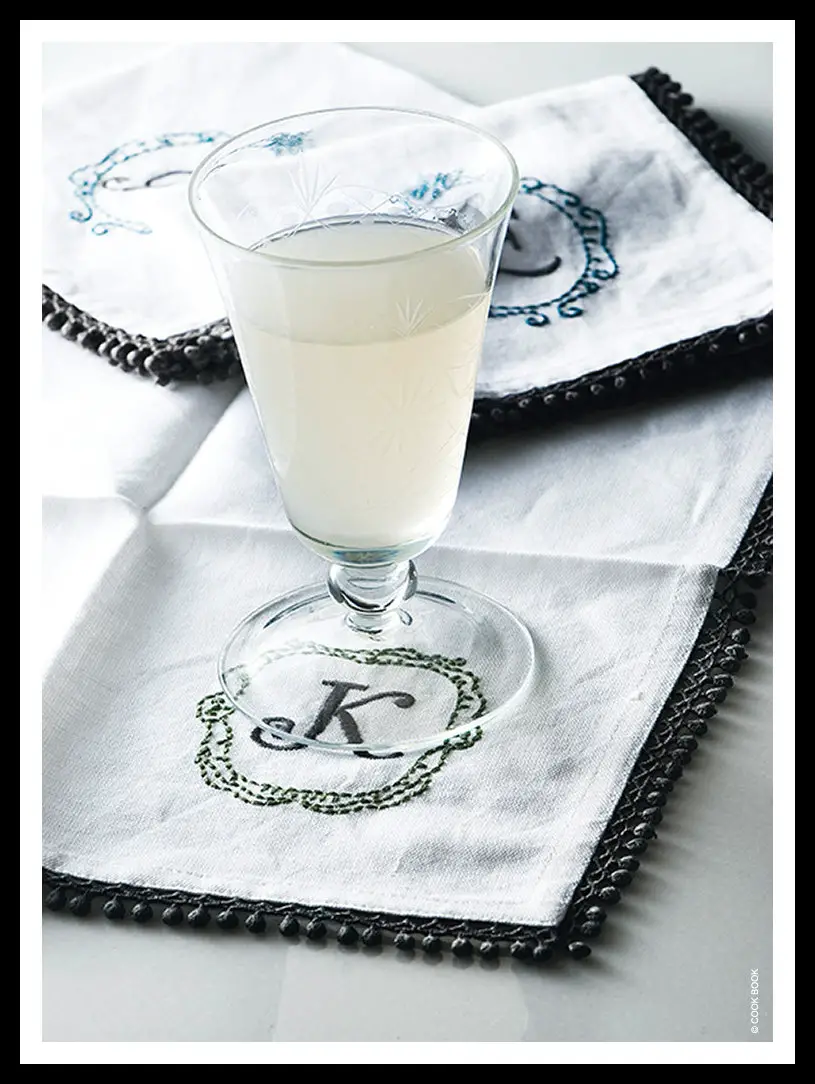 Top things to eat on Mykonos: Louza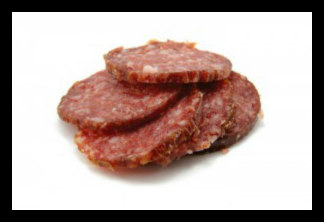 Meat lovers will love this Mykonian delicacy: sun dried pork fillet with spices. Similar to prosciutto and served as part of a meze or sliced into a salad, what makes it so special is the local savory herb that grows wild around the island. Hung to dry for at least a month before serving, just about any taverna will serve this traditional dish, but the best places to go are along the waterfront of Mykonos Town; Kadena, Madoupas or Alegro Tavernas—all frequented by locals and don't ever seem to close!
Top things to eat on Mykonos: Honey Pie
Melopita—or honey—pie is a sweet Mykonian dessert combining base ingredients of ricotta cheese with honey, cinnamon, lemon and semolina. Because all ingredients are fresh, as a dessert it's deliciously free of chemicals and one can almost feel guilt free eating it.   Skaropoulos' Pastry shop or Kyklameno Patisserie—both about a 5-minute drive from Mykonos Town and mentioned above, stock them freshly made, but you can find it in any good taverna or restaurant.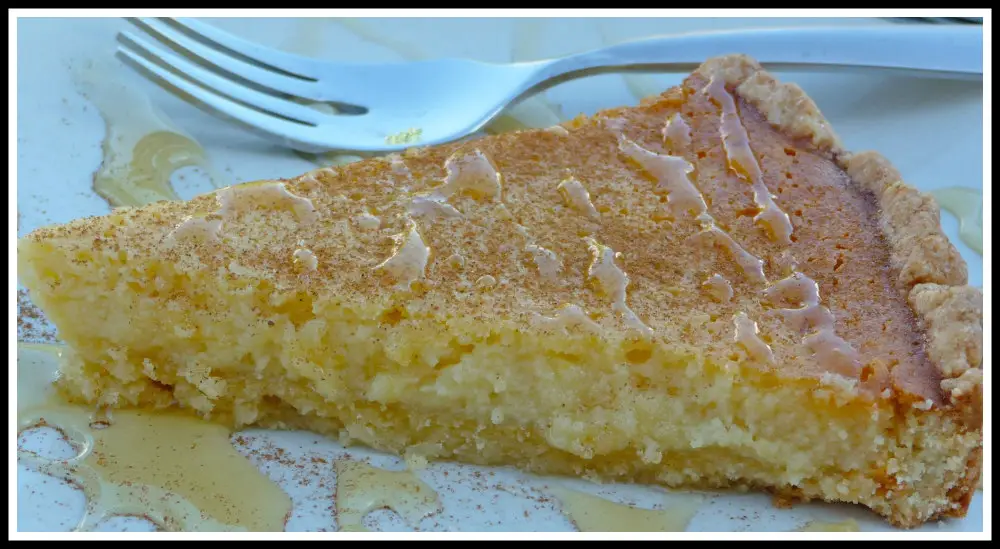 Top things to eat/drink on Mykonos: Paraportiano
Paraportiano is a dry white or red organic wine synonymous to Mykonos as it's produced at the Mykonos Vioma winery. Sold at their own winery—located on the road towards Fokos beach, and also supplied to many restaurants and shops around the island –  their wine is superior because no chemicals or pesticides are used; sheep graze the land to naturally remove any weeds and insects that could destroy the harvest and the sandy soil and warm year round temperatures make for ideal growing conditions. A great wine to drink with a meal, or to take home as a gift.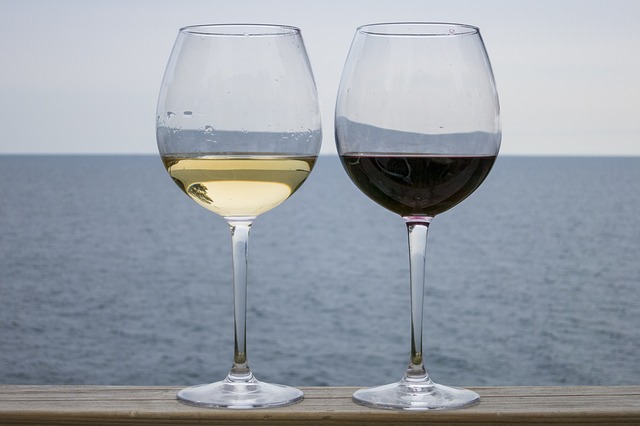 What's your favourite dish in Mykonos, and where have you eaten it?
PIN for later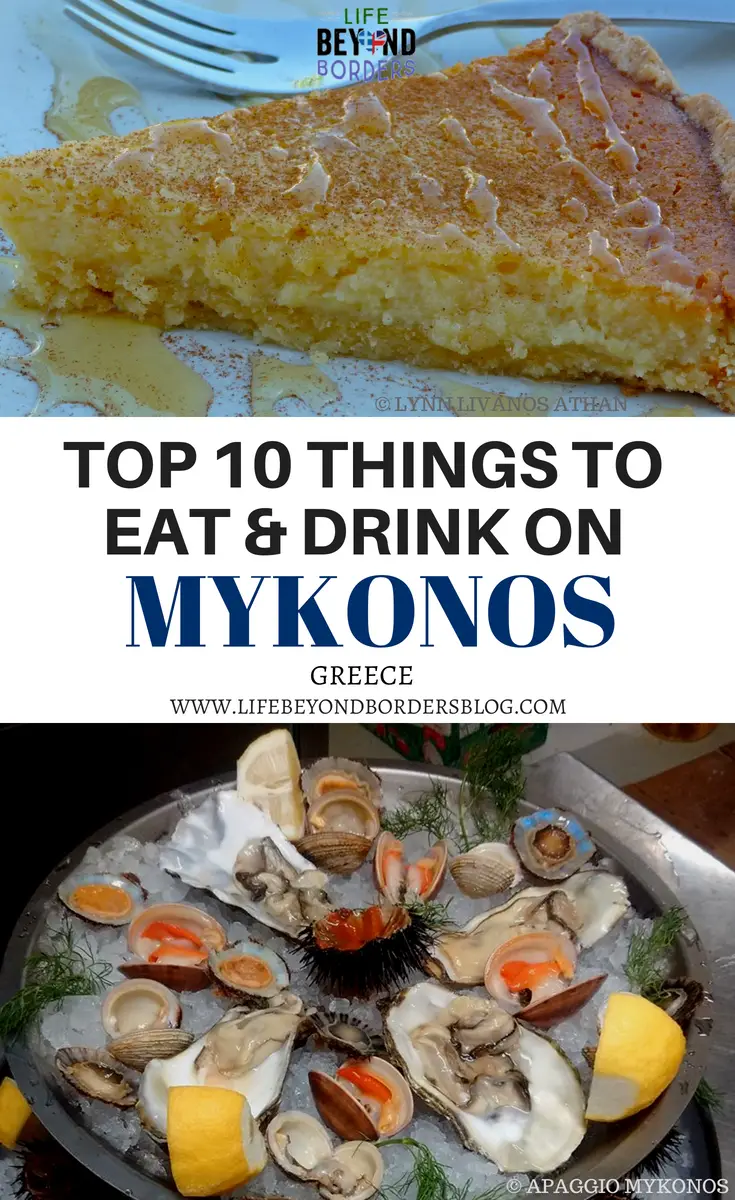 Header image: "Lamb Gyro" (CC BY 2.0) by Happy Tummy