As a regular traveller, any travel products that come in handy sizes is of real use to me, so imagine my delight at receiving some of the best Lush handy travel wash products to trial out.  Even better? They're environmentally friendly too.
**Disclosure: I received these products from LUSH head office in the UK to trial out on my travels.  As always, despite this, my opinion remains objective**
The best LUSH travel products: What is LUSH?
LUSH cosmetics was founded in 1995 by a trichologist – Mark Constantine –  and beauty therapist – Liz Weir – in the beautiful Dorset town of Poole in the UK. However, they initially started out by providing The Body Shop with their recipes and developing products for them for well over a decade before LUSH was born.
LUSH produces creams, soaps, shower gels, shampoos, moisturisers, masks and scrubs for the hair and face plus their famous fizzy bath 'bombs' and also make-up.  They've also branched out into producing 'toothy tabs' (solid, chewable toothpaste tabs) and solid deodorant bars. All products are vegetarian or vegan based with the main ingredients usually being fruit and vegetables such as:
grapefruit juice
avocado butter
vanilla beans
fresh papaya
rosemary oil
coconut.
Be aware, however, that some products may contain lanolin, eggs, milk, honey and/or beeswax.
LUSH's popularity is due to the treatment of their staff, the fact (they claim) to use no animal tested products and ethical buying practices, not to mention their openness about their company tax policy.  Check out their Policy statements to see for yourself.
Today, LUSH stores can be found all across the UK: in town centres, shopping malls, some London train stations and in many European countries as well as worldwide such as:
USA
Canada
Australia
Russia
Mexico
Japan
Hong Kong
South Africa (to name a few).
Other great travel products
As LUSH were aware I am a traveller, LUSH sent me a neat collection of traveller friendly products to try out. Some of the best LUSH products for travelling include:
Montalbano Solid Shampoo Bar in a tin (smells all lemony and you just rub it over your head and/or body.  Works up quite a lather!)
Miles of Smiles Toothy Tabs (chewable with a bit of water to work up a lather, then brush away!)
Creme de Menthe, Pan Galactic Gargle Blaster and Ugai Mouthwash tabs (chewable, then gargle with water and spit!)
Aromaco Solid Deodorant Bar (with witch hazel and chamomile – just rub under dry armpit)
Dry Shampoo
Powdered Sunscreen (SPF15)
They came well packaged up in a cardboard box and wrapped in a scarf that was made out of 100% recyclable, melted down plastic and can double up as a scarf or even to wrap up your toiletries.  This eliminated the need to use plastic packaging – more proof of LUSH putting their words into action.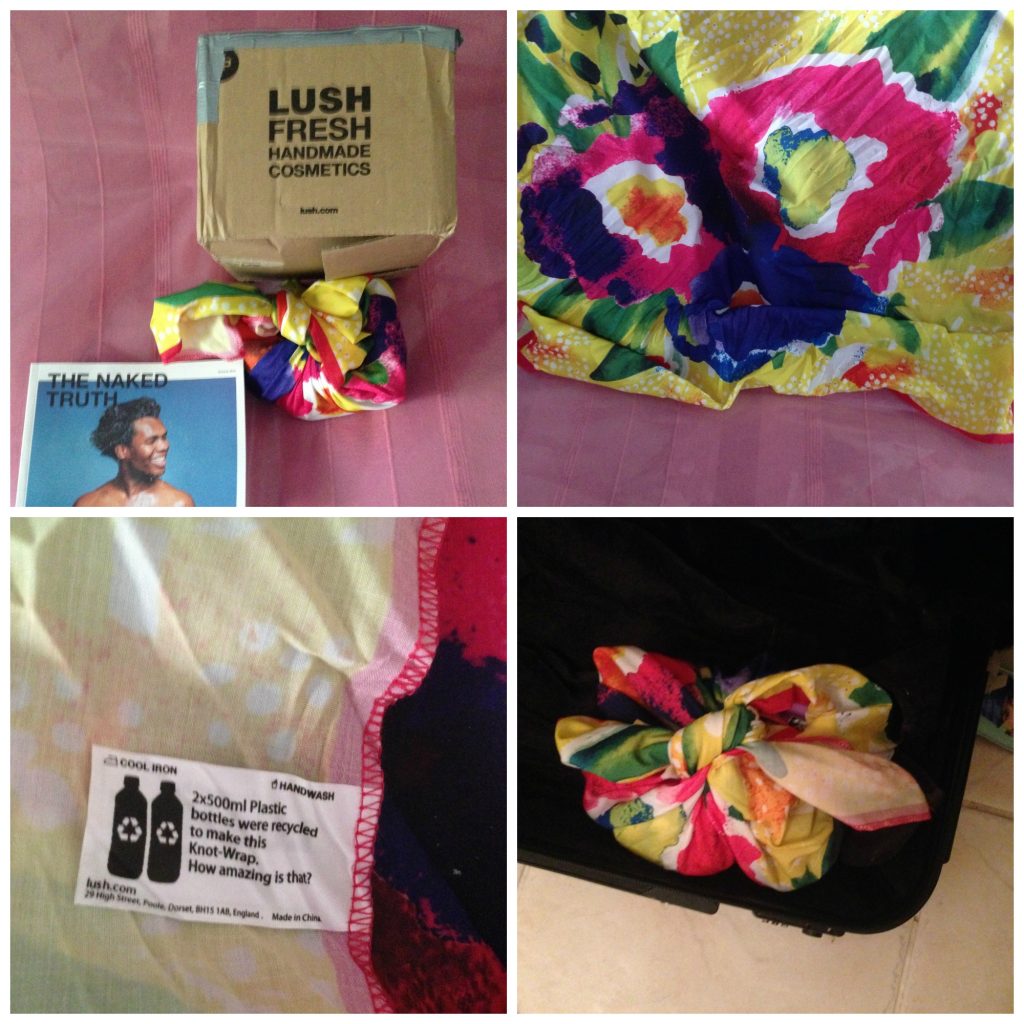 Let's look at their products one by one:
LUSH travel products and cosmetics – Montalbano Shampoo Bar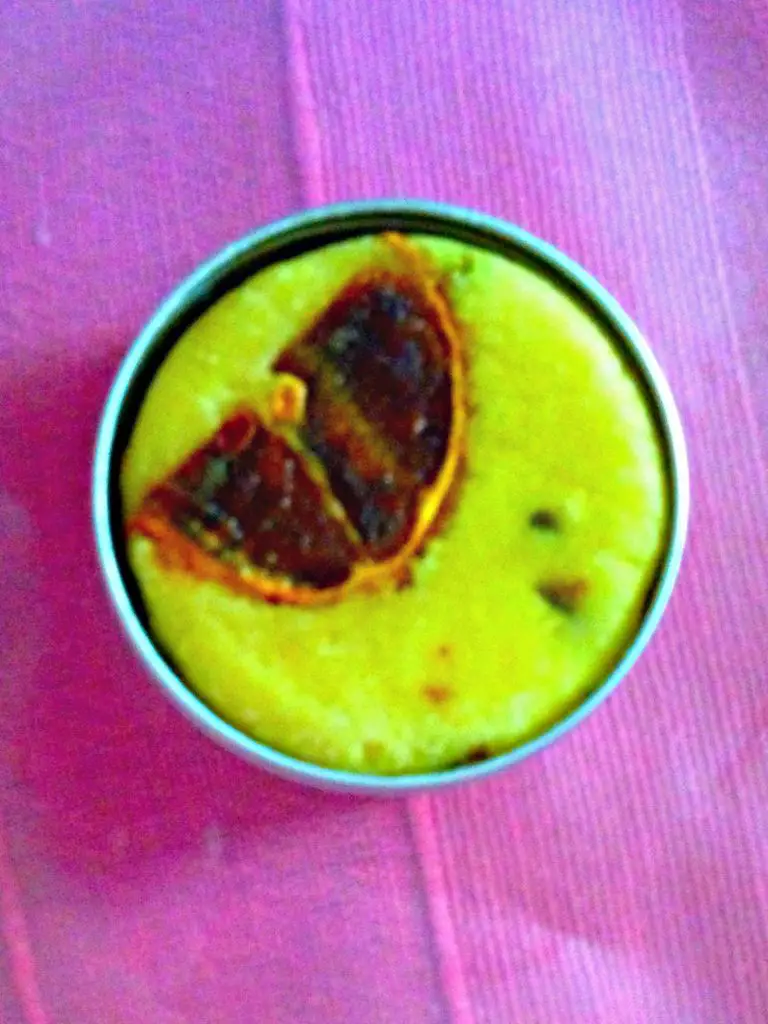 It's zingy, lemony smell really leaves you feeling refreshed.  It lathers up well and is the perfect size for travelling and comes in a handy tin…although if I am honest, it can be difficult to get out of the tin once used as the fact that it's damp when you put it back in makes it stick.  Much better idea – I think, to use a recycled rubber holder of some sort.
I used it as a shampoo body bar as well, so this doubled up and allowed me to carry less. Great!
Best LUSH travel products  – Miles of Smiles Toothy Tabs
I admit I thought, at first, that they were actually a replacement to brushing and just nibbled and chewed them, then swilled around with water!  Yes, there's a lesson there: read the instructions first.  It meant me going out and buying a toothbrush – not a huge travelling expense – then trying again.  They're ok – I didn't find it foamed up very much, maybe I'm not using them correctly.  But they are perfect for short trips as they package up in tiny bottles, with approx. 50 tablets per bottle.  This leads me onto:
Creme de Menthe, Pan Galactic Gargle Blaster and Ugai Mouthwash tabs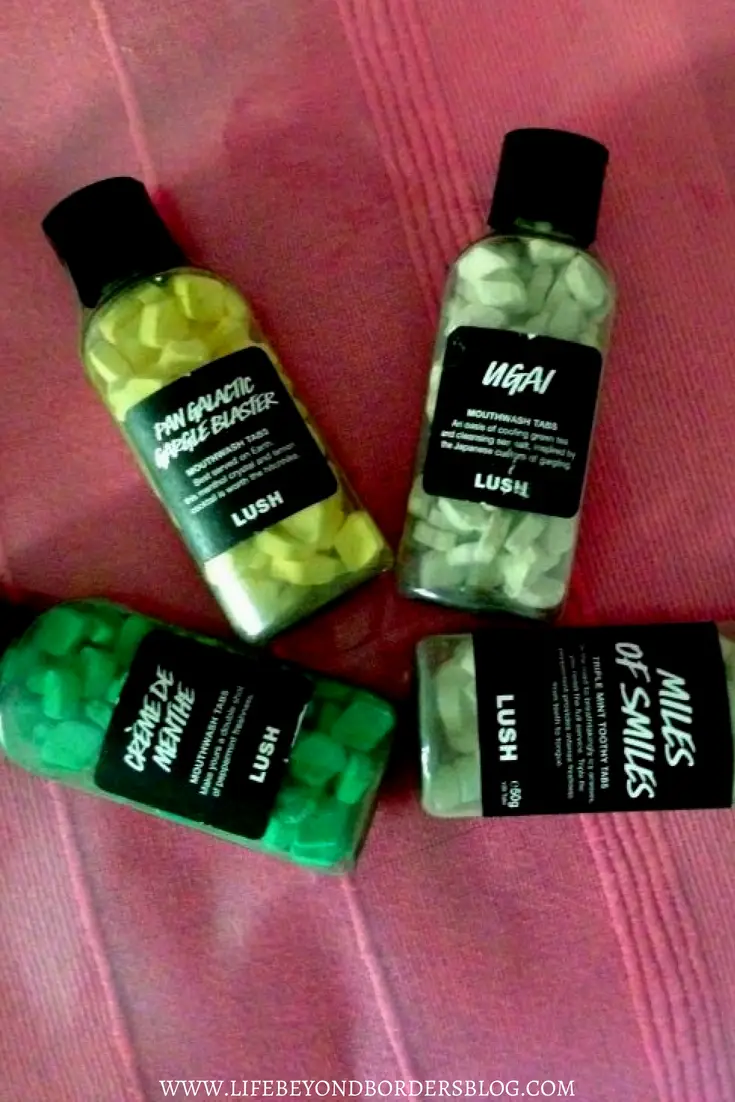 These I preferred.  Each have their own distinct taste; creme de menthe is pretty self explanatory, Pan Galactic has lemon, quinine (found in tonic water) and aniseed whilst Ugai has sea salt, green tea and tea tree. All three obviously have their own distinctive taste, and like the Toothy Tabs (above), all come in little bottles of approx. 50 tablets.
These you don't need to brush: just bite, swill with water and away you go.  Perfect for travelling.
Best Lush Travel Product: Aromaco Solid Deodorant Bar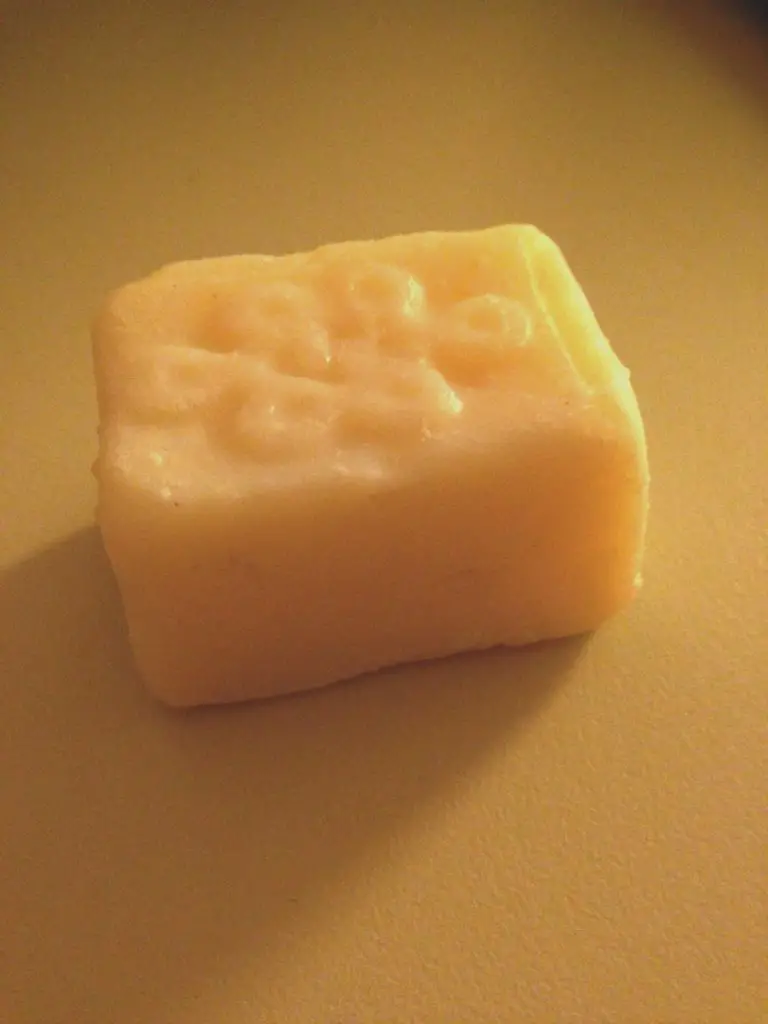 Hmm, not so sure about this.  I tried it, but as the bar has to be dry and your armpit also dry as you apply it, it can hurt somewhat when you put it on.  It doesn't 'roll on' so easily (remember, most underarm deodorants are wet when they're applied). I also found it necessary to use frequently throughout the day – but maybe that was more me not being used to using the product, so a little less confident about its effectiveness.  I was assured, however, that I didn't smell!
Best Lush Travel Products: Dry Shampoo
I like this.  It's very useful for a short trip.  It's a powder and my one has a lovely grapefruit smell.  Tip: use it on your hair before you get dressed because the power does tend to go everywhere and is a pain when it gets on your clothes, and comb it through.  Like all LUSH's products, it comes in a handy travel sized bottle.
Best Lush travel products: Powdered Sunscreen
I personally need a SPF50 as I've pale skin.  The SPF factor was only 15 and you need to make sure you re-apply every two hours.  I wouldn't recommend it if you go swimming – but it is useful to apply if you're only wearing a costume.  I tried applying to exposed arms, legs and face when I was walking out and about in the sun one day but, similar to the dry shampoo, it's a pain as it can get on the clothes and be difficult to get off.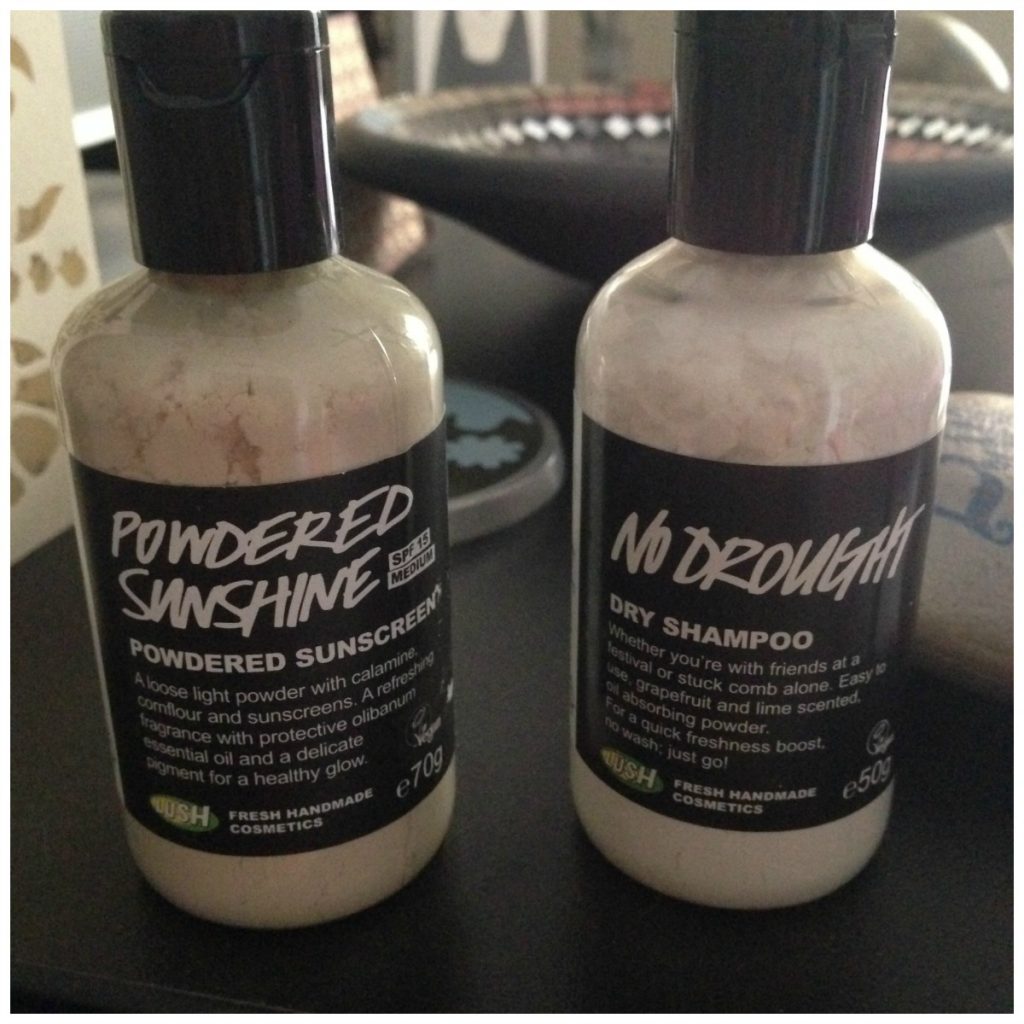 Best Lush Travel Products: Conclusion
Overall, I like LUSH products.  I like their smell, the fact they use as many natural ingredients as they can and also, on the packaging, a little bit about the person who packaged your item and the day/time they packaged it (a lot more personalised than just merely having the date/time on there).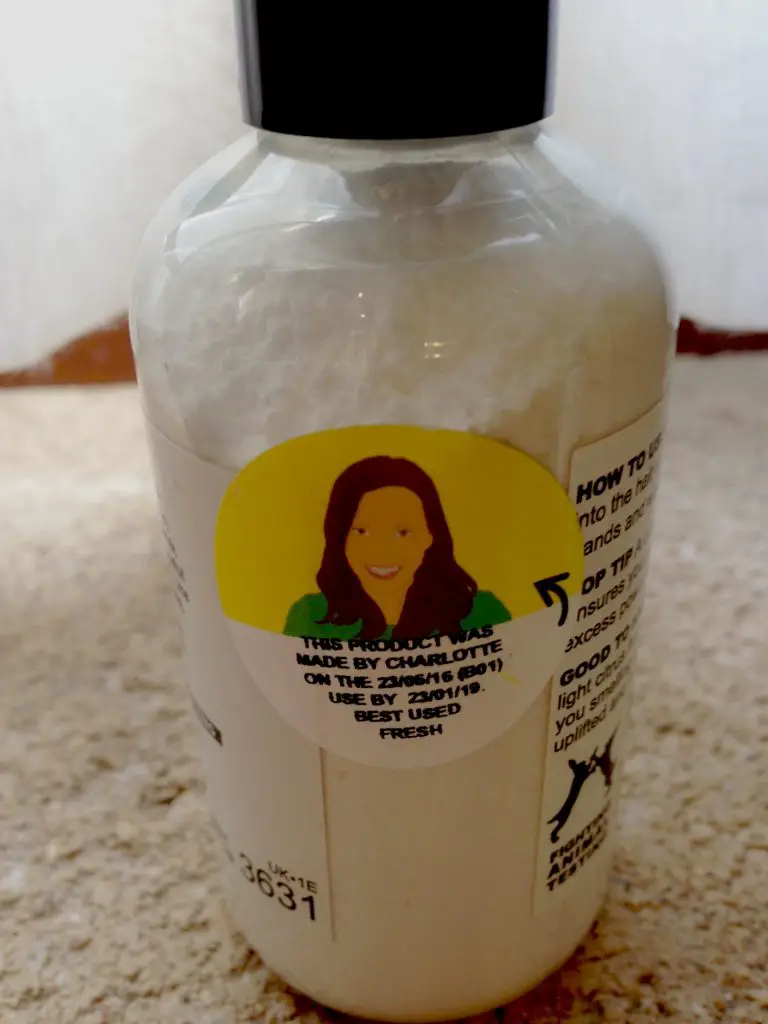 Whilst I may not necessarily find some of their products practical (underarm bar, Powdered sunscreen and Toothy tabs), the majority of their products I intend to keep using.  I will definitely buy an array of the Shampoo and Shower bars.  In fact, I only need to stock up on their shampoo bars and use it as a shower bar too!
Have you used LUSH travel products?  What's your opinion?
PIN for later