Alongside Santorini, Mykonos is one of the most famous Greek islands. Located in the Cycladic islands, it's a port of call for many cruise ships. Popular for its beaches and scenes such as 'Little Venice' and its windmills, it is possible to find a range of activities to suite all tastes. Let's take a look at the top things to see do on Mykonos, a guide especially for cruise visitors.
Top things to see and do on Mykonos: Take a stroll through Mykonos Town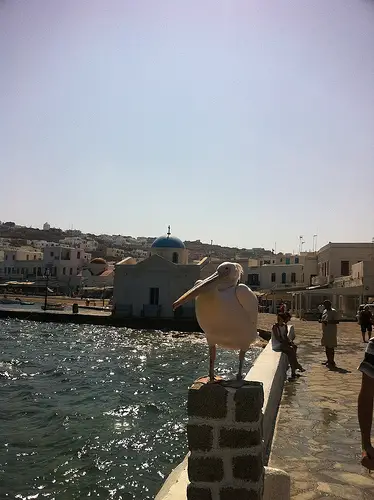 With its labyrinthine streets, famous windmills and Petros the pelican wandering around, one of the top things to see and do on Mykonos involves a stroll around Mykonos Town, it's highly recommended. Built by the Venetians in the 16th century, the windmills are the first landmarks one sees when coming to the island and the views from here towards 'Little Venice' are breathtaking. Mykonos's streets were deliberately designed to confuse invading pirates, however all streets eventually lead to the port, so enjoy a stroll and sip a coffee at one of the many cafes in town or along the waterfront.

Top things to see and do on Mykonos: Delos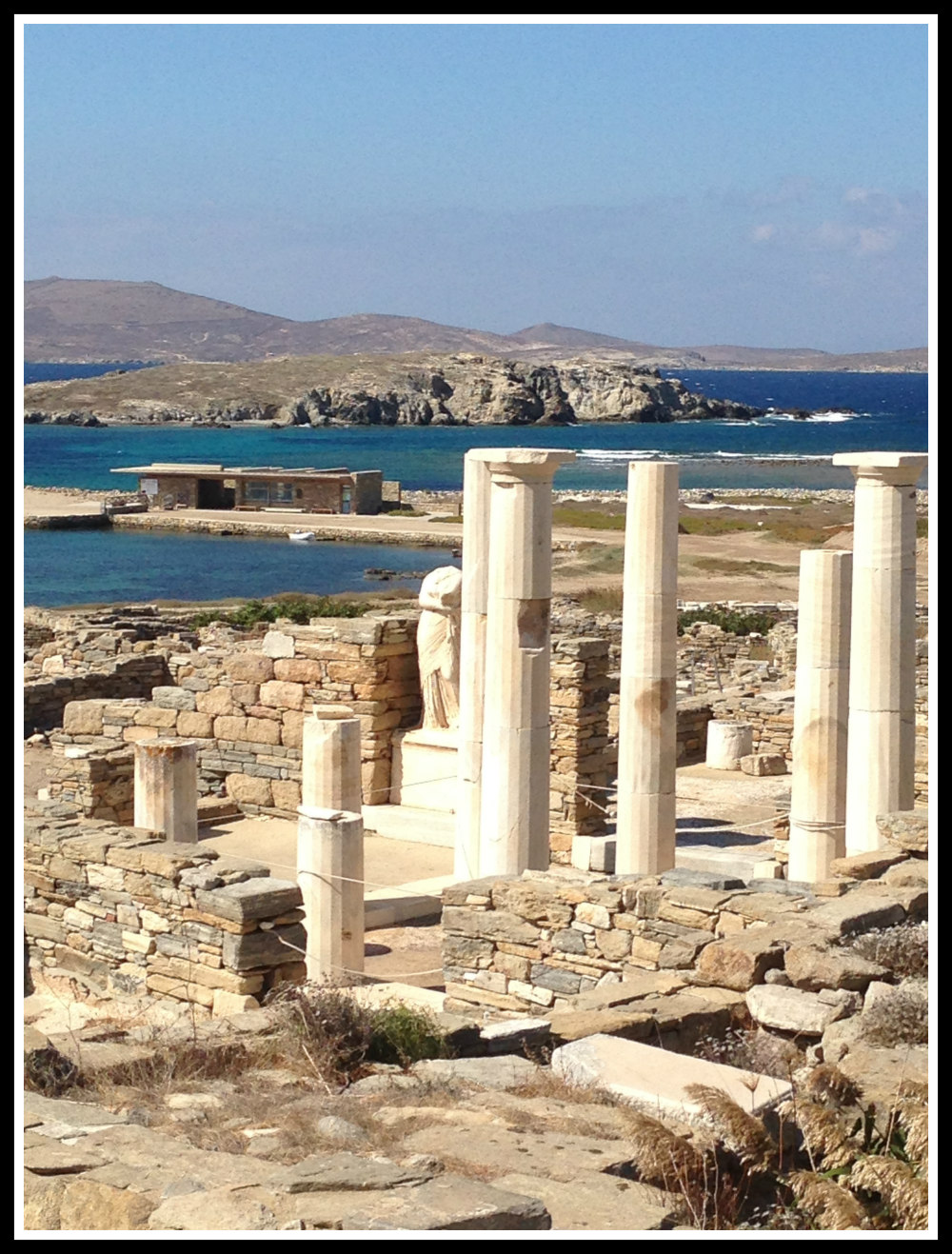 No trip to Mykonos is complete without a visit to this UNESCO World Heritage island,  hence one of the top things to see and do in Mykonos is take the 20 minute small ferry ride to Delos, an historical site like no other. Ancient Greek mythology tells us that it's the birthplace of Apollo and Artemis, the children of Zeus conceived through his affair with Leto. Delos was a safe haven for Leto to give birth, away from the jealousy of Zeus' wife. Whether you're a fan of Greek mythology or not, wandering through the ancient ruins gives you an idea of the importance of this island—it was solely constructed as a testament to the Gods.
Top things to see and do on Mykonos: Ano Mera
Ano Mera—the only other 'town' on Mykonos—is an approximate 5 mile / 15 minute taxi ride from Myonos Town. It's not particularly well known to tourists as it lacks a sea view, yet I recommend it as one of the top things to see and do on Mykonos as it's well worth visiting for its 18th century Monastery of Panagia Tourliani. The monastery's architectural splendour includes intricate marble carvings and a massive Italian baroque altar screen. A quiet alternative to spending the day in Mykonos Town.
Top Things to see and do on Mykonos: Agios Sostis beach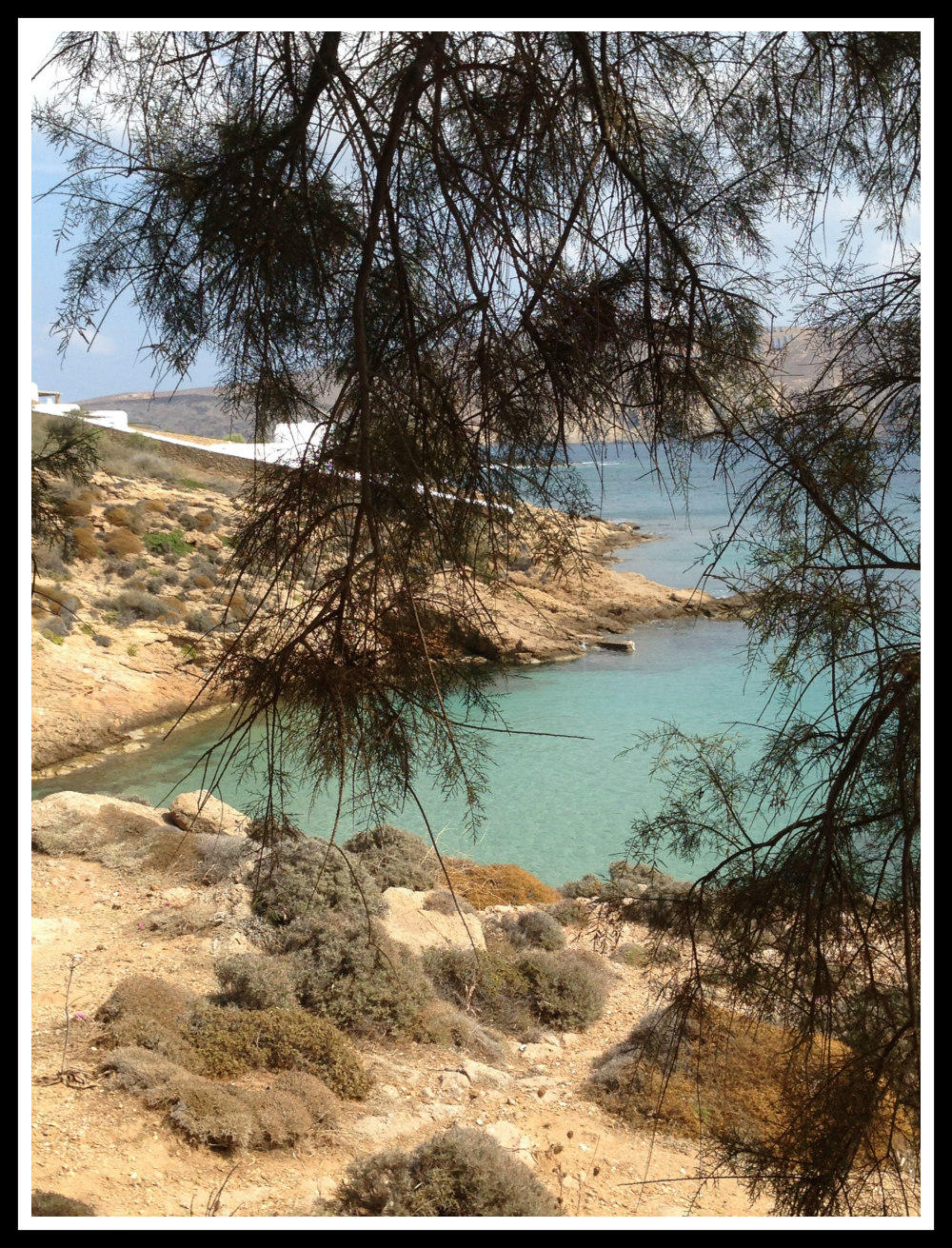 Despite Mykonos's fame, there are secluded beaches to be found. To relax well away from the crowds, Agios Sostis—on the north coast of the island—is 250 metres of unspoiled sand with no amenities such as loungers or umbrellas and is overlooked by Agios Sostis Chapel. You'll find many locals come here to swim and Kiki's Taverna is located next to the church, offering simple, local grills and a variety of salads. As no bus service comes out here and the road a little rough, the 5 mile taxi ride will take approx. 20 mins from Mykonos Town – but it's well worth it.
Top things to see and do on Mykonos: Sea Kayaking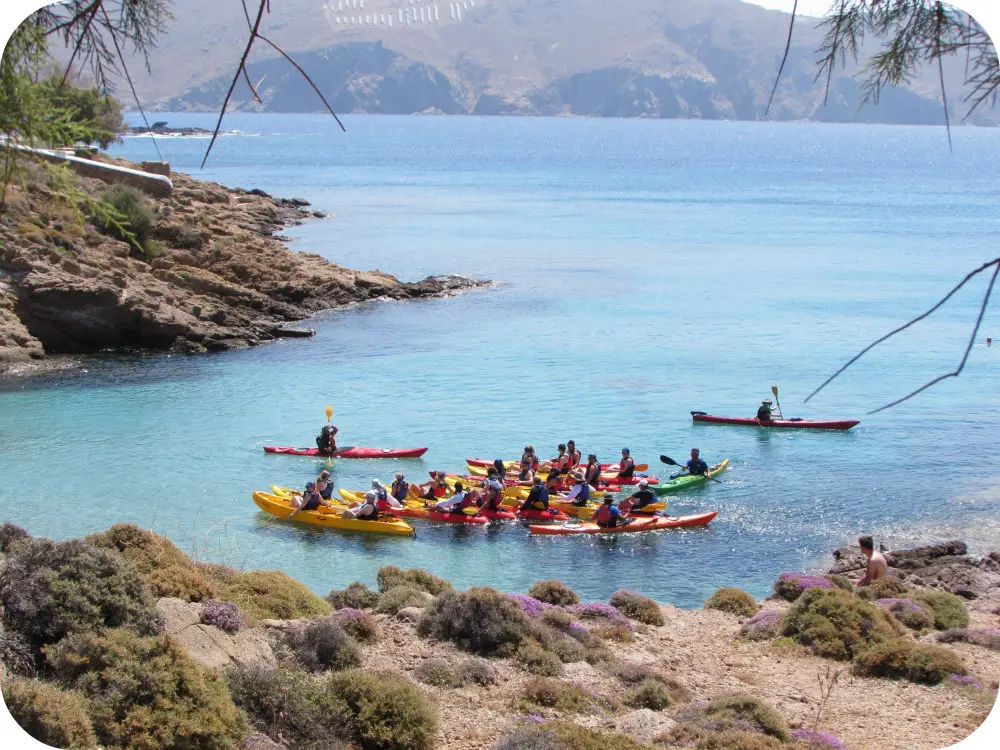 For the more adventurous amongst you, why not discover the remoter side of the island by having fun sea kayaking in Mykonos? Tailor made tours allow you to spend your time paddling in the Aegean waters—making one of the top things to do on Mykonos the perfect opportunity to potentially experience sea and bird life such as dolphins, monk seals, Mediterranean shags and gulls. Snorkel in the clear water, eat a simple—yet delicious—lunch on a remote beach and feel safe in the hands of your knowledgeable, certified guides.   Previous experience of kayaking not necessary, but a reasonable level of fitness is required. Perfect for all the family and all age groups.
Top Things to see and do on Mykonos: Windsurfing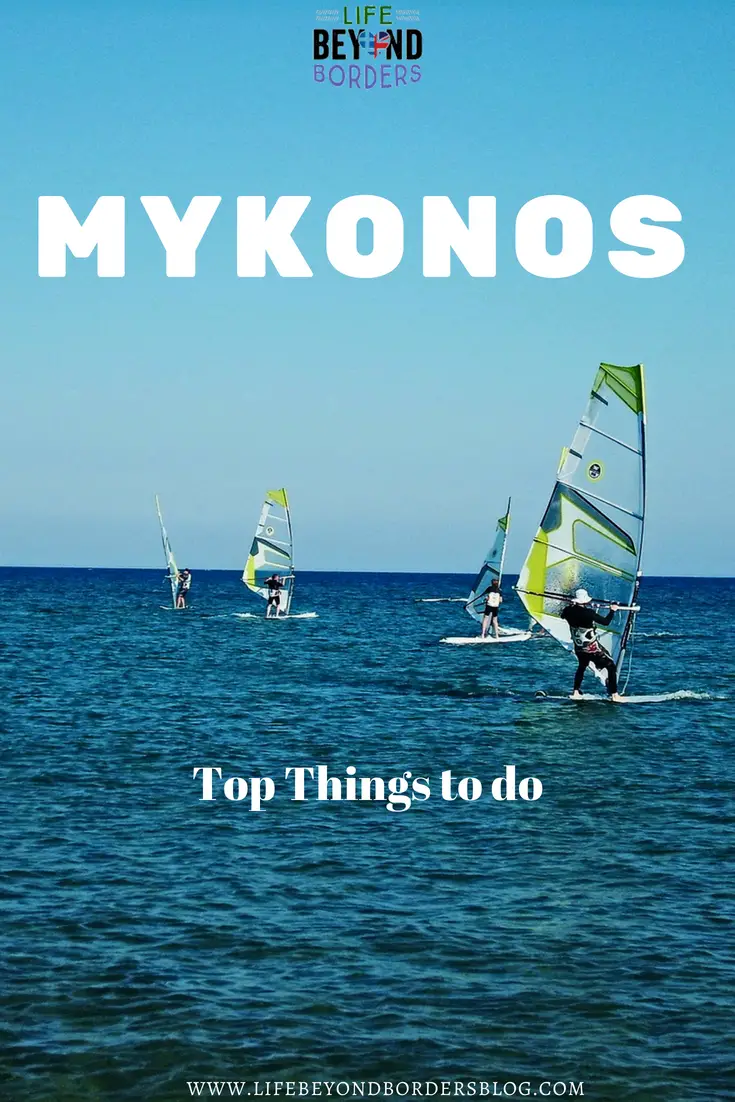 Referred to as the 'Island of the Winds' due to the strong Meltemi—a dry northwesterly wind that blows across the island in the summer, Mykonos is perfect for those who want to try their hand at windsurfing. Ftelia; a large undeveloped sandy beach, is the best place as the breeze blows year round here and with 2 tavernas near-by, it's a perfect spot to either relax or try your hand at this watersport.
Top things to see and do on Mykonos: Cycling tour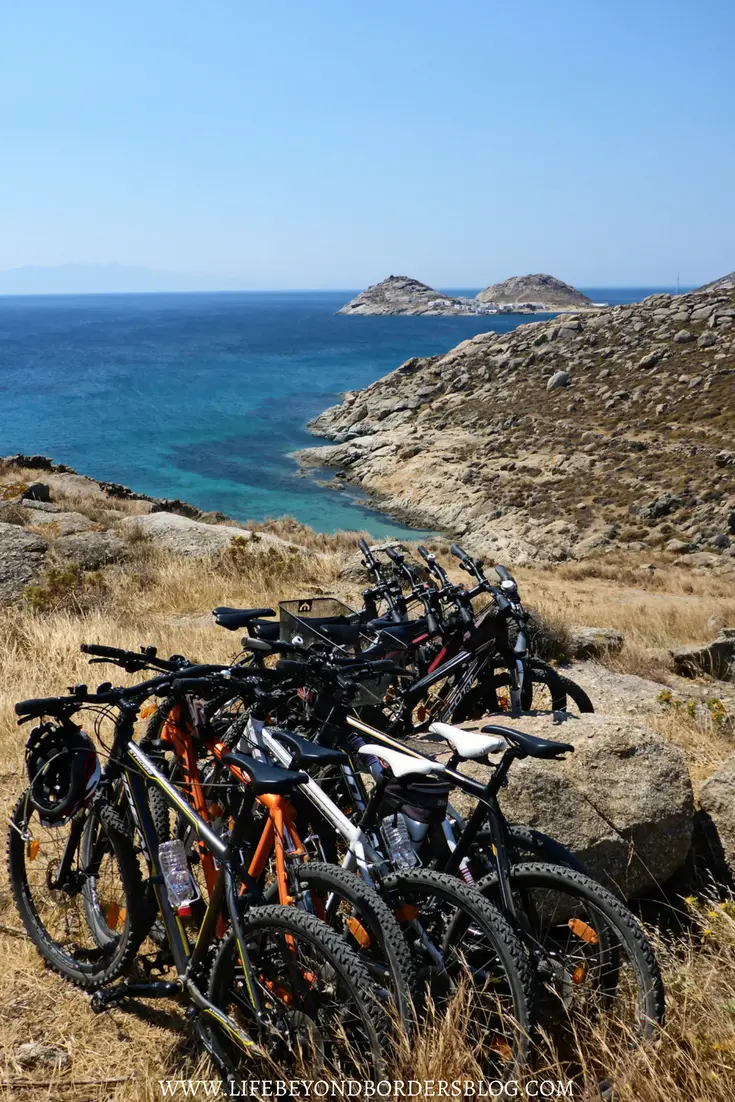 More than just a bike ride—and suitable for all every level of physical ability, come and experience a different Mykonos. Yummy Pedals offers cycling tours through ramshackle abandoned houses, old mines, old farms, villages and churches and, of course, secluded beaches inaccessible by car—where you'll stop for lunch and homemade lemonade and to swim. Starting and finishing at the company's organic vineyard, you'll also have the opportunity to conclude your tour with wine and local produce testing.
Top things to see and do on Mykonos: Wine and produce tasting at Mykonos Vioma farm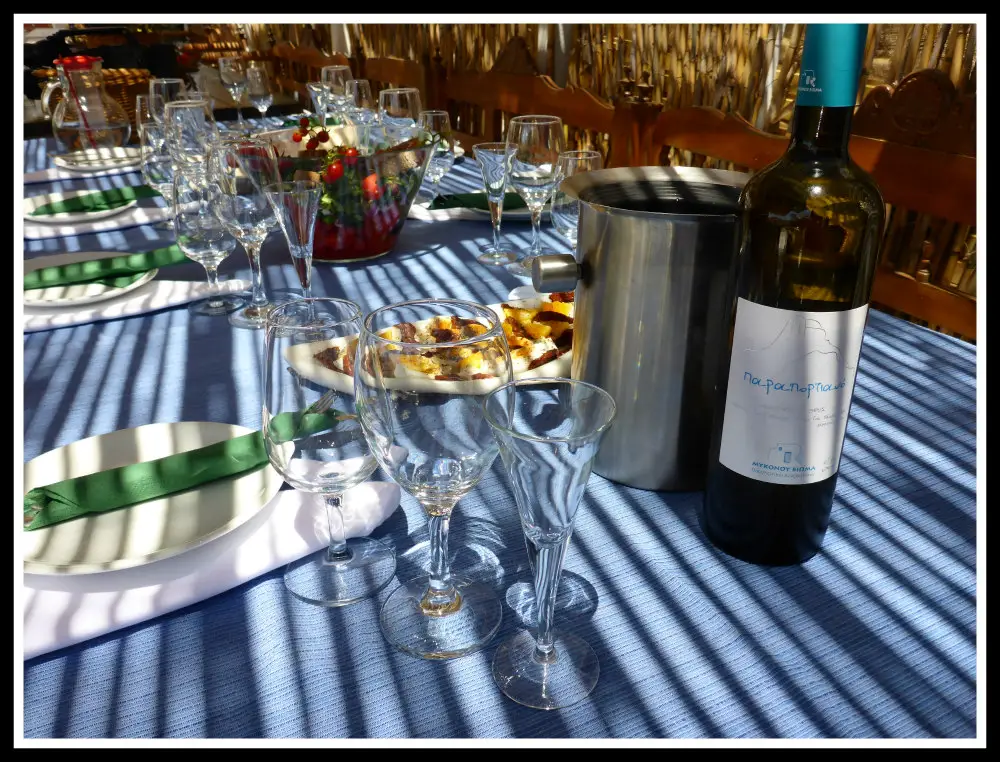 For those wishing to taste true Mykonian cuisine and wine, a trip to Vioma farm at the old monastery vineyard in the village of Ano Mera is a must visit. Sample their organic red and white wines, eat meze dishes specific to Mykonos such as spicy Kopanisti cheese and traditional pork sausage. Salads are made from herbs and vegetables grown in their garden and eggs from their poultry. During the wine harvesting period in September, eat a traditional feast, dance to local music and crush the grapes in the traditional way—with your feet.
Top Things to see and do on Mykonos: Museums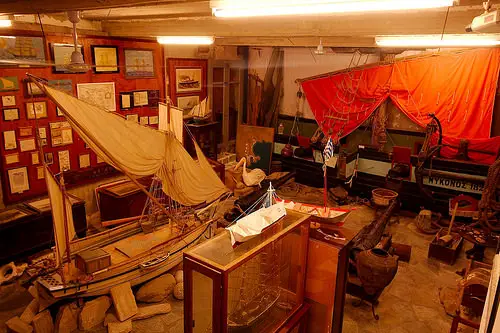 If you're interested to understand more about Mykonos's history and past, the Folk, Agricultural and Maritime museums—all located in Mykonos Town are well worth a visit. The Folk Museum showcases Cycladic costumes, traditional musical instruments, historic paintings and old photographs of the island whereas the Agricultural Museum—located by the windmills—will give you further insight into the island's farming history with the help of tools such as an ancient wine press, bread oven, waterwheel and old preserved miller's home with period decorations. The Maritime Museum highlights Mykonos's nautical past through ancient maps, navigational equipment and be sure to head to their garden, this shelters large anchors and the largest lighthouse in the Aegean.
Have you been to Mykonos? What are your top things to see and do there?  Share in the comments below.
PIN for later