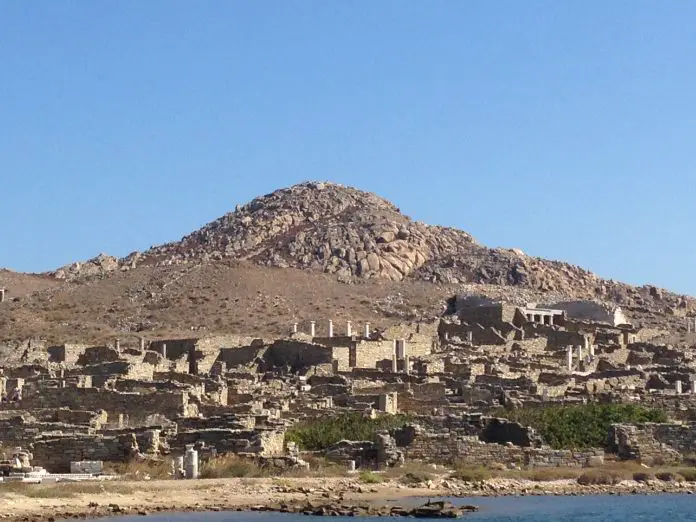 Recently I had the opportunity to visit Mykonos for the first time, and was pleasantly surprised at the 'alternative side' to this party island.  I wrote a post about it here.
Part of my visit involved a trip to the UNESCO World Heritage island of Delos, some 3.5kms away and only 40mins by local ferry boat.  I'll be honest, I'd never really heard of Delos – it's not on the top of my list of ancient sites to visit when I think of Greece; the Acropolis = yes, Delphi = yes.  But no, not Delos.  It was for this reason that I had been invited over…Mykonos has a reputation for being a party island, the island wants to branch out and offer people the 'alternative' side of that.
Premier Screening of Delos 2015 – outdoor Cine Manto, Mykonos
Saturday 3rd October I was invited to a private screening of this documentary about Delos. Directed by Andonis Theocharis Kioukas, owner and general manager of Cine Manto and narrated by Georges Corraface, talented Greek/French actor (and rather charming, I might add!).  I remembered him from Indie film "Papadopoulos and Sons", written and directed by Marcus Markou, who I interviewed here back in 2013.
Corraface attended the screening of the Delos documentary , which was very well received by the audience.  It also gave me a taster of what to expect when I visited the next day.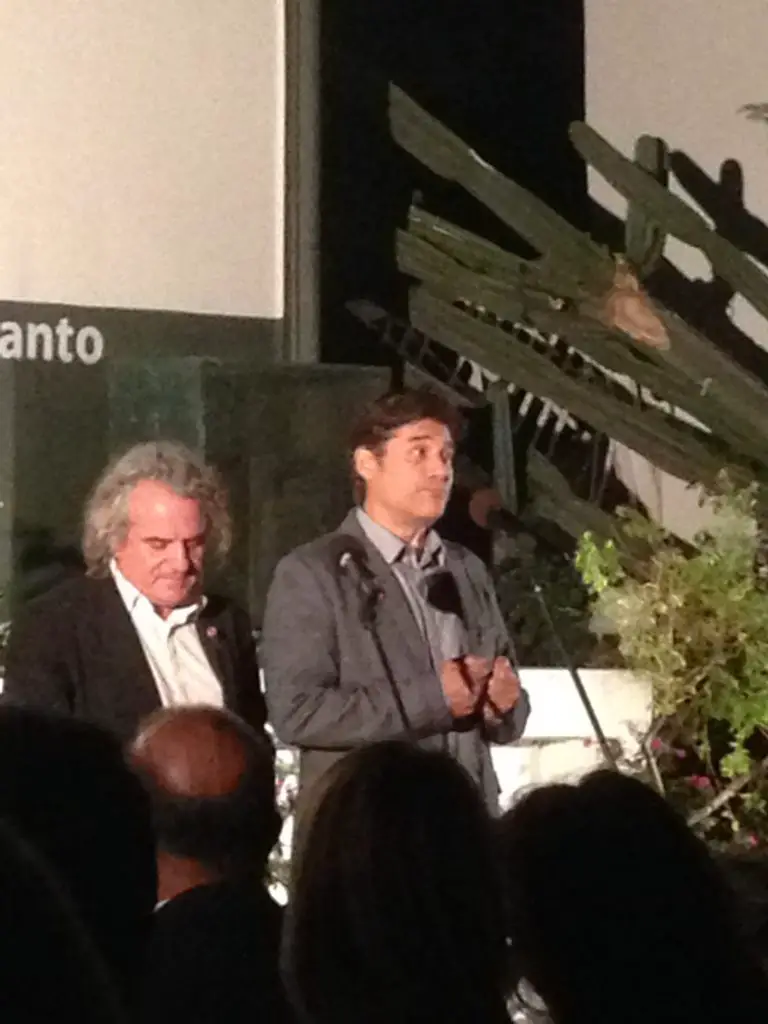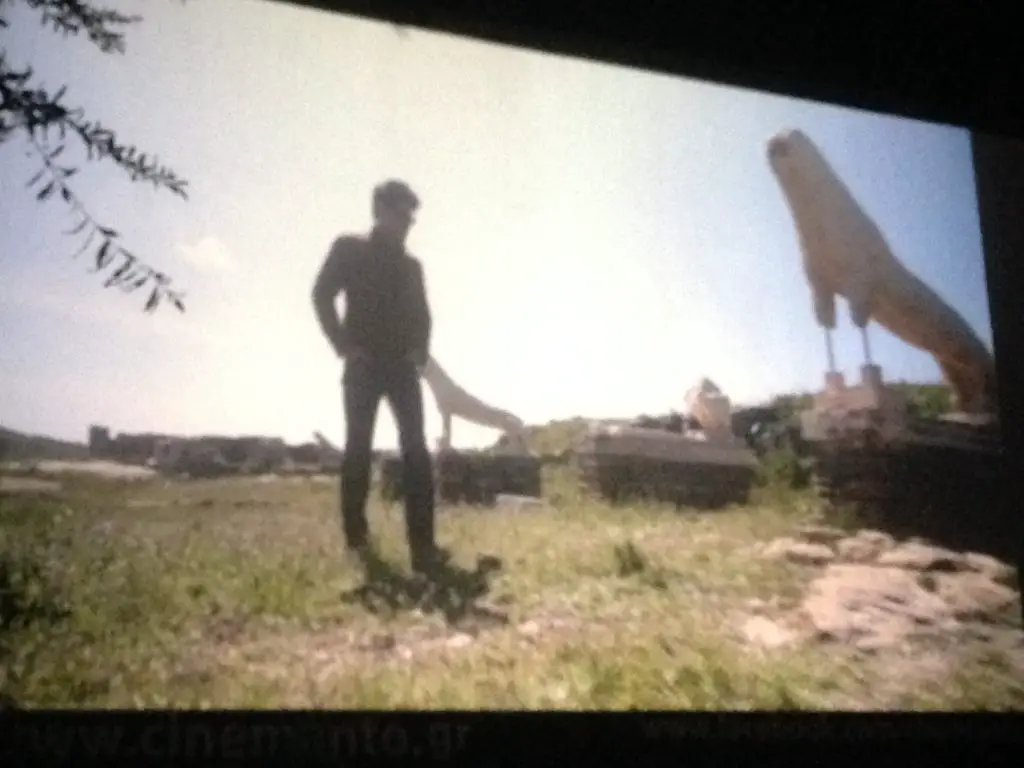 In true Greek style, we finished the evening with a Greek buffet and wine.
Trip to Delos – Sunday 04OCT15
Up bright and early, we headed to the harbour in Mykonos Town for our trip over to this magical island.  The night before had sold me on this place, so my excitement and anticipation was growing as we approached ever nearer.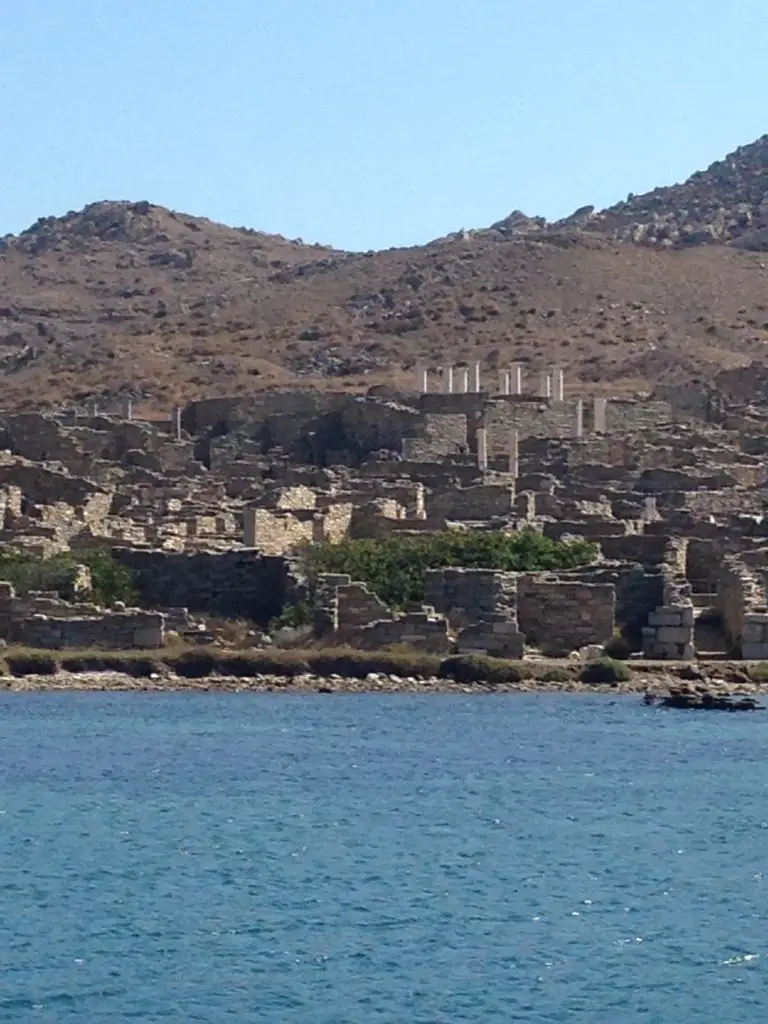 Ancient Greek history tells us that Delos is the birthplace of Artemis and Apollo.
According to Greek mythology, Delos was the birthplace of Artemis and Apollo, the twin offspring of Zeus by Leto. When Leto was discovered to be pregnant, Zeus' jealous wife Hera banished her from the earth, but Poseidon took pity on [Leto] and provided Delos as a place for her to give birth in peace.
Source: Sacred-Destinations
At the height of its significance, Delos was second to Delphi and offered many temples and sanctuaries dedicated to a variety of Gods.  For more on the history and significance of Delos, check out Sacred Destinations.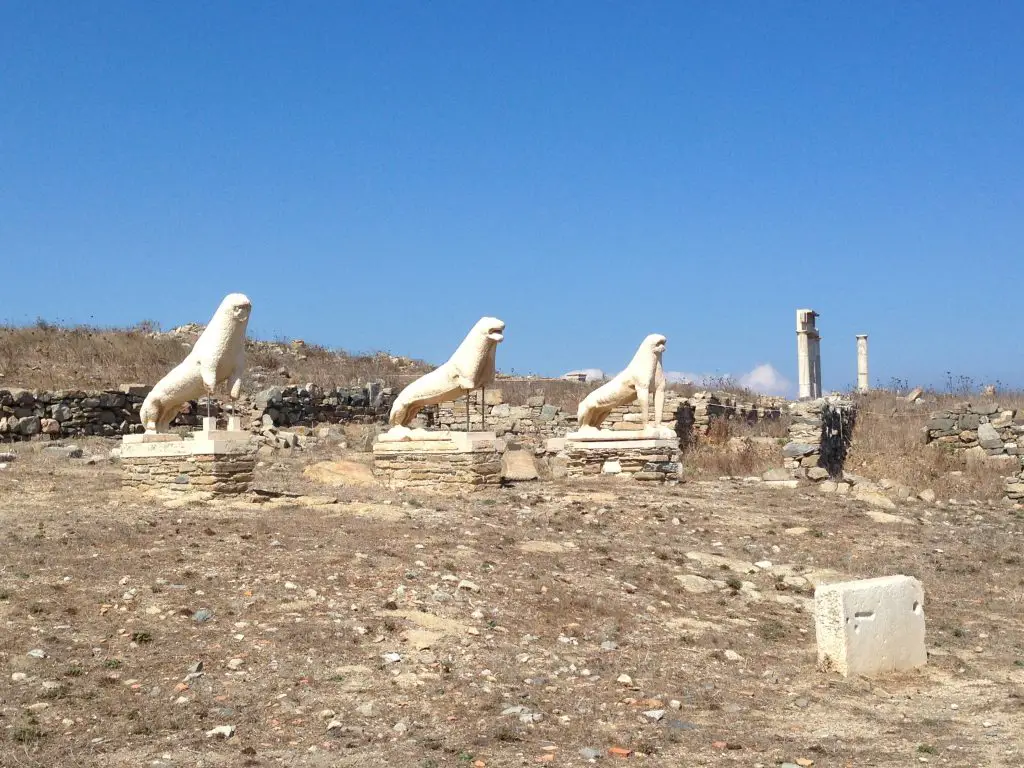 On that warm, sunny October day, from the minute I stepped off the ferry I knew I had, indeed, left my 'normal world' back in Mykonos and stepped into an alternate reality…a whole island dedicated to the ancient Gods.  We undertook a comprehensive guided tour of the artefacts and small museum.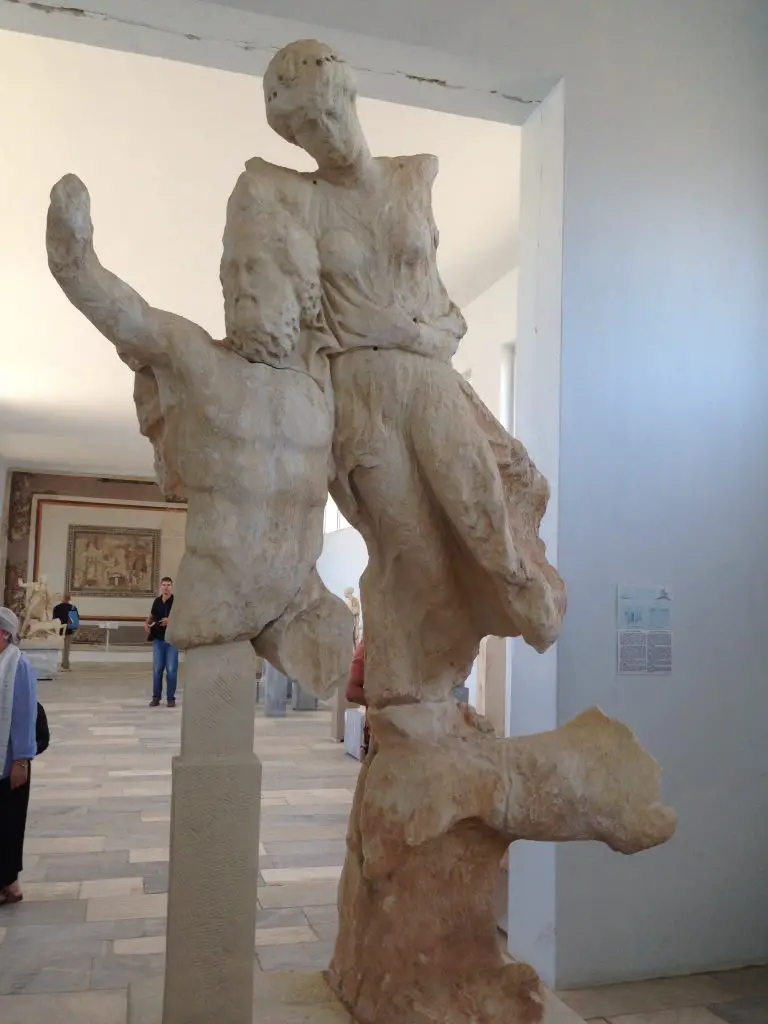 Who lives in those?
I asked.  There appeared to be little houses dotted around the place.  Apparently they house the guards that live there year round to guard the island.  They get supplies shipped out to them, and most probably have family living on Mykonos or a nearby island so on any days off, they can go 'home.'  What a job!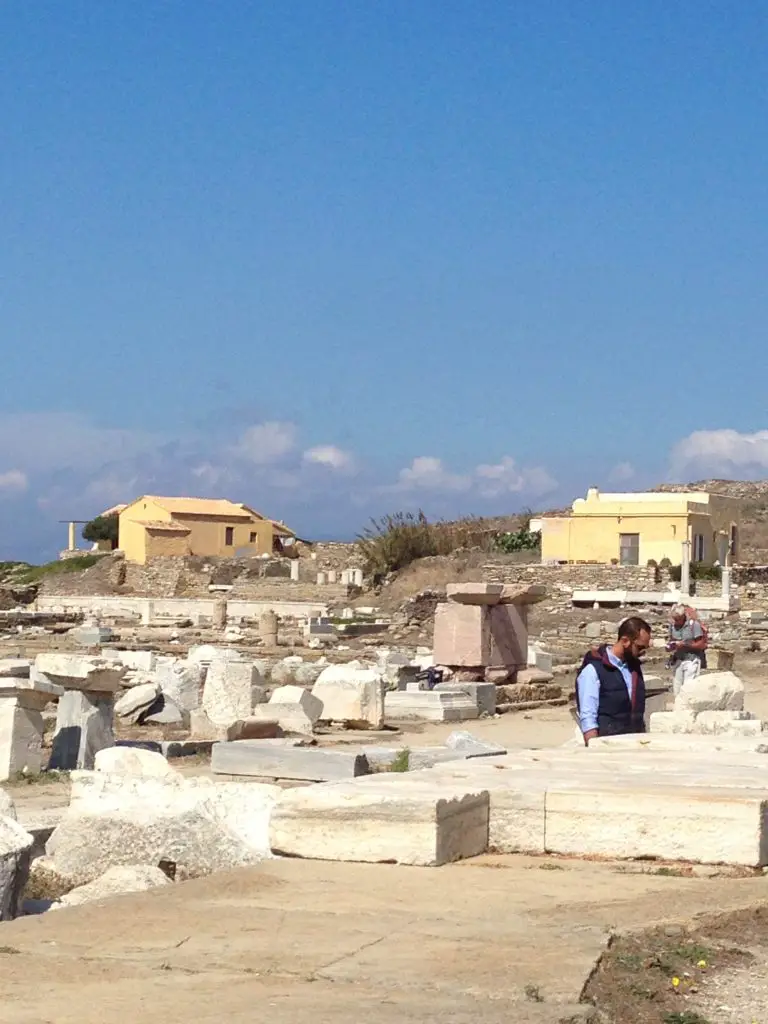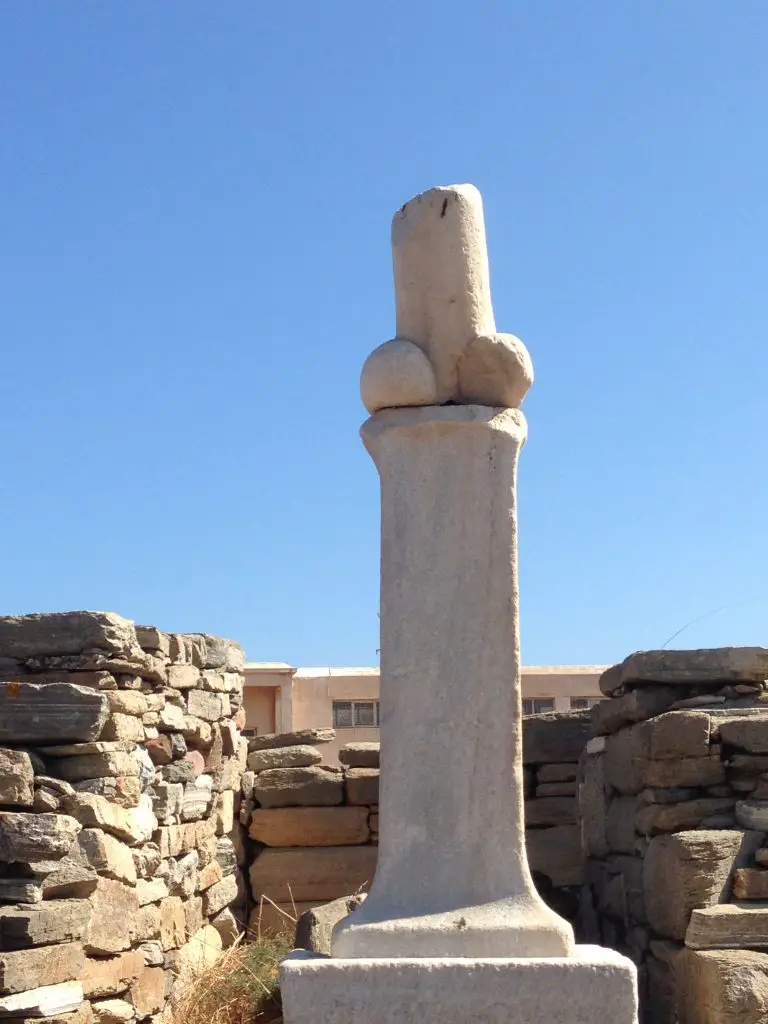 Delos is, indeed, a fascinating place.  I share with you here three videos that can do it justice:
Watch this amazing full moon concert take place on Delos in the summer of 2015:
Tips for a trip to Delos:
Try to go in the spring or autumn/fall.  You'll be doing a lot of walking with  no shade, so the height of summer will be a nightmare!
Wear good trainers or solid sandals.  Walking shoes if you like.
Pack a small lunch and bring water!  There is a small cafe on Delos, but imagine the prices as the food is shipped in!
I am so glad I discovered this ancient site.  It is a place I will come back to again and again if I have the chance…even if just to sit amongst the ruins and ruminate about life, or empty my mind and marvel and being surround by so much nature and beauty.  Maybe I could rent one of the guard's houses and finish my next novel!
**A special 'Thank you" to my host, Stacey Papaioannou, for looking after me on my visit, and to the Delos team for their efforts in wanting to promote the island to a wider audience so that the world can appreciate this place…and not just bypass it for a crazy party on Mykonos.  As I think you will have seen, there is so much more to explore.**
**As always, all thoughts and opinions remain my own, despite any complimentary services received.**