Having lived in Greece for quite some time, I have visited many of the Greek islands.  But due to the reputation of Mykonos, I had deliberately steered clear – not wanting to get involved in the 'rich man's playground' and hedonistic party atmosphere.  It was just not my scene.
I was then offered the opportunity to experience an alternative side to Mykonos.
Despite any complimentary activities undertaken, my thoughts and review remains my own opinion.
For your Greek island visit, check out my Greek island all round packing list guide which will help you decide what to pack, whichever time of year you choose to visit.

Looking for ideas of what to buy your loved ones when you visit Greece and the islands? Then check out my Best Souvenirs from Greece guide.
I would be going off season – in October; warm enough still for t-shirts, but the annoying party crowds not there
This trip would be different.  I'd be afforded the opportunity to see a brand new screening of a documentary about Delos, the UNESCO archeological island about 3 km's off the coast of Mykonos.
This meant that I'd see a different side of the island – and this was the whole purpose of my visit; to showcase an alternative Mykonos.
Mykonos off season: Tourist hotspots
OK, there is no escaping the tourist spots and in October, Mykonos was still teaming with the cruise ship trade.
Obviously the beautiful parts were the Windmills and Little Venice, located just before the harbour.  These are spots that Mykonos is world renowned for.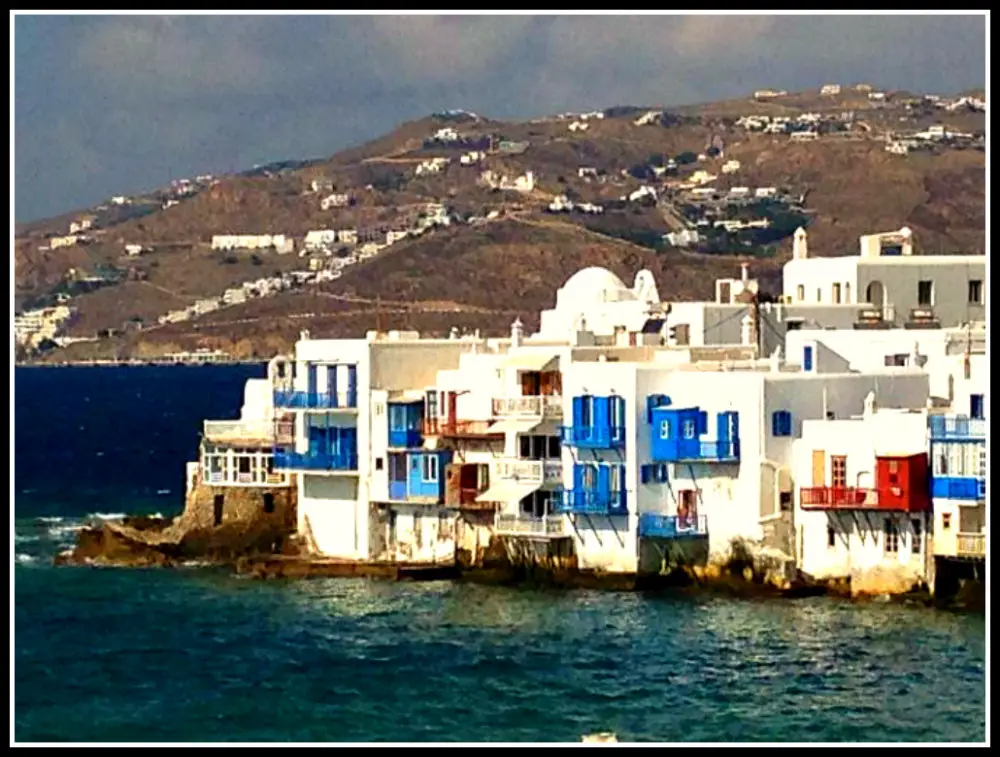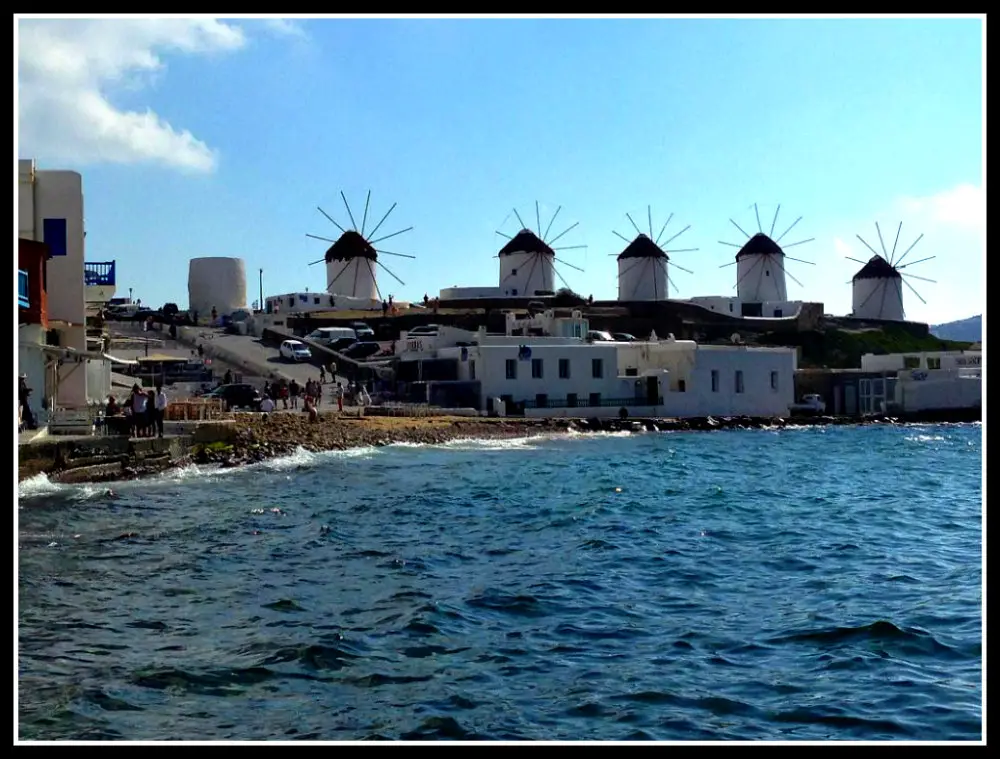 But there are other less touristy spots too, such as the beach at Agios Sostis.  There was hardly a cloud in the sky as we approached this beach with beautiful church.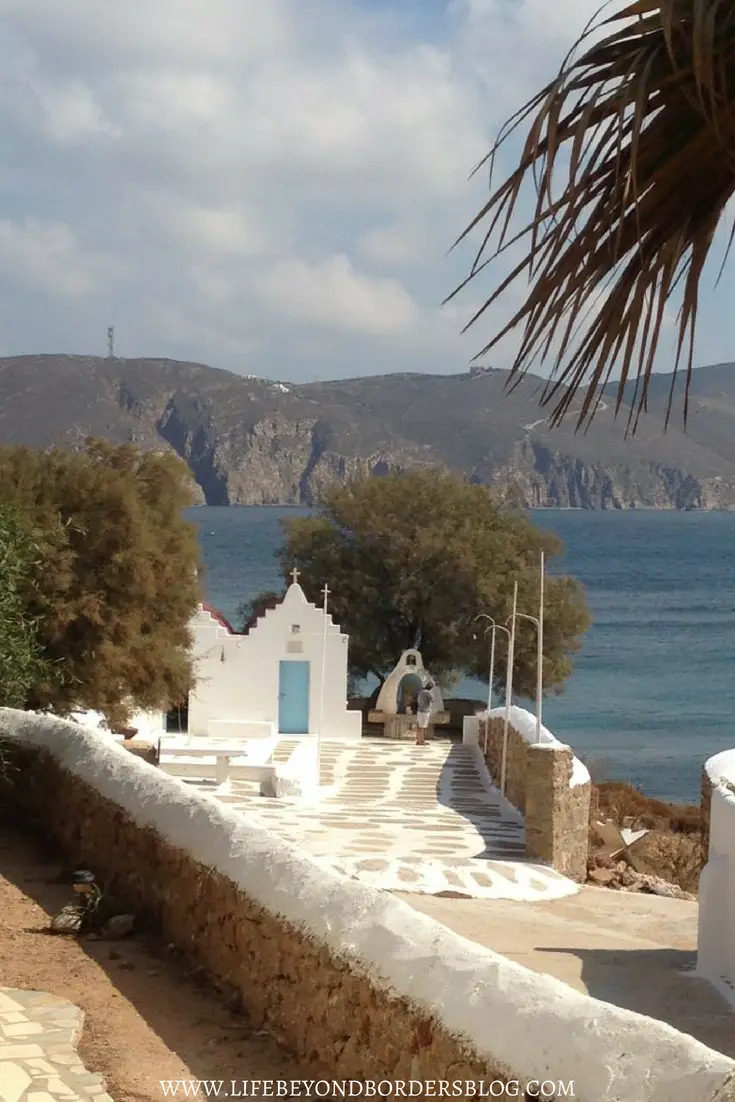 Mykonos off season: activities
I was taken by my host and guide for the weekend – Stacey Harris-Papaioannou, to meet the family run business of Mykonos Kayak.  Sitting under the shade of the pine trees in husband and wife team and owner's Kostas and Jo, I discovered more about this exciting venture.
Kayaking on Mykonos
The family had always been keen on kayaking as a hobby, but since 2012 had started to make it into a business.  They've been operating for 4 summer seasons now and Mykonos Kayak offers full day experiences – note, not tours – where the participant can take part in as much or as little as they like, the trip is tailor made to your preference, safe in the knowledge that you're in the hands of fully trained guides who are up to the standard of the British Canoe Union.
An experience can encompass kayaking, hiking, snorkelling, cliff jumping, visit to traditional churches and/or just relaxing on a deserted beach.  A Greek picnic lunch is provided, quite basic as it has to be transported by kayak at sea, so it would consist of cheese, bread, etc.
You may see an abundance of wildlife, ranging from Mediterranean shags (birds with long necks), turtles, rare seagulls to fish such as sea bream, squid, octopus and sea urchins – which it's possible to dive down, catch and eat with lemon and olive oil squeezed over the top!
Alas, the day I was introduced to the lovely Jo and Kostas, it was bright and sunny, but very windy so I was unable to go out on a trip.  Check their website for more information and prices.  There is no minimum group size, but maximum is eighteen.
Mykonos off season – Kiki's Taverna
After all this talking and wonderful views and sea air, plus an early ferry from Athens that I had caught – a girl can get hungry.  Stacey was ever prepared and just around the corner from Ag. Sostis church is Kiki's taverna.  Oh – WOW!  Not just the views from the patio seating area, not just the huge meat served (cooked on the outside grill), but the array of salads to choose from!  Even if you're a vegetarian, you can't go wrong if you go to Kiki's.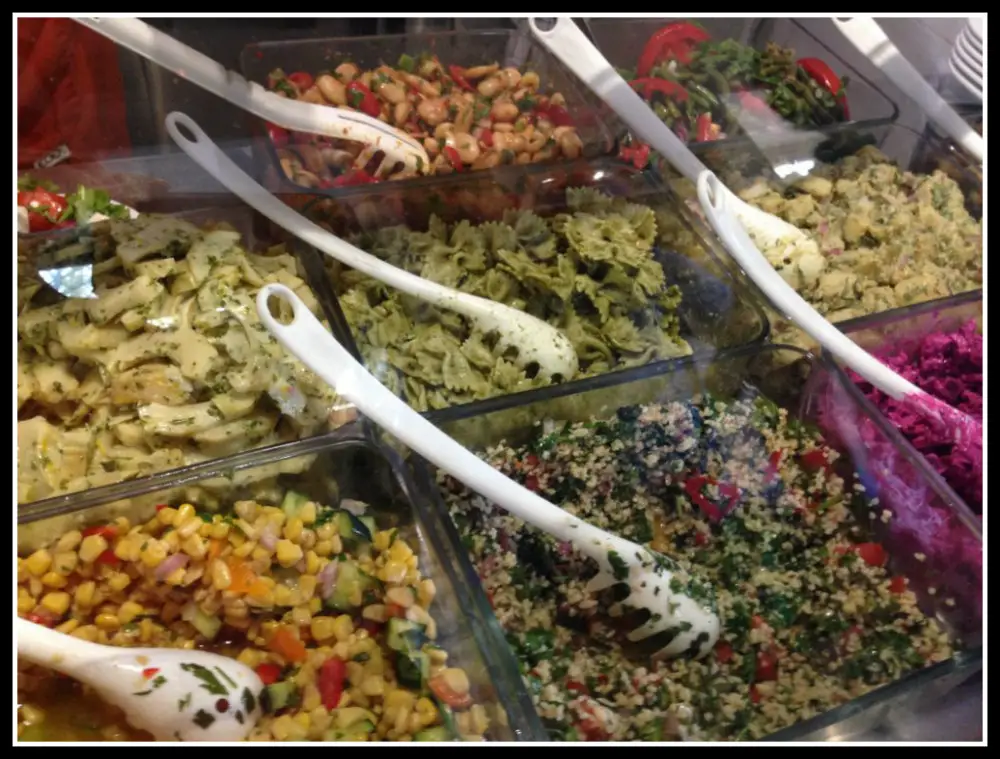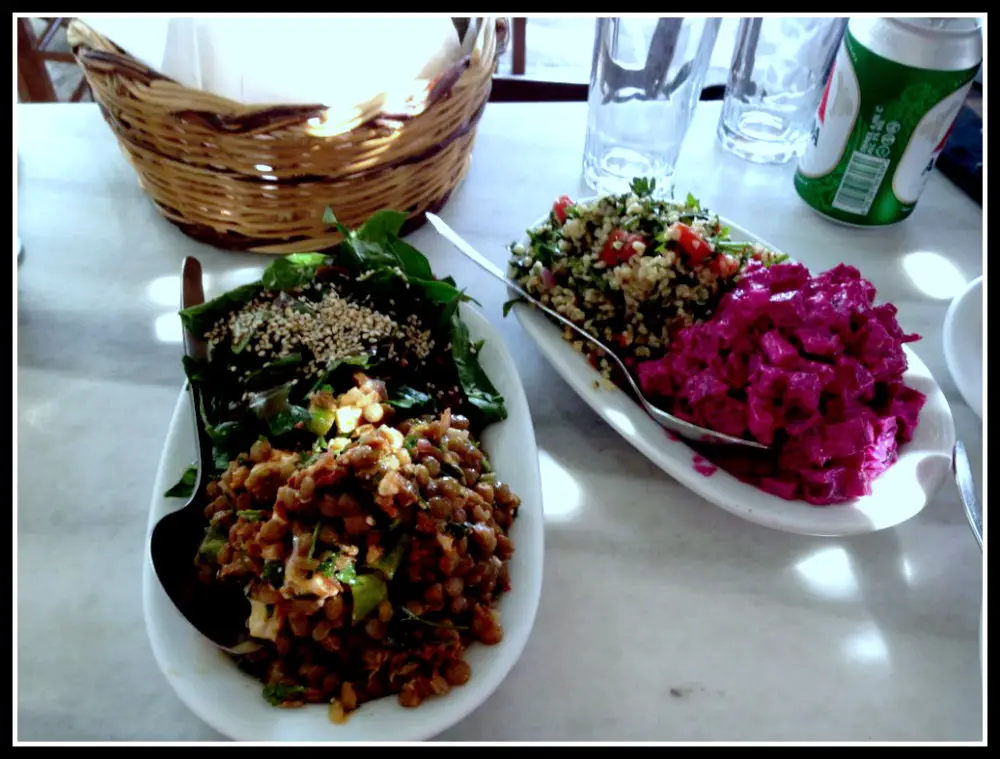 Also see Top things to eat and drink on Mykonos
With accommodation kindly hosted by an off-season Paradise Beach resort (camping, rooms, apartments and beach huts), I slept well that night – looking forward to visiting Delos, an historical site like no other.

**A special thanks to Paradise Beach Resort for hosting me during my stay in Mykonos, and Stacey Stacey Harris-Papaioannou for arranging. As always, all thoughts and opinions remain my own, despite any complimentary services received.**
PIN for later