Greece is renowned for its mythology; the Gods, her ancient history and philosophers.  But fairytales?  Not so much. Hidden in the depths of Monastiraki – the famous tourist area of Athens – lies a little fairy tale in the guise of a themed cafe.  Here I take a look at Little KooK, the most Instagrammable  themed cafe in Athens, Greece.
Little KooK Themed Cafe – Athens
What initially draws you to this themed cafe is the decoration, depending on the theme.  When I visited, there was a huge dragon on the roof as well as life-sized playing cards adorning the front.
Where is Little KooK Themed cafe – Athens?
Located in a side street just off the Psirri district of Monastiraki (between Monastiraki and Thission metro stations), just at the bottom of the 'Street of Lights.'  Even if you get lost wandering around, you can't help but notice it.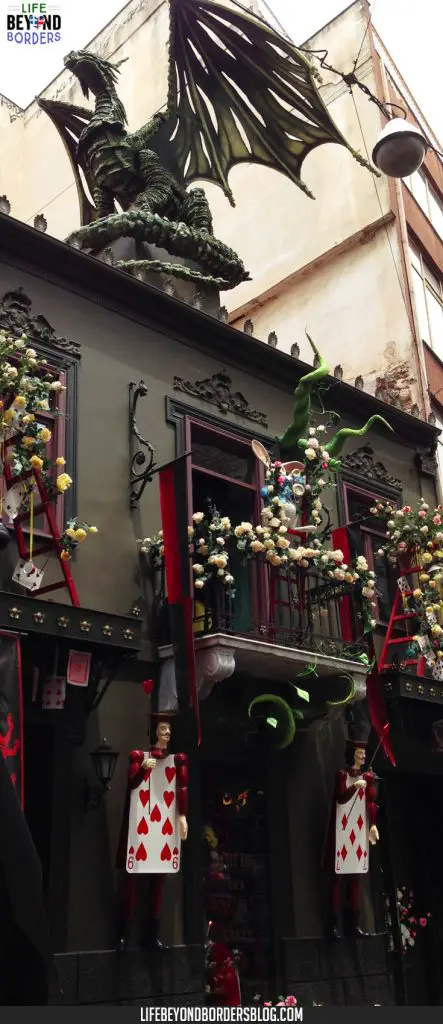 From the minute you step into this haven, you are surrounded by Jack and the Beanstalk, Alice in Wonderland, Cinderella and A Christmas Tale, to name but a few.  Even the staff dress as characters from our beloved books from our childhood (alas, I wasn't allowed to actually take a picture of any staff).
They tend to change themes and recently (summer 2019), Little KooK Mary Poppins was a popular among children and adults alike.
Little KooK Themed Cafe menu
The menu is provided on a scroll (in Greek which is odd for its position – right in the heart of touristy Athens-but the staff speak great English and are more than happy to translate). The day I went in, I sat upstairs by the Cinderella fireplace, but had a choice of rooms. There appeared to be what I can only describe as a Christmas Carol room, but Cinderella suited me just fine.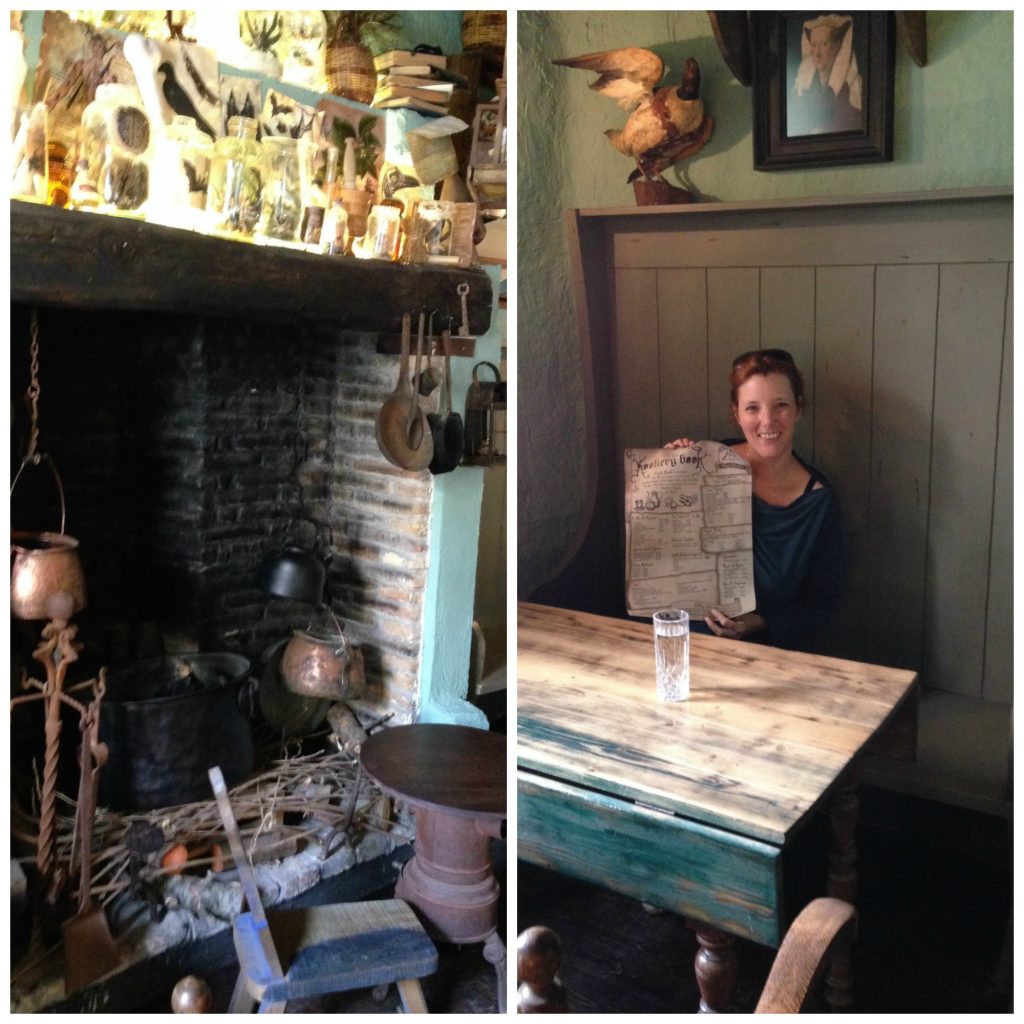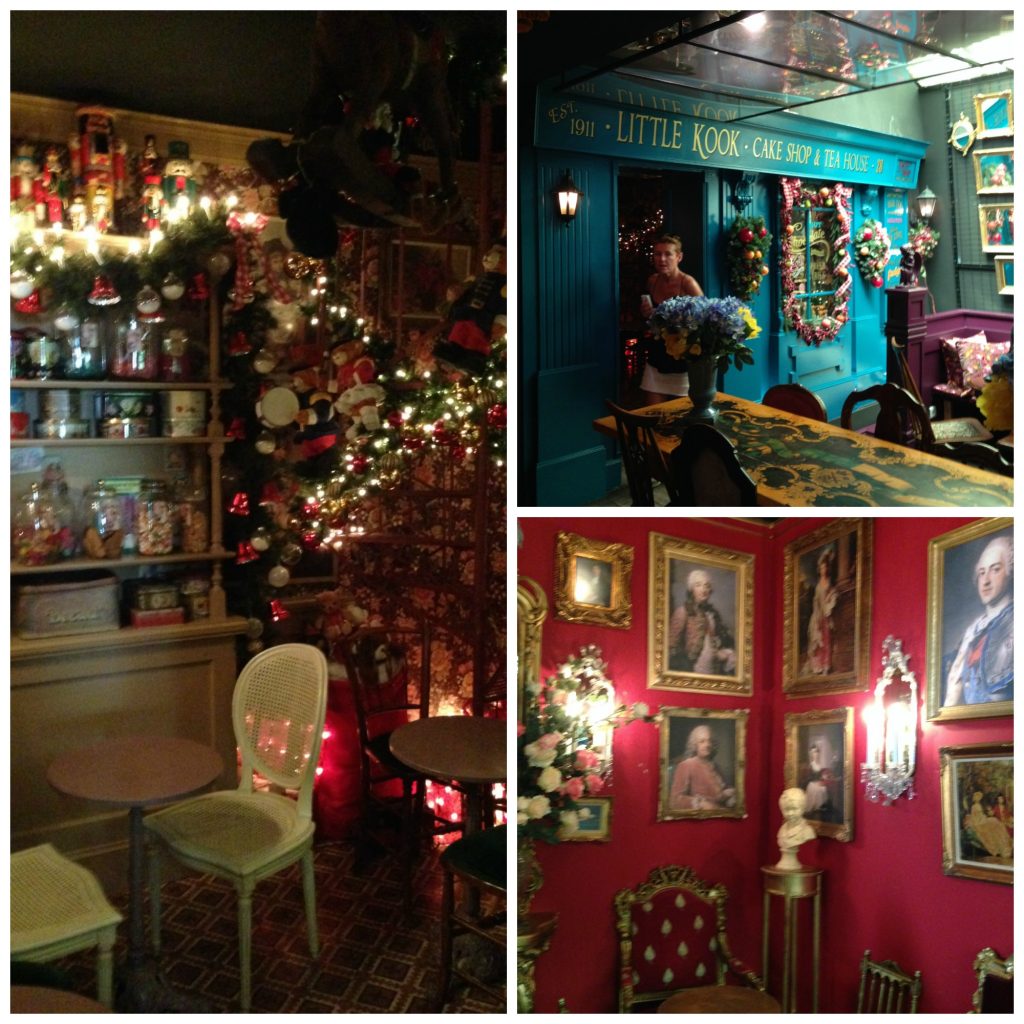 Little KooK is predominantly a coffee and cake shop, but do offer savoury crepes.  The day I was there, I chose a salmon and Philadelphia crepe, then strawberry meringue.  Yum!

Why is it called Little KooK themed cafe?
Why Little KooK?  I asked the waitress.
We joke that our cook lives on the premises, and like Cinderella, he has to sleep in the kitchen. When we come in to set up, all the cakes have been eaten, by our little cook
The English teacher in me briefly wondered whether the name should, in fact, be 'Little Cook' but I didn't want to spoil the concept.  And besides, as you'll no doubt agree, the concept is, indeed, a good one.
Atmosphere
Piped classical music, not too loud to be intrusive on conversation and just loud enough to create a cultured atmosphere.   And it's great for kids (of all ages).  If you're anything like me though, a lot of the time you may want to eat away from young children (sorry – but at times I just need peace and quiet).  But Little KooK attracts a lot of adults into its wake. The day I went (mid-morning on a weekday), there was not a child in sight (all in school I presume).  It's popular with the Greek crowd, so expect both tourists who are more than a little intrigued, and locals who meet over the famous Greek frappe in a fun environment.
And it's smoke free!  Yes, they've managed to implement and keep the no-smoking rule here (those of you who know Greece and/or are frequent visitors will know how hard this is to impose!)
Little Kook themed cafe is, in essence, a place where fairytales come alive.
Looking for more things to see and do in Athens?
Tips for visiting Little Kook Themed Cafe Athens
Have you been to a themed cafe on your travels or, better still, have you been to Little Kook Athens? It's open every day from 10am to midnight.  If you can avoid it on a Sunday in general, it's best because it's busy all day – but Saturday in the daytime before 3pm is usually a good time – and during the week is good (when the kids are at school).
PIN for later