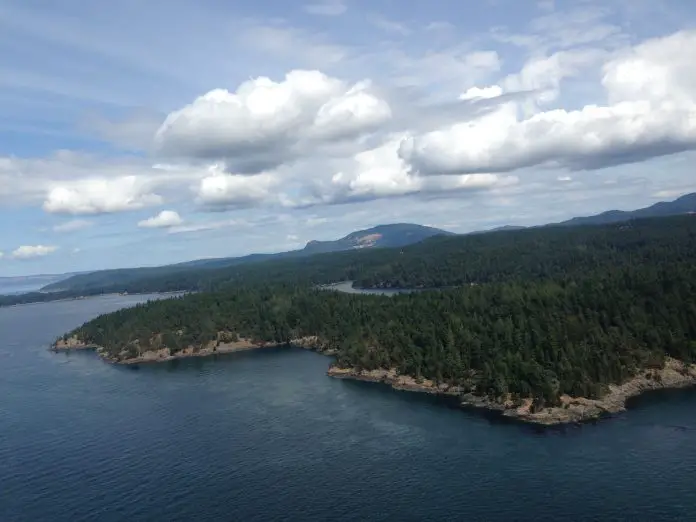 In need of some nature and having decided to go to the San Juan Islands – the archipelago of islands just North West of Seattle in the Salish Sea (with various Straits separating them), I decided to make my fist stop San Juan Island, the second largest of the chain and the most populated.
Having chosen to fly in with Kenmore Air and arriving on a float plane into Friday Harbor Marina, I was met by Barbara Marrett, Communications Manager for the San Juan Islands Visitors Bureau, who was to be my tour guide for the day.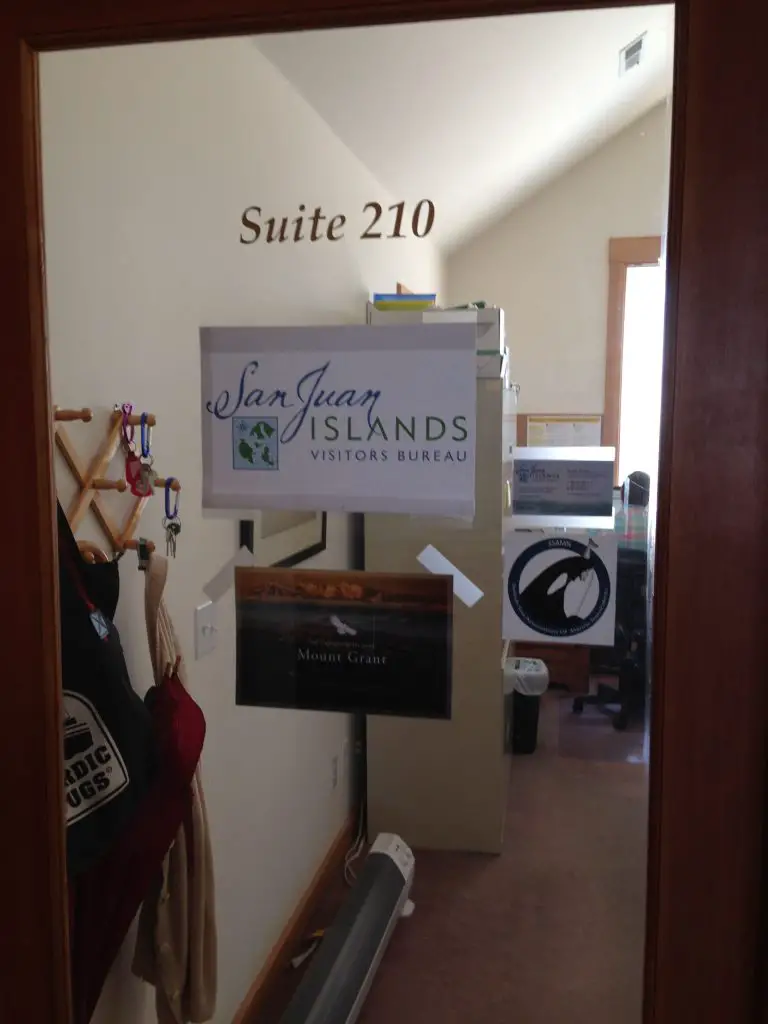 Friday Harbor is the County Seat of the San Juan Islands and has a year round population of approximately 8,000.  With over 250 species of wild birds including eagles and the only national historical park on the whole of the island chain with coastal hiking paths, I was sure San Juan Island would offer a lot.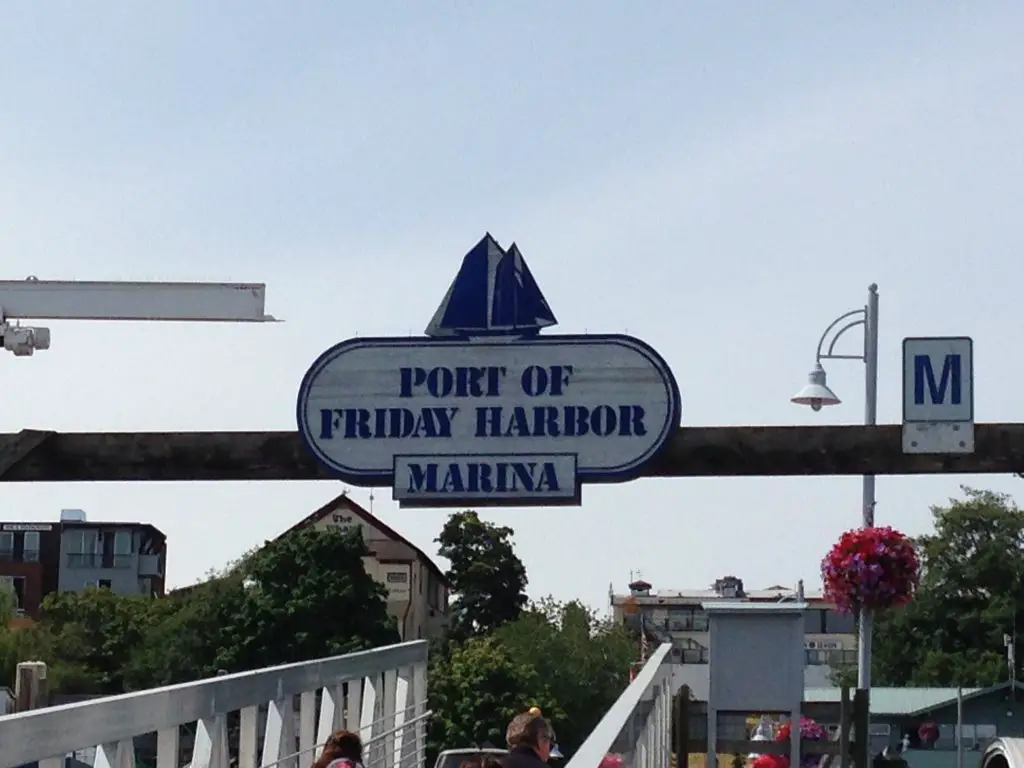 Popeye the Seal on San Juan Island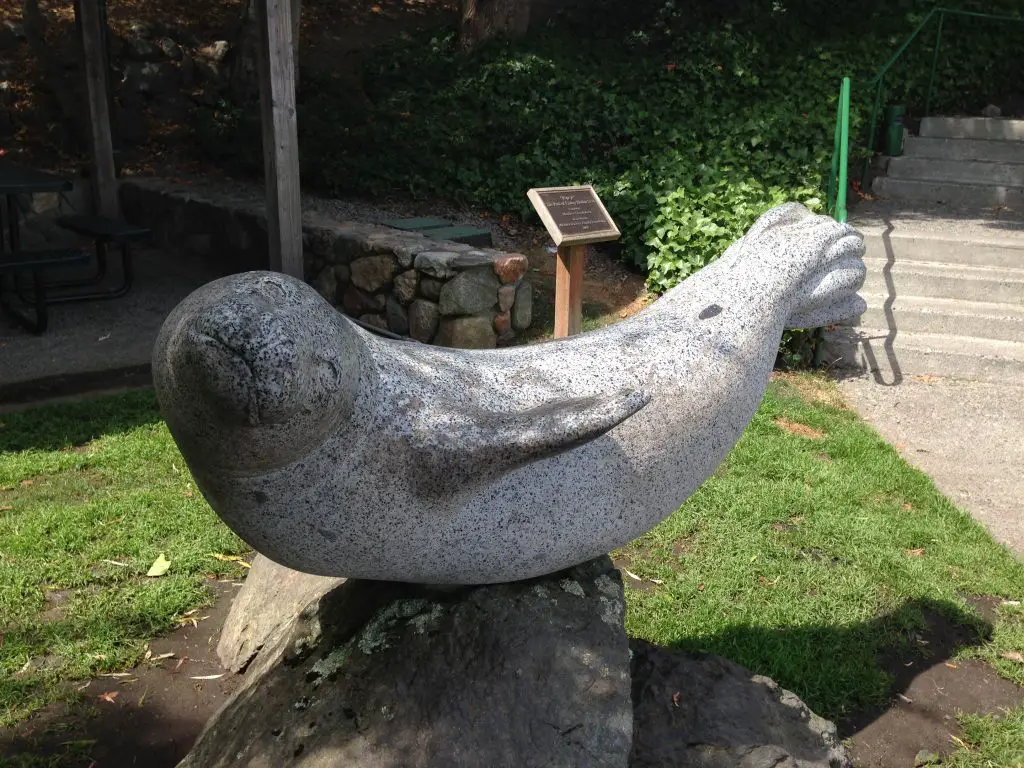 First point of interest Barbara drew my attention to was Popeye – she's the one-eyed seal that has been a frequent visitor to Friday Harbor Marina since 1995.  In her honour, a granite statue has been erected in Fairweather Park, just opposite the main entrance to the dock.
She usually shows up when Friday Harbor Seafoods opens
Barbara assured me…alas, it wasn't open when I was there – so I made do with the statue.
U.S. and England at war, over a pig??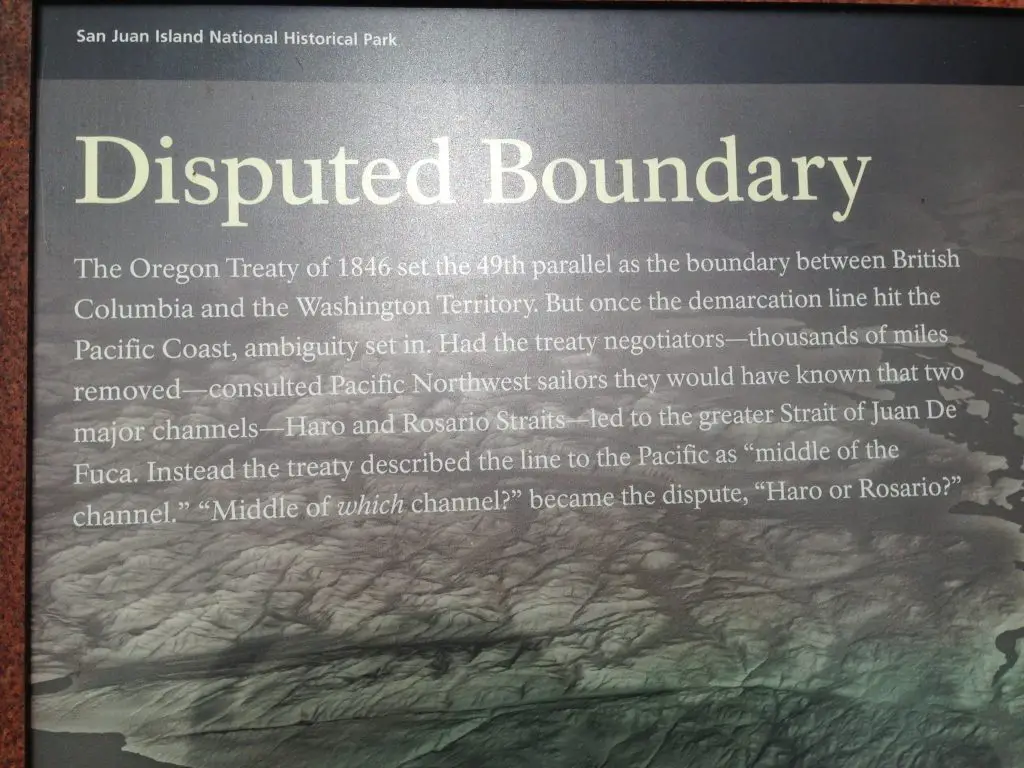 As mentioned before, San Juan Island is an historical national park, having been declared one in 1966 based on the premise that people and nations can resolve their issues peacefully without resorting to violence (yeah RIGHT!  But this was the decade of the 60s after all and actually, what follows is a prime example which we could all learn from).
 How did this come about?
To keep it very brief – I'll give you an outline as taken from San Juan Islands Visitors Bureau website:
Pressures had been building between the two nations over possession of the San Juan Island group since 1846 when the Treaty of Oregon left ownership unclear.
In 1859, an American soldier shot a pig belonging to the British, on British land – thus came the "Pig War" crisis, at the height of which more than 500 U.S. Army soldiers and three British warships were nose to nose on the island's southern shore, not 10 miles from Victoria, B.C. [in Canada].  Fortunately, officials on both sides quickly restored calm and the nations agreed to a joint military occupation of the island until the boundary could be decided.
They remained in their respective 'camps' (English and American) on different sides of the island (English: North on the shores of Garrison Bay and American: South end of the island) and lived in peace for 12 years until:
Kaiser Wilhelm I of Germany, as arbitrator, awarded the islands to the U.S.
Barbara took me to both 'camps.'
American Camp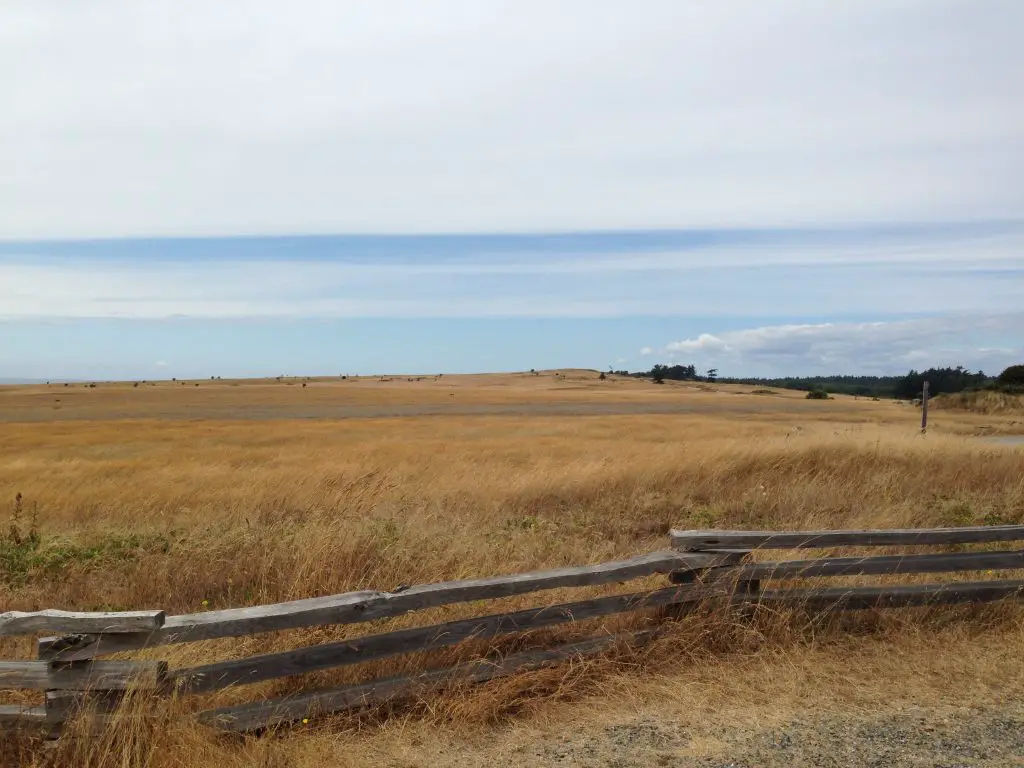 It's possible to hike here and take a look at the Visitors Centre. But after having seen where the English had their camp, it was easy to see why the Americans were pretty peed off! Barren, vast prairie on large stretches of farmland, offering no shelter from the elements, life must have been tough.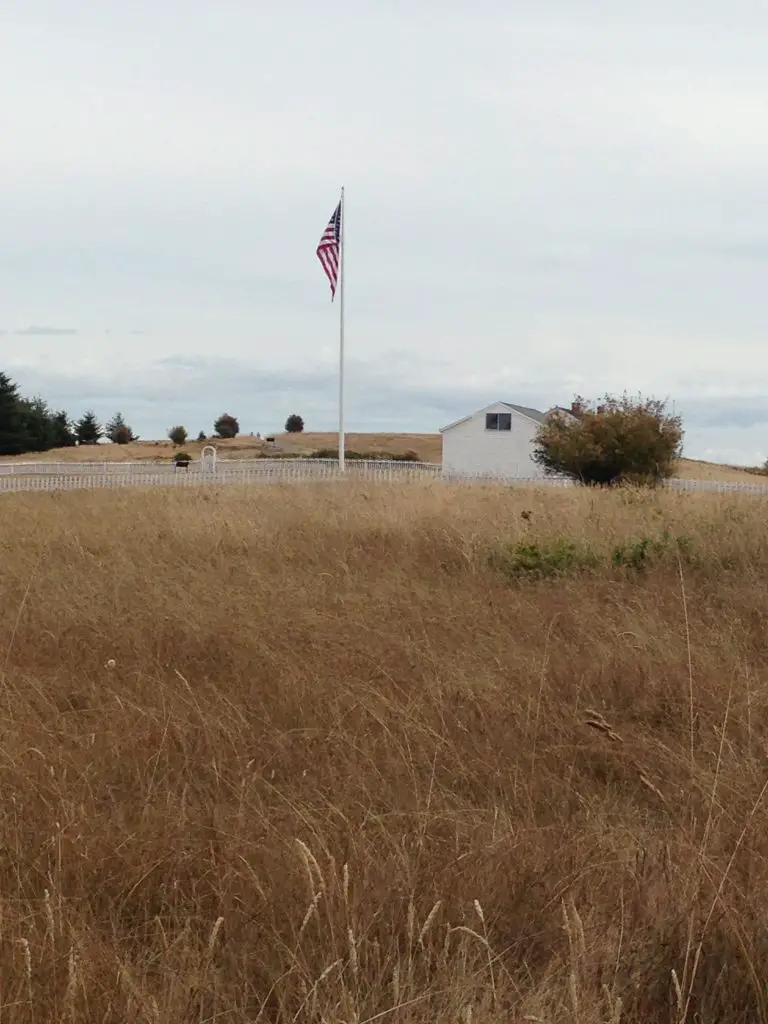 English Camp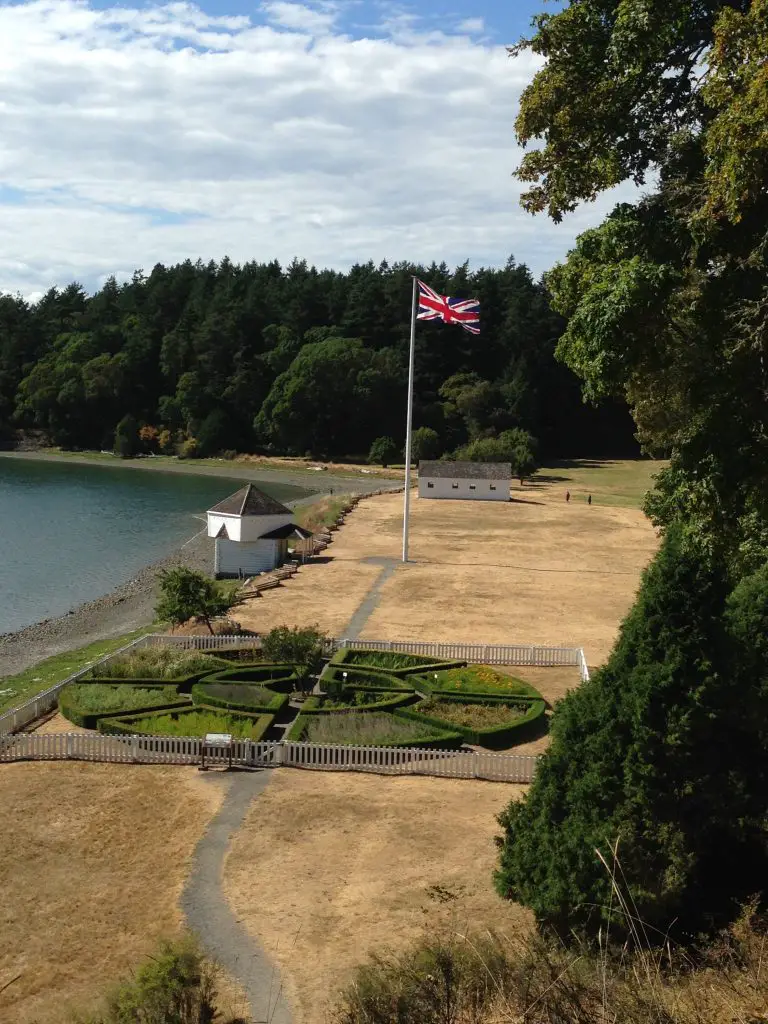 In contract, formal gardens, lush woodland, a cemetery and today, a Visitor's Centre and a variety of hikes on offer (from easy to strenuous), I fell in love with this place in an instant (and it's easy to see why I think).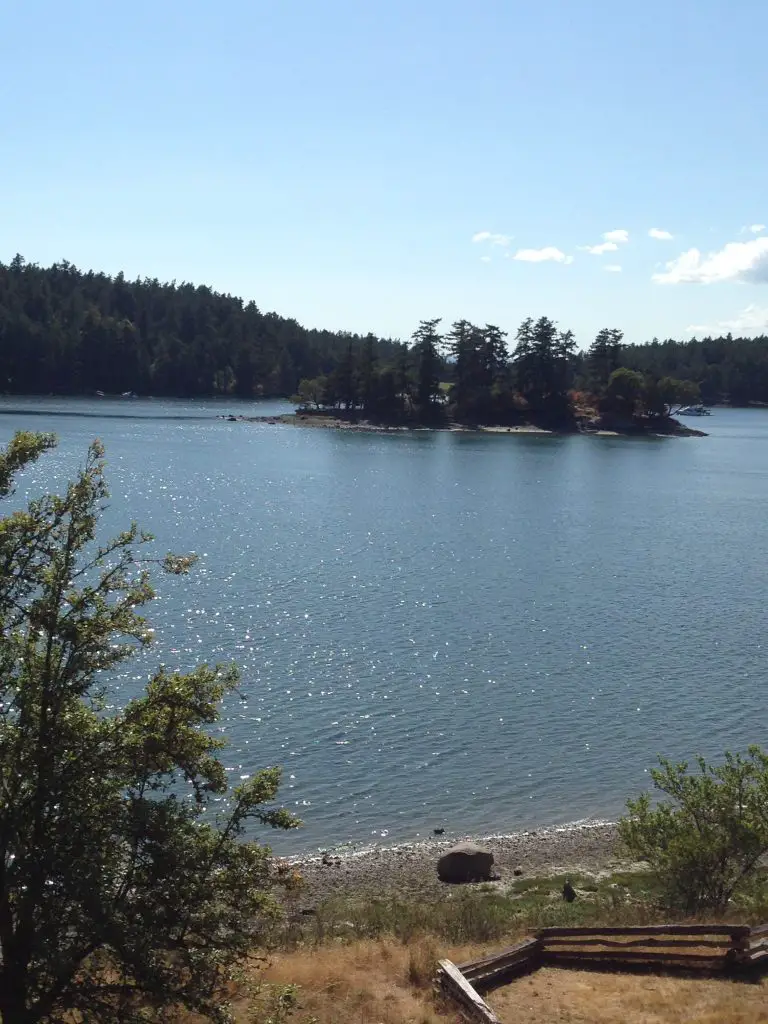 Various activities take place here:
Every Saturday from June to August, park rangers and volunteers re-create some of the skills of civilian and military life back then
One weekend in July, a re-enactment of what life was like on the camp takes place
These weren't the only delights I saw…watch this space for more to come.  If you're looking for peace and quiet, history, wildlife, nature, relaxation or activities – I can't recommend the San Juan Islands highly enough. And this is just the first island in the chain I visited!