I couldn't stay on the San Juan Islands and not go whale watching.   This area of the U.S is abundant in wildlife, especially in the summer.  And the summer also brings along the infamous Orca.
I'd already been won over by the beauty of the San Juan Islands – you can visit the Pelindaba Lavender Farm for example, hence I was delighted when San Juan Island Visitors Bureau told me they'd arranged for me to go whale watching with San Juan Island Whale and Wildlife Tours.  Read about my experience whale watching in the San Juan islands.
Whale Watching – San Juan Islands with San Juan Island Whale and Wildlife Tours
Operating out of Friday Harbor on San Juan Island, this tour company was, to me, special because their boat – Natsilane – only holds six passengers, hence making the trip very personal…not full of people crammed together.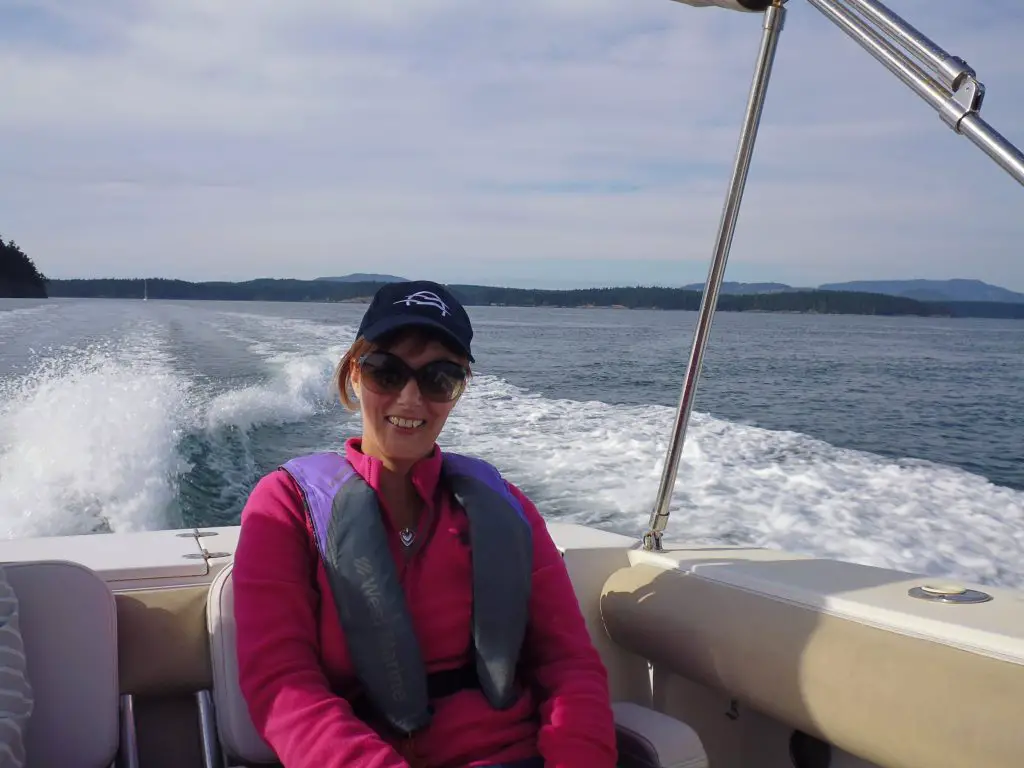 We aim to make this an educational, not just a tourism trip
our Captain for the evening, Alan Niles assured us.  He was right – but not educational in a dull way, far from it.
Whale Watching off the San Juan Islands – Two types of Orcas
As the six of us pulled out of Friday Harbor on the 2.5 hour evening tour at 17:30, Captain Niles was visibly exited as he explained the difference between the two types of 'killer whales:'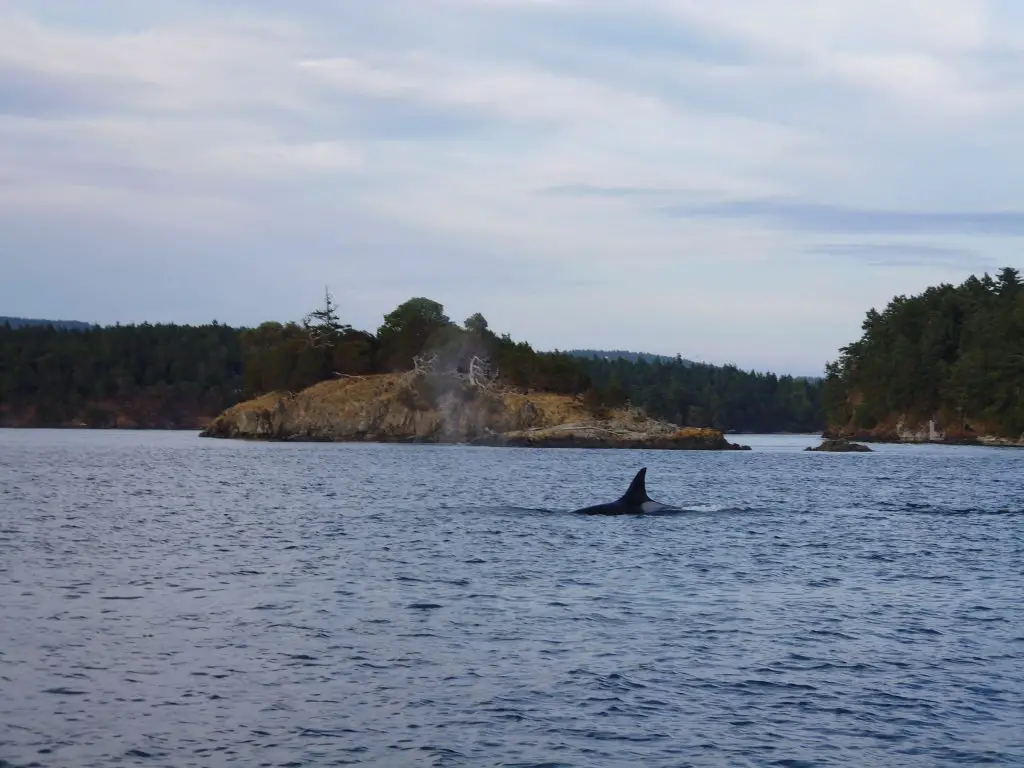 Whale Watching off the San Juan Islands – the Resident Orcas
Resident Orcas are named because they live specifically in inland or coastal waters. In the Pacific Northwest they are an endangered species with only 81 whales left. They feed on Chinook Salmon which is very calorie rich and hunt in groups as they are highly social animals.  As the salmon are not particularly sensitive to sound, these orcas can successfully communicate to each other when underwater with their unique vocalisations.
Whale Watching  – the Transients Orcas
These are your National Geographic style stealth killers! As their name suggests, they disappear for months, even years at a time and hunt in small groups, usually up to approximately six whales.  These are the seal-eating Orcas, the real 'killer whales' if you like (although I dislike using that term if I'm honest – nature is nature after all!)  In contrast to the Residents, because their prey may hear them if vocalisations are used, then these whales rarely breach or splash. They spend long periods of time swimming underwater looking for their prey, occasionally popping their head up to see what's around – then BOOM!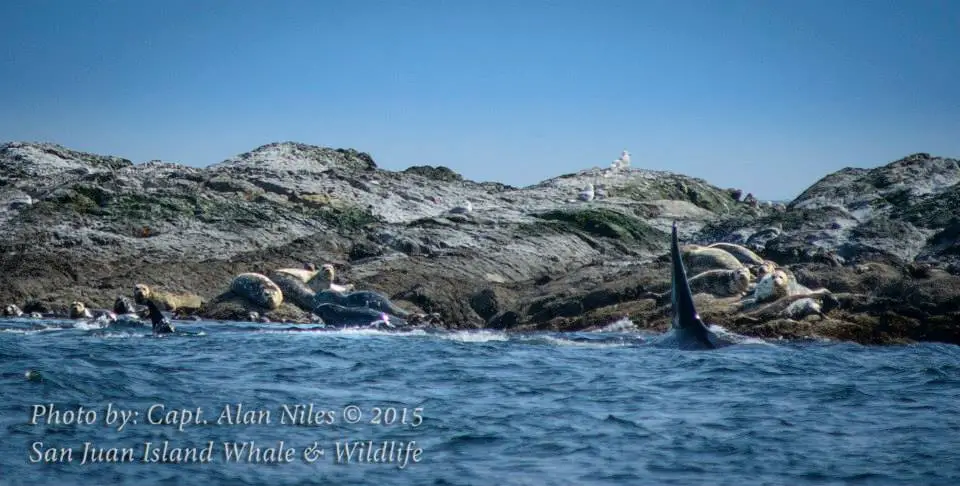 Captain Niles was particularly excited on our trip.  Having already been out once that day, his adrenaline was still rushing as he told us that Transients were in the area, and lots of blood and guts had occurred with seals – let's get back out there!  And so we did…me with mixed feelings, but assuring myself that this is nature after all.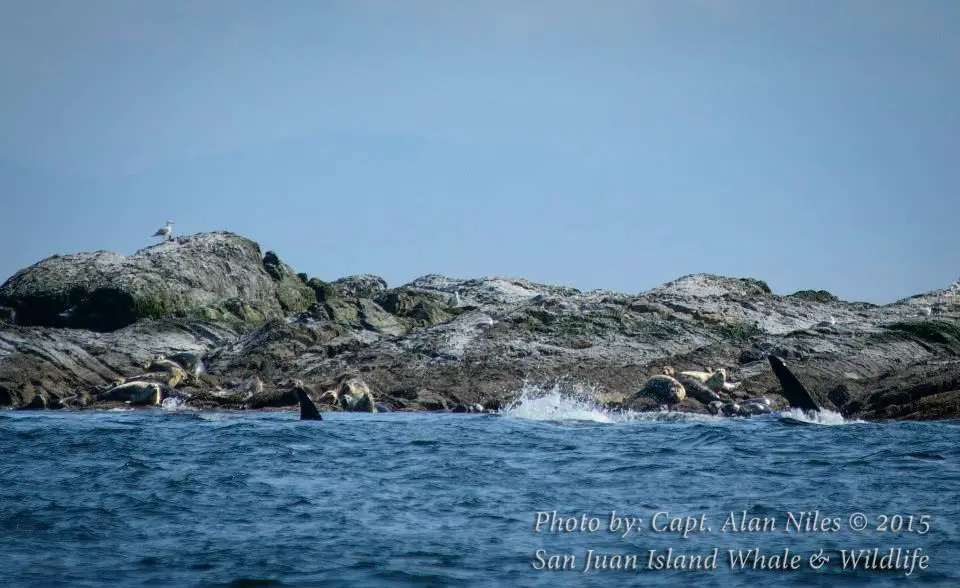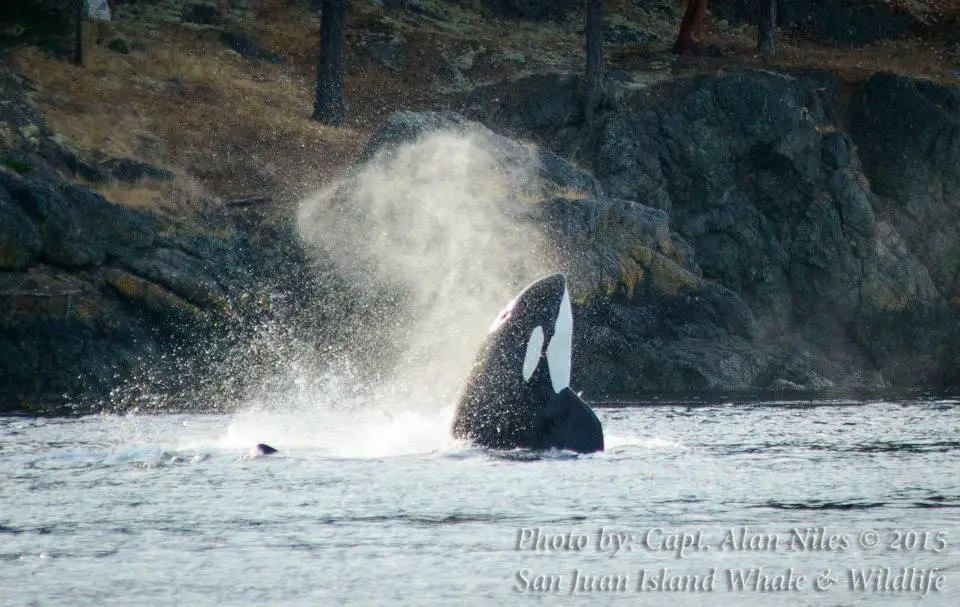 We ended up seeing so much activity that evening, we couldn't help staying out past 2.5 hours – more like three.  This meant we ended up seeing the sun set – and yes, we saw stealth in action:
seals sleeping
whales approaching
seals getting worried
seal enters water
seal is toast
(Remember, this is nature)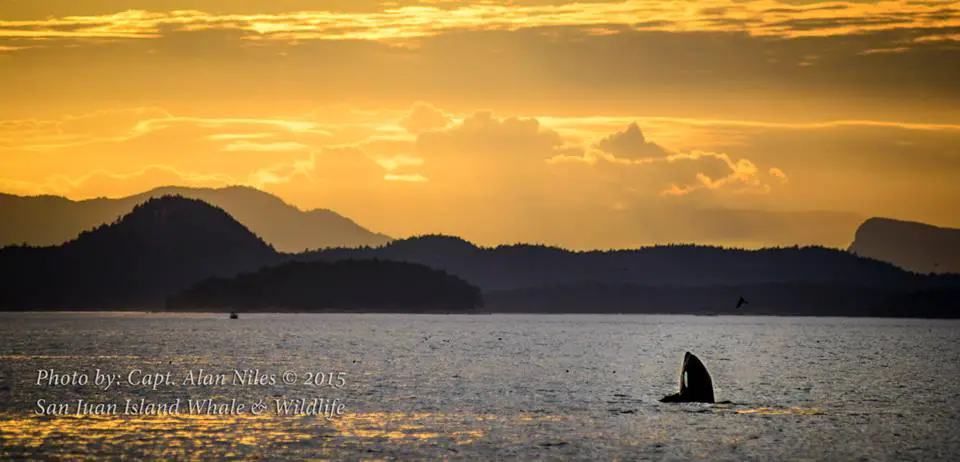 Whale Watching San Juan Islands Facts
The cost of a 2.5 hour whale watching tour with San Juan Island Whale and Wildlife tour is $105 for adults, $85 for Children aged 4-12 years and infants = free.  This is excluding tax.
Bring a waterproof jacket, wear trousers and a jumper as it does get chilly (as you can imagine!), even in the summer.
San Juan Island Whale and Wildlife Tours give a lovely list of recommendations here on how you can help the whales in your daily life. I suggest reading it.
**My thanks to San Juan Islands Whale and Wildlife Tours and Captain Alan Niles for his permission to use some of his amazing shots of the evening. Also, thanks to Katie Flynn, office staff of San Juan Island Whale Watching Tour. Friendly, helpful and informative, she even offered me a ride back to my accommodation – not before we'd had a drink and fish and chips in the pub.**
**This amazing opportunity was arranged for me through the San Juan Island Visitors Bureau and was offered free of charge.  All opinions are my own.**
PIN for later