**Post updated JUN18**
**This post contains affiliate links. For more info, see here.**
My hometown in the west country of the UK has barges along the canal – the Grand Western Canal.  It's incredibly picturesque and peaceful.  I'd look at the barges moored up and often wonder what it was like to live on one.

Imagine my joy when I chanced across a website – Boutique Barges – that enables you to stay on a barge in London?  And not just any sort of barge; a highly re-furbished, luxury, quirky and boutique style barge (hence the name – Boutique Barges) and with a choice of locations:
Little Venice along The Grand Union Canal, handily located right by Paddington Station
Central London – Kings Cross
East London – Shoreditch
Basically, as the two barges are not on permanent moorings, you can ask the owner at time of booking if it's possible to be at a certain location.  For me, the Little Venice location at Paddington was very useful, given that I had literally flown into LHR – and anyone in the know knows that the Heathrow Express train comes into Paddington, so this was great!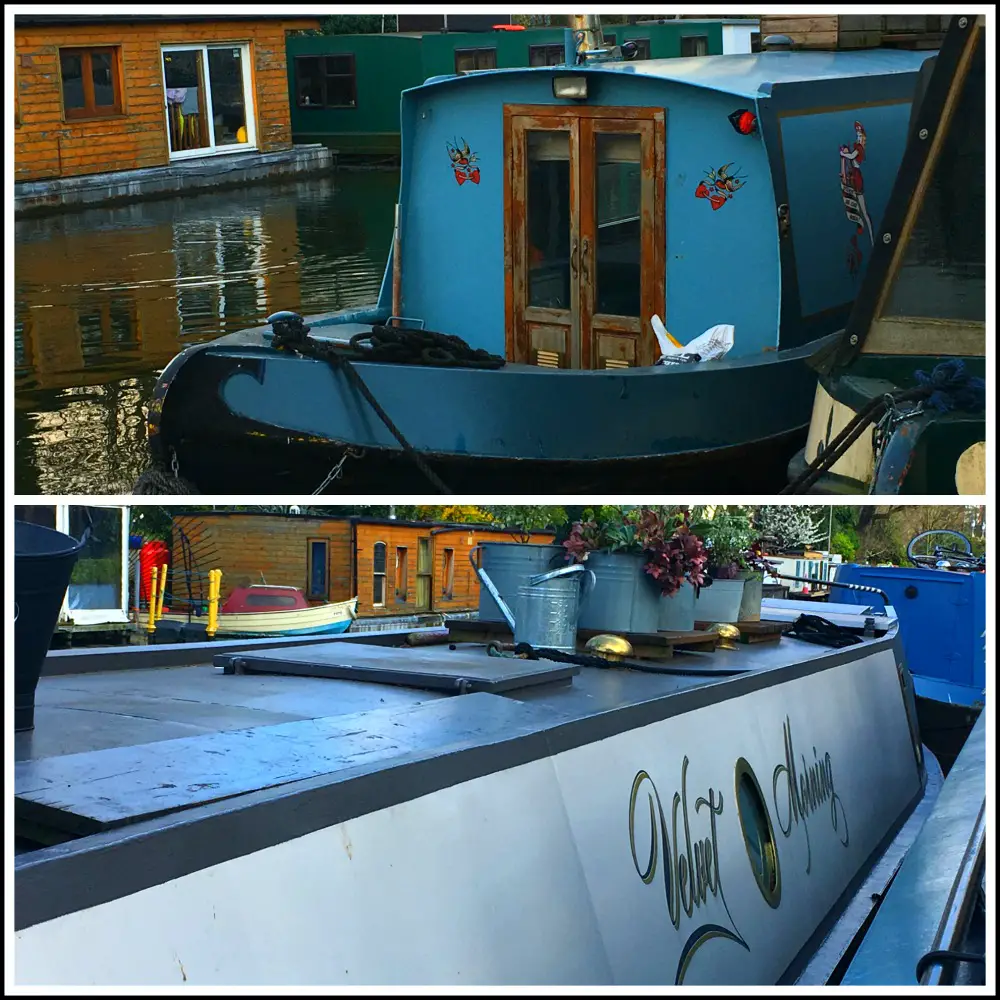 A recent trip back to the UK meant that I had the opportunity to experience both barges; one on arrival, one before departure.  Here I share with you my experience on the boutique barges along the Grand Union Canal in London.
**Note: Despite any complimentary services received, all thoughts and opinions remain my own**
Boutique Barges – Barbara
Upon my arrival, I experienced a stay on Barbara.   She's a 57 ft (17.37 m) narrowboat/barge with one master (note: it's small) double bed in it's own bedroom area and a sofa / bed in the living area.  She has a cute kitchenette, dining table and – this was the best part – wood burning stove!  Central heating is there if you need it too – but I ensured I stocked the wood burner up for my two night stay in March, so I didn't need the heating.
She also has a small bathroom with shower and flushable toilet…but don't forget to put the toilet paper in the bin provided (a bit like staying in Greece!)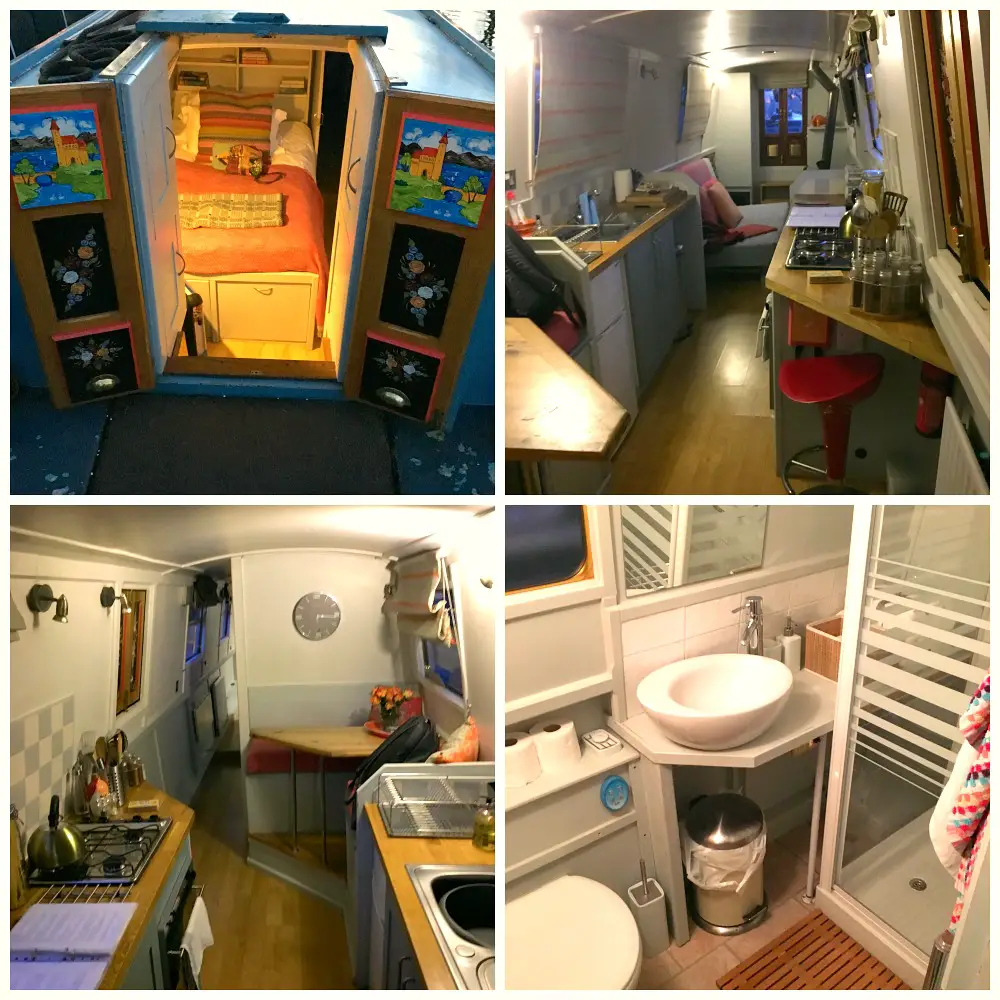 The quirks of Barbara
There's no doubt, far from being basic and despite being a luxurious vessel, don't forget you're not staying in a hotel; you're on a canal boat, so there's bound to be some things you have to remember – and do – in order to make your stay as smooth as possible.
Turn on the diesel engine to generate the battery  
All electrics on Barbara are battery operated; from the lights to the hot water for the shower. This means running the engine for at least an hour in the morning and evening (but not before 7am or after 7pm).  It meant if I wanted a shower about 9am, I'd set my alarm clock at 8am, go and turn the engine on for a bit to generate the battery before turning the battery on.
Actually, the water only took about half an hour to heat, and it was HOT!  Delicious shower experience – and made all the more special by knowing I was showering in a barge on a canal.
Pump the shower water
Whilst we're on the subject of shower and water, before having a shower on this boutique barge, you had to be sure to remember to turn on the pump.  It's a small little lever you just switch on and off, and it pumps the water out as you shower.
Why? you may be thinking.  Good question.  It's because the bottom of the barge sits under water level, so without the pump, the water wouldn't drain, therefore it'd flood!
Heat the kettle with gas
Not a huge quirk, but maybe for some.  Remember; Barbara runs predominantly on battery power, so it's a waste to have an electric kettle.  It means you fill up the tin kettle with water and heat on the gas stove.
Same goes for making toast: use the gas grill.
Heat using a coke/woodburner
My favourite 'quirk'.  Sam – the owner – assured me it was ok to get the fire going and just leave lumps of coke (not coal – we don't use coal in the UK any more) to burn.  Stoke it up before you leave for your day of exploration around London and when you return, you'll be all toasty warm inside.
By far the best way is to view my video of Barbara here – to give you a better idea.

Boutique Barges – Velvet Morning
My next stay was in the equally luxurious, but different style of boutique – Velvet Morning. How – exactly – was Velvet Morning different?  She also had a hand crafted kitchen and wood-burning stove, but a few differences.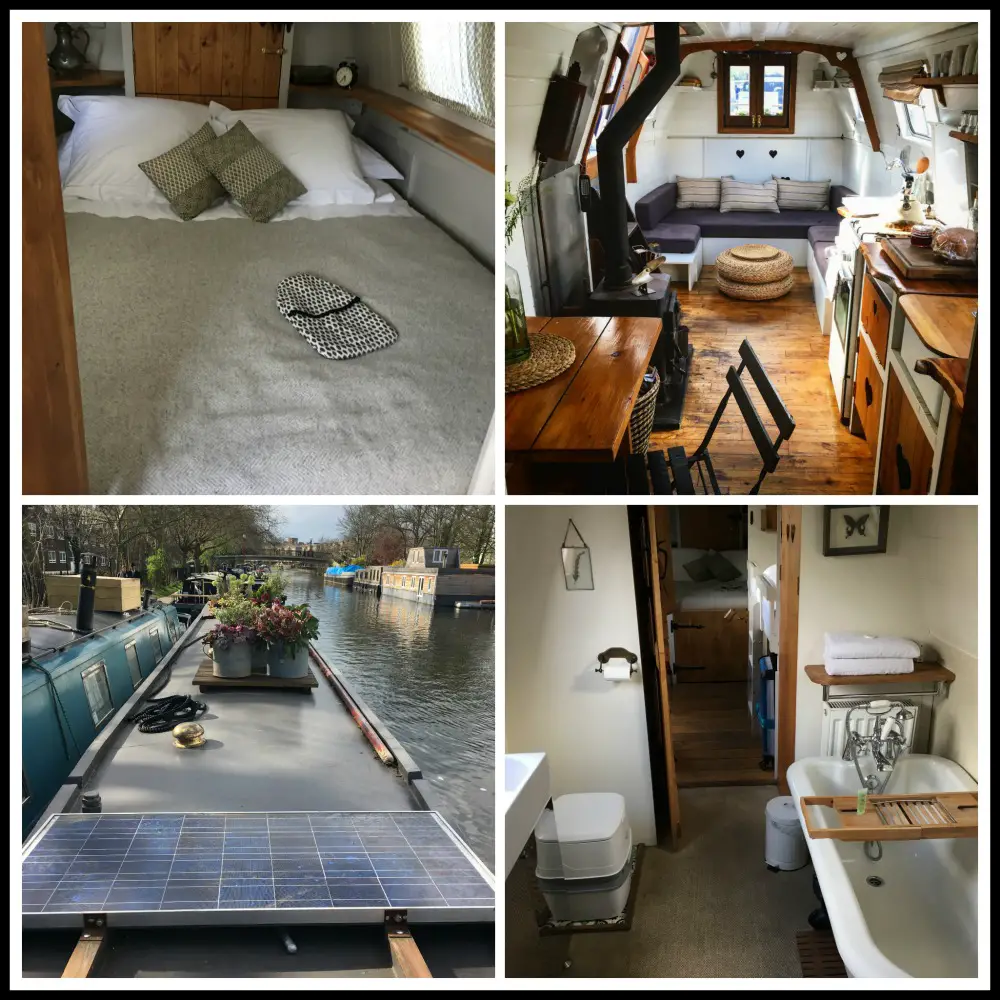 Quirks of Velvet Morning
Side entrance
There was a somewhat precarious entrance to the barge from the side, not from the rear, as with Barbara.  If moored alongside the actual land, this would be fine, but a lot of canal boats double moor, so this means jumping from one canal boat to yours, then balancing as you unlock her, making sure the boats don't drift apart too far.
12v electric lights
This was perfect – it didn't mean me having to turn the engine on so often because the lights weren't battery operated.  But if I wanted to use the sockets (to charge my phone, laptop, etc) then I'd have to turn the engine on to make sure there was enough power…
Engine at the rear of the boat
Remember I said the entrance and exit to Velvet Morning is at the side?  Well, it means balancing and walking precariously along the side of the boat to the rear in order to turn on the engine.
Chemical toilet – but real bath!
This was fantastic – the bath.  The toilet actually proved no problems at all – it's not like you're sharing a chemical loo with a field full of festival goers.  And that beautiful clawed foot bathtub!
Note: Be realistic: you're in a canal boat so once again, it is luxurious but don't expect to have huge amounts of water to fill the bath.
Oh – the bed!
The bed on Velvet Morning is the real selling point for me.  A kingsize bed in a little cabin of its own, it makes for a romantic break for two, to my mind (shame I didn't have anyone to share it with!)
As always, things are best seen sometimes, so take a look at my Velvet Morning experience here:
Facts, Conclusions and interesting to know about boutique barges
I really, really enjoyed my time on both the barges.  To wake up in the morning and see swans, moorhens and ducks float past your window as you make breakfast is very special – all the while being a stone's throw from central London.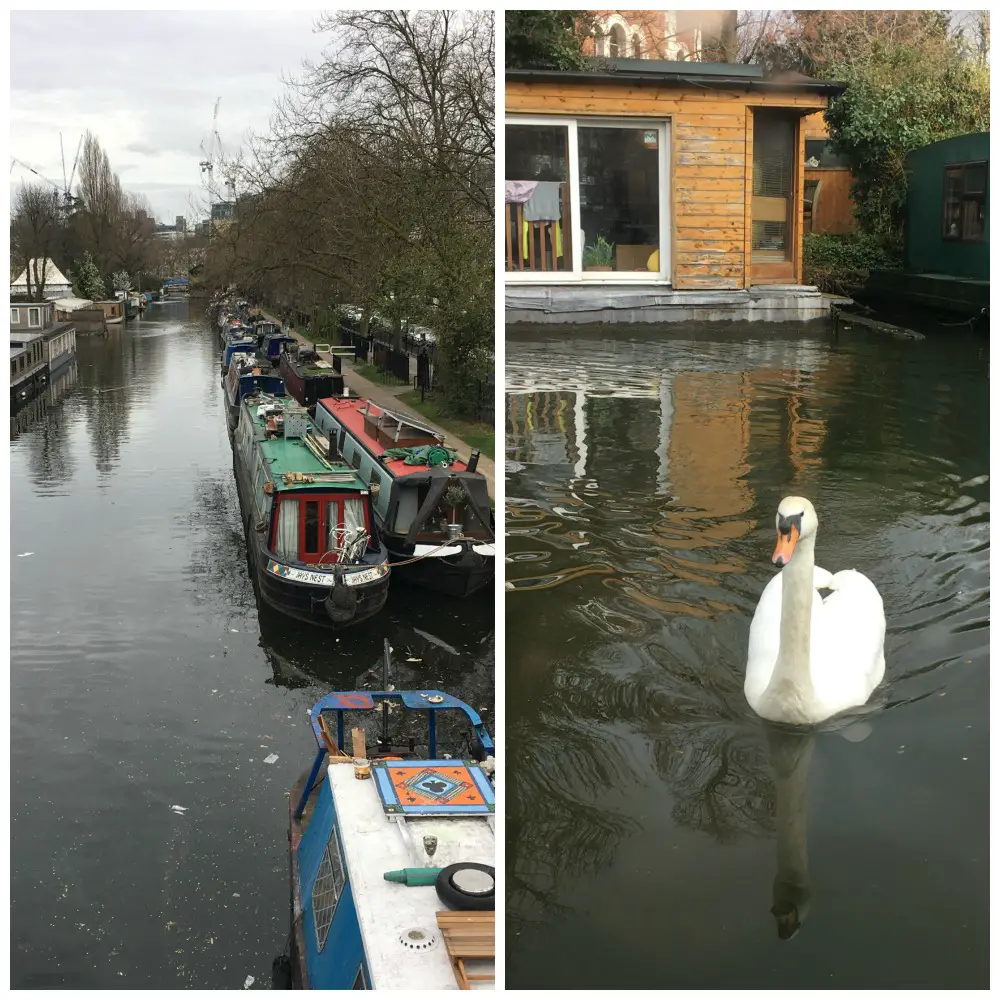 Did you know: the little castles and countryside scenes that can be seen painted on the boats were originally painted by the owners many years ago – when canal living was a part of life.  Sometimes, huge families would live in them, and it wasn't the 'luxury' or 'quirky' experience it's considered now.  Because the families wished for a higher status in Britain's class society, they would paint the castles, etc as they dreamed of a better social standing.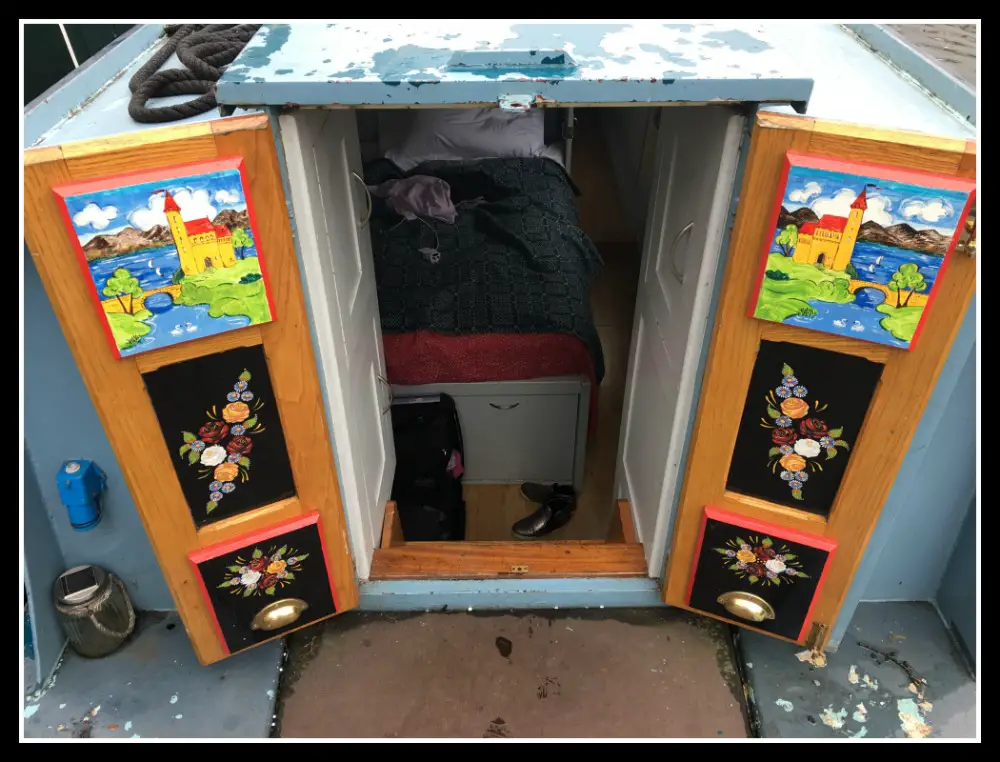 I adored the bed on Velvet Morning.  It's bigger, takes up a whole 'cabin room' and is just all the more quaint.
Barbara, however, I found a more practical barge to base myself.  I didn't have to worry about maybe falling in when I went to turn the engine on in the morning – I had to 'think less' in general.  She was easier to board in general.
Think about these things when you book your stay.  Both barges come with challenges for loading your luggage, especially if you have a lot of it – or heavy bags.  Having said that, Sam is the perfect hostess and is on hand to help you at all times.
If you have a lot of luggage, I would suggest staying on Barbara: easier access.
Overall, this is a luxury, boutique experience, but on a barge – remember that!  There will be things you're not used to having to do, but this is all part of the quirky fun.  i.e.; don't expect to be able to plug in a hair dryer – the electricity may not have enough charge in it.
Families; Whilst it can accommodate two adults and two kids, the barges are narrowboats and, as mentioned a lot of quirks.  I would recommend it for teenage kids…no younger than 10.
Both boutique barges are £140 a night, including cleaning fee – and have a minimum two night stay.
Pin for later