As described in my post about the Villages of Pelion, it's a mountainous area in the south east part of the Thessaly region of mainland Greece (Thessaly being in Central Greece).  In mythology, Mount Pelion was home to the Centaurs – those mythical half man/half horse creatures.
You'll find some great food to eat in Pelion too.  Be sure to check out my What to eat in Pelion, Greece article to discover the gastronomy of the region.
One of the many activities it's possible to do in Pelion is to go hiking.  I'm not particularly active, I'll be honest – but I do like a good walk now and again.  I was chuffed, therefore, when afforded the opportunity to go hiking in Pelion with Trekking Hellas.
Hiking in Pelion, Greece with Trekking Hellas
Trekking Hellas specialises in organising outdoor holidays around Greece and her islands, and the weekend we went to Mount Pelion, two guides joined us for a 'brief' hike from our hotel – the Aglaida Apartments – approx. 3km from the traditional mountainous village of Tsagarada.
Note: When a Greek says 'brief hike', it's like a Greek telling you they will meet you at 5pm or somewhere is 'about 5 minutes on foot'.  I.E.: it's all very relative and take it with a pinch of salt! Hence our hike was a little longer than expected, but worth every minute.
Hiking in Pelion, Greece through snow
Our hike of 1.5 hours ('brief'?!) took us through the snowy landscape.  Yes, Greece gets snow in the winter and don't forget – Mount Pelion is 5,282 ft (1,610 m) so you're bound to get snow at this elevation.  Granted, we didn't start at the top, but Pelion has enough beautiful villages scattered around it that sees snow.
Upon reaching our summit, aided by useful walking sticks, we drank in the views of the surrounding Gulf, took endless amount of photos (naturally!) then made the hard descent down to the little port village of Damouhari.
I say 'hard' because, even though on a cobbled path, I never realised quite how hard walking down continuously can be on the legs…and boy did my calf muscles suffer the next days after!
The little port of Damouhari is free of traffic and is famous for the Mama Mia 'Dancing Queen' scene that was filmed here.  Many of the other Mamma Mia scenes were filmed on the nearby Sporadic island of Skopelos.  As you can see, it's a quaint place, and very quiet in the winter.
Conclusion
If you like hiking, holidays of a different sort and, more importantly, exploring a different side of Greece, I would highly recommend a trip to Pelion – there's plenty to see and do, and Trekking Hellas can organise many different trips for you – tailor made in duration, group size, self-guided or with a guide and difficulty level.
I won't hesitate to come back to Pelion in the spring to explore further.
Pin for later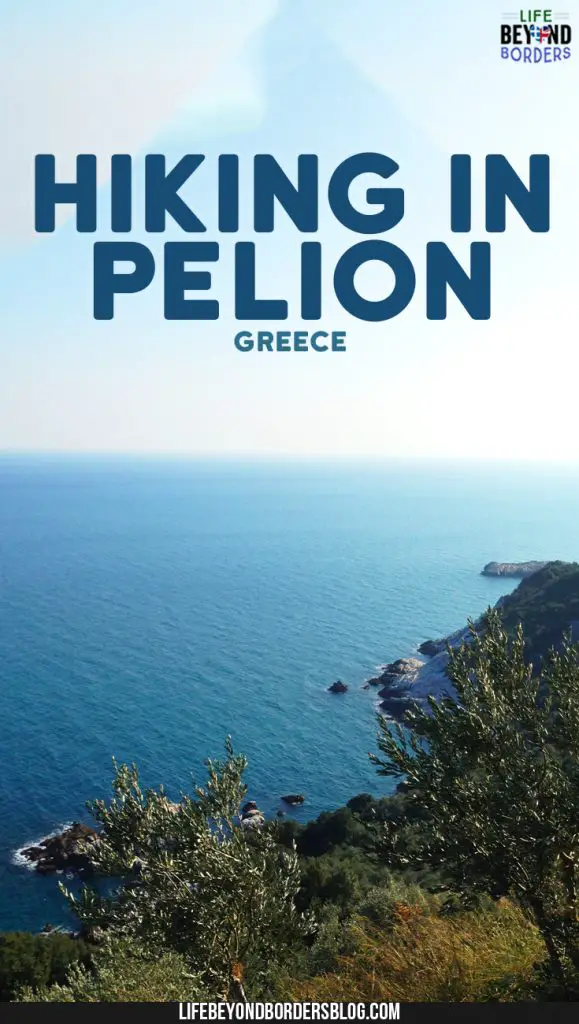 **Revised and updated in DEC17. Originally posted JAN17**