The Greek island of Skopelos in the Sporadic chain of islands is famous for the filming of the first "Mamma Mia!" film.
Skopelos, Greece: "Mamma Mia!" facts
Skopelos is less touristy than its neighbouring Skiathos, therefore quieter although it's become busier in the years since "Mamma Mia!" – but not spoilt.
The shooting took place in August and September 2007 and lasted seven days – but the preparations for it lasted for more than 3 months) .
Filming also took place for 3 days at the neighbouring island of Skiathos with a total cast and crew of about 210 people. Skopelos hosted the majority of Greek filming.
Before my travel blogging days, I was fortunate enough to spend 8 days on the "Mamma Mia" island of Skopelos in September 2009, a perfect time of the year to go: the heat of the summer had burnt off leaving the sea beautifully warm and inviting – not to mention it being even quieter time due to most UK kids having returned to school.
How to travel to the "Mamma Mia" island of Skopelos
It's possible to fly to Skiathos from various UK and European gateways and then take a ferry. A lot of charter flights go in the summer, as you can well imagine.
As I was already in Athens (due to start a job teaching later that same month), I arranged to travel by bus to the port of Agios Konstantinos then ferry across.
See my Insider Tips for taking Ferries in Greece for more information about the ports in Greece and what to expect when on a Greek ferry.
Searching online, I secured a lovely place to stay just outside the main town for €45 a night.
In total the journey from Athens to Skopelos takes about 5 and a half hours by bus to the port and then ferry ride.  Incidentally, the ferry then continues on to the beautiful island of Alonissos.
Dimitris – the owner of the hotel – was there to meet me from the ferry and because he 'knew' someone – had arranged car hire for 15 Euros a day for me.  I love the way it works in Greece.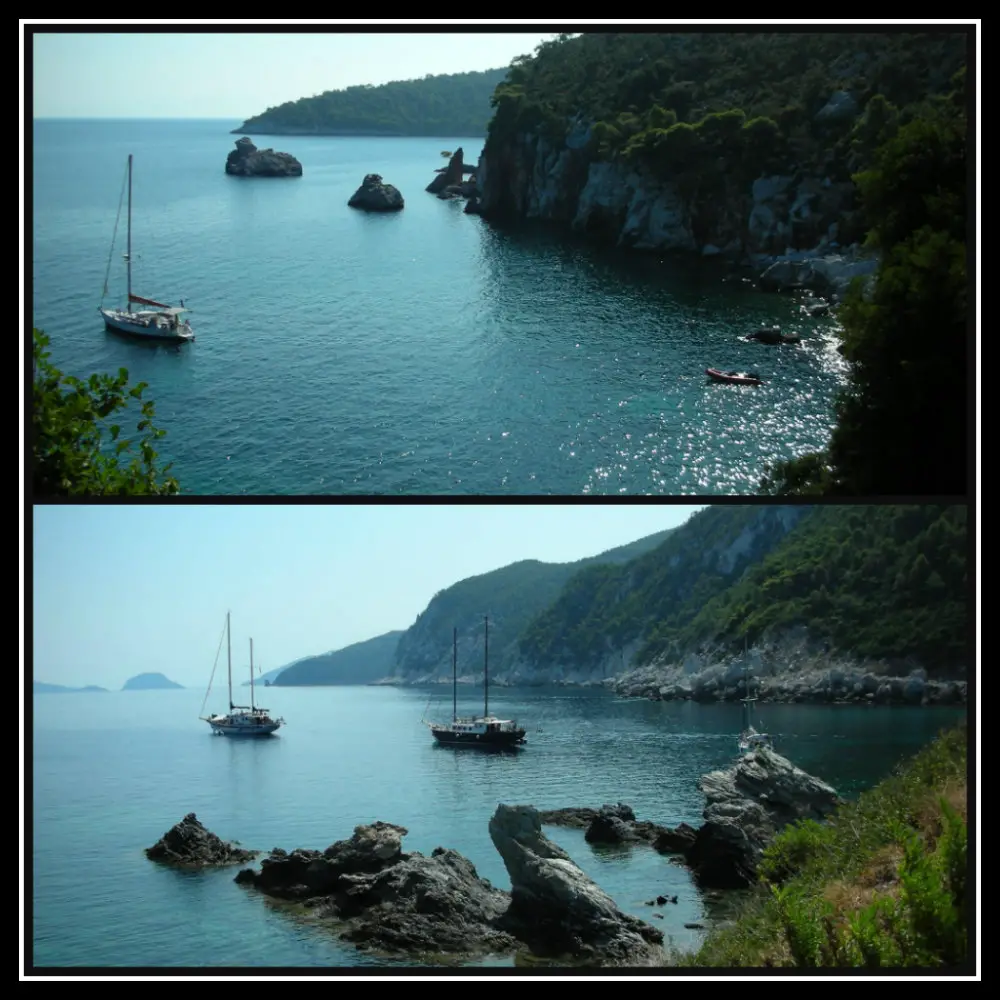 Mamma Mia on Skopelos island, Greece
I spent my days wandering in the pine clad groves, sitting drinking coffee, swimming and, of course, locating some of the spots "Mamma Mia" was filmed.
Most of the filming was undertaken at Kastani beach in the South West of the island – as well as some shots on the mainland/Pelion region of Greece.
The scene where there's the beach bar and Tanya (Christine Baranski) and chorus sing, the bar and jetty were built especially for the production and removed after filming.
The church of the wedding is real – Agios Ioannis – but not in use now and therefore used as a film location.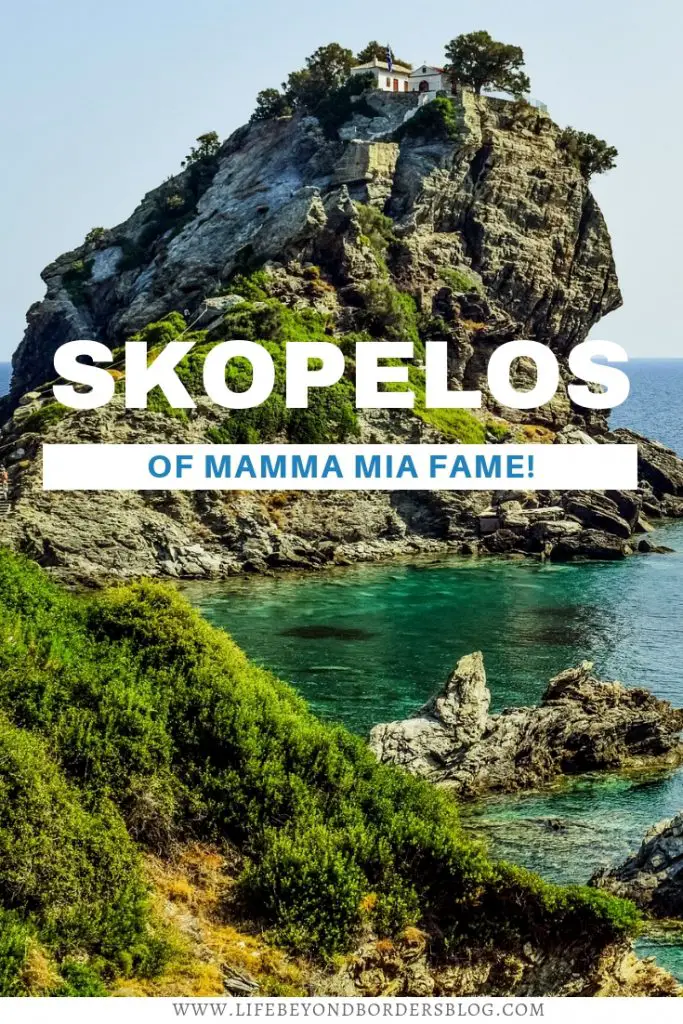 Have you been to Skopelos? Or have you been to a film location? What did you think: did it meet your expectations after seeing the film? Share in the comments.
PIN for later