Would you credit it!  Since "Mamma Mia" was shown on ITV (in the UK) Wed night, 4th Jan 2012 – hits to my website have increased twofold!  Lots of searches for "Mamma Mia church (which they would have found on my post here. But this post isn't particularly about Skopelos itself, the island of "Mamma Mia" fame.  So, for my old fans (and new) – here is a blog post especially about that beautiful Sporades island.
"Mamma Mia" was primarily filmed in Skopelos – an island located off the better known isle of Skiathos.
Skopelos is less touristy, therefore to my mind, much nicer (not that Skiathos isn't nice).  I was fortunate enough to spend 8 days there in September 2009, a perfect time of the year to my mind: the heat of the summer had burnt off, leaving the sea beautifully warm and inviting – not to mention an even QUIETER time due to most UK kids returning to school.
As I was already staying in Athens (due to start a job teaching later that same month), I arranged my journey through Alkyon Travel.  They are a travel agency that organise a bus from Athens up to the ferry port of Agios Konstantinos in time to connect to your ferry (also pre-bookable via the travel agency).  I COULD have booked accommodation through them too – but had already searched online via http://www.greeka.com/sporades/skopelos/hotels/index.htm and secured a lovely place to stay, just outside the main town for 25 Euros a night!
Dimitris was there to meet me from the ferry, which took approximately 3 hours. (Incidentally, for a 5 hour trip, you can continue on to the beautiful island of Alonissos, written about here.
I was taken to my accommodation and because he 'knew' someone – he arranged car hire for 15 Euros a day – great!
I spent my days wandering in the pine clad groves, sitting drinking coffee. swimming and, of course, locating some of the spots "Mamma Mia" was filmed.
For the fans of the film: most of the filming was undertaken at Kastani beach in the South West of the island – as well as some shots on the mainland/Pelion region of Greece.
That scene where there's the beach bar and Tanya (Christine Baranski) and chorus sing, the bar and jetty were built especially for the production and removed after filming.
The church of the wedding is real – but not in use now and therefore used as a film location.
Enough of my ramblings – a picture speaks 1000 words so here are some shots of Skopelos.  Enjoy!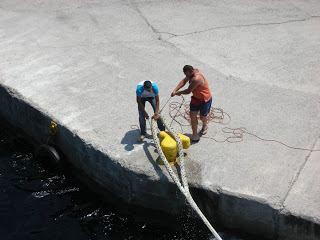 Arriving into Skopelos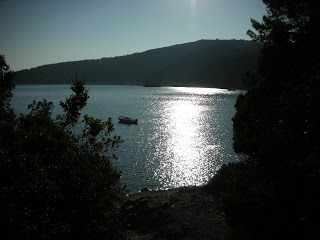 Heading down to the beach in dwindling daylight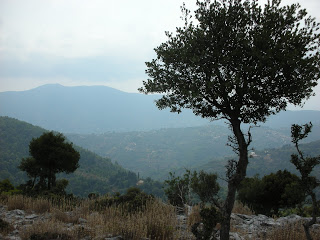 Skopelos is not all beach – beautiful walks (on an unusually cloudy day)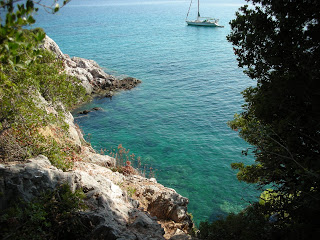 You turn a corner – and scenes like this greet you!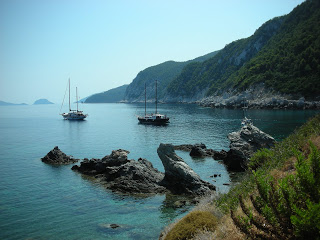 "Bill's" yacht per chance?!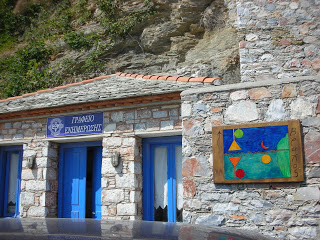 Old house / gallery in the harbour
And here she is – the scene of the wedding