**This post contains affiliate links. For more info, see here.**
Where is Karpathos?
Located in the south east Aegean sea, Karpathos is the second largest Dodecanese island in Greece, after Rhodes.  Did you know, apparently Dodecanese actually means 'twelve islands' in Greek?  Twelve is the number that make up this chain of islands (actually, there are more – but I'm guessing that twelve are the main ones), and I had the fortunate task of researching them to update the new edition of the Rough Guides to the Greek Islands, due for publication in 2018.
If you're looking for advise on other Greek islands to head to, slightly off the beaten track, see my:
Now, back to Karpathos:
One thing I noticed about Karpathos is that it's very mountainous – I mean very.  I had a car waiting for me at the airport, kindly sponsored by Euromoto in the main town of Pigadia, and I drove to my accommodation.  The drive from the airport is not a problem, a little twisty turny, but this can prepare you!
In fact, the landscape of Karpathos is quite barren, mountainous and with sweeping sea views.  It's certainly something different to enjoy.
Things to do on Karpathos – Visit the Villages
There are 12 main villages to visit on Karpathos island, ranging from seaside to mountainous locations. I won't go into depth about all of them here, but will give you a taster.


Pigadia
The capital and main port of the island, to be honest, it's more of a self-made touristy resort and in the high summer months (July and August), expect booming music from the package holiday hotels that front the seashore. If package holiday is your thing, then basing yourself in Pigadia is for you.  My advice? There are some cute hotels located about 1km (0.6m) outside of the town – still walkable into town if you wish.  Stay here, away from the hustle bustle and hire a car.
Hotel accommodation recommendations on Karpathos can be seen here.
Arkassa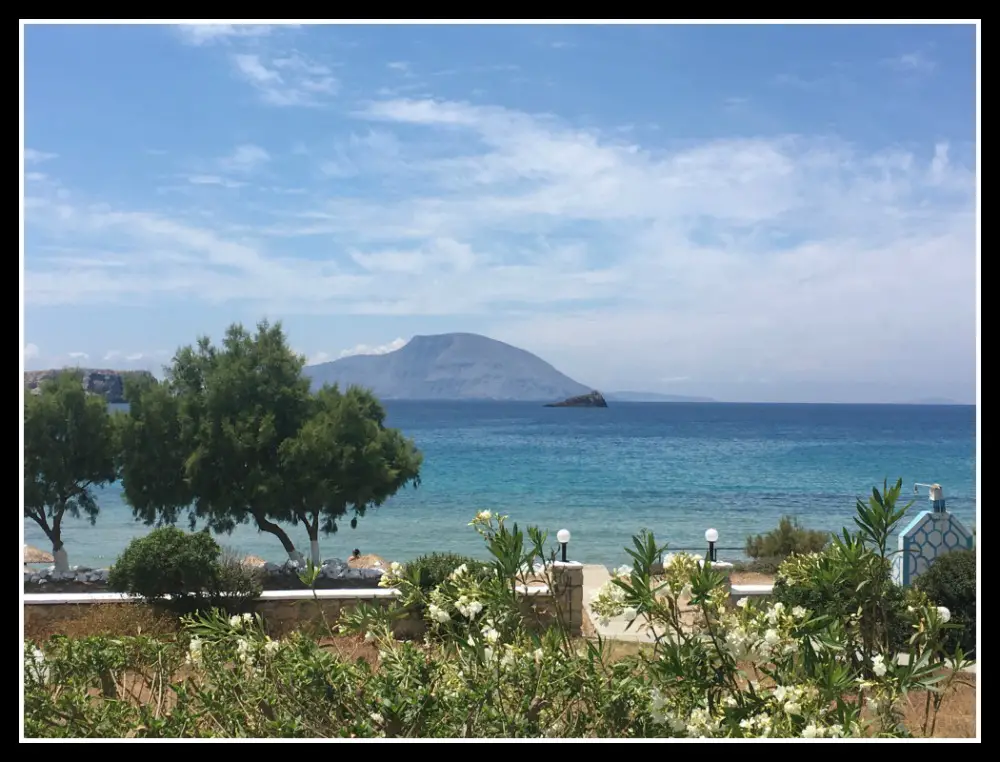 16km (10m) south west of the capital, you'll find the seaside village of Arkassa.  Yes, it's touristy but it still keeps its tradition and quaintness with stone houses and central church. There's also a lovely sandy beach here to relax on once you've had a good lunch in one of the many tavernas.
Finiki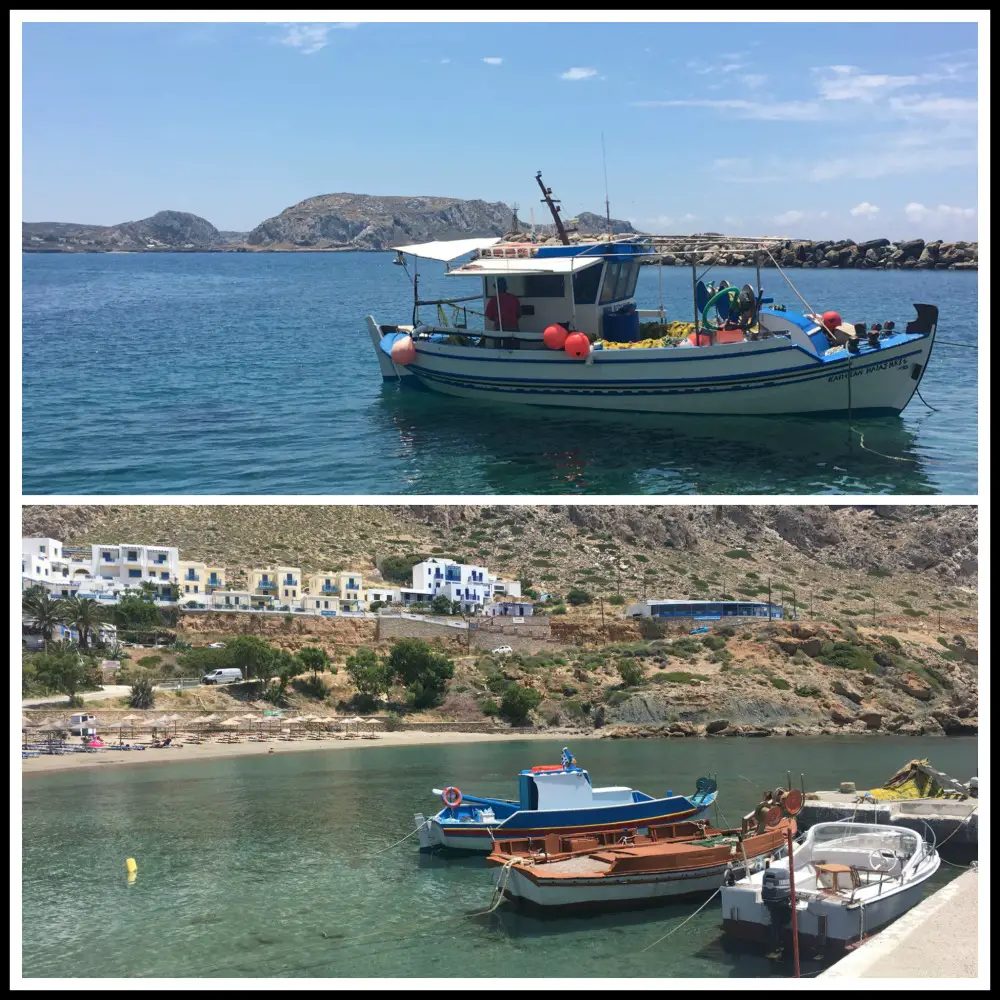 One of my favourite seaside villages, it's 18km (11m) southwest of Pigadhia and has such a pretty location.  It's not really been touched too much by tourism and you'll be able to dine at one of the few tavernas along the front there amongst the locals.  As with Arkassa, you'll find a lovely sandy beach, not too big, so roll into the taverna or sea – literally – before/after your meal.
My favourite restaurant was the Delfini restaurant (meaning 'Dolphin').  Family run, it offers  good meat grills and seafood – plus cheese made by the owner's mother, and olive oil grown and harvested on their land and vegetables grown on the land too.
Amoopi
6km (4m) south of Pigadhia, whilst Amoopi is more of a beach destination, it has a small church and a good selection of places to stay, to suite all pockets (more on that in my other post).  It's quiet and the sandy beach offers shallow waters – making it great for families.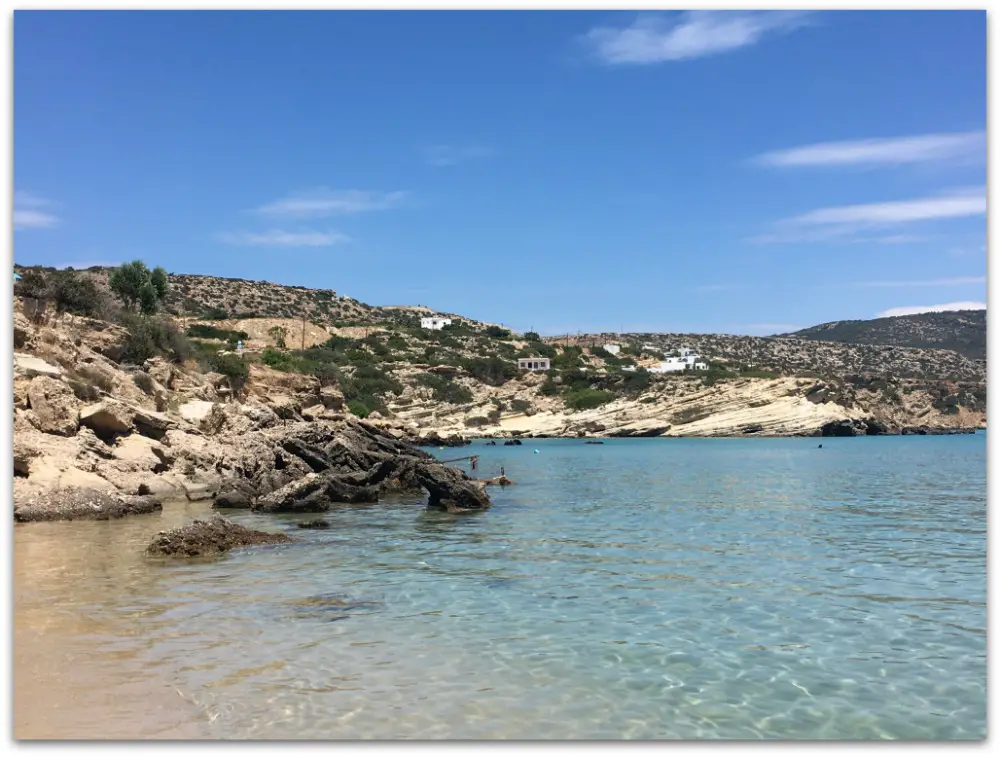 Lefkos
31km (19m) over twisty-turny roads from the capital, making the time of the journey longer than you'd think, you'll come to the small beach of Lefkos.  It's partly nestled in pine forest cascading to the sea and once again, a fine selection of accommodation can be found, as well as tavernas that front the sea.
Olymbos
This has to be the highlight of any visit to Karpathos – but be warned; if you choose to visit this remote mountainous village by car, where the women still dress in traditional garb, although the road is now paved, it hugs the mountainside perilously and at 58km (36m) from the capital, can take up to and/or over and hour and a half to reach.
But it's worth it.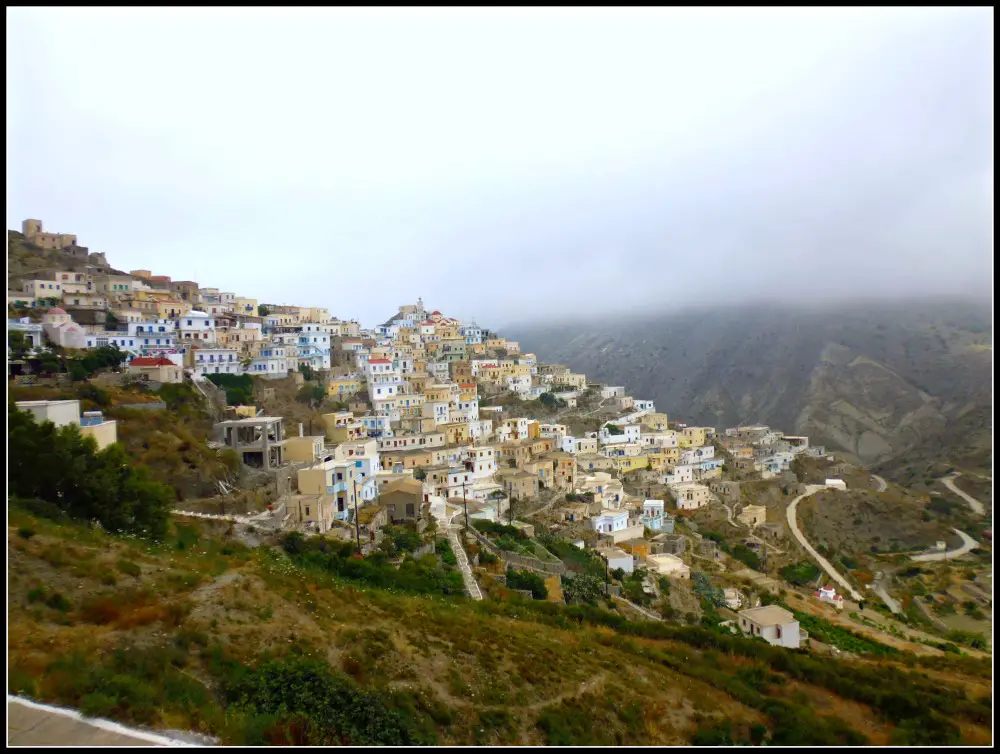 More often than not, it's a good few degrees cooler up here as it's almost permanently nestled in the clouds (it's 2,918m – 9,573ft), so bring a jumper.
With a permanent population of just over 400 people, you can rest assured they love to see the tourists in the summer months.  Maybe this is the reason for their attire.  It's certainly impressive.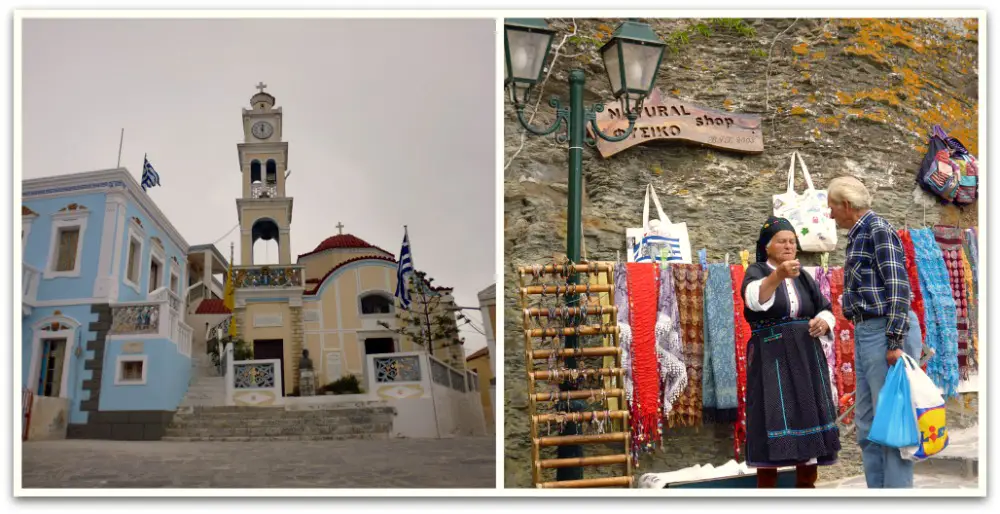 Another way to reach the village is by ferry boat from Pigadhia to the nearest ferry port of Diafani, then a bus will take you the rest of the way to Olymbos, and back again later in time to take the ferry back.  Make a day trip out of it and travel by this way, I'd suggest – unless you are a really confident driver!  Personally, the twisty-turny roads make me feel sick in the end, and constantly worrying if a huge truck will come in the other direction spoils my enjoyment.  Far better to travel by sea and enjoy myself.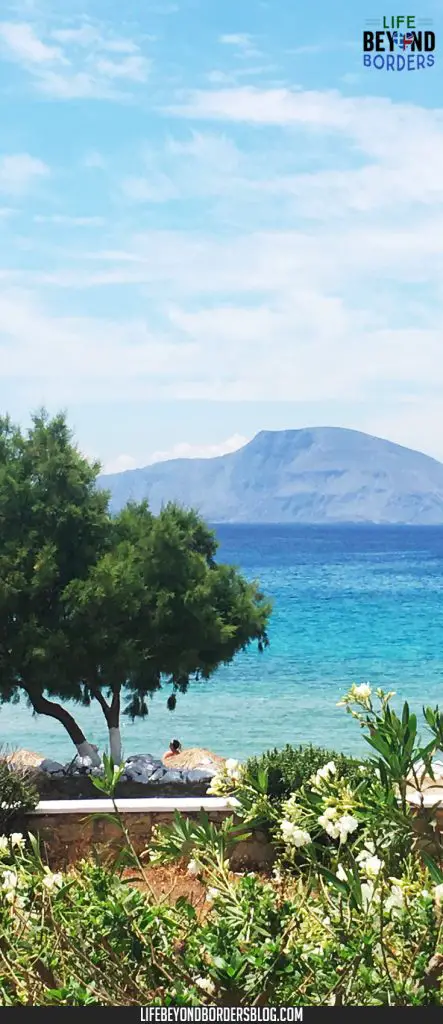 Things to do on Karpathos – Hiking
Karpathos is well-known for its hiking, due to its mountain vistas.  You can choose your level of difficulty and length of time.  They can range from anything from 2 – 5 hour hikes and take you though the most glorious scenery and views across the Mediterranean sea.  Let Ecotourism Karpathos prepare a programme for you.
Things to do on Karpathos – Windsurfing
Due to the strong winds on some of the beaches, Karpathos is an excellent windsurfing spot.  But if you've always fancied trying your hand at the sport, Chris School Windsurfing School can take you to calmer places and offer you lessons.
From charming traditional villages to relaxing by the sea, to more adventurous sports, I think you'll agree that Karpathos has it all.  I hope you'll consider visiting this beautiful Greek island.
PIN for later