I recently wrote a post about things to do on the beautiful Greek island of Karpathos, in the Dodecanese chain of islands.  But obviously if you're going to travel so far to such a remote Greek island to see such a gorgeous place, naturally you'll need to stay somewhere, and somewhere good.  Let's take a look at where to stay on Karpathos island, Greece.
For your very own free downloadable Greek island packing list ideas, click here.
Where to stay on Karpathos – the port of Pigadia
Pigadia is the main port of Karpathos island and offers a wide variety of places to stay.  As it's the main base, alas it gets very touristy, meaning many of the hotels cater to package holiday crowds – which aren't personally my thing.  However, if you're willing to go a little out of the town – yet still within walking distance and don't mind not having a room overlooking the beach – you'll find a lovely choice: Hotel Alex.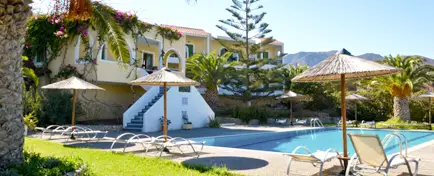 Nestled at the base of the lovely pine forest that extends from the mountains, Hotel Alex has it's own landscaped gardens and swimming pool and offers 25 rooms, all with a pool view and buffet breakfast using local products.  It's run by a family from Karpathos, so if you book to stay here, you'll be assured of a genuine experience, and also local knowledge.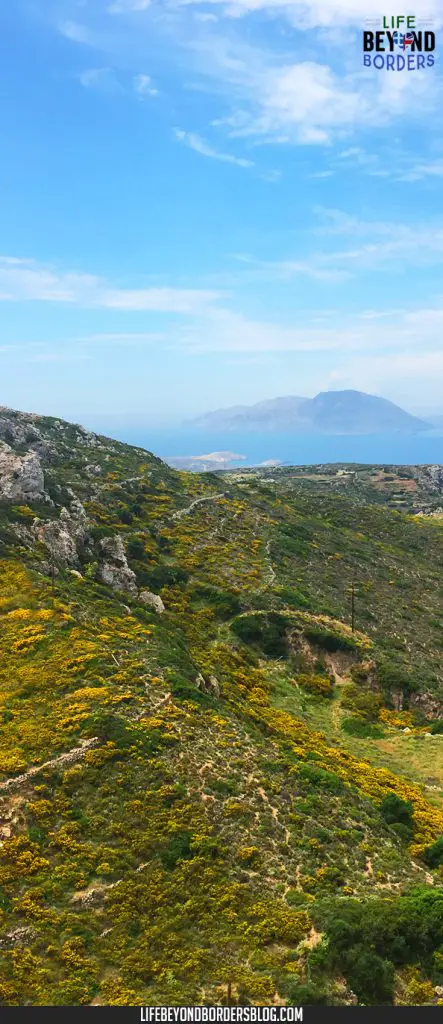 Where to stay on Karpathos – the village of Lefkos
As mentioned in my Things to Do and See in Karpathos, Lefkos is quite a way from the main port of Pigadia via twisty-turny roads up, then down through the mountains.  But it's worth coming out here.  If you choose to base yourself in this neck of the woods (literally!), I'd highly recommend the Lefkorama Hotel.  OK, it's not right on the beach like some of the properties, but its ten rooms are nestled in pine woodland, has breakfast included in the price and free wi-fi, all have balconies and sea views and the best bit; it's another place that's run by a local Karpathian family who can offer great tips on where to visit, eat, etc.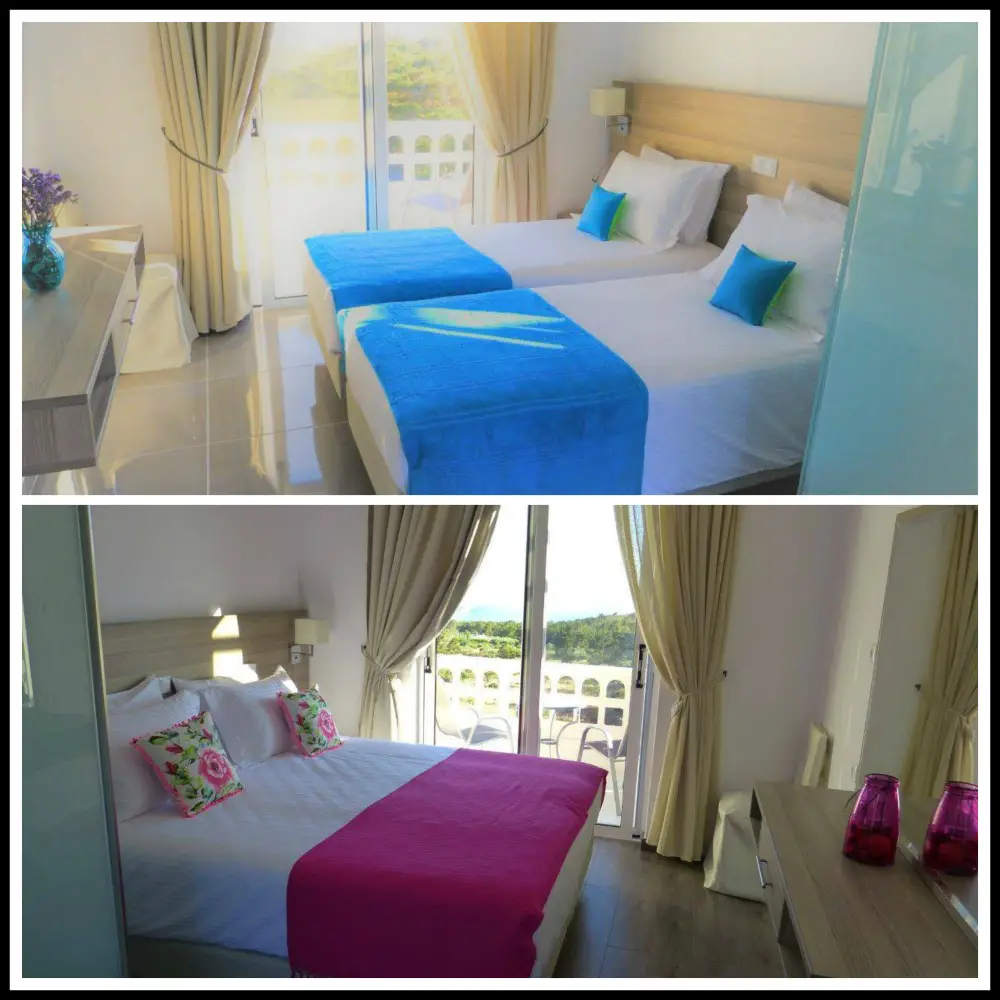 Plus, their son runs the local Euromoto car hire in Pigadia, meaning car hire can easily be arranged at competitive prices.  The car can be picked up or dropped off for you at any location.
Be sure to mention Life Beyond Borders when you make your reservation for a discount.
Where to stay on Karpathos – the beach of Amoopi
This has to be my favourite location of all to be based, and a spectacular hotel in my opinion.  Amoopi is just far enough outside of the bustle of Pigadia to be a quiet place (5 minutes drive), and offers its own beach.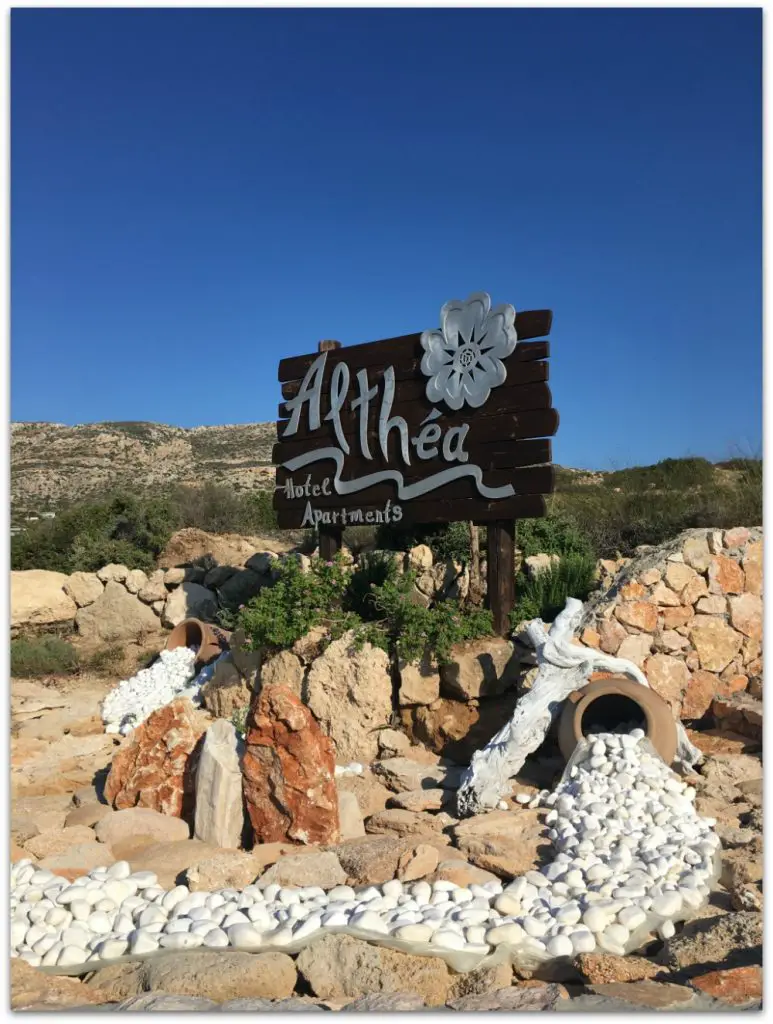 My highly recommended place is the boutique experience of Althea Boutique Apartments. It's a 10 minute walk to the beach, the sixteen suites all have their own personal touches that make a stay at the Althea a unique experience.  With sea views from the orthopaedic mattresses – some with iron bedheads, some four-poster – and bits of driftwood made into artful lamps for example, it makes it hard to want to actually leave this place!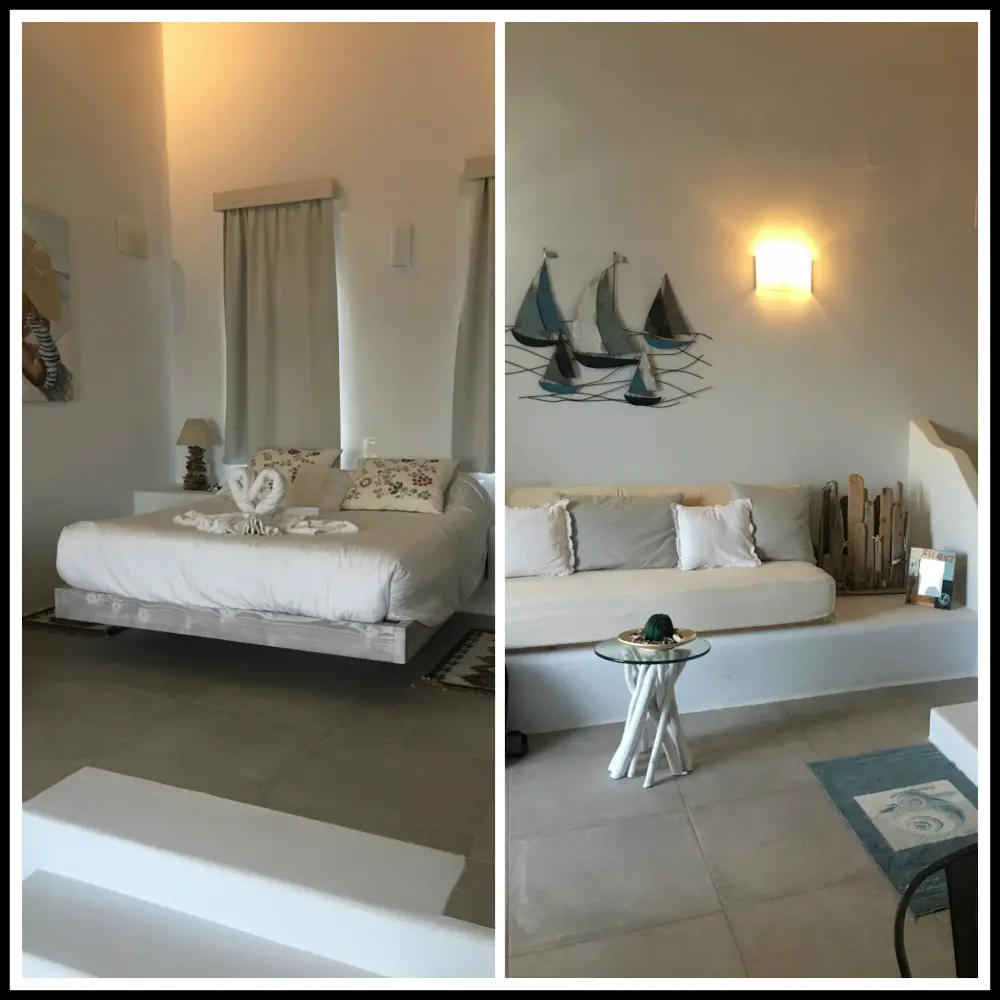 All have patios for chilling out on as you watch the setting sun, and you'll be set up for the day with the three course breakfast of croissants (inc. chocolate – yum!), fresh fruit and yogurt plus a hot dish of the day such as Karpathian omelette – all made with vegetables grown on the property.
A true Karpathian experience!
So I hope I've tempted you with your accommodation choices on Karpathos and made your planning easier.  There are, of course, many other villages to explore and stay – for example the remote, mountainous, traditional village of Olymbos.  There are a range of accommodation options there, take a look.  Whilst it's way up in the mountains, it's an interesting place to stay for a couple of nights, maybe not your whole time on the island due to its location.
Have you been to Karpathos island, Greece?  Anywhere you've stayed that you'd particularly recommend?
PIN for later