Zakynthos is a popular holiday island located in the Ionian sea / chain of islands on north west coast of Greece.  You can take a direct flight to Zakynthos from many European airports, or if you're in Athens, it's possible to take a bus to the port of Kilini and travel to Zakynthos by ferry.  Come and read about one of the better Zakynthos accommodation and where to stay.
There's much to see and do on Zakynthos including:
 Zakynthos Accommodation – Argassi Beach
Being a popular island, both with luxury and boutique clients and especially a package holiday destination, one place I particularly enjoyed staying in is the Windmill Bay Aparthotel in Argassi- part of the Windmill Hotels Zante that also offers accommodation down the road at Windmill Studios.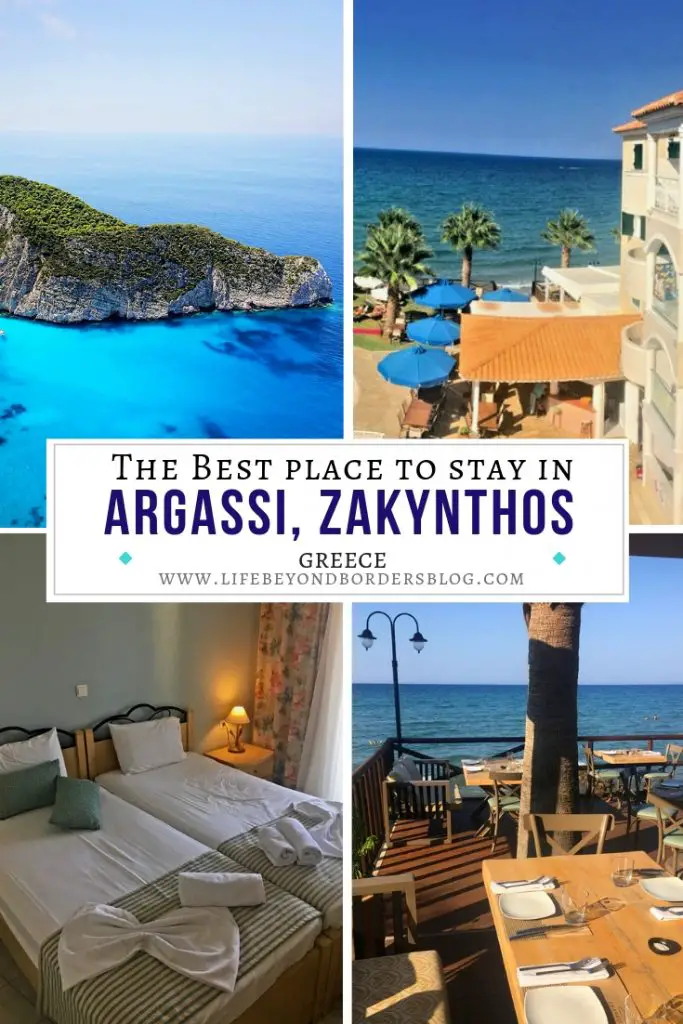 Note: I was a guest of Windmill Bay Aparthotel. All opinions and views are my own
Argassi beach is a very touristy destination, only 5km from the capital, Zakynthos Town and offers 1km of golden sand, water sports and the usual bars and tavernas that you'd expect to find from a package holiday destination.
Zakynthos accommodation – Windmill Bay ApartHotel in Argassi
I was lucky to base myself here for a short time. The Windmill Bay Aparthotel rooms are all actually 42 studio apartments sleeping between 2 -5 people with large bedroom, kitchen and dining area (equipped with hob to make light snacks, fridge/freezer, microwave, kettle, sandwich maker and cupboards to store everything) plus separate living area – and all have balconies with views to the pool and sea as Windmill Bay ApartHotel is right by the sea – great accommodation for couples and especially families.
My video gives you a much better perspective of the accommodation and how large it really is. As I was on my own, I felt like I should leave bits of clothing in each room to make the most of it!
Windmill Bay Aparthotel is one of the best hotels in Argassi to base yourself if you're looking for a beach holiday of pure relaxation, in a home away from home environment.
Zakynthos accommodation – Booking Windmill Bay in Argassi
A lot of the UK (and Scandinavian) package holiday firms have Windmill Bay on their books such as TUI, Jet 2 and Apollo – basically the firms that have direct flights to Zakynthos.  You can also book through Expedia and Booking.com, but you may get a better deal if you choose to book yourself directly with the hotel. For example, regular deals come up such as 15% off in low season (May and October).
It's not a place that is open throughout the year and tends to open whenever Greek Easter starts (Greek Easter is rarely the same time as UK Easter, so double check dates) and is almost always closed by November.
Anadalis Restaurant
For me, one of the highlights of my short stay was a meal at Anadalis Restaurant.  Opened in 2015, it's attached to Windmill Bay and offers fine Mediterranean dining with a 'twist' where one can sit outside by the sea with gorgeous views across to Zakynthos Town.  Definitely a place for meat lovers, take a look at their menu.  Reservations are highly recommended as it's not a place just for hotel guests.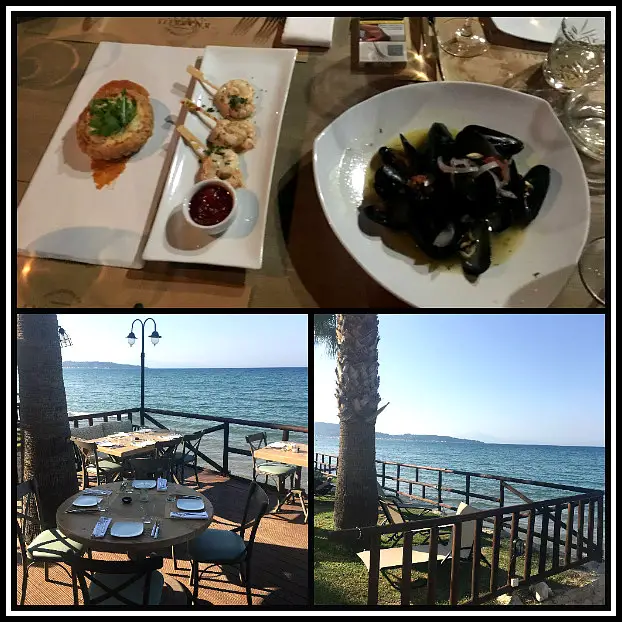 All in all, as a best hotel in Argassi, Zakynthos – the Windmill Bay Aparthotel is a good choice for a week's vacation if you want to relax and unwind with plenty of space and good value for money.
PIN for later