Ahh Greece: culture, islands, tradition and aesthetic beauty.  As followers of my site will know, I am a huge Grecophile and love all things Greek.  I particularly love exploring new destinations and showcasing them to you on my site. Greece isn't only made up of her islands, however – as I have mentioned countless number of times.  I've had the opportunity to explore the Agrafa mountains in the Karditsa area of central Greece, take a trip around Mount Parnassos and Delphi, visit the relatively undiscovered region of Methana in the Peloponnese and spend a weekend exploring the region of Nafpaktos.  Who knew there was so much on the mainland to explore?   Well, apparently another very popular region of the mainland is Pelion. Let's explore more here.
**Despite any complimentary services received, all thoughts and opinions remain my own**
Where is Pelion?
Pelion is actually a mountain in the south eastern part of the Thessaly region of Greece, forming a peninsular with several traditional and unique villages.  The nearest airport is  in Volos, the biggest town in the Pelion region.  Volos is actually a great starting point and good place to base yourself if you want to explore the region and stay by the sea.
It's 203 miles (326km) from Athens by car or bus, approx. 4 to 5 hours driving (depending on traffic and weather). You can also travel to Volos from Thessaloniki in the north of Greece, and is actually nearer – 134 miles (215km). The journey takes about 2.5 hours. There are many regional buses that connect to Volos, timetable here.   For more information on flights to Volos, see here.
So what can you do in Pelion?  I have written about Hiking in Pelion, introduced the gastronomy of the region by looking at What to Eat in Pelion, but one of my favourite activities was being escorted around and exploring the beautiful villages.
The Villages of Pelion
To explore the region properly, you'll need a car.  Buses to the villages and tiny hamlets are few and far between, so a car or organised tour is the best bet.  We were transported around the region by private bus with Les Hirondelles Travel Agency.  And three cheers to the bus driver! The roads around the mountain are twisty and turny and the day we explored, quite snowy and wet and the bus driver did a fantastic job.  If you're prone to motion sickness, be aware of the twisty turns.  But it is so very worth it.
Village of Pelion – Accommodation
We stayed for two nights in the historic village of Tsagarada – first discovered around 1600 A.D. and known as the backbone of Mount Pelion, nestled amongst the meadows and wild flowers – at the Aglaida Apartments (click on the link and if you book, I will get a little bit of commission but at no extra cost to you), a selection of large apartments in stone houses that also offer fireplaces in the rooms.  It's a cozy feel, especially in the winter as it snows up here!  There's also an outdoor pool to use in the summer.
Villages of Pelion: Zagora
The biggest traditional village in the region, it used to be a place where silk was produced and a trading centre until the 18th century.  Now you can wander and photograph the picturesque church square as well as marvel at the fact that their library actually houses 1000's of rare manuscripts.  For lunch, the traditional restaurant of O Patis is a lovely cozy environment with wood burning stove and Greek meze dishes.
Villages of Pelion: Ski Centre
Yes, it's even possible to ski in Greece!  Pelion has its own ski centre at Agriolefkes, sitting at over 3,900 ft (1200 m) in height.  With a total of 7 miles (12 km) of ski runs and a ski school plus a view all the way down to the sea, it's a fabulous opportunity to partake in an activity you wouldn't normally equate with Greece.  Pelion Ski can give you more information (website in Greek).  Here the Travel Bloggers Greece crowd all posed for a photo.
Why not stay at the nearby Manthos Hotel and Spa Resort?
Villages of Pelion: Vizitsa
This tiny village offers a Women's Cooperative offering a huge selection of homemade jams, marmalades and 'sweet spoons' – a Greek phrase for the small desserts a Greek person will offer you when you visit their house.  We were given a jar of apple sweet spoon, and I highly recommend visiting and supporting this initiative.
Villages of Pelion: Milies
The attraction of this village is most definitely the Church of the Archangels.  Step inside and it'll take your breath away, literally.  The frescos – smothered in black grit and not discovered until the church was restored in 1741 – are magnificent and the feeling of peace emanated from the walls is truly settling. Note: It's possible to reach Milies by quaint old railway train.  See below.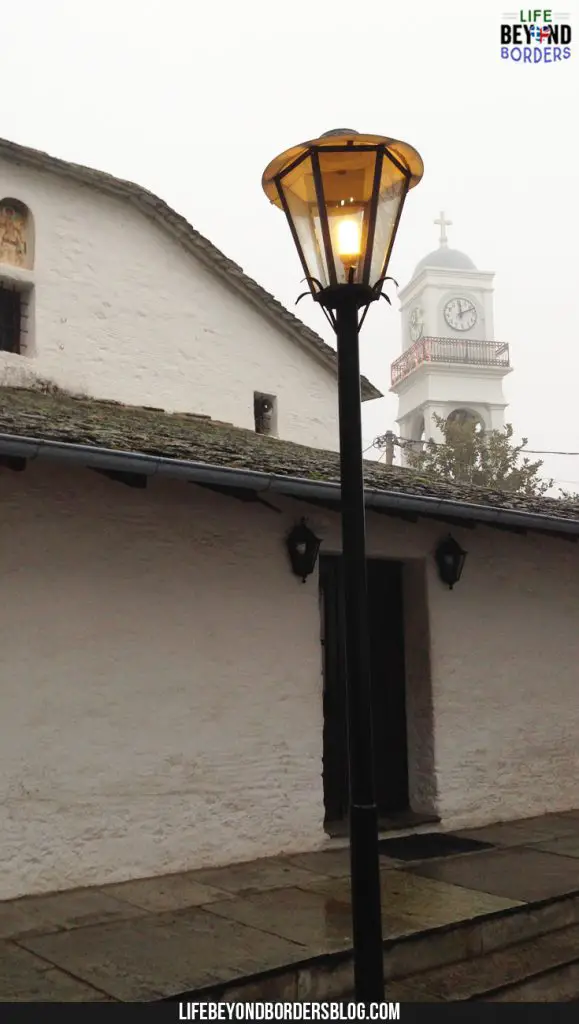 Ano Lechonia Train Station
This is a place right out of E. Nesbit's famous book then film The Railway Children.  The vintage style train station in this village houses the "Pelion Train" whose operation started over a century ago between the town of Volos and the village of Lehonia and then extended onto Milies in 1903.   It's still in operation and runs for 18 miles (29km) over lush landscapes and many bridges. At time of writing, return rail fares are €18 for Adults and €10 for Children. Call the Volos Railway Station for more info: +30 24210 39723
Villages of Pelion: Makrinista
My favourite village in Pelion.   Granted, it's quite touristy, even in winter (mainly Greeks) but wandering around its cobbled lanes and stopping to marvel at the lion's fountain in the village square, the ancient plane trees and the houses with traditional slate roofs, it's easy to see why it's an attraction.  It's also understandable why it's nicknamed the 'Balcony of Mount Pelion' when you look at the view stretching all the way down to the coast.
There are many more villages in Pelion to discover, especially by the sea, such as Fakistra, Milopotamos, Agios Ioannis and Papa Nero on the Aegean Sea side, or Kala Nera, Afissos and Ano/Kato Lehonia located on the Pagasitikos Gulf.  Ano and Kato Lehonia is where the train starts its journey up to the villages in the mountain and in both the Upper (Ano) and Lower (Kato) parts of the village you can marvel at the old, neoclassical mansions.
Conclusion
You'd need at least a week to properly explore this unique region of Greece.  My suggestion? Do your research and choose a couple of places to explore, mix it with some skiing and have a quality experience.  Don't try to fit in too much.  As I had joined a Press Trip then we were ensured to see a lot in a short space of time, thus offering a taster of the region. I'll definitely be coming back.
Pin for later