Bristol is one of my favourite cities in the UK.  My Things to see in Bristol post shows you what you can see and do here.  I've been fortunate enough to visit Bristol on a few occasions and have stayed with friends and was hosted by the luxurious Bristol Harbour Hotel on one occasion.
This time, I decided to have a luxury hosted serviced apartment experience in the city with the Berkeley Suites.  Let's see what my luxury serviced apartment in Bristol was like.
Note: Despite any complimentary services received, all thoughts and opinions remain my own.
There will be affiliate links throughout this article, meaning if you choose to purchase anything through these links, I receive a small amount of commission at no extra cost to you.
 The Berkeley Suites Bristol

Located in Berkeley Crescent, in the centre of the city – a short walk from major attractions and eateries, the Berkeley Suites are just around the corner from the Berkeley Square Hotel; voted one of the best boutique hotels in the UK for under £100 a night.
The Berkeley Suites offer five luxury serviced apartments in Bristol, situated in a Grade 2 listed Georgian building.


Why stay in a serviced apartment as opposed to a hotel?
I love staying in serviced apartments.  I've stayed in a luxury serviced apartment in London and thoroughly enjoyed the experience.  Mostly I like the freedom to come and go, and the extra space; my own sitting room for example.  The same applied to my Berkeley Suite experience in Bristol; it was a home away from home…to go out sightseeing and experience all Bristol has to offer, and then return home to my own space was wonderful.
What do the Luxury services Berkeley Suites Bristol offer?
From the minute you step into your Berkeley Suite luxury serviced apartment, a sense of peace washes over you – and I'm not exaggerating.  The door opens straight into the living space, and unique to Berkeley Suites is the state of the art cinema projector that projects 'living art' onto the wall – changing images of nature; no sound…just relaxing, peaceful images that actually make sitting staring at a wall not so crazy!  Alternatively, it can also show TV channels and you can link your laptop up to it.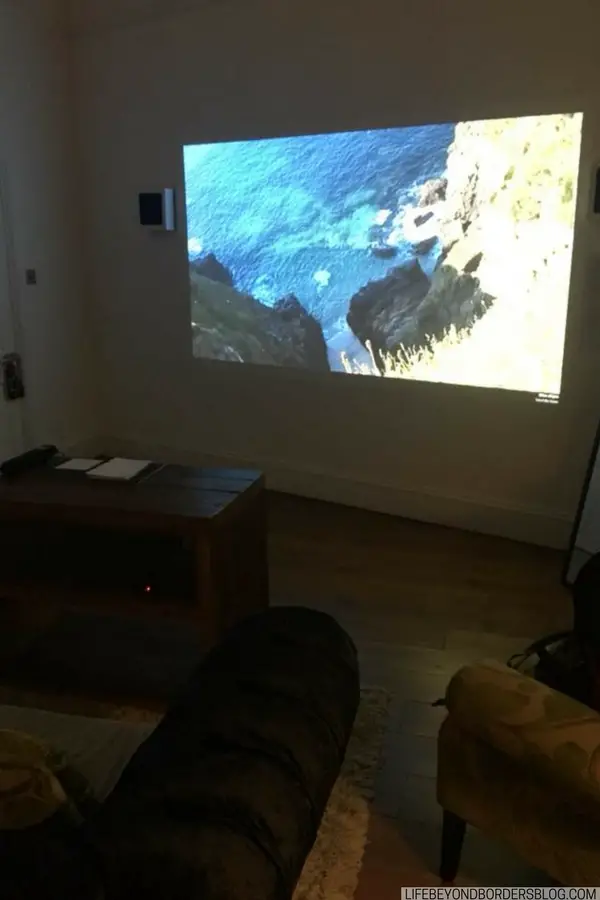 In the tastefully, comfortable living room there is also a small kitchenette cleverly hidden away behind a dresser.  Opening it up reveals a convection hob, kettle, microwave, dishwasher and Delonghi espresso coffee maker with milk frother.
Move into the double bedroom and the bathroom is cleverly divided by glass partition, in my apartment there was the original Georgian fireplace there too.
Click through below to see images of Luxury Services Apartments – Berkeley Suites, Bristol
For more images of Bristol, head to my Instagram account.
Added extras for staying in the Berkeley Suites – Bristol
The great thing about staying in the Berkeley Suites is the free use of the Nuffield Luxury gym, located a mere 5 minute walk from Berkeley Crescent and offers a plethora of classes such as spinning, yoga and pilates, a fully equipped gym, sauna and pool.  Great if it's raining and you want an alternative to traipsing around, or good for the business traveller who needs some exercise after long meetings.

Looking to move out of your (albeit well hooked up to wi-fi) suite and work in a more creative environment, with people around you?  Head to The Square Club then.  It's just around the corner, within the Berkeley Hotel, and is a place with big comfy sofas, more of that Living Art projected onto the walls and free tea and coffee, plus lovely shortbread biscuits.  It makes a great co-working space and through my stay, when I inevitably had to knuckle down to some work, it was a pleasure to work in The Square, surrounded amongst likeminded people.

Things to Note about the Berkeley Luxury Suites in Bristol:
No lift/elevator in the Berkeley Luxury Suites, but staff on hand to help you with luggage up the stairs as the suites are on two levels
Check in from 3pm
24 hour reception at the Berkeley Square Hotel
Great breakfast range taken in the dining area of the Berkeley Square Hotel
Costs from £262 per suite per night (Dinner, Bed and Breakfast) – The Square Kitchen is award-winning (should you choose not to prepare anything yourself) and all the menu is available as Room Service too
Check more rates here
Conclusion
I love staying in luxury serviced apartments as a change from hotels. As mentioned; they give you privacy and that home away from home feel. There's not the pressure to feel you have to get up by a certain time in the morning to allow the housekeeping in, or be down for breakfast at a certain time (unless you choose the breakfast option when staying at Berkeley Suites – and highly recommended!)
I would recommend the Berkeley Luxury Suites in Bristol to anyone visiting the city.  Whether on business or for a weekend break to the city, they are well worth checking out.
PIN for later