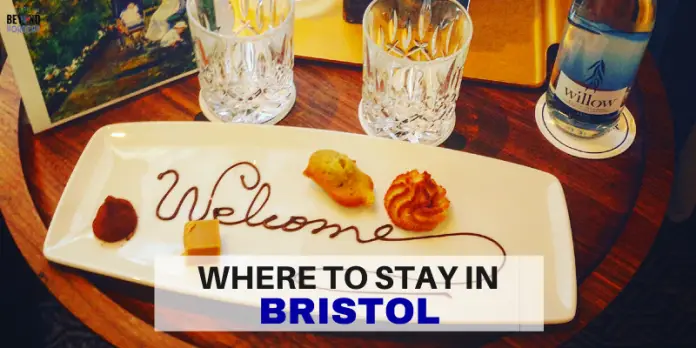 Being a girl from the West Country of England, I'd never though to explore the county city of Avon – Bristol.  I don't know about you, but as a travel blogger I tend to immediately think to travel further afield and explore.  But having spent a lot of time abroad, the more I come back to the UK and my home area of the West Country, the more I see it through alternative eyes…this has prompted me to explore more in my own backyard.
And so on a mini-Press Trip to Bristol, I was offered the opportunity to stay at the Bristol Harbour Hotel.
**Disclosure: I was a guest of Bristol Harbour Hotels.  All opinions expressed here are my own**
Bristol Harbour Hotel
Located bang smack in the centre of Bristol, the Bristol Harbour Hotel had been recommended.  It's the City Centre's newest addition to 4* boutique luxury; 42 rooms ranging from Superior, Deluxe and Corner Suites.  It had been refurbished in 2017 with  spa and indoor and hydrotherapy pool.  The Bristol Harbour Hotel is the newest addition to the Harbour Hotels group who also offer discreet luxury and boutique establishments in Brighton, Dorset, Devon, Cornwall, Surrey and Hampshire.
The building
As I was shown around the building, what stuck me as unique about the Bristol Harbour Hotel was, what can only be described as its architectural glory.  You see, the hotel's housed in the original Lloyds Bank Headquarters and Midland's Bank, the Lloyds building being Grade 2 Listed and with a facade inspired by Sansovino's 16th century venetian Library whilst the former Midland Bank building is Grade 2* listed.  What this means, basically, is that renovations must adhere to strict regulations and retain the splendour of old.  When you see the outside of it, you'll understand why.
A huge events space is situated in the former banking hall of the Lloyds building, whilst the spa will be opened in the former basement bank vaults.  It sounds a little claustrophobic, but trust me; as I wandered around the admittedly rabbit warren-like vaults, to me it had been cleverly designed and felt more cosy, with some remarkable old vault features in the treatment rooms.
Bristol Harbour Hotel rooms
As mentioned, the Bristol Harbour Hotel offers three styles of rooms:
Superior Double or Twin
Deluxe Double
Corner Suites
All are, as far as I'm concerned, well designed and finished off with attention to detail.  All offer en-suite bathrooms, with the corner suite offering a luxurious roll-top bath in the bedroom, and walk in monsoon shower in the bathroom.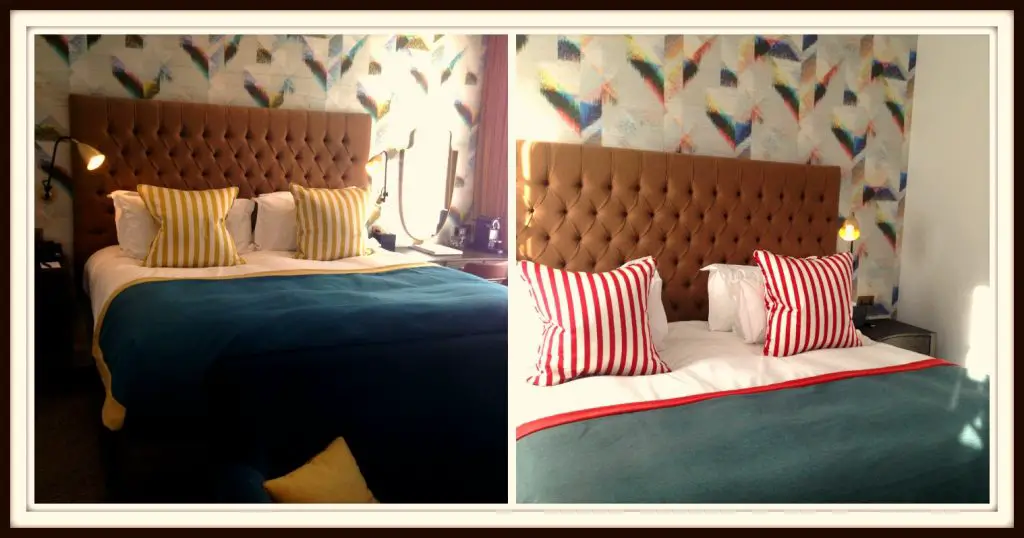 My Bristol Harbour Hotel experience
From the minute I stepped through the door, I was greeted with warm smiles from the Reception staff.  The Reception area is temporarily housed at the corner of the building, at the same entrance to the multi-award winning Jetty Restaurant. This will change once the hotel is fully completed and the Reception entrance will move to the wonderful former Lloyds building front – that architectural masterpiece I mentioned previously.
Corner suite
I was to stay two nights in a corner suite on the second floor, overlooking the thoroughfare of Corn Street which housed some of the city's oldest buildings, now turned into coffee shops, bars, restaurants and boutique eateries.  You'd think that being in such close proximity to the nightlife, it might affect a good night's sleep, but no, Bristol Harbour Hotels think of everything; they provide earplugs in the room – not that I needed them.
And the bed – oh my!  I felt like I was in a Disney movie!  At first glance it looks quite high off the ground, and in actual fact it is quite.  That's because – in my inelegant words – it's so 'puffed up'.  By this, I mean you have about four feather pillows, other decorative pillows, a huge feather duvet and then a feather mattress topper.  And don't forget the Egyptian cotton sheets and duvet cover.  When I fell into bed on the first night, I was literally asleep the moment my head hit the pillow.  This was probably aided by the complimentary gin and sherry – provided in all rooms, and, of course, that roll-top bath!  Yes, you can bet I had a good soak before bedtime.
I had no time to feel like 'Beauty and the Beast' or 'The Princess and the Pea' – in fact, strike that. Didn't the princess in that story have a bad night's sleep because she was sensitive to a tiny pea underneath all the mattresses and feather toppers?  Not this princess, believe me!  If you're after a good night's sleep, go to the Bristol Harbour Hotel.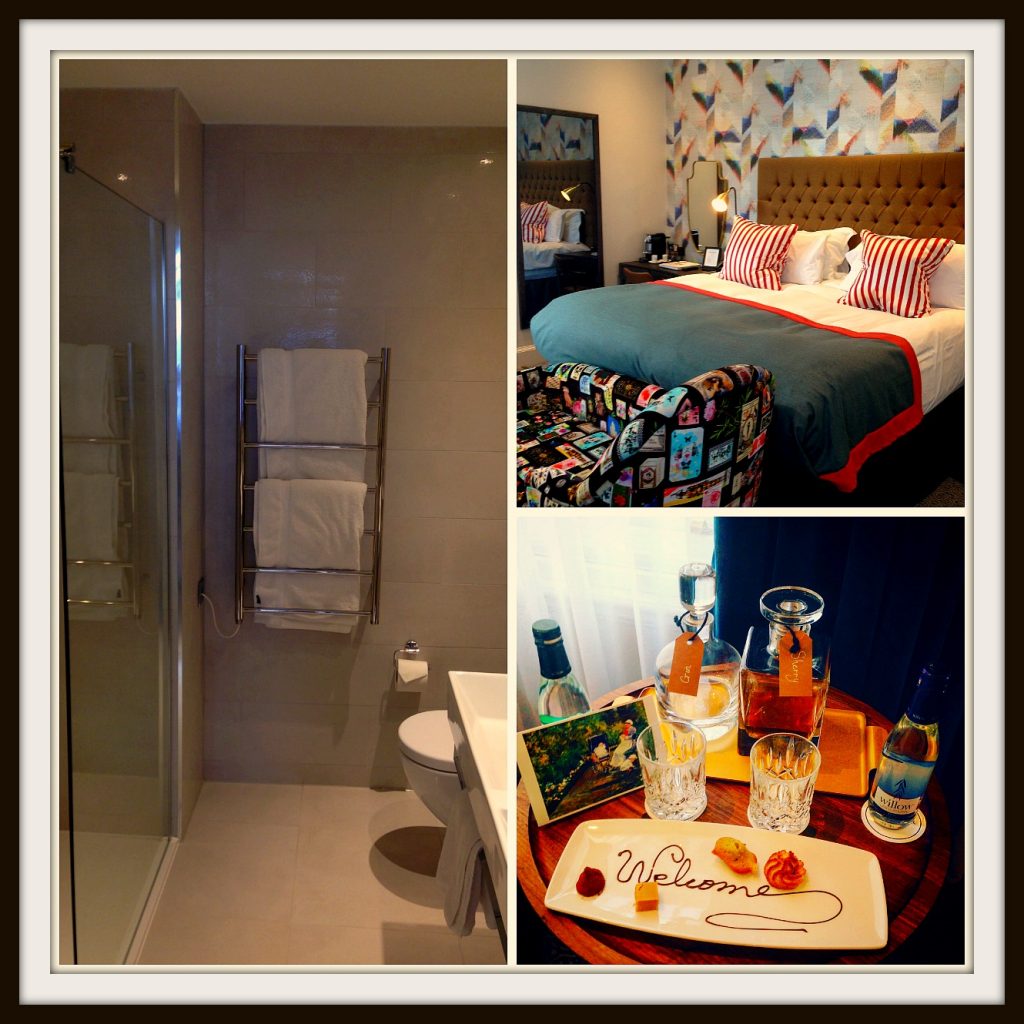 The Jetty Restaurant
As mentioned before, the hotel comes with a multi award-winning restaurant where one can take their breakfast, lunch and dinner.  It's also open to non-resident guests and offers High Tea.  This is the place I ate a complimentary dinner on my first night and breakfast on both mornings of my stay.
The menu was extensive, yet not pretentious.  The a la carte menu, which myself and  Heather dined from, offered many fish options, and even though we had the option of a three-course meal, because I'm aware my eyes are bigger than my stomach, I chose fish and chips (cod) with gluten free batter, 'fat' chips – which were incredibly light and fluffy, I have to say – and crushed peas with homemade tartar sauce.  You can bet your life I ate it all up!
For dessert, I chose the peanut butter parfait: Salted toffee popcorn crunch and toasted marshmallows.
As I say, something a little different and special, yet not pretentious.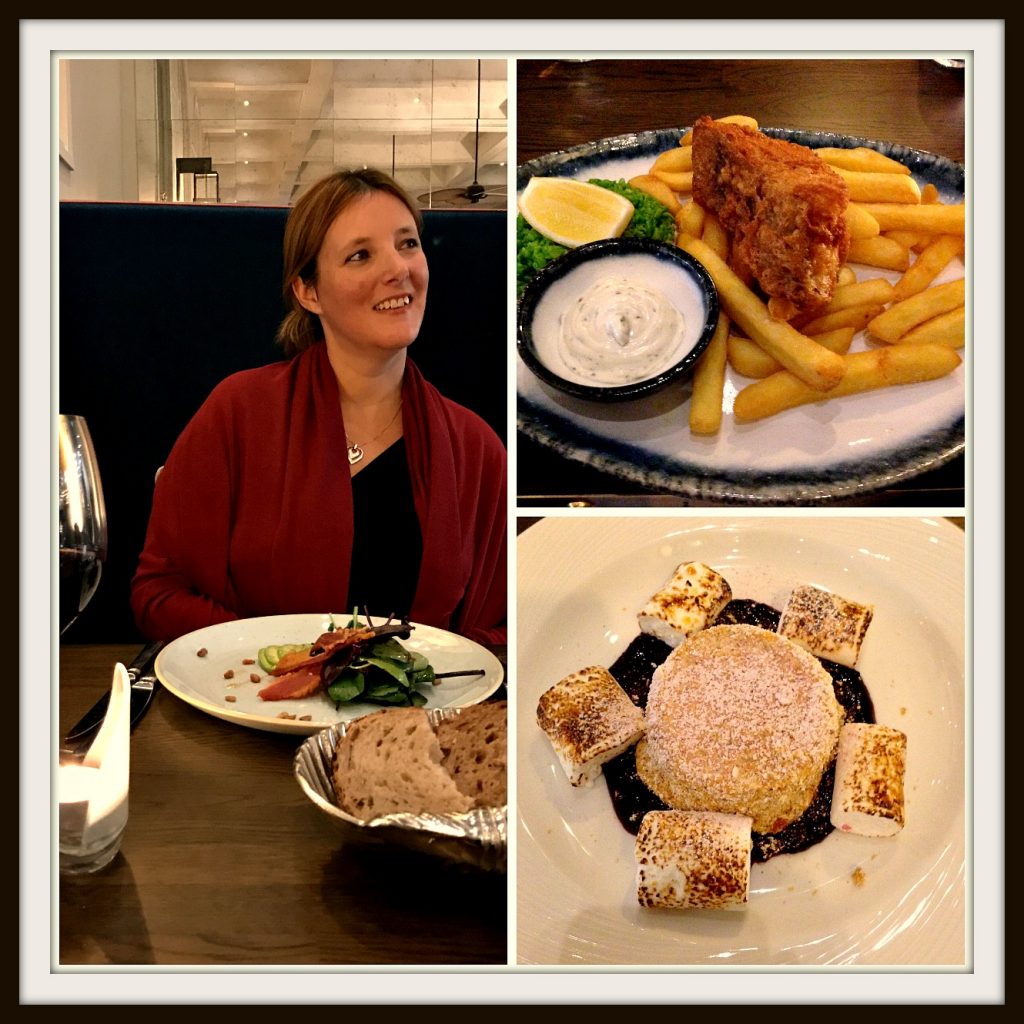 Being back in the UK, breakfast on both days was obvious: a full-English fry up!  Instead of toast I requested fried bread (you can't quite remove my good 'ol East London caff roots) with a small pot of tea and freshly squeezed orange juice.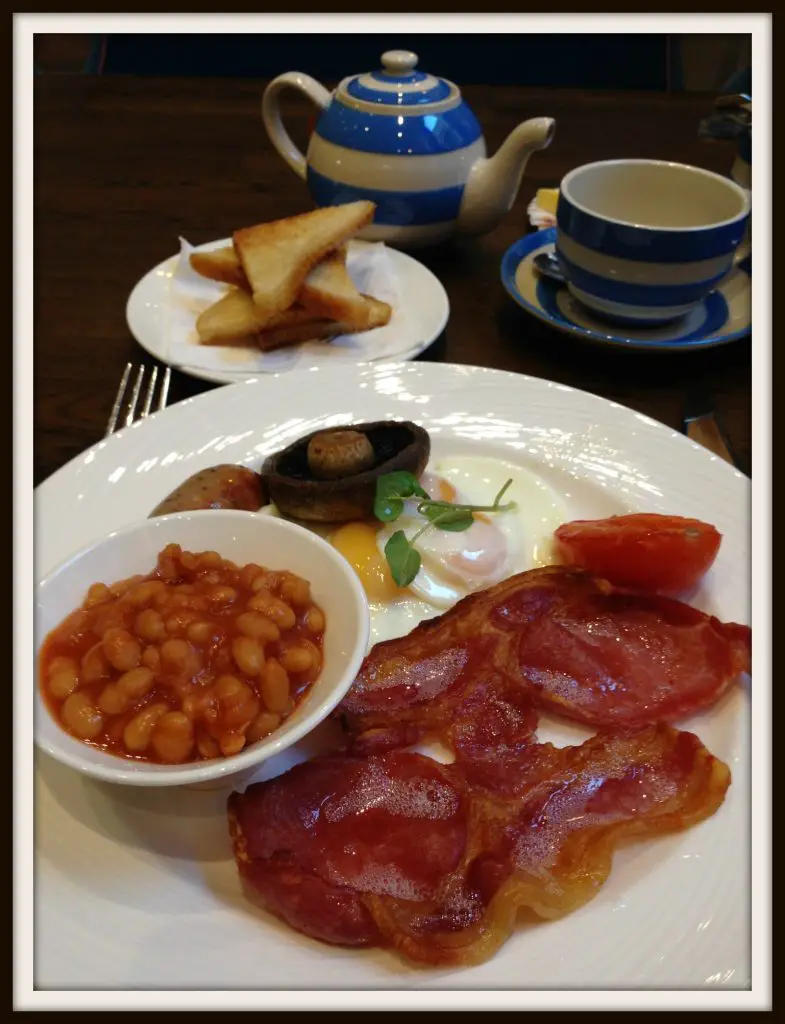 The Jetty Restaurant at the Bristol Harbour Hotel offers Vegetarian, Vegan, Gluten menus as well as Sunday Lunch and speciality menus such as for Burns Night, etc.
Conclusion and Facts
If you're looking for a special weekend break in a city approx. 1hr 30 mins from London by train and looking to stay in discreet, luxurious surroundings amidst historical buildings and architectural wonder, look no further than the Bristol Harbour Hotel.
Due to Covid 19 in 2020, there have been a range of room rates and opening dates, hence it's best to go to the hotel's website to check their room rates. 
All rooms feature mini-bar, baths and showers (only the corner suites feature the roll-top bath in the actual bedroom), complimentary decanters of gin and sherry, Wi-Fi access, bathrobes and slippers plus hair dryer.
Don't just take my word for it though. Head to TripAdvisor for unbiased reviews and special offers.
Spa and Jetty Restaurant open to non-residents.
Make sure you go and experience all the Bristol Harbour Hotel has to offer and report back to me how you found your stay.
PIN for later