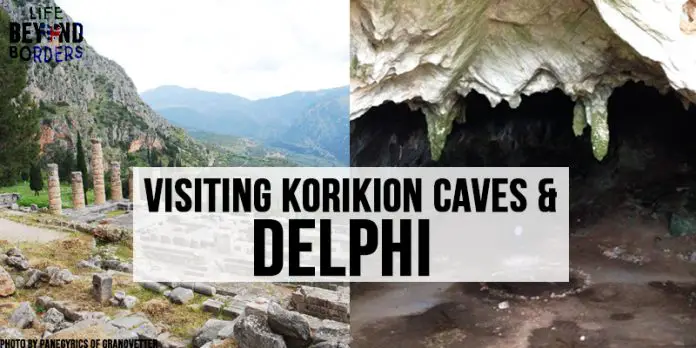 My trip to the Central Greece region included a wine tasting experience, a visit to a UNESCO Monastery and Archaeological site and a Visit to Mount Parnassos in off season travel in Greece.  When the offer of further visit to a 'haunted cave' came up, I jumped at the chance.  Also a tour of the archaeological site of Delphi.
Here we'll look at the Korikion Cave – a good starting point for a trek to Delphi.
**As always, all thoughts and opinions remain my own, despite any complimentary services received**
Korikion Cave, Delphi – Central Greece
Driving along an incredibly rough track (note: Four-wheeled drive recommended), but with superb views, my host from Fly Me to the Moon and I eventually parked and after walking for about five minutes, came across the Cave of Korikion Andron (sometimes spelt Corycian).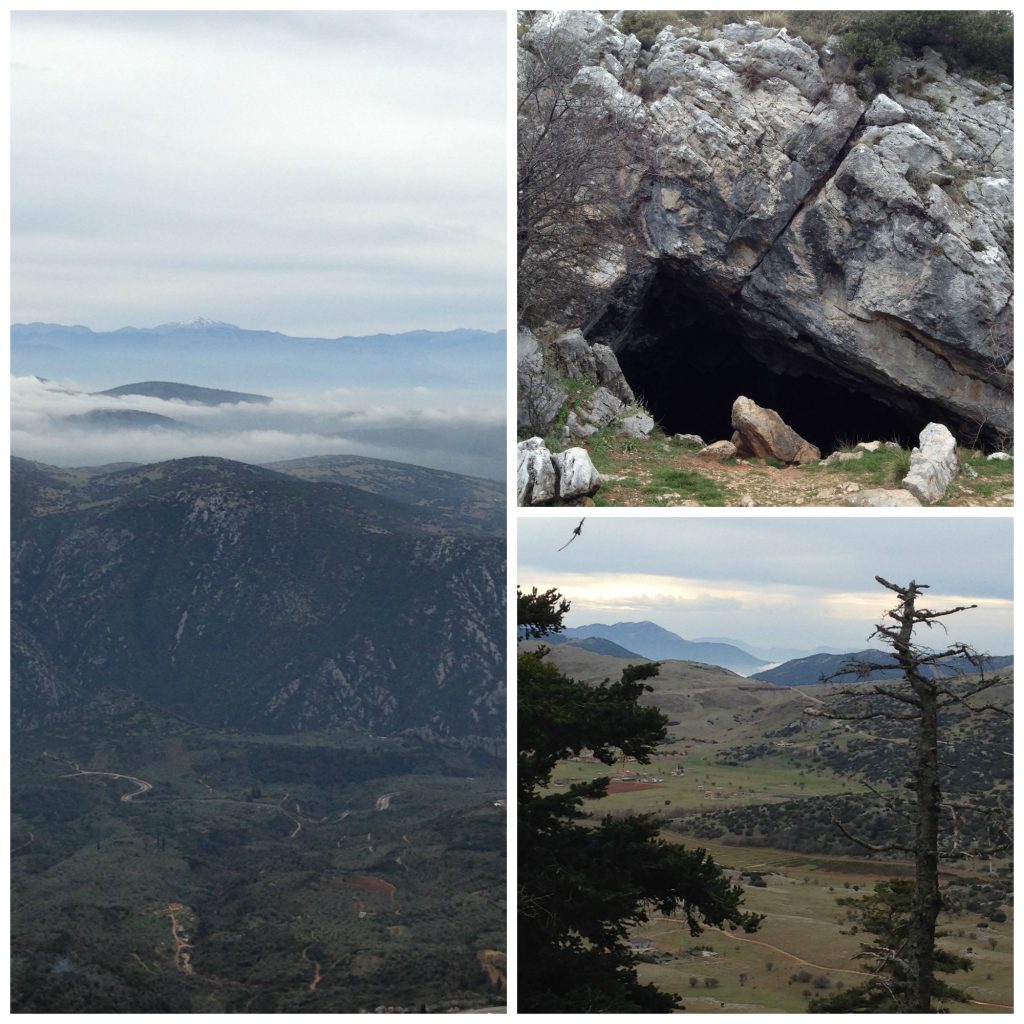 It's located on the eastern slopes of Mount Parnassos, known to be home of the ancient God Panas and the Corikian Nymphs. Lying at an altitude of 1310 meters, the God Apollo was said to have been worshipped here.  There is a hiking trail that starts or finishes here to/from the ancient site of Delphi.  The hike is considered 'Medium' difficulty and takes roughly 4 hours, therefore Korikion Cave makes a good, un-touristy trek to Delphi.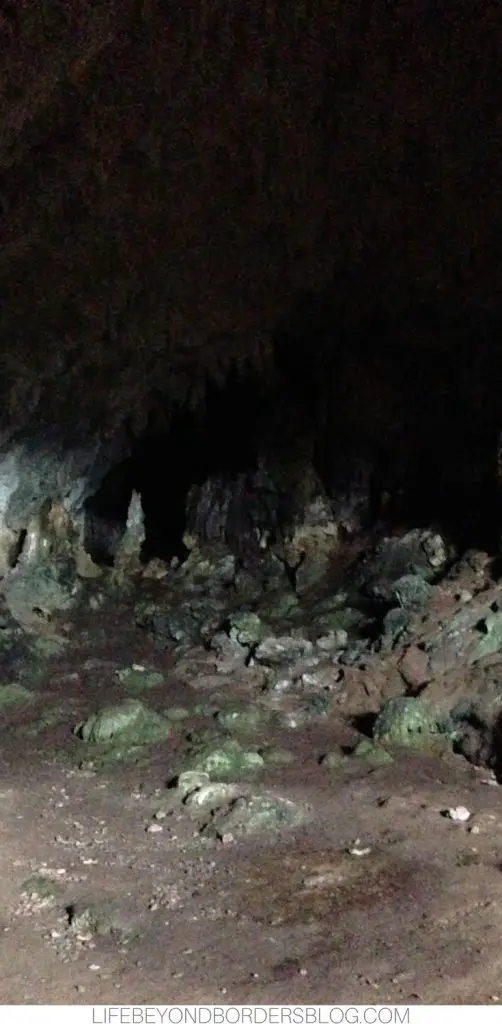 I think you'll agree with me, it's a pretty spooky location!  And see the stone circle on the floor?  It's regularly frequented by occultists, adding to the atmosphere of spookiness!
Delphi
Next stop on our tailor made trip was Delphi.  Not so much of a 'hidden gem', nonetheless you cannot come to this part of Greece and not visit the famous site of worship of the God Apollo, and the Navel of the Earth.
We had a guided tour of the Museum first, and this was WELL worth it because it prepared me to know what I would see when we went to the archeological site.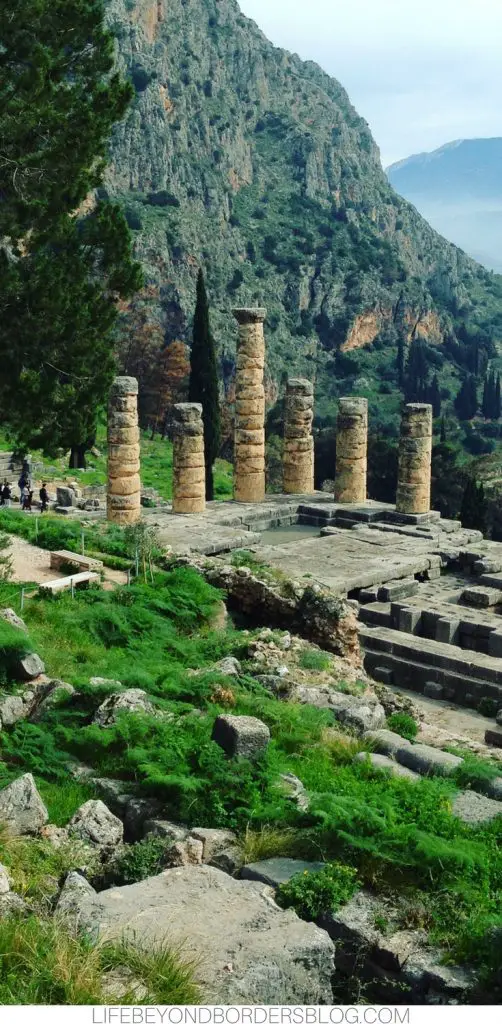 The God Apollo
Delphi is the Sanctuary of the God Apollo – the God of Music, Light, Sun and the Future (hence where the Oracle of Delphi comes from).
NOTE: I strongly recommend booking a Tour Guide to take you around the museum and site as you get a much better idea as to what's what, rather than reading all the information and struggling to make sense of it all.  In Greece, however, Tour Guides are not employed by any museums or sites, they are self-employed…so you would have to book through a reputable agent who knows where to find good Tour Guides as they are tried and tested, such as Fly Me To The Moon Travel.  The cost of hiring a tour guide can be incorporated into your holiday cost.
After a comprehensive tour around the museum and gaining a better understanding of what to expect at the site, we ventured  up there.  And the higher we climbed, the more stunning the views.
I was intrigued to learn that Apollo's 'Fortune Teller' – Pythia – was always a woman and science has actually proven that the first time she 'prophesied' the future was because there was a crack in the earth and it released vaporous gasses, including methane. On top of this, she was chewing a specific type of leaf, hence it was more than likely she was 'high'!
She was situated in the bowels of the Temple of Apollo (closed off to the public, only Archeologists are allowed) and only the Priest could visit her and take her answer to any questions people posed.
Tip:
When you come to this area, the places you'll want to base yourself in are in Arachova. Check below for places to stay in Arachova, Greece.
Seaside town of Galaxidi
Half an hour later, we were down from the mountain and in the seaside town of Galaxidi, enjoying a light lunch. Note: Unfortunately, whilst beautiful, it's hard to find great quality food in this town.  It's not unlikable, it's just there is better food to be had elsewhere, which is a shame as Galaxidi is a perfect spot to eat by the seaside.
Notes:
When in Delphi, it's worth hiring a tour guide to show you around the museum and the site (even if it's just two of you).  You'll gain a better understanding and perspective of what you're seeing
Go to the museum first in Delphi, then the site – everything will become clearer
REMEMBER: Tour Guides are self-employed in Greece so it takes a travel agent in the know to know which ones are best to book for you
Galaxidi, whilst a beautiful town, doesn't have such great food.  Tip: eat in Delphi or Arachova
The trip from Athens to Delphi by KTEL (the public bus) is from Terminal B, Liosion Street and is roughly €32.00 return (prices as of 2017).  Tickets can only be bought from the ticket office in the bus station, not online.
Pin for later