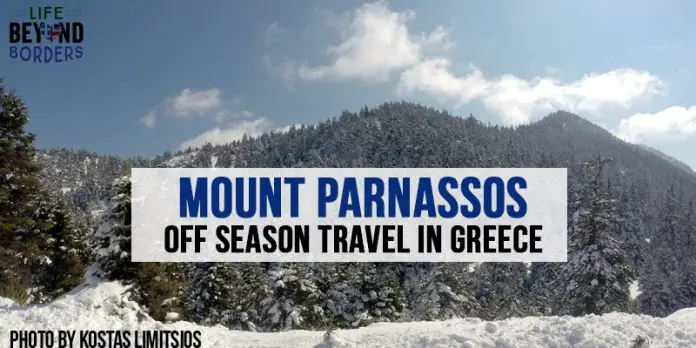 We all know that there is more to Greece than islands, sunshine and sand.  I didn't realise quite how much more, until I was invited on a specialised trip by luxury Greece Travel Specialist – Fly Me To The Moon Travel. Here, I was invited to experience off season travel in the country – in particular Mount Parnassos in Greece, realising that it's never really a country that's off season for tourism.  Let's take a look at what awaited me.
**As always, all thoughts and opinions remain my own, despite any complimentary services received**
This post contains Amazon Affiliate links.
---
Greece Off Season – Luxury in Mount Parnassos
Luxury does not have to necessarily mean five star resorts, as Elena Papanicolaou – founder of Fly Me To The Moon Travel specifies:
Luxury is about the experience; the authenticity, the richness and genuiness of the experience received.
I agree. "Luxury" is a subjective concept. I was thrilled, therefore, to experience the luxury of Greece off season, by seeing corners of Greece not usually seen by the average tourist. Before reaching Mount Parnassos though, first came a tour of the:
Mount Parnassos Greece: Bread & Folklore Museum of Amphiklia
Leaving Athens bright an early, we wove our way through the beautiful countryside of Central Greece and the Viotia region.  After about 1.5 hours of driving, we arrived into the town of Amfiklia, a town based at the northern base of Mount Parnassos.
Why stop here specifically?  Well, apart from sitting in the unusually warm February sunshine, sipping coffee in the Town Square, we were to visit the Bread Museum.  Not being a huge fan of museums, I was pleasantly surprised: who knew that bread could be so interesting?
Amfiklia was the first town in Greece to have a threshing machine and the town itself is surrounded by wheat fields.  Many people in the past had bread ovens in their gardens and the museum had dedicated itself to:
…bread in relation to local history, society, customs and tradition.
The most interesting aspect for me were the types of bread on offer and what they symbolise.  A small selection is shown above:
Bread with snake = Prevenda or New Year's bread.  A snake is a symbol of the protector of the house.
Lambroukouloures, or Red Egg bread = An Easter bread (Greeks bread hard boiled eggs painted red at Easter) and was baked as a gift to the Godchild
Armyrokouloura = This is a bread which contained a lot of salt.  It was baked and given to the unmarried daughter of the family.  It was hoped she would grow thirsty and dream of a man to bring her water to drink.  The man she dreamed of would be the man she would marry.
Bread traditions
Every year between 21-23 November, the women of Amfiklia hold a three day celebration where they dress in traditional costume and bake the bread of the past.
The museum is small and entry fee costs €2 for Adults, €1 for children.
Mount Parnassos National Park
Now we come to the favourite part of my trip: An off season visit to Mount Parnassos, Greece.
We drove to the Headquarters of the Mount Parnassos National Park Management Body's offices (at the base of the mountain). Here I met the young, enthusiastic team of 10; six scientists and four Park Rangers. Yiorgos, the Forester in charge of the Educational Programme, and his ranger colleague drove us to the area on the mountain of Perdikouryssi – the Chapel of St John (usually kept locked, but if the Rangers accompany you, they can let you in).  Inside you'll find ancient frescos.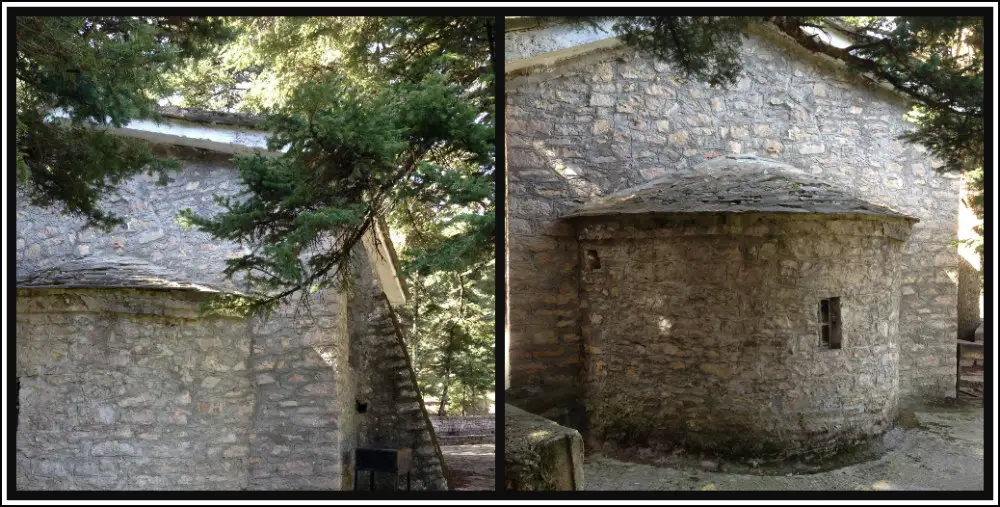 Mount Parnassos National Park is 35,000 hectares and offers many limestone caves, wildlife such as foxes, eagles and even wolves and a special fauna phenomena: once a year, for one week in May only, the wildflower Paeonia Parnassica blooms.  During the winter you can ski here and base yourself in the 'Mykonos of the Mainland' – Arachova. It's also near  the famous archeological site of Delphi.
I could have happily spent all day on Mount Parnassos. Who would have thought that such a place existed, only a short drive from Athens, with an abundance of wildlife, flora and fauna?  I especially love travelling to parts of Greece off season, teaching me that Greece is a 365 day destination.  My unusual visit to the Bread Museum and Mount Parnassos was one of my favourite parts of the trip. You can read more about Parnassos National Park and their educational programmes here.
Other things to do in the region of Mount Parnassos, Greece:
This post was originally written in Feb 2016. It was completely revised and updated in JAN18
---
Useful links: Fly Me To The Moon Travel, Amfiklia Bread Museum, (in Greek, but the photos are nice), Mount Parnassos National Park
PIN for later