**For your free Greek islands downloadable packing list, click here.** **Read my post about my Greek Island All Round Packing List – great to give you tips on what to pack for visiting the Greek islands such as Zakynthos**
After having seen the amazing Keri Caves, Oasis Beach and Marathonisi Island, I wondered what other natural wonders Zante Hotels 4 U had in store for us. I was unprepared for what lay ahead.
Want to explore Greece from the palm of your hand? Then you need my Greece's Best Travel App, designed for iPad, iPhone and Android.
Things to see in Zakynthos – Blue Caves
After all the "Ohhhh"s" and Ahhhhh's of the previous day, I thought we'd be all caved out.  But no.  Zante Hotels 4 U drove us to Skinari Lighthouse, the closest point to the Blue Caves and Shipwreck beach.
Walking down the small steps to the water's edge, we waited as a small glass-bottomed boat came and took us plus a few other passengers (it can comfortably accommodate up to twenty people, but luckily there were only a few of us on this trip, making it easier to spread out).
Taking a right (sorry – Starboard) turn from the lighthouse, we puttered along until we reached the Blue Caves, and yes, collective gasps and 'Noooo's! escaped our lips.  See for yourselves: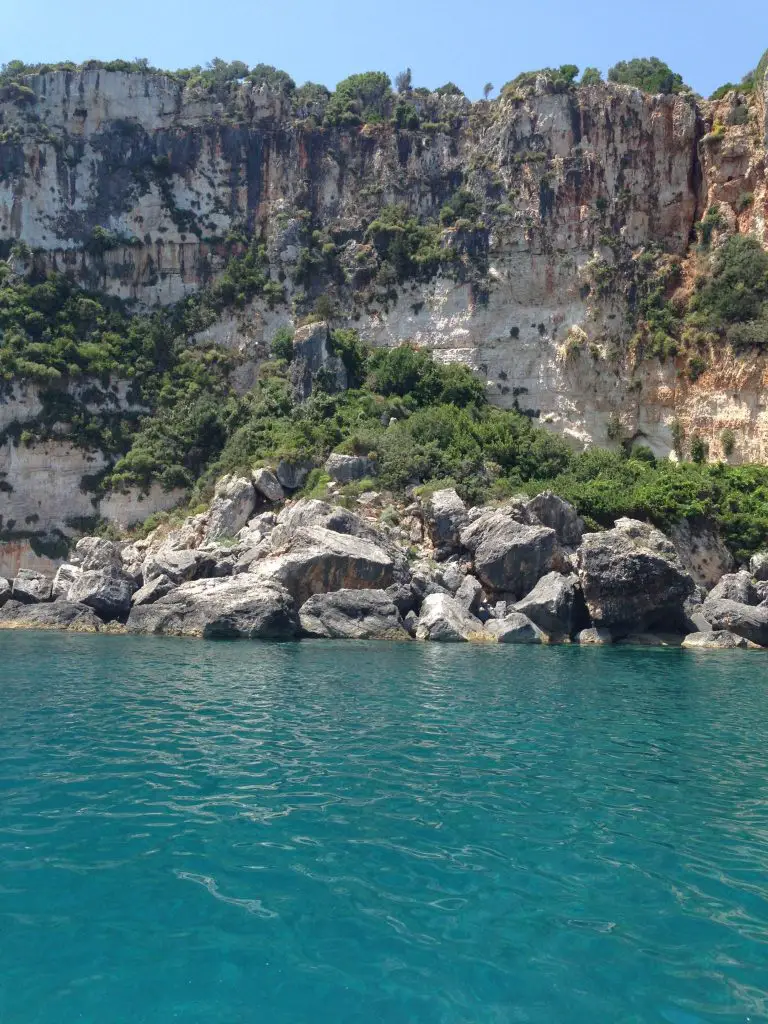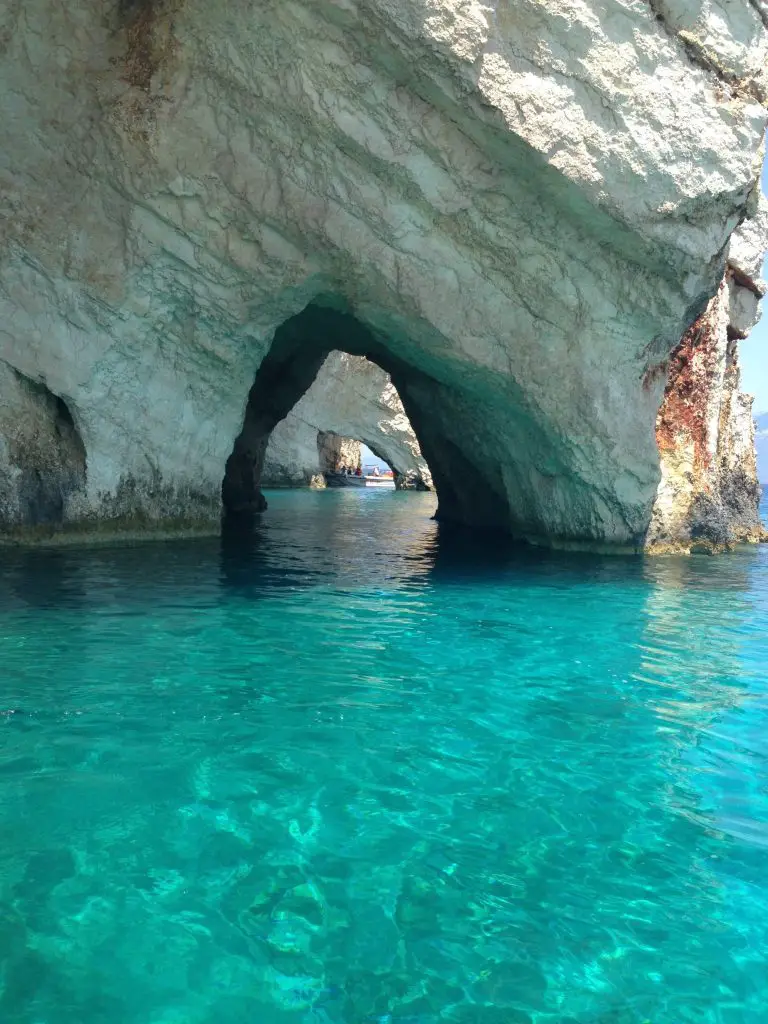 Things to see in Zakynthos – Shipwreck Beach
After spending some time going into the caves and getting our pictures, we headed back to the lighthouse, swapped boats and then headed out to Navagio, Smugglers Cove or Shipwreck Beach – so called because in 1983 the ship Panagiotis was stranded there whilst trying to transport smuggled cigarettes.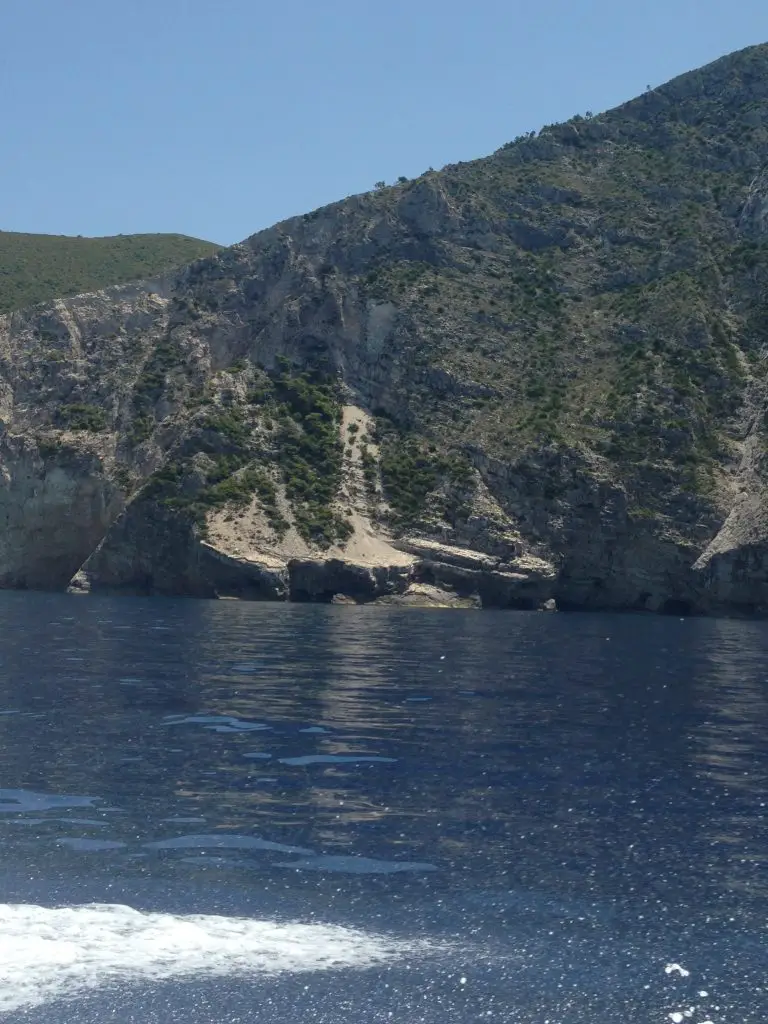 Every corner we rounded, we came across yet more beauty…
…until finally we reached our destination: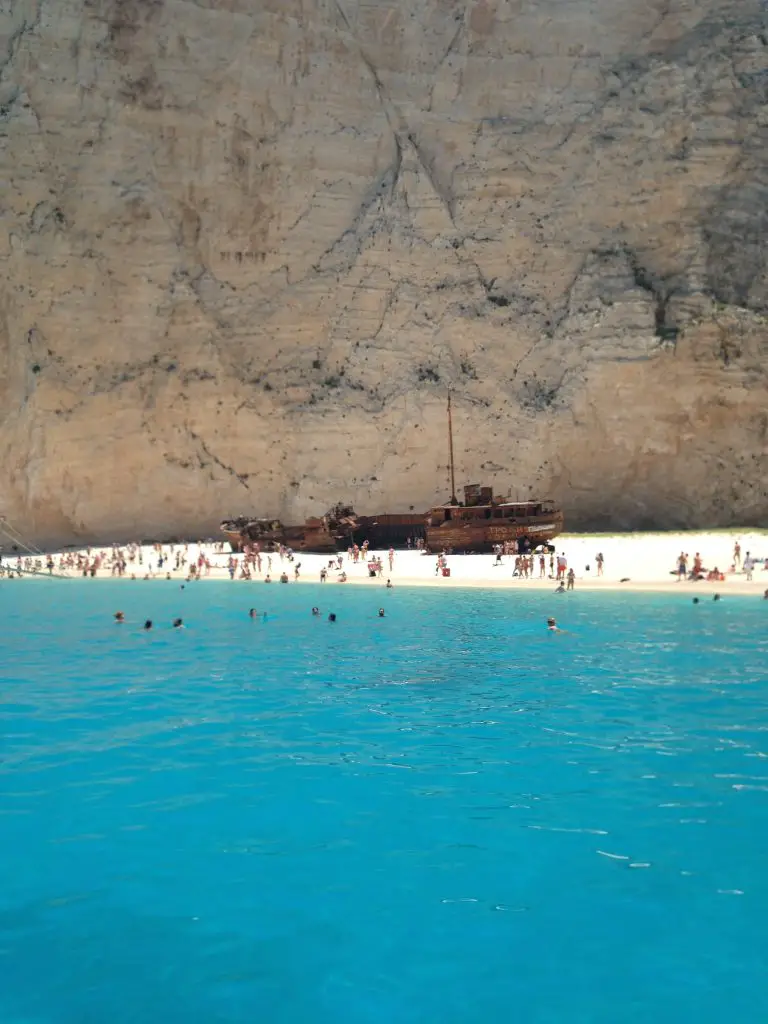 Look at the clear, clear waters!
I spent some time swimming, and posing with my newly released novel Girl Gone Greek, (available on Amazon). After about 45 mins (that's all you need, trust me – especially with the hordes of tourists coming regularly), our boat came to collect us and we were whisked back to Skinari Lighthouse, stopping briefly en-route for another swim in the impossibly blue waters.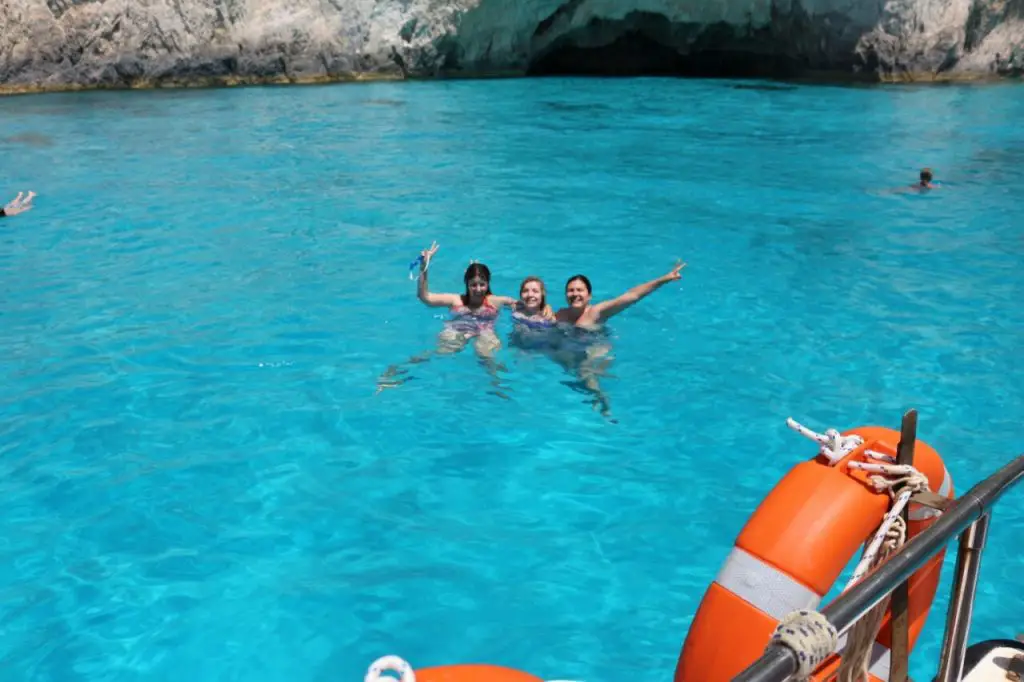 Stavros Taverna in the village of Kampi was our next visit of the day where we didn't eat, but enjoyed a coffee overlooking the amazing headland.  The area has a huge cross erected there to commemorate those who lost their lives during World War II and the Civil War that followed. The views here were amazing too: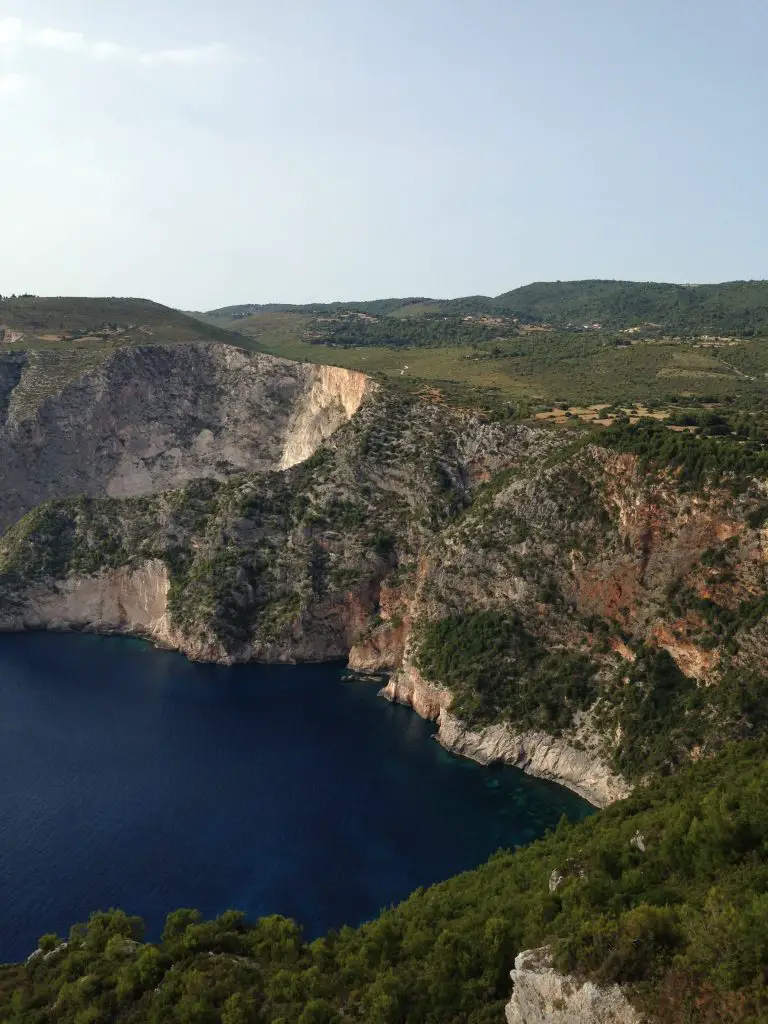 Note:
***A special thanks to Zante Hotels 4 U for hosting us during our stay in Zakynthos. They can organise all tours and accommodation.  Contact them via email: [email protected] or call: 0030 26950 29700 or via their website.  As always, all thoughts and opinions remain my own, despite any complimentary services received.***
PIN for later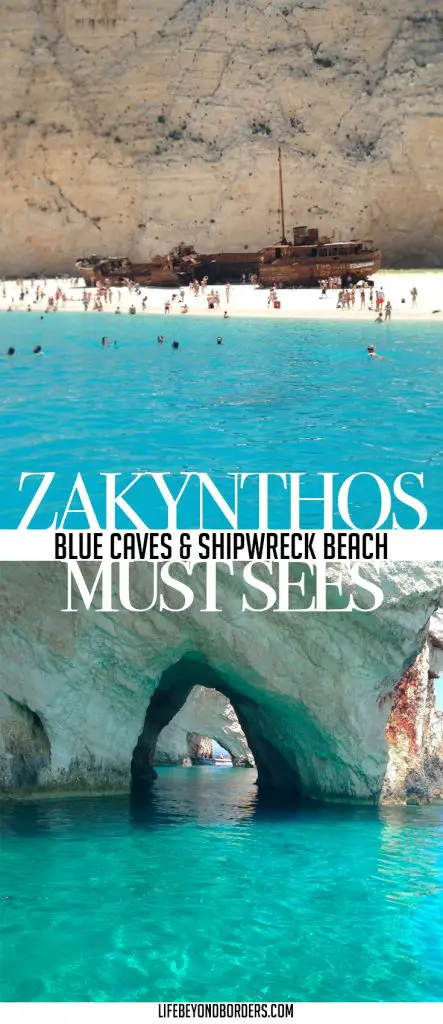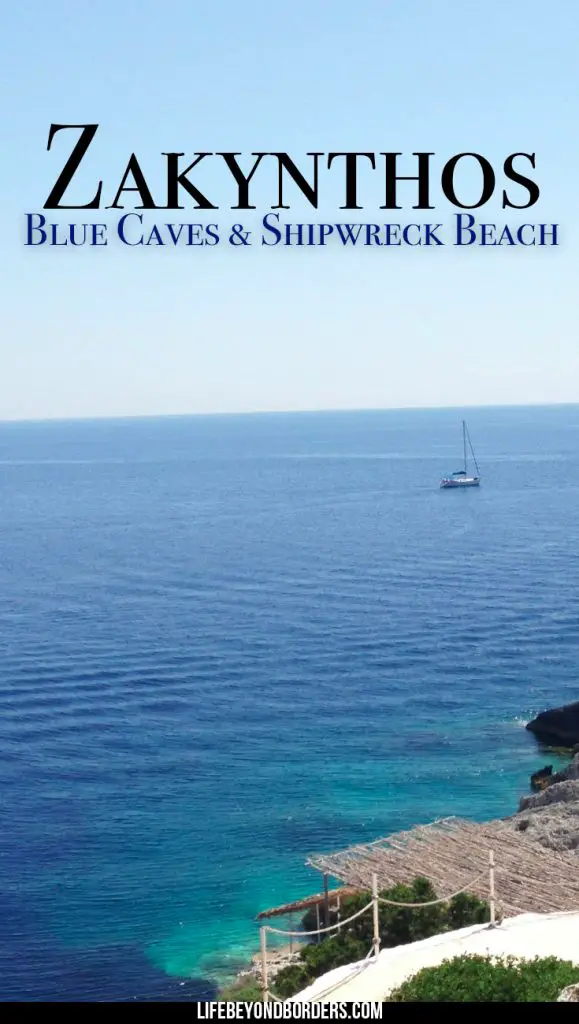 This post was originally published in JUN 2015.  It has been revised and updated in JAN 2018.