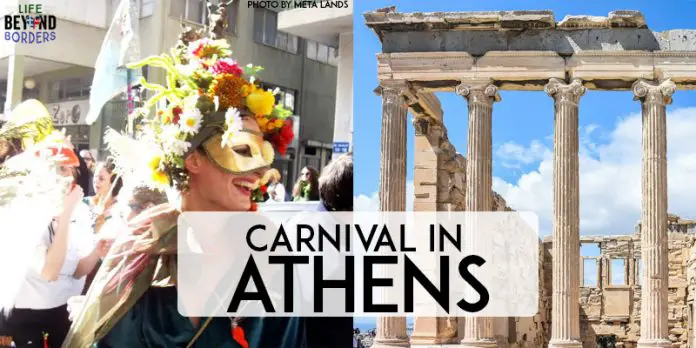 Greece has many celebrations throughout the year, Greek Easter being one of the most popular. But before Greek Easter, a period of fasting (Lent) for seven weeks before occurs, ie: no meat and only fish with no blood (calamari is OK).
And before that, there's a Carnival period in Greece.
Forget Rio & Venice, if you want affordable fun, check out Apokries, or Carnival in Greece. And for more ideas of what to see and do during a city break to Athens, check out An insider's guide to visiting Athens.
Looking for a place to stay in Athens during Apokries? Look no further than Sir Athens Boutique Suites: four cute suites well located in the centre of the city, but not too central that you're in the hustle and bustle.
There will be affiliate links in this post, meaning if you choose to purchase anything though them, I will receive a small amount of commission. at no cost to you.
This post was originally written in March 2013, revised and updated in February 2018 and again in JAN19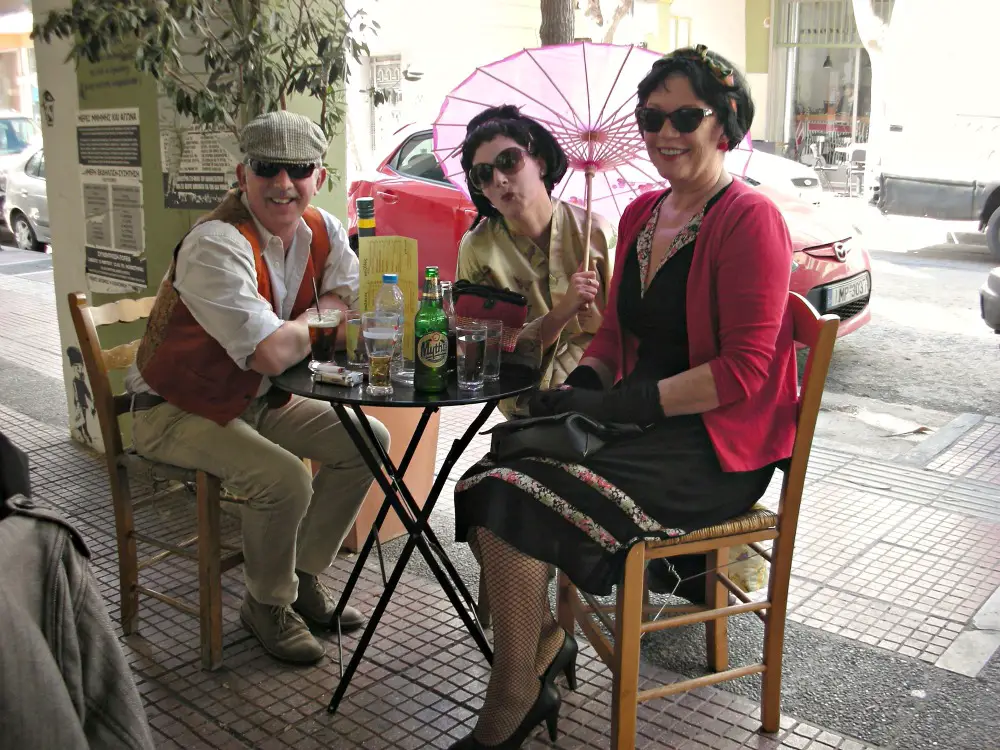 History of Carnival in Greece
As with most things Greek, Apokries dates back to Ancient Greece, thought to be celebrated as a worship to Dionysis, the God of Wine & Feast.
As mentioned above, in Greek Orthodox religion Apokries is the period of time before Lent.  The word literally means "Goodbye to Meat," Apoxh-apo-kreas.  Interestingly in the Latin language, Carnival also has the same translation: "Carne" = meat  "Vale" = goodbye.

Apokries Carnival in Greece runs for three weeks before Lent.
The 2019 dates of what's happening around the country can be seen here:
Triodion: Sunday, February 17th

Tsiknopempti or "Burnt Thursday": February 28th

Tsiknopempti Weekend: Friday, March 1st – Sunday, March 3rd

Cheesefare Thursday: March 7th

Main Carnival Weekend: Friday, March 8th-Sunday March 10th

Clean Monday: March 11th
During this time, many fancy dresses can be bought and street celebrations occur.  A majority of the street parades occur on the last Sunday all over the country, the largest in the country – and one of the largest in Europe – takes place in the Greece port city of Patras. Saturday has the "Nihterini Podarati," Night Parade on foot and Sunday is the closing ceremony: burning of the float of the carnival king, countless parades, fireworks dances & concerts.  It takes place at the port and is broadcast on television.
Small towns, larger cities across the country all have smaller scale celebrations, and Athens is no exception.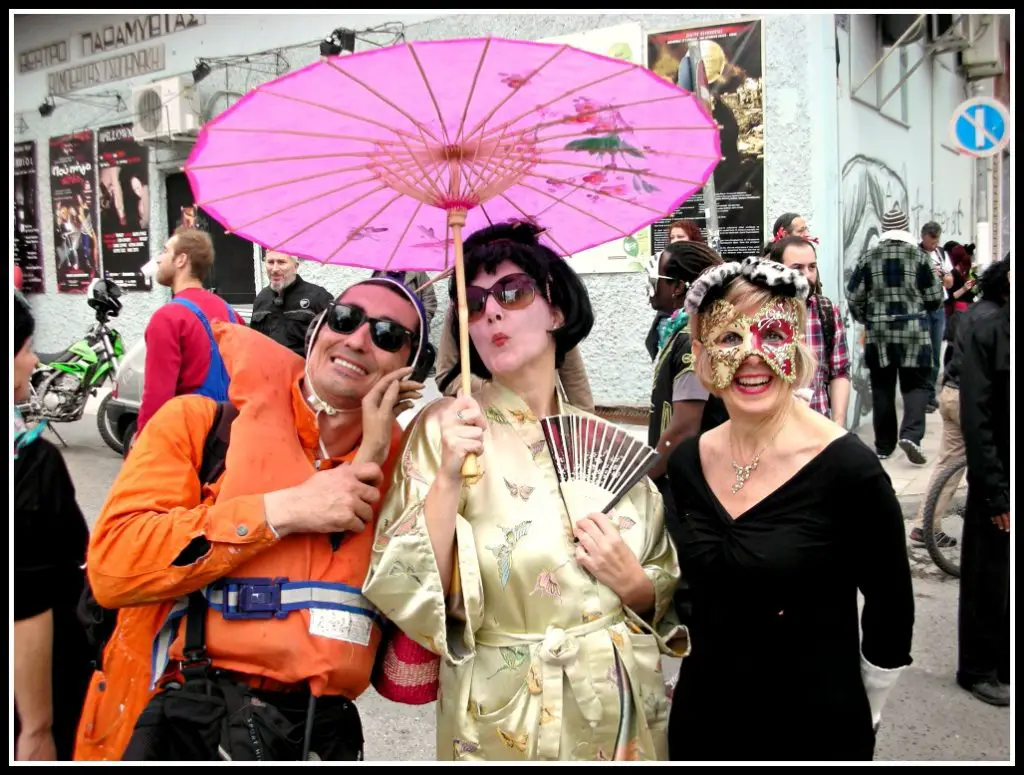 Carnival in Athens, Greece
See this video by Athens Living as testament to the fun and frolics had by all (no translation of the song by women dressed as traditional village Greeks, wielding cucumbers needed I think).

Yes, Greece may be going through a crisis, but people still know how to have fun: young and old, male/female – all contributed to the fun and joyful atmosphere.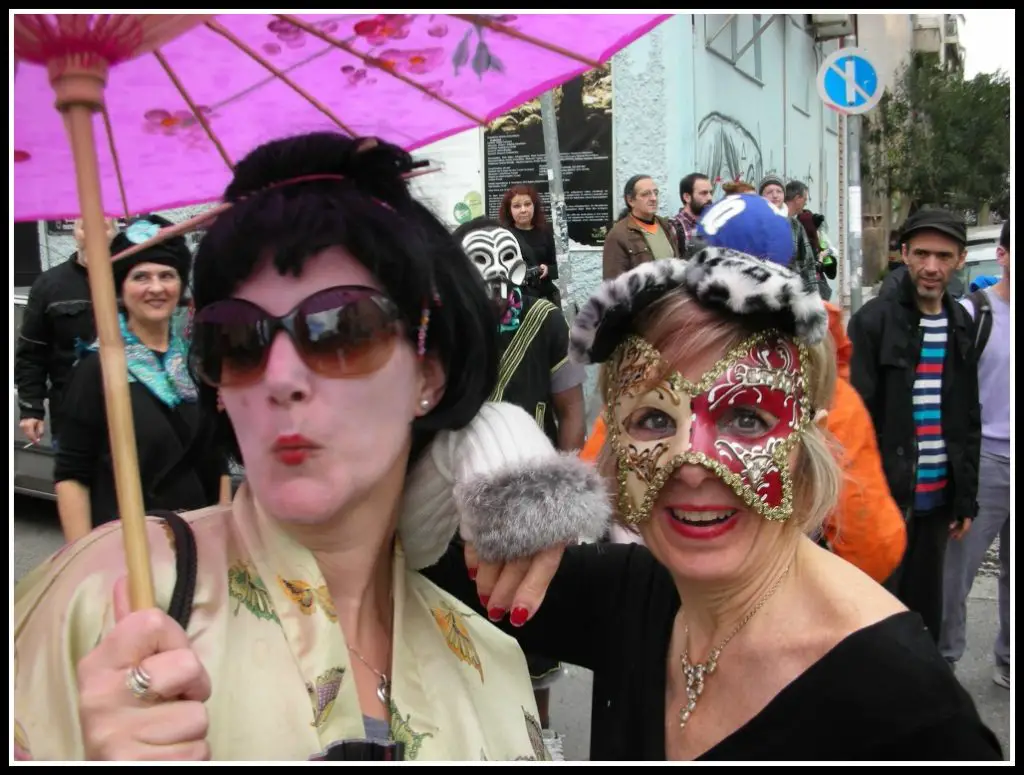 So come to Greece to celebrate carnival.  You'll be welcomed with open arms.  Opa!
PIN for later