Athens, Greece, has been experiencing a boom in hotel growth over the last few years since the debt crisis of 2008.  In fact, according to Greek Travel Pages:
Major tourism projects in Athens, and…Crete, Santorini and Rhodes, have received the go-ahead by Greek authorities aiming to capitalize on the increased investor interest in view of soaring tourist figures.
Never has this been more pronounced than in the boutique luxury sector.  I was honoured, therefore, when I had the opportunity to experience a stay in a new cozy, boutique accommodation in Central Athens – Sir Athens.
Please note: This is a collaboration post between Life Beyond Borders and Sir Athens.  All experiences and opinions shared remain my own.
Small luxury hotel Athens – Sir Athens.
Where is Sir Athens?
Sir Athens is, indeed, a small luxury hotel in Athens – one of the newest editions opened in mid-2018, located conveniently in the centre of the city – away from the big tourist areas yet within walking distance.  This lends Sir Athens a feeling of escape from the hustle bustle that tends to dominate places such as Monastiraki. It's also conveniently located down a side street off the exclusive business and shopping thoroughfare district of Kolonaki  – off Skoufa Street which in itself is great for bars and a variety of eateries to choose from.
To be honest, I wouldn't even really call Sir Athens a hotel; rather a set of four cozy, luxury suites lending a home from home feel.
You'll see from the Google Map above that it's described as a 'Genteel 1800's hotel with free breakfast'.  That's a pretty apt description, but there's so much more to Sir Athens too, despite its small size.  You could say it's small in size, big on personality.
To help you with your Athens stay, read:
Luxury Hotel in Athens – the Sir Athens Experience
This small luxury hotel (oops, I mean luxury boutique suites) has a fantastic facade.  The building is from circa 1930's and you can see it's been lovingly restored to its (almost) former glory, probably to a higher standard.
This was done in the mid part of 2018 and from a derelict building, took only four months to complete.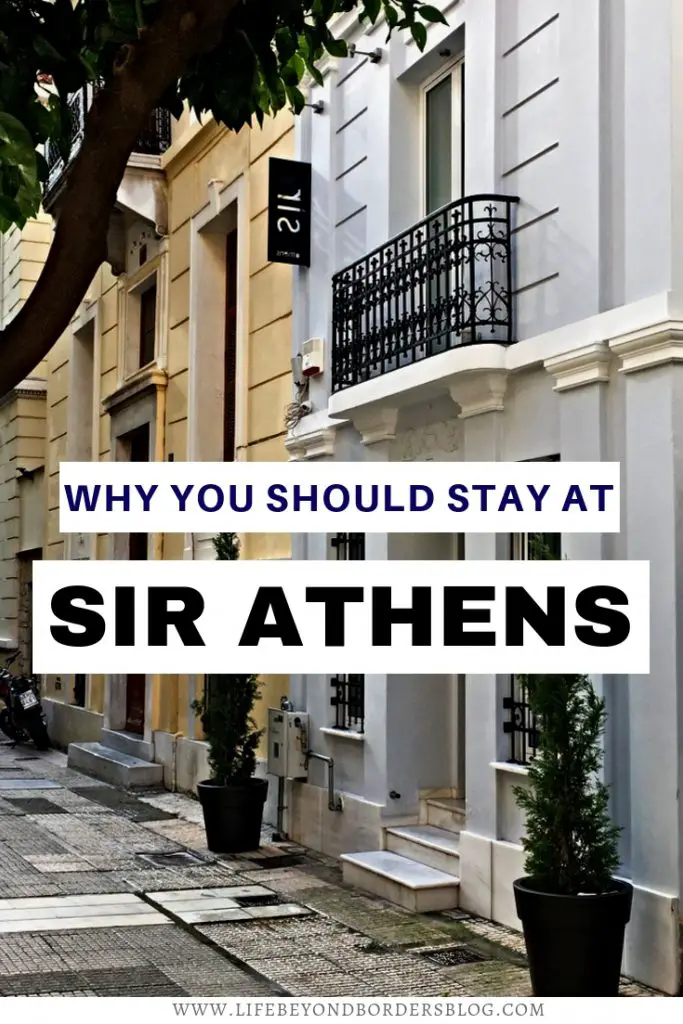 Upon first entering, you have to call to be let in (don't worry, you'll be given an entry code for future entry) and into the small but cute reception area.
Aesthetically I am going to let the pictures speak for themselves.  Vocabulary that springs to mind is sleek, marble, welcoming Greek snacks, Greek filoxenia oozing from the small team of staff – and it is a small team. And this is no exaggeration.  Those familiar with filoxenia will understand that it's not just a word, it's an experience to be had when you come to Greece.  Check out Trip Advisor's reviews of Sir Athens as they all speak for themselves too – most mentioning the staff.  As a small establishment, Sir Athens does not need a huge collection of staff and the lady you'll likely have the most contact with is Eleni,  the manager who smoothly checks you in and exudes this filoxenia, immediately making you feel at home and yet not in an overly intrusive way.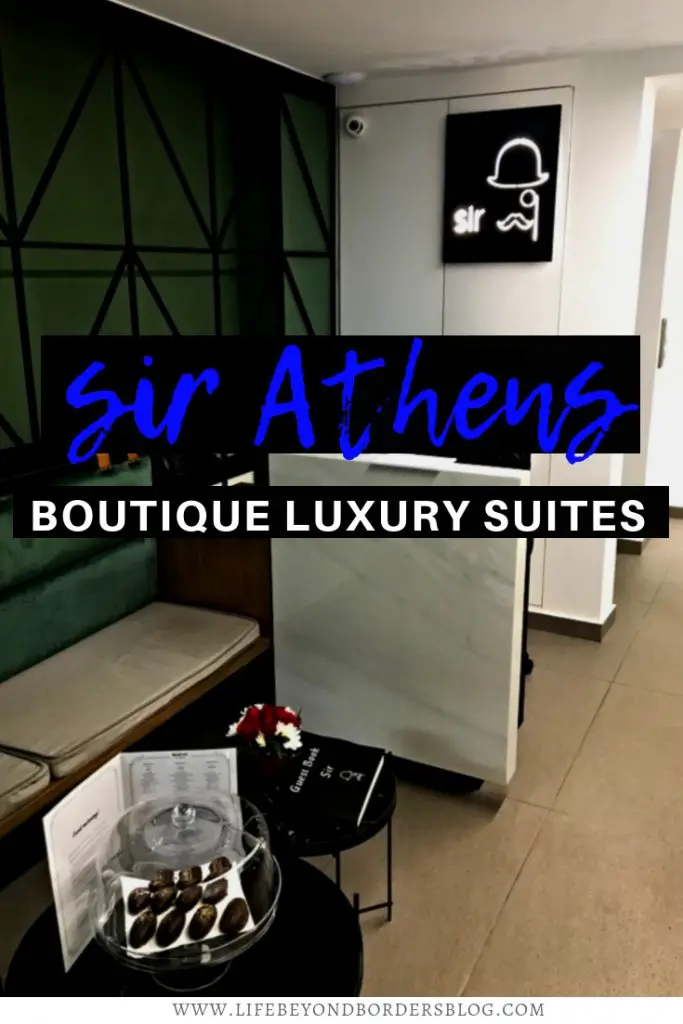 Eleni greeted me, we went through the check in procedure and then before showing me to my room, I took a look at the other four suites.
Small Luxury Hotel Athens – Sir Athens – the suites
As explained, there are four suites in total, truly making this a small luxury 'hotel' in Athens, thus impacting your stay as such in the sense it's not impersonal and yet not too obtrusive either.
The suites range from the semi-basement (called this in Greek, I think in the UK and U.S. we'd simply refer to it as basement or lower ground floor) up to the first, second and attic suite.
All suites have a style unique to them and in fact, don't be put off by the 'semi basement' aspect: it's spacious and as it's at the back of the building, has a door out to it's own little courtyard with sun dappled orange trees around.  Cute (this word will keep cropping up throughout this piece).
Facilities
All suites offer either:
single and double bed wit orthopedic mattress and pillow menu
bathrobes and slippers
Nespresso coffee machine
Looseleaf Anassa tea brand (meaning 'to breathe') and small teabags to insert it into
Suites either at the front or rear of the building, or stretching across to both
Sir Attic Suite
Eleni took me to my site last – I could sense her growing excitement to show it to me, and upon stepping out of the lift (which goes direct to all suites), I could understand why she was proud of it.
The Sir Athens Attic suite offered two bedrooms, but my immediate favourite was the one with the platformed bed and draped muslins, four poster style, at the rear of the building.
I will be honest: what put me off sleeping in the rather more practical (ie: bedside tables to rest my book on, for example) front room of the suite was the wall design behind the bed.  While 'interesting', I found it a little off putting to sleep with.
I wanted gentleness and the draped room at the rear, with its view the courtyard and orange trees and sloping roof offered me this.
It was a little chilly – but to be fair, I was staying in January and it was a particularly rare cold snap, and this was easily remedied anyway by asking for an extra cover and pumping up the convector air conditioning: not noisy on silent mode and not 'in your face' or pumping out dust.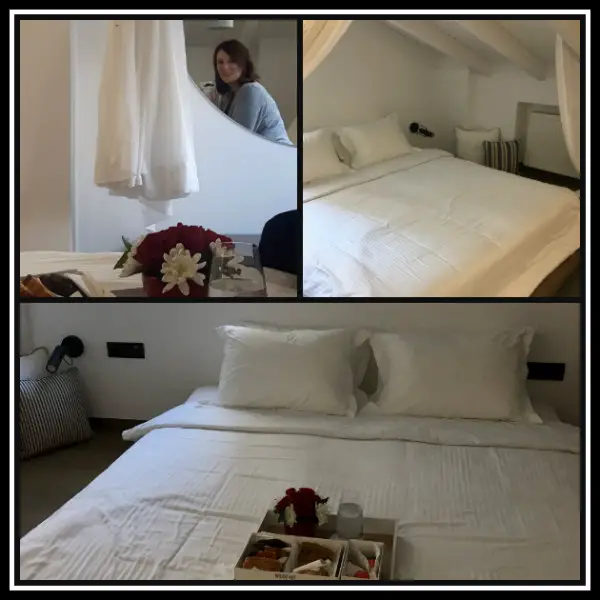 This is maybe another reason to consider the cute semi-basement suite: it's down, so it's warmer in winter and cooler in summer.
I slept like a baby whilst there though.  As mentioned, it's down a side pedestrianised street so even if you're sleeping at the front of the building, it's not noisy.

Breakfast at Sir Athens Boutique Suites
Breakfast is another 'Sir Athens experience' that I feel deserves a paragraph of its own.  No standard buffet here – for a start the place is too small to actually have anywhere to host a dining room to eat breakfast.  Whilst this may put some guests off, don't let it. Instead, included in the price of the rooms is a choice of breakfast menu from 'B Madame' – Part of the B Group 'Breakfast in Athens' concept whereby a personalised mixture of Greek sweet and savoury pastries (and macaroons!) are delivered to your small luxury hotel (Sir Athens) and brought to your room by the ever smiling (genuine I might add) Eleni.
Or why not take a wander down to their patisserie – a mere 10 minute (probably less) walk from the suites where you can eat on the pavement cafe, watching the world go by?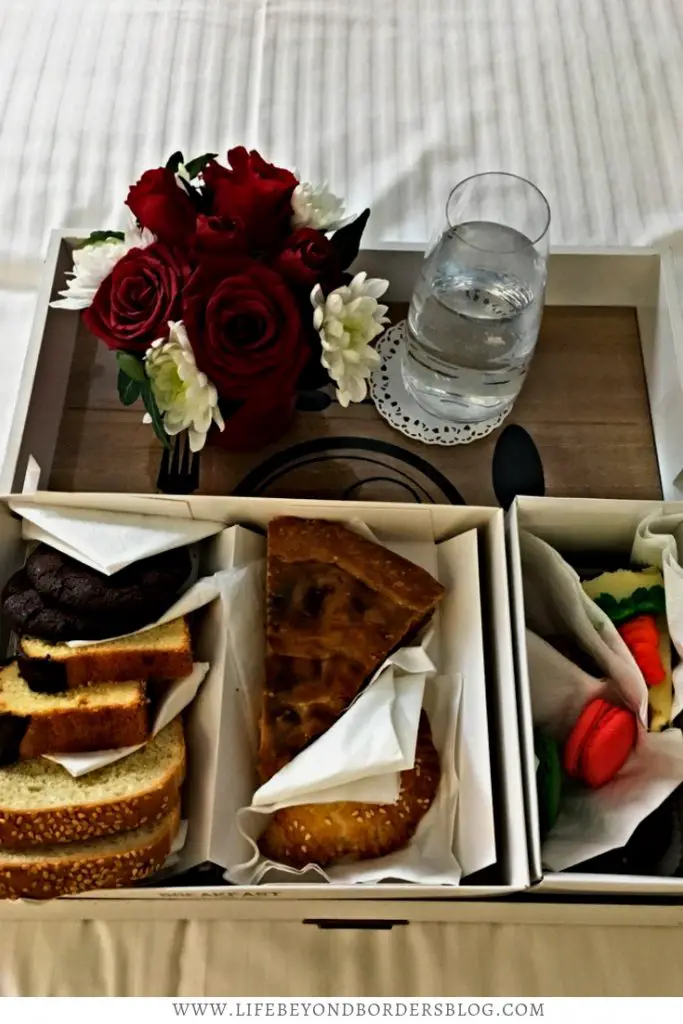 It's nice to eat in suite, maybe a little impractical as no real tables and chairs to sit on.  Personally, I liked to go and eat at the cafe, but was equally happy to curl up with a newspaper in bed in my robe, eating my macaroons! (I offset it with the freshly squeezed orange juice as a way to alleviate any guilt).
Luxury Hotel Athens – Sir Athens Boutique Suites – Practicalities
Good for: Singles, Business, Weekend city break, Couples.  Attic suite maybe for older families
Prices range from EUR €110-€310 per suite depending on the season and type of suite. Remember the attic suite has two bedrooms so it's possible for two people to share this and split the cost if you wish to
Book direct to get a better deal
If you're looking for personality, boutique charm with added touches and nicely tucked away, yet still within walking distance of sights – this is for you
If you're looking for an impersonal stay, this is not the place for you (although obviously you will not be intruded upon.  It's cozy and cute).
Thank you, Sir Athens, for collaborating and allowing Life Beyond Borders to showcase your new venture.
PIN for later