The Shard in London is a 95 storey skyscraper on the south bank of the River Thames in the area of Southwark, right by London Bridge station.  Here you can also find the popular tourist attraction, the London Dungeon, but my mission this time was to go to take in this new tourist attraction.  The view from the Shard is one of the most famous modern tourist attractions in London, so much so, they have named the experience 'The View'.
View from The Shard London – History
The Shard, at 309m (1,016ft), is Europe's 4th tallest structure, the tallest in the E.U. and the 87th tallest in the world. It was designed by Italian architect Renzo Piano and was started in 2009, completed in March 2012.   It replaced the 1970's office block Southwark Towers – as you can see, although slightly more modern than usual office blocks of that era in design, they still weren't particularly pleasing to the eye: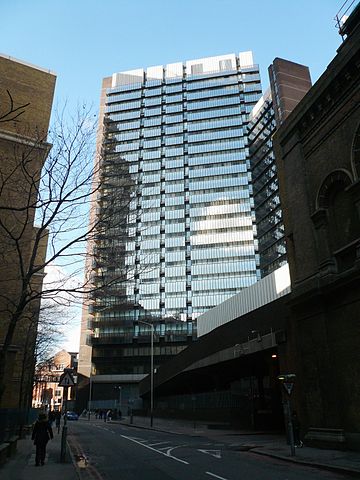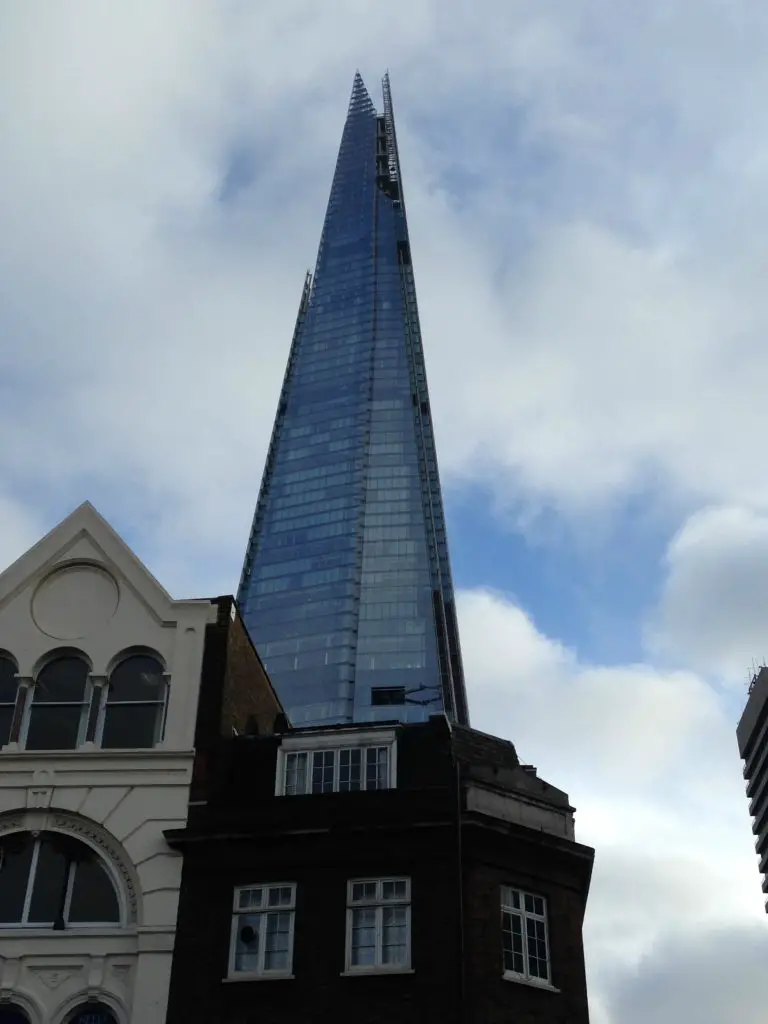 It opened to the public in 2013 and its glass pyramid structure contains 72 habitable floors including:
Shangri-La Hotel

Reception on the Ground Floor (yep – would love to afford to stay there!)
Retail shop and Observation Deck entrance on floors 1 and 2
Office space on floors 3-28 (companies here include Al-Jazeera English & UK, Gallup, Warwick Business School and South Hook Gas)
Restaurants on floors 31-33
The Shangri-La Hotel on floors 34-52
Homes on floors 53-65
The View from The Shard (observation deck) on floors 68-72
The Glass Spire spreads up the remaining floors from 73-95
Seeing as I couldn't quite afford the £10 to £50 million price tag for one of the ten residences in the Shard, I decided to book ahead and pay my £25.95 Adult ticket (advance price – you can book on the day and pay £30.95) and go and visit the Observation Deck – or the View from the Shard. Ticket prices do vary depending on whether you're attending an event, or a night visit, etc.
The View from The Shard London
You're asked to choose a time when you want to visit – it's in half an hour slots meaning you can turn up within half an hour after your allotted time…but I arrived earlier than my 12:30pm slot, and was allowed into the lifts no problems.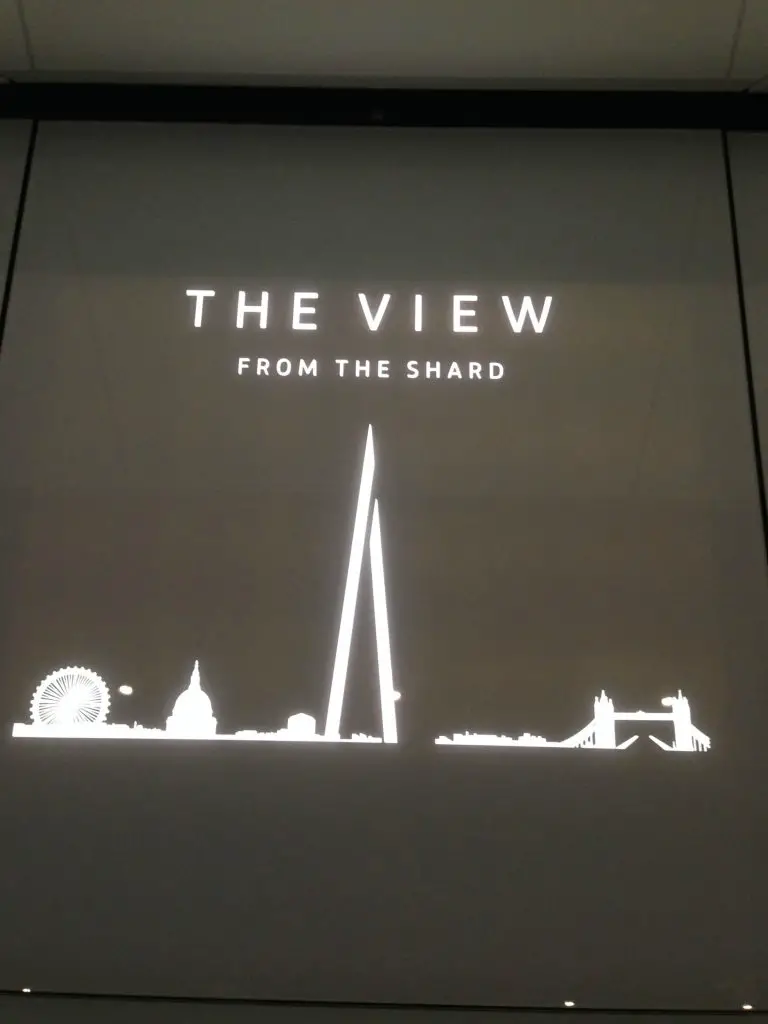 Tip: 12:30pm mid-week seemed like a good time.  No queues for the lifts, I was seamlessly whisked through after going through what can only be described as an airport style security check (remove belt, shoes, keys out of pockets, etc).
The Observation Deck is 309 meters above London, and the lift (elevator for my North American friends) travels at 6 meters per second!
Once on the Observation Deck on level 68, it's possible to go up as far as floor 72, but the floors in between 68-72 must be walked up stairs.  What's so great about the various decks is that you can wander around at your leisure.  Even though you've been allotted a time to arrive by, once up there you can spend as little or as long as you like.
There are places to buy refreshments on the Observation Deck.  I didn't – and I didn't bother to look at the prices to be honest as I am sure they cost a lot.
Here you can read some fun facts about The Shard by Visit Britain.
The actual view
As you can imagine, the view is spectacular!  A 360 degree view of London – out to the west, and the City in the east.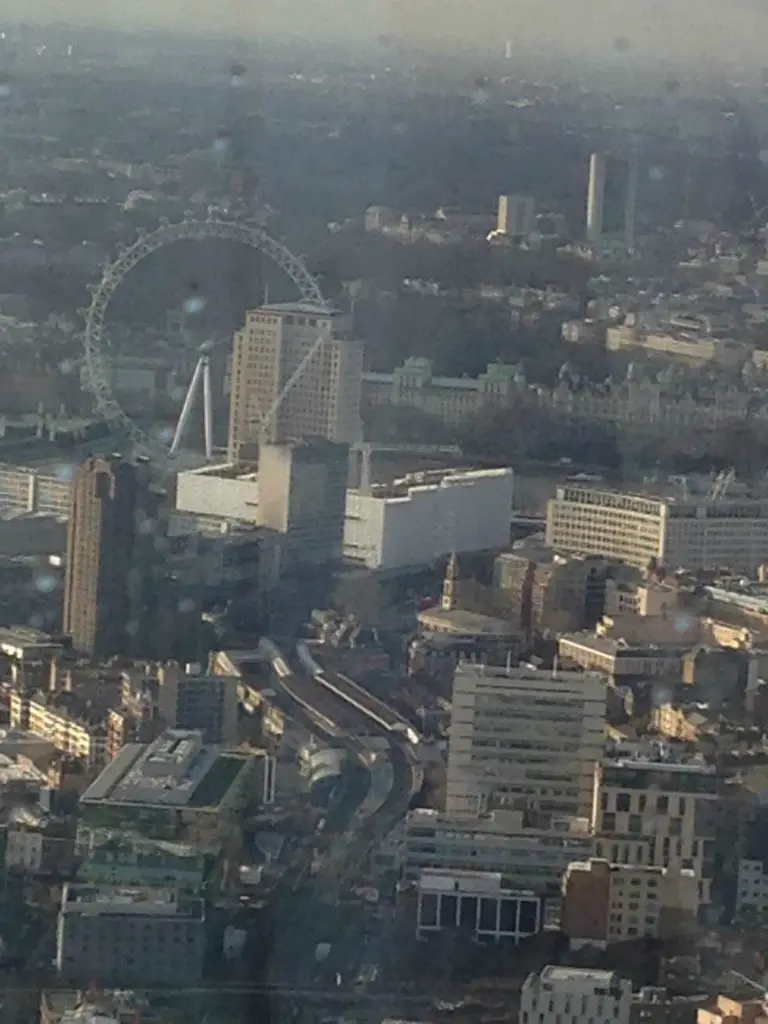 It's great to be a tourist in your own country sometimes.  I would definitely recommend The Shard as a place to visit when you come to London.    It is worth the money to pay £25.95 for an advance ticket – and actually, it's even worth it to pay £30.95 if you leave it until on the day!  It is not a place that is teeming with tourists (or at least, at 12:30pm on a Tuesday afternoon it wasn't) and one doesn't have to queue for long, unlike other attractions.
Looking for more things to do in London? How about Experiencing the London Eye, going on a Unique London Walking Tour or a Best Food Tour in the capital.
PIN for later