London – as you know – offers the tourist many sightseeing opportunities, and when I can, I love going back to the capital city in my country of birth and experiencing some of these sights and experiences as a tourist:
High Tea at the Berkeley Hotel

Accommodation in a

swish Kensington apartment

A visit to the

London Shard at night

.
This time was a trip to experience the London Eye.
**Despite any complimentary services received, all opinions remain my own**
The London Eye – background
Launched in 2000, designed by Marks Barfield Architect and standing 443ft (135m) tall on the South Bank of the River Thames opposite the Houses of Parliament and Big Ben, the London Eye (or 'Coca-Cola' London Eye as it's officially known) is the world's largest 'cantilevered observation wheel' (yes – I had to look that word up too and from what I can understand, 'cantilevered' means):
a projected structure that's supported only on one end, and has a 'load' on the other.
Take a look at my pictures of the London Eye to see what I mean about it projecting and being supported by beams – I think that'd be the best bet!
Anyway, back to the interesting stuff.  Did you know that it was supposed to be taken down and moved to a different location in 2005?  It only had planning permission for five years, but as it's become the UK's most popular paid tourism attraction (Source) it has become, for now, a permanent fixture.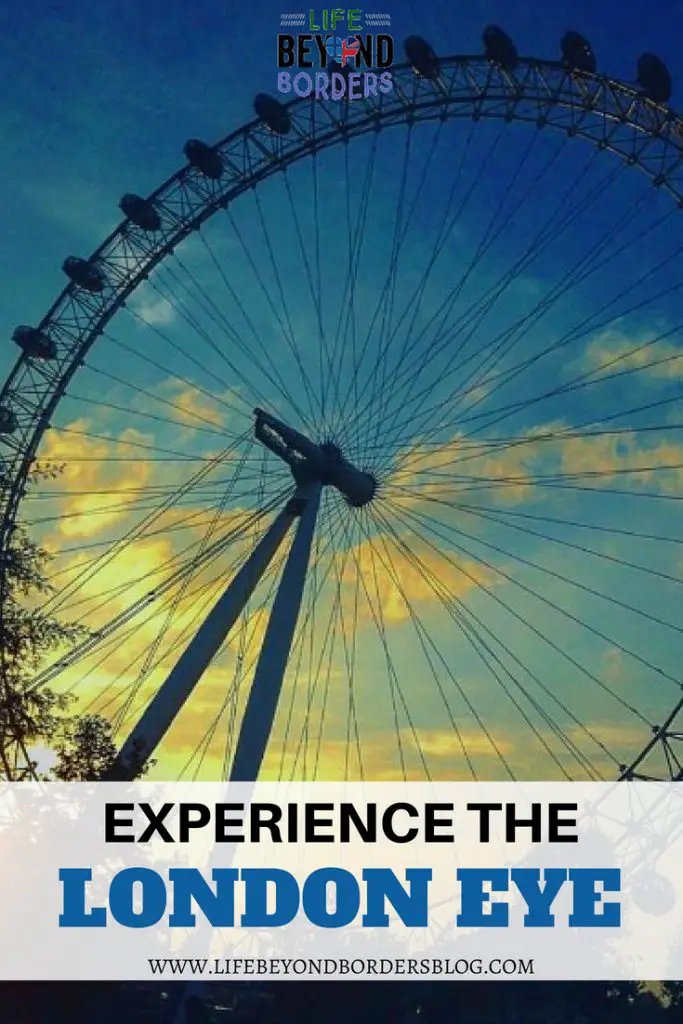 Known for offering magnificent views across London, and actually looking pretty spectacular when viewed from street level too, I was excited to try out my London Eye experience.
Fast Track Ticket to the London Eye
A Fast Track Ticket – normally retailing at £34.20 – allows you to whizz past the queues (which are very long) and board one of the 32 high-tech glass capsules more quickly.  It also includes a 4 minute 4-D cinema experience afterwards – more about that later. If you'd rather pay the Standard Price and queue up, this starts at £21.20 with a range of choices of Standard tickets, but for an extra £9.00 I think paying for a Fast track ticket is worth it, especially once I'd seen the queues.
The London Eye gracefully rotating
The capsules hold up to 25 people and it takes 30 minutes to rotate gracefully around the South Bank and view London in all its glory.  We had less than 25 people in our capsule, giving us more room to take photos and not have to bash or elbow people out of the way as we try to get that supreme shot.
Take a look here at some of the gorgeous images captured from my London Eye experience: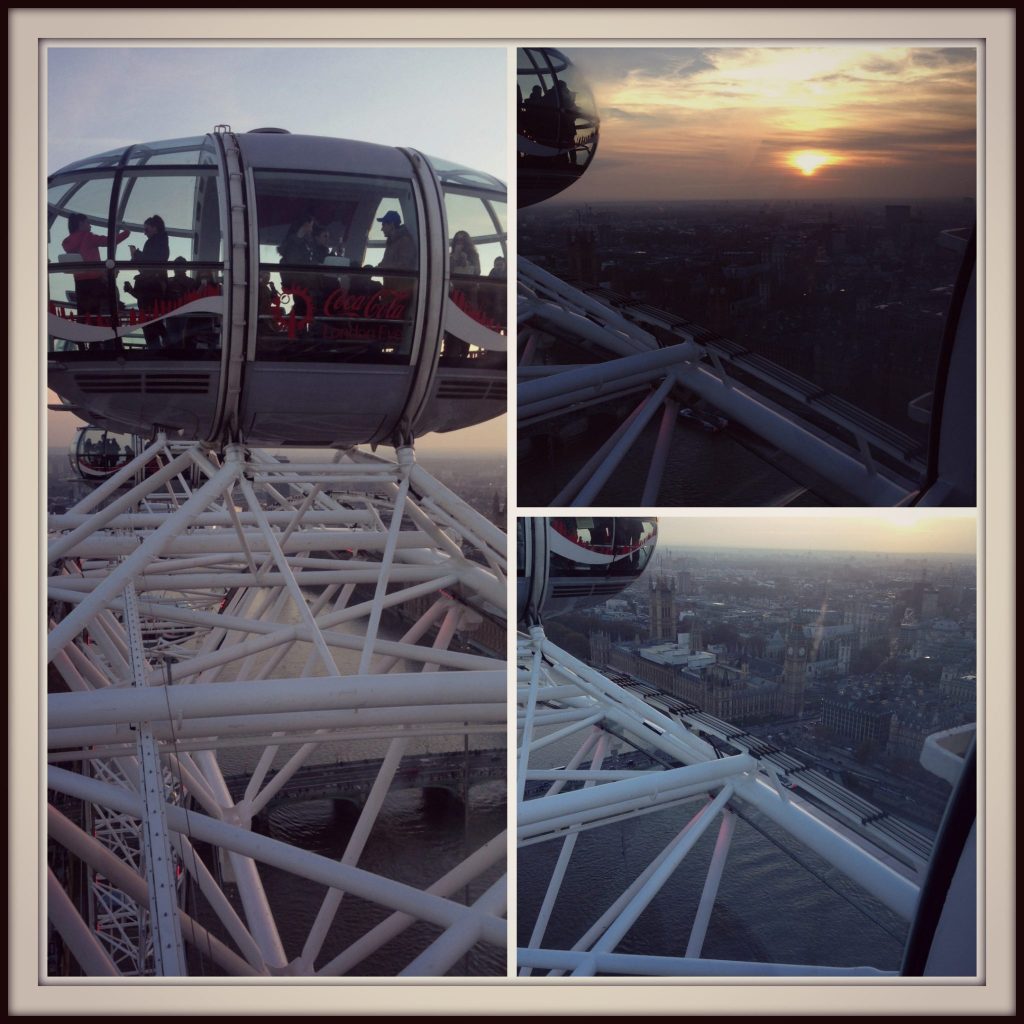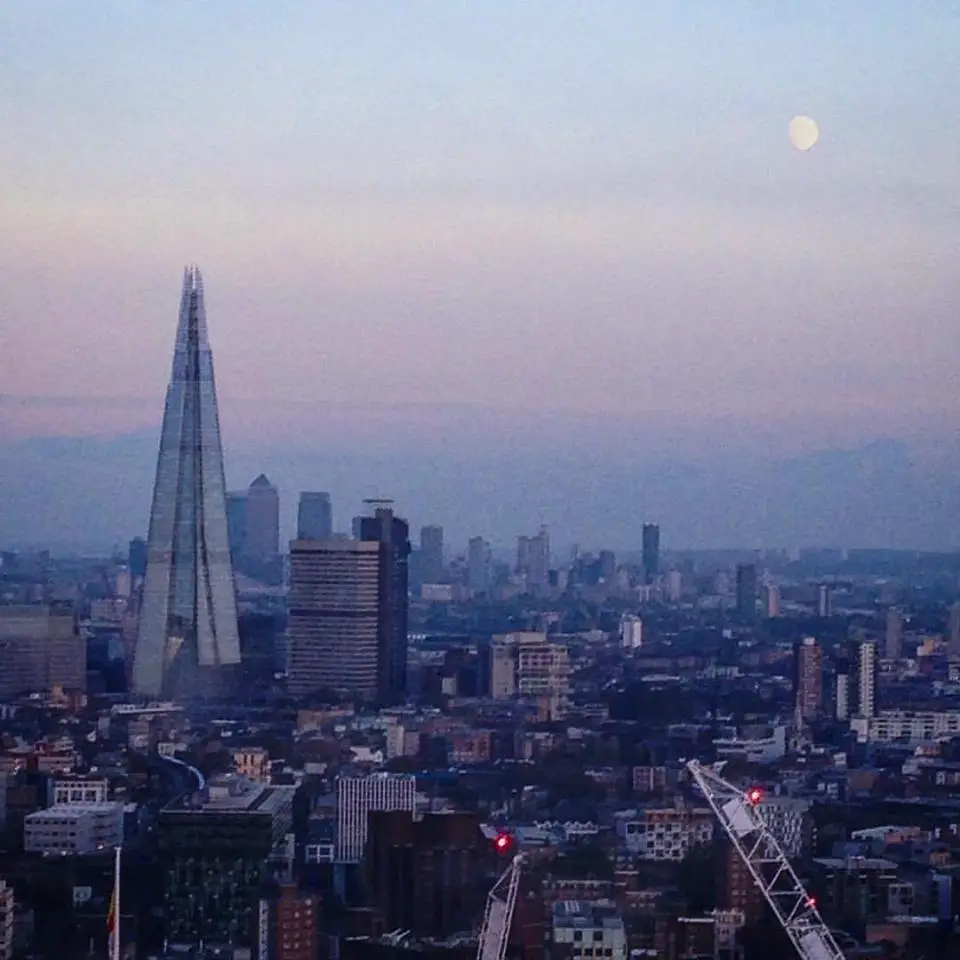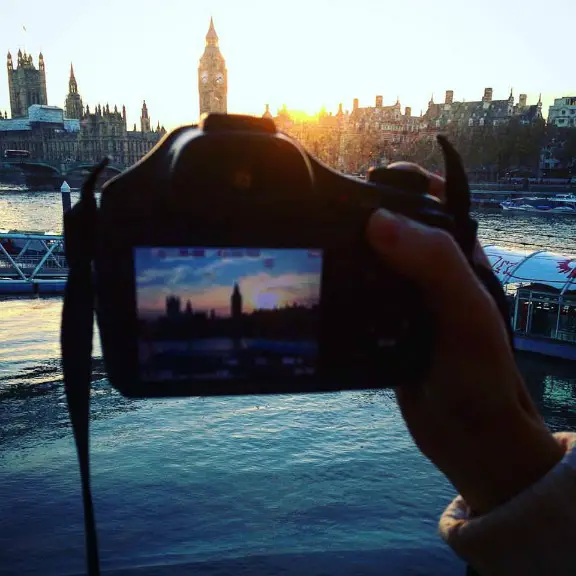 As you can see, I really enjoyed the rotating experience as the sun set over the Thames, offering stunning views.
Experiencing the London Eye – The 4-D experience
As mentioned above, after a 30 minutes rotation, we quickly exited the wheel (it doesn't stop but slows enough not to get disorientated and fall out of the capsule – just be prepared to be ushered out really quickly by staff because they have to then usher the next lot on) and made our way to the 4-D cinema.
Located in a small building by the ticket hall we waited outside two sets of closed doors and then they swung open, ushering us into the blackness beyond.
You don't sit down, there are two levels to stand on and the music strikes up and a 4 minute show reel of a nuclear family experiencing the Eye for the day is on the screen. The sweet girl sits on her father's shoulders and tries to catch blowing bubbles and giggles excitedly.  The bubbles are projected into the audience too, courtesy of our 4D glasses we're given to wear (note my slight tone of sarcasm).
A seagull flies over Parliament and judging by the expression on its face, looks like it wants to be on the wheel (to my mind, it's a seagull, it can just land on it can't it?) but again, the audience IS the seagull!  I think it snows at some point because guess what?  Snow and mist is blown into our little cinematic experience too.
Those that know me (and maybe some that don't) will cotton onto the tongue in cheek sarcasm, but it is a bit of harmless fun and the 4-D cinema experience is included in most ticket prices anyway, so therefore it's worth going.
Tip: The 4-D London Eye Experience is definitely more for kids.
London Attractions
For more info about the London Eye and other London attractions, head on over to view some more suggestions by Visit London. And if you're looking for a place to stay, why not check out Trip Advisor for some special London hotel deals?
Have you been to the London Eye?  What's your favourite London attraction?  Do share in the Comments.