Street Art in Athens, Greece
I knew Athens was a city with a lot of street art – but I wasn't prepared for quite how much until Alternative Tours of Athens took me under their wing and hosted me on a comprehensive three hour tour of the neighbourhoods of Metaxourgeio and Gazi to see all the street art that these Athenian neighbourhoods had to offer – and a bit about their history too.
**This post was originally written in FEB15.  It has been revised and re-posted in Sep17**
**All thoughts and opinions remain my own**
Street art [in athens] is a contentious form of 'art.'  Many see it as graffiti and indeed, it cannot be denied that there is a lot of pointless defacing of already run down neoclassical buildings in Athens (no money for the upkeep of these beautiful houses).
Street Art in Athens – Tagging
Graffiti originated in America, but was actually pioneered by a Greek living in Washington Heights – Takis Demetrakis.  In 1968, a lot of presidential campaigns were being stuck around the city, so Demetrakis thought 'Why not me too?'  Any graffiti he drew was always 'tagged' with his signature.    More on the origins of tagging and graffiti can be read here.
So I guess it is hardly surprising that street art is prevalent in Athens as the old saying that 'everything originates from Greece (or the Greeks)' can be true sometimes
Street Art in Athens: Metaxourgeio district
We met our guide, Maria, outside the – unfortunately now closed – Fashion House Hotel in Omonia Square.  Our street art tour started in the neighbourhood of Metaxourgeio.
First off, the Praying Hands located near Omonia Square on Pireos Street.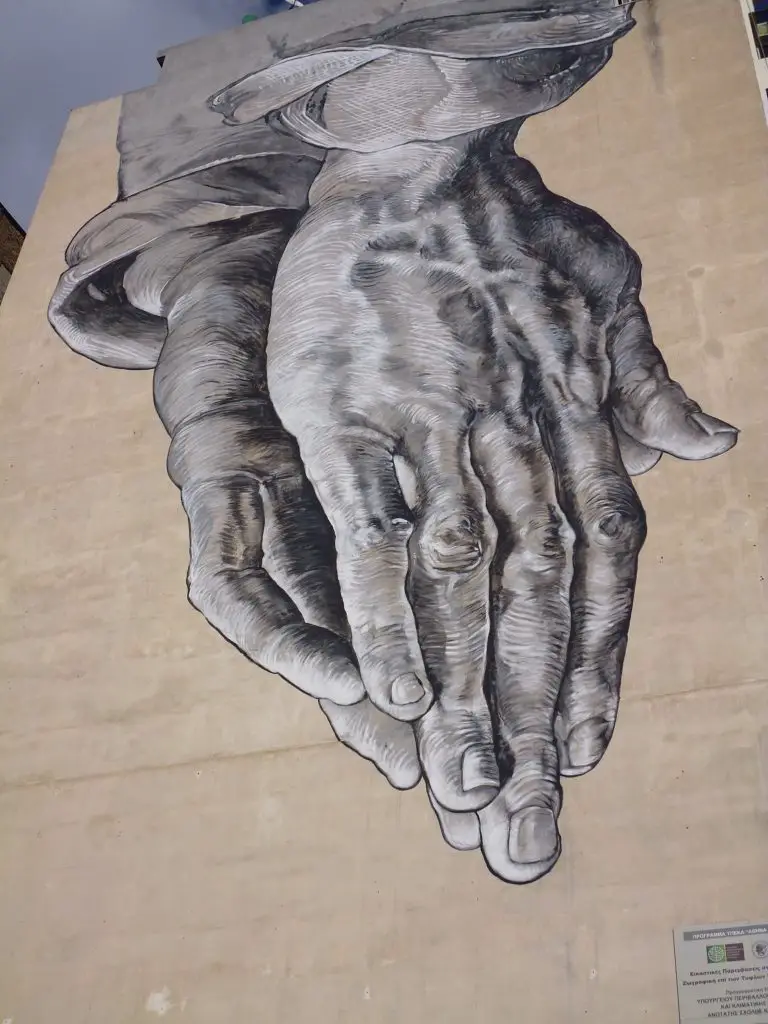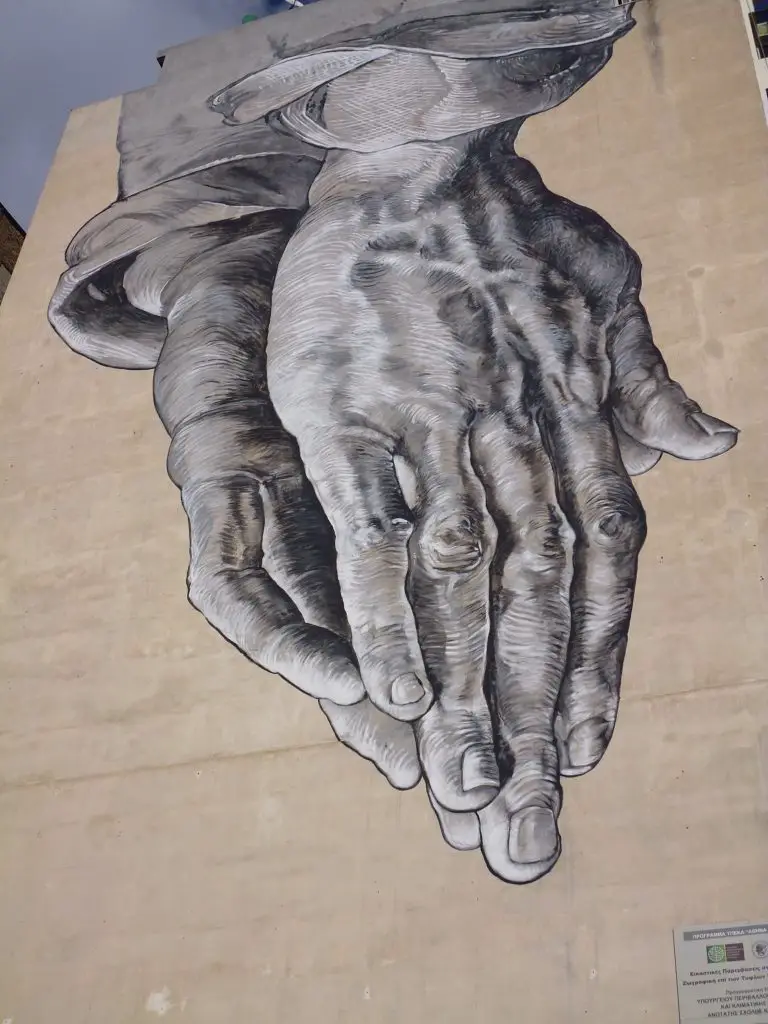 A project overseen by Manolis Anastasakos in 2011, this 600 square metre work of art has been deliberately painted to  represent a message that the city, due to the crisis, is in the prayers of God, praying down to them.  He is praying at the inadequacies of a government to dispel the crisis.  The hands, therefore, are God's hands praying for the people on earth.
It's a huge piece of street art on the side of a building that can hardly be missed.
As we wandered the side streets of Metaxourgeio, more and more street art popped up, along with the houses with a red light outside.  "Oh these houses look nice, can we take a peek?" I innocently asked.  Er no, Maria our guide led me gently away.  They were brothels apparently.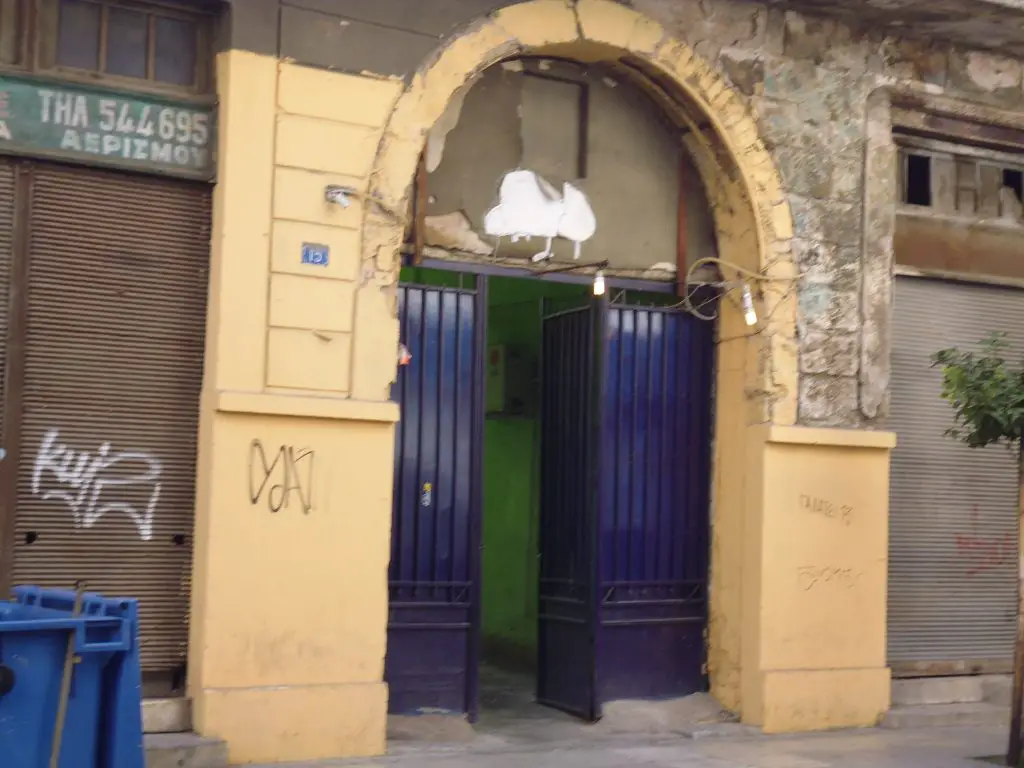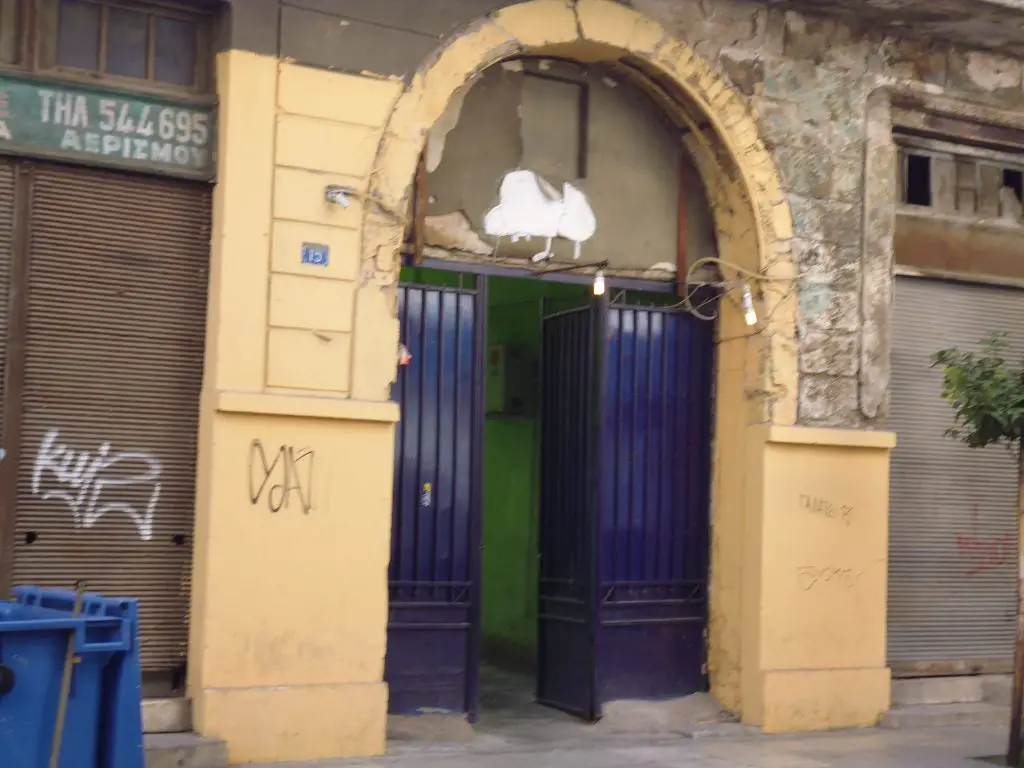 Works of art in this neighbourhood include Alexandros Vasmoulakis – who uses expressionistic and pop elements, De who uses stencils and makes art out of the letters D and E and Vangelis Hoursoglou – or Woozy – who started a support network for graffiti artists in Athens called Carpe Diem, whose aim was to provide a legal network for artists as well as a canvass.
You'll notice that due to a sign of the times, most street art in Athens has a political element / underlying message.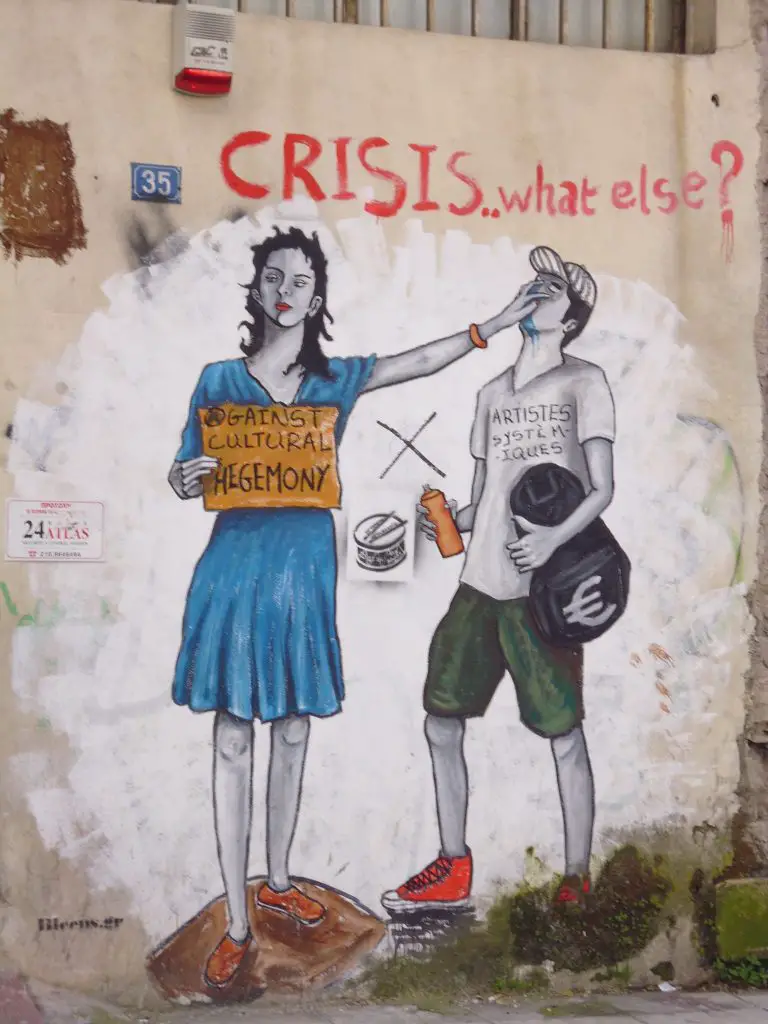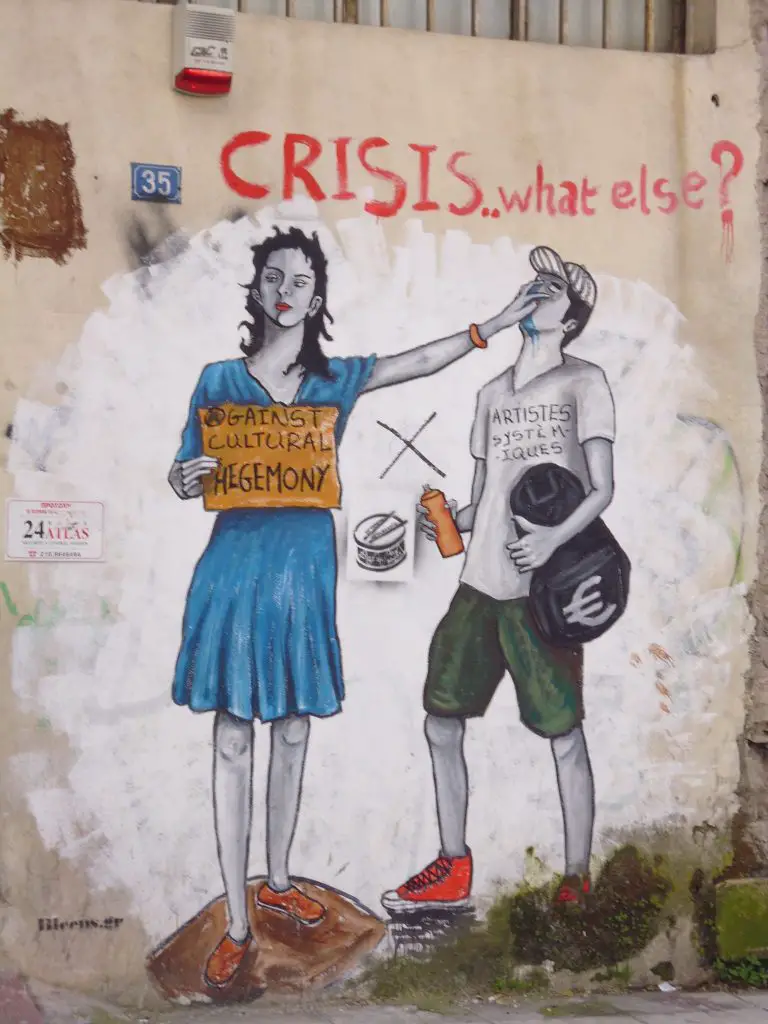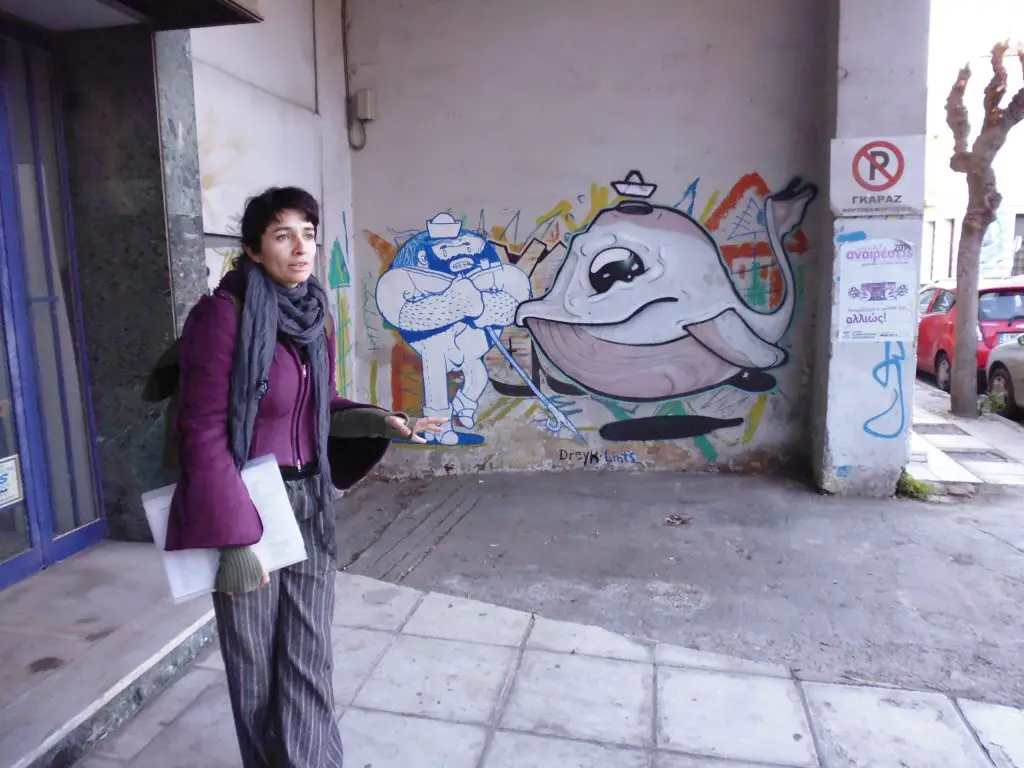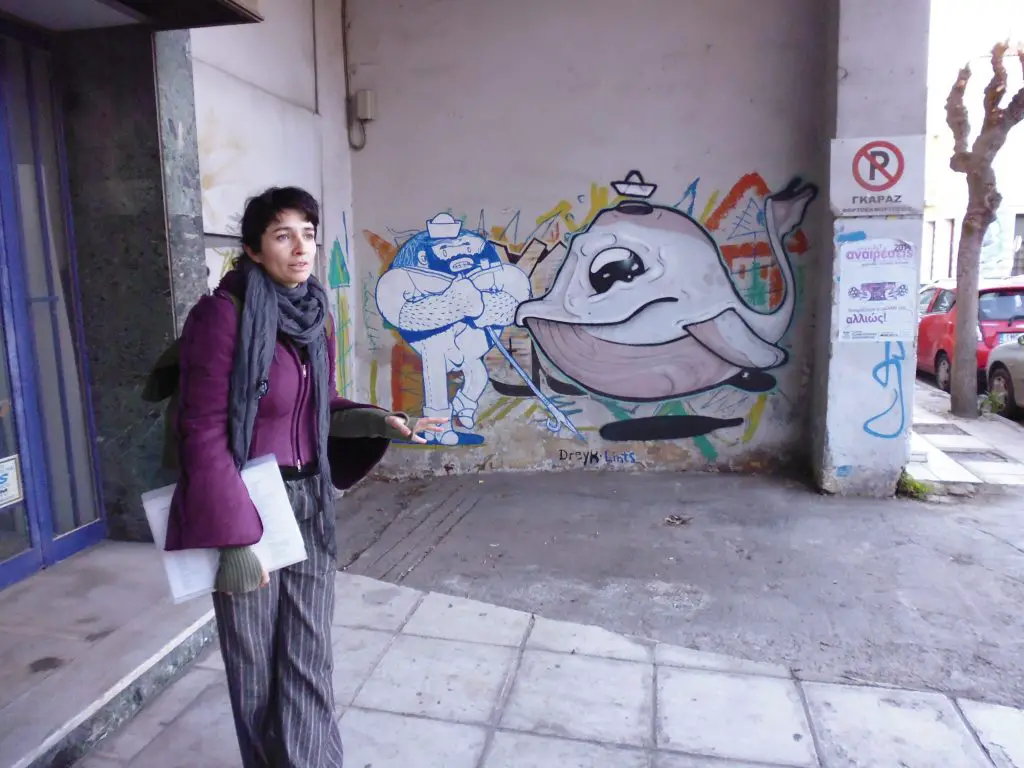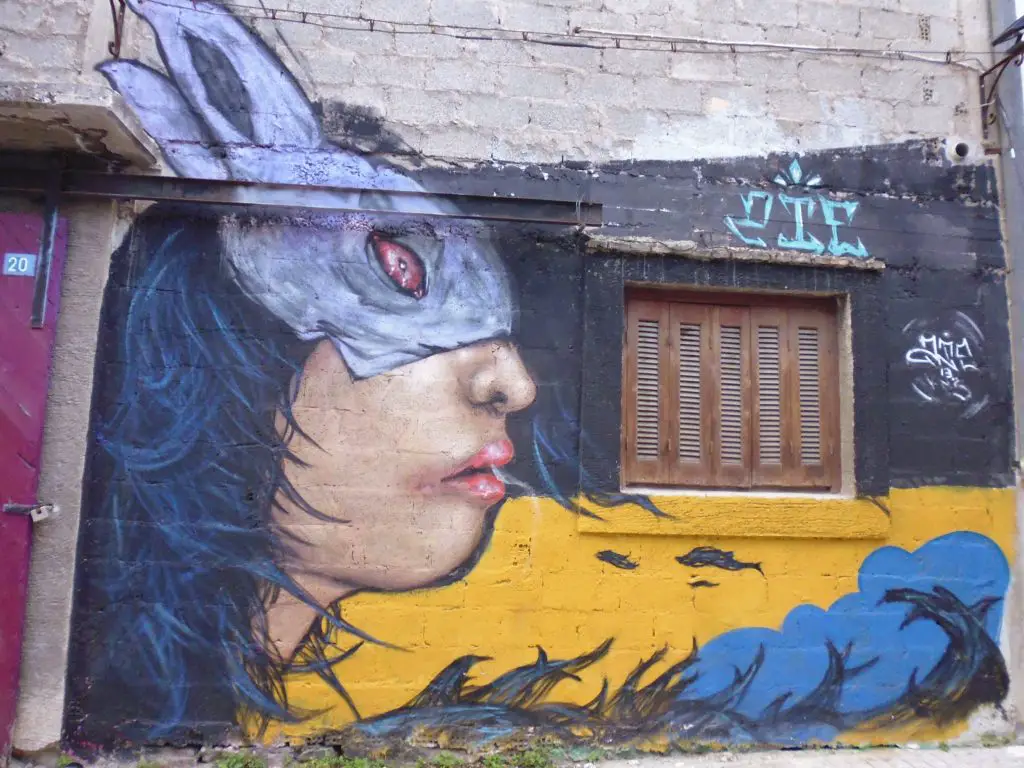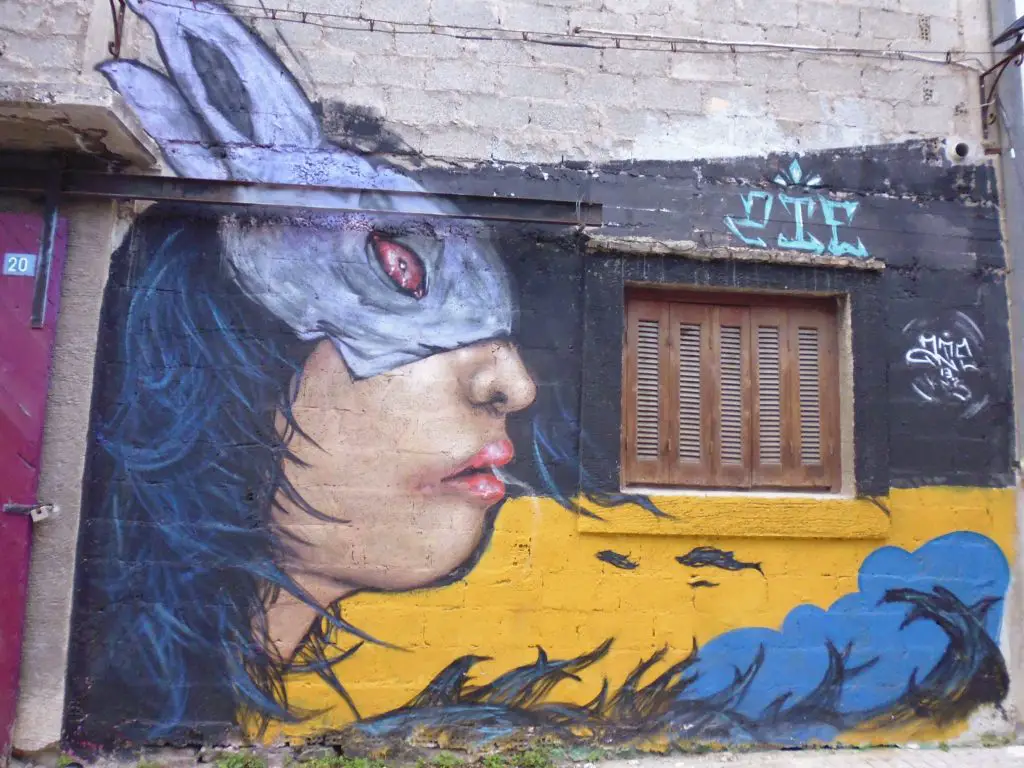 Street Art in Athens: Gazi neighbourhood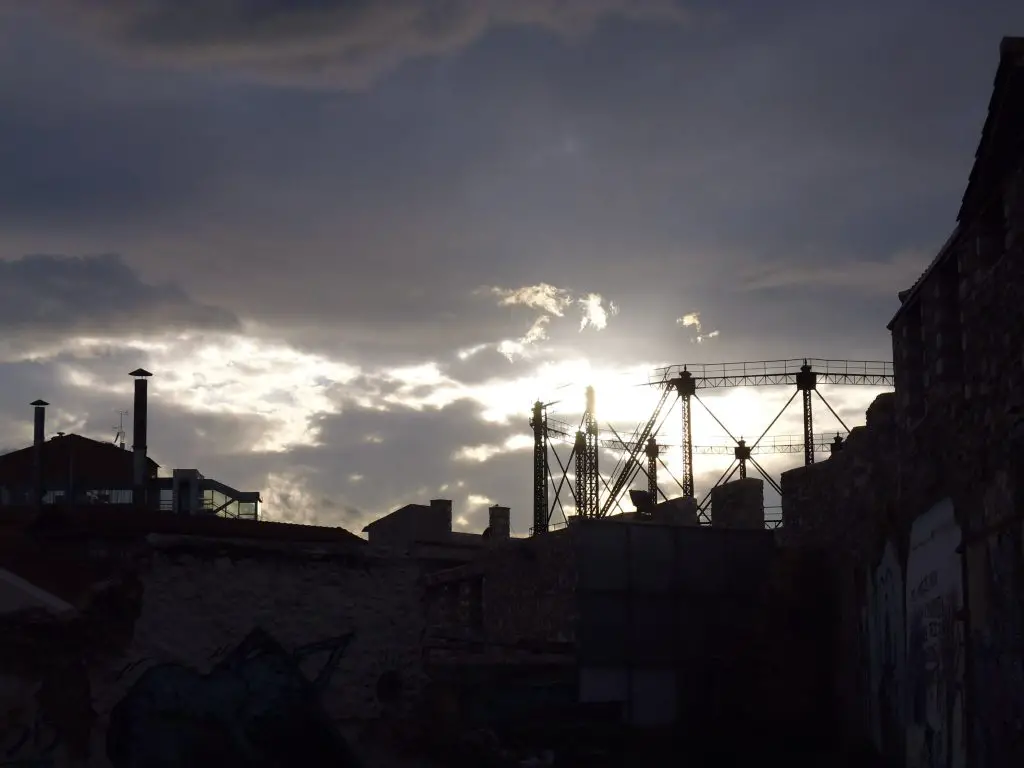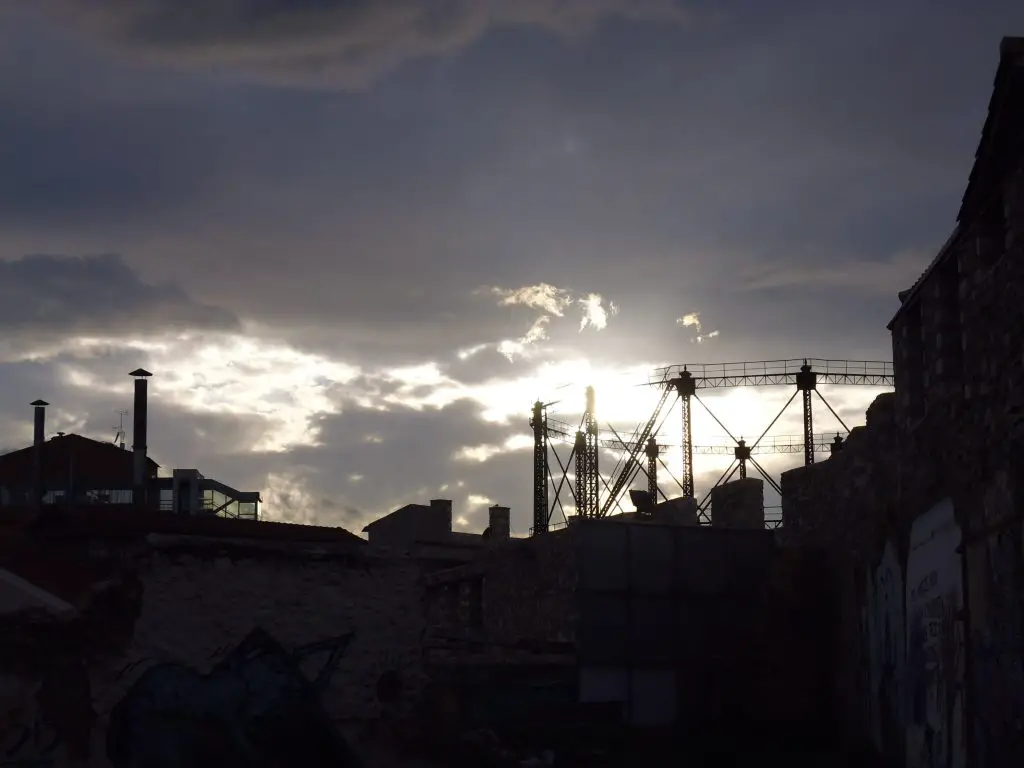 Next we had a look around the neighbourhood of Gazi – the old gas work district of the Greek capital.   Here you'll find a whole host of art, and not just from Greek artists either.  International artists – i.e.: WD, or Wild Drawing from Bali have made their claim here.
Take a look through the art in this neighbourhood: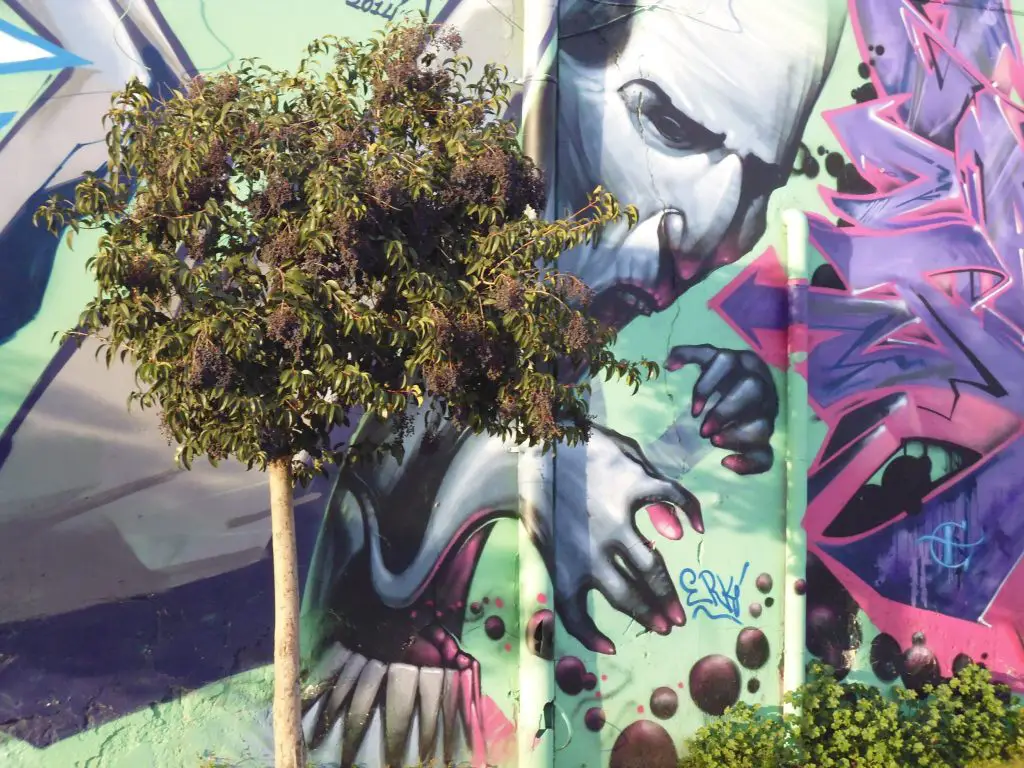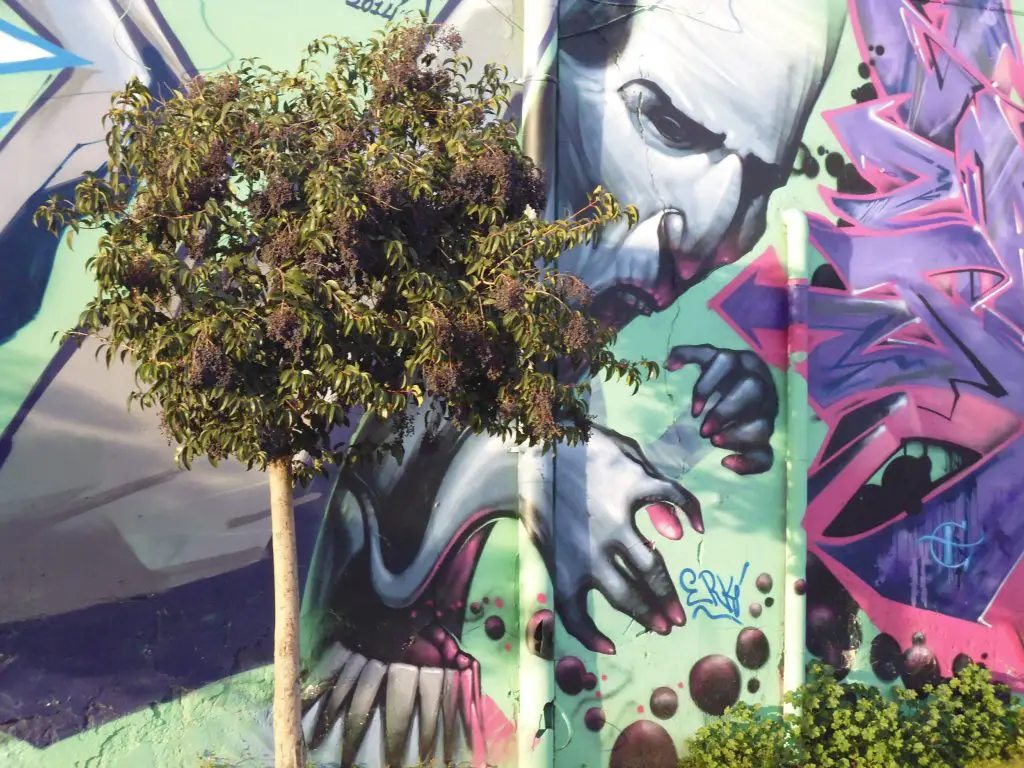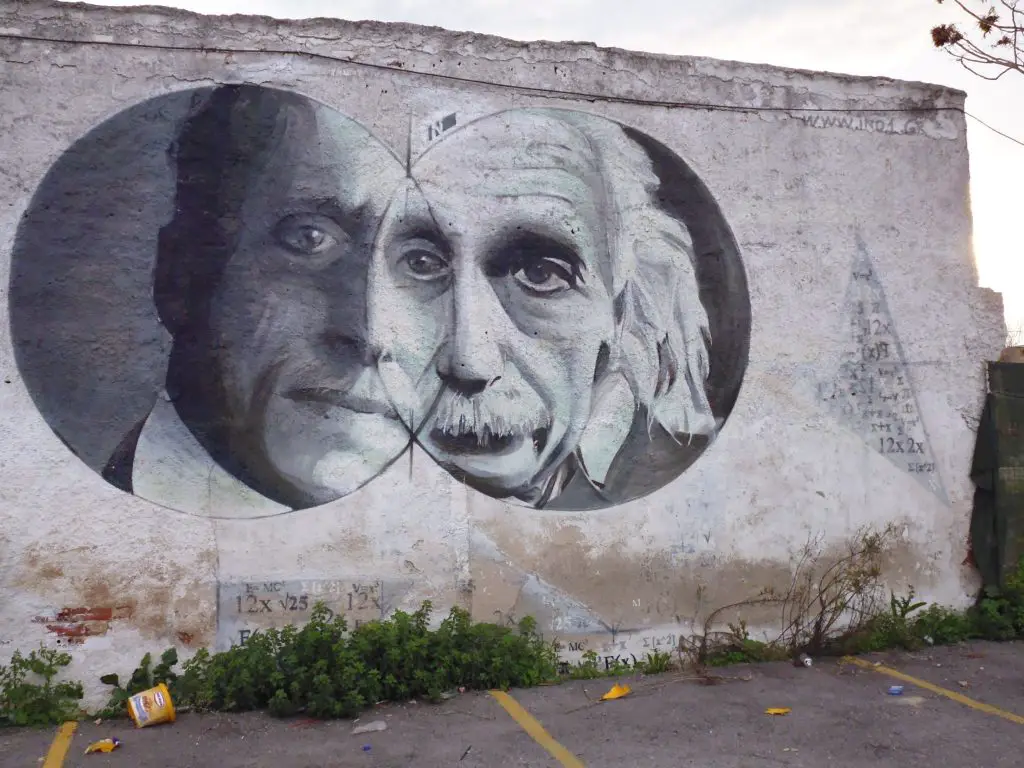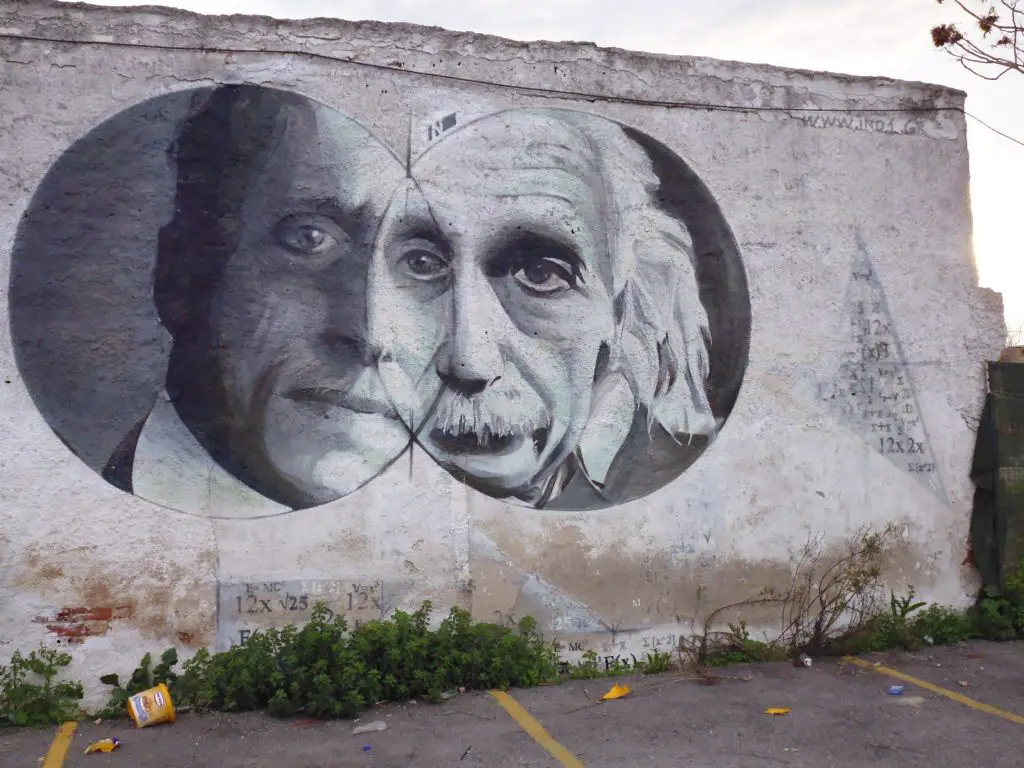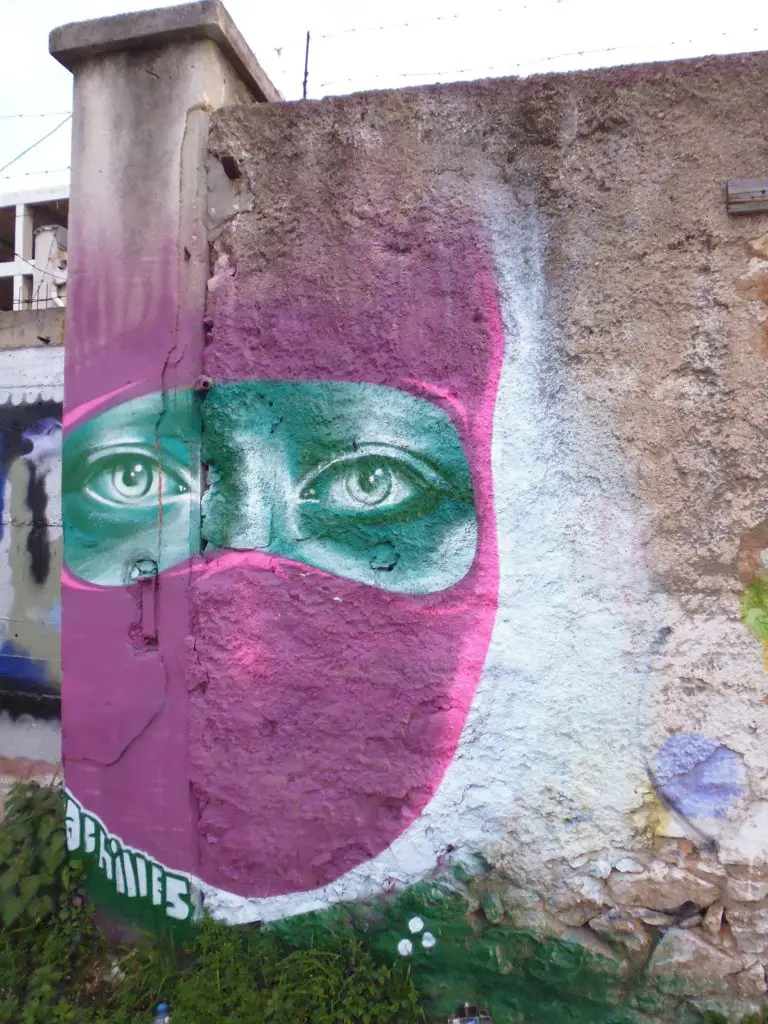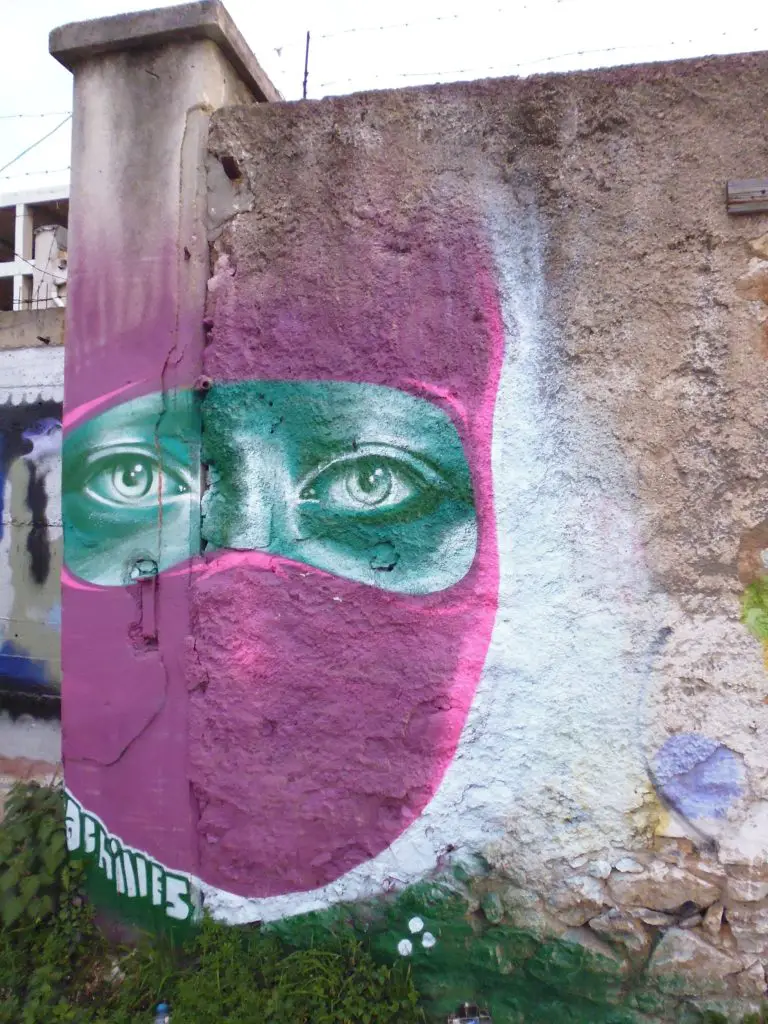 There're so many more pictures I could share with you.  This is a great taster.  Why not take a street art tour when you're next in Athens?  I'd highly recommend Alternative Tours of Athens – their knowledge is fantastic.  They have a whole host of tours on offer – from gastronomy to ancient monuments, and fun tours for kids too.
Tips for your Street art tour of Athens:
Wear comfortable trainers or walking shoes.  The tour takes three hours.
Bring a bottle of water
You will have a lot of names of artists given to you – so be sure to bring a notepad and pen
A three hour walking tour costs €10 Euro per person, with a €30 Euro minimum before the tour will take place (i.e.: 3 people minimum). To learn more, visit their website.
PIN for later