**Note: Despite any complimentary services received, all thoughts and opinions remain my own**
---
One of the best things about my visit to Portugal was the opportunity to visit beautiful areas such as the Douro Wine Valley region, and to explore and stay in Porto.
Portugal has also converted many old monasteries into five star lodgings and associated with the Small Luxury Hotels of the World brand. They are small(ish), intimate, lovingly restored to retain the original features yet not the basics you would expect in their original form.  I was fortunate enough to experience a night in northern Portugal sleeping in luxury in a converted monastery at the Pousada Mosteiro de Amares.
Luxury accommodation in Portugal – location of Pousada Mosteiro de Amares monastery
Nestled in the Peneda Geres National Park, 13km west of Rio Caldo – a place dramatically situated in a 'bowl' surrounded by mountains and with a huge reservoir, the place to head in the National Park if you wish to partake in any water sports – lies the tiny village of Santa Maria do Bouro.  There really is not a lot here – except exceptional beauty, a gorgeous church, the locals going about their every day lives, and the Pousada Mosteiro de Amares.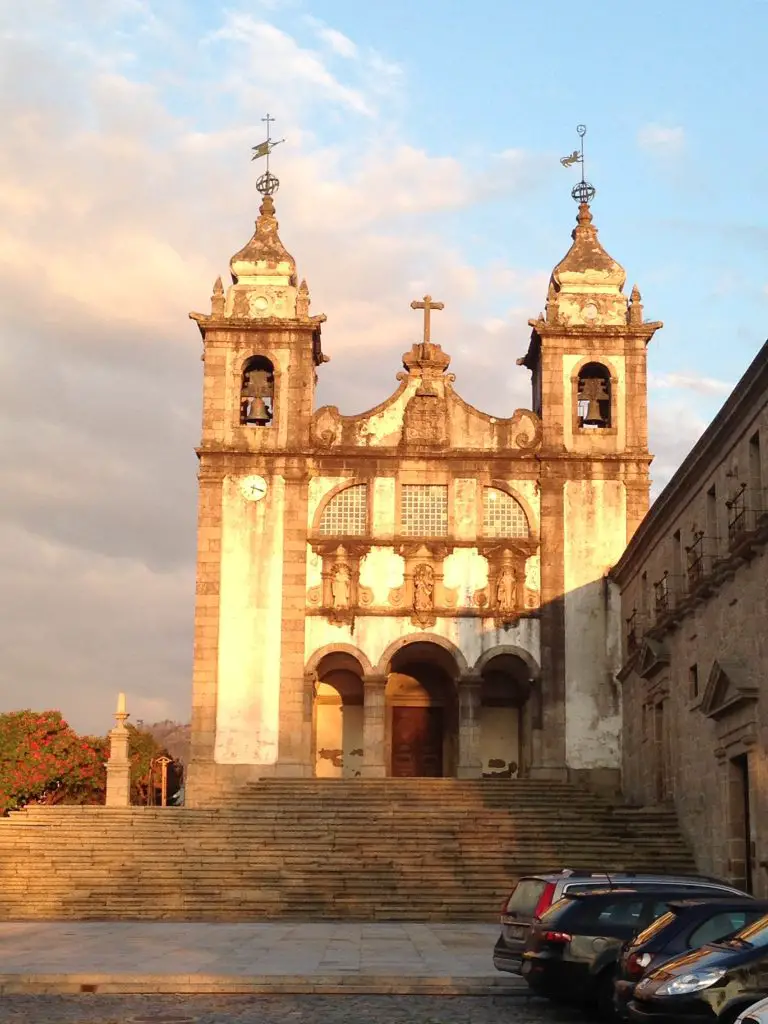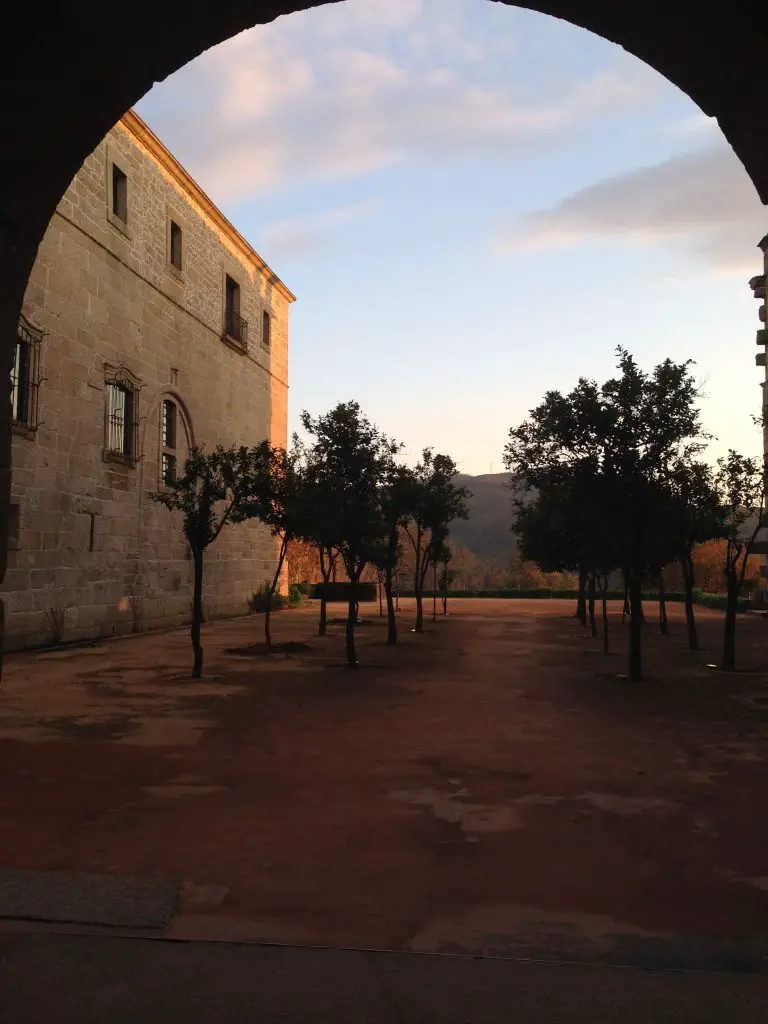 Luxury accommodation in Portugal – history of Pousada Mosteiro de Amares
To be honest, I'm a little unsure of the correct name.  All the signs around this accommodation refer to it as Pousada de Santa Maria do Bouro – which is the name of the town (a pousada is a place to stay in Portuguese, usually government administered).  But the 'hotel' refers to itself as Pousada Mosteiro (Monastery) de Amares (Amares is a town about 27 km west of the Geres National Park).  I suspect when the monastery acted as a monastery, it was the Mosteiro de Santa Maria do Bouro (The Monastery (of the town of) Santa Maria do Bouro). Get it? Yeah – I sort of do too.
Anyway:
According to legend, two hermits lived in the village many centuries ago.  Over several nights they both saw lights on a rock and after investigation, discovered an image of the Virgin Mary hidden by other hermits to keep her safe, as the country at that time was under Muslim occupation.  A small hermitage was constructed to harbour this image, and this in turn attracted pilgrims, leading later to the construction of the village's very own monastery.
The 12th century saw the monastery join the Cistercian Order, but religious Orders were extinguished in 1834 hence the monks living in Mosteiro de Santa Maria do Bouro were expelled and the building sold by auction.  The building started to degrade, but not the church next to it.
Pritzker Prize winning architect Eduardo Souto Mouro presented, in 1989, a plan to adapt the premises to a Pousada (accommodation) and works began in 1994, with the opening of the Pousada Mosteiro de Amares in 1997.
Luxury accommodation in Portugal: Inside Pousada Mosteiro de Amares
The old stone monastic corridors have been retained, and the monk's cells restored into beautiful en-suite bedrooms with comfortable double beds, internet access and gorgeous views from the windows to the forested valleys beyond.  The monastery is built in a square around a courtyard, so all corridor windows look into this gorgeous and peaceful courtyard. Accommodation is on two floors, and wandering along the corridor to my small but comfortable and relaxing bedroom, I looked out at the courtyard and couldn't help but feel a sense of peace.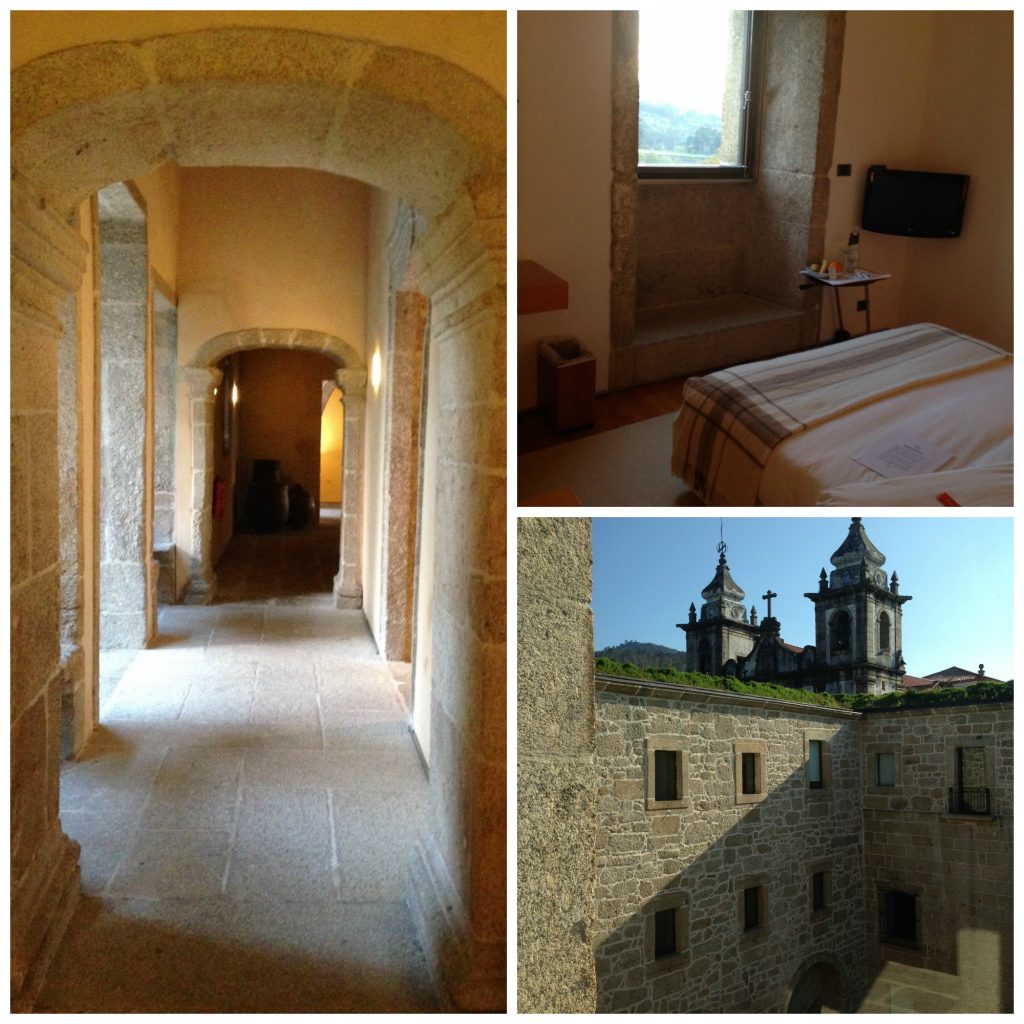 Breakfast was eaten in the beautiful restaurant on the ground floor level, again with original features such as stone arches, magnificent fireplace and masonry reminiscent of medieval times.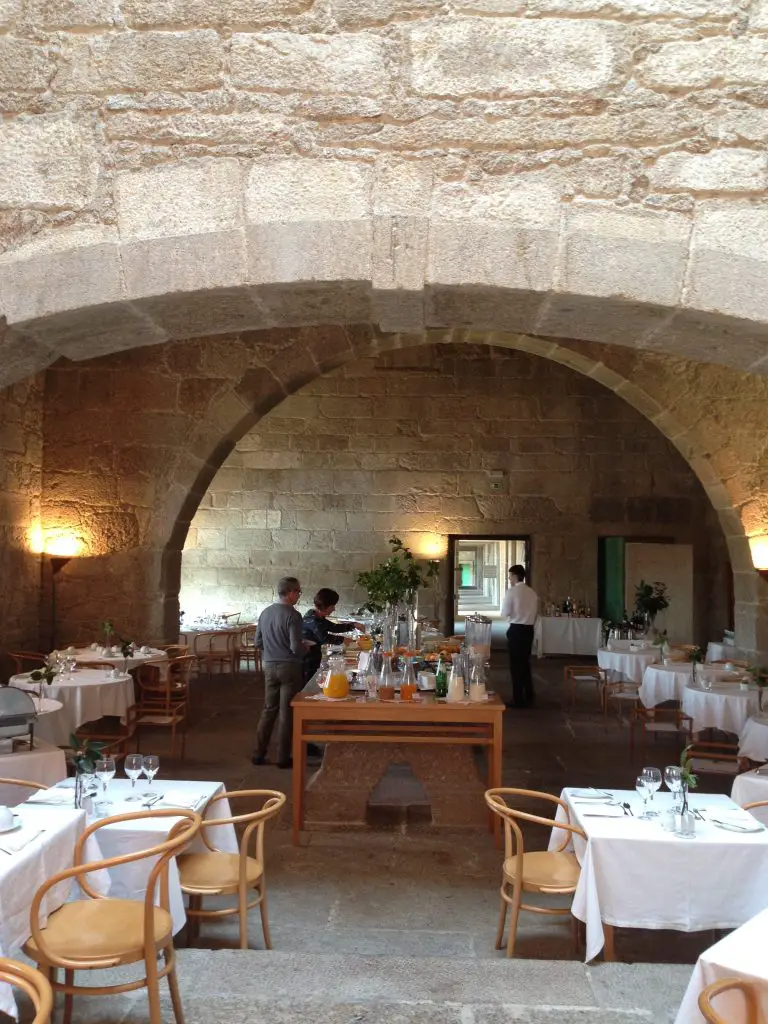 An example menu of an evening meal at Pousada Mosteiro de Amares Monastery:
Convent Codfish (of course!  It's impossible to go anywhere in this region without some dish consisting of cod)
Octopus in Olive Oil and Garlic in minced White Cabbage
Free Range Chicken with Malandrinho Rice
Pork Meat – Amares style
Caramelized Apple and Geres Honey with Porto Wine
Chocolate Souffle with Ice Cream and Raspberry sauce
Naturally, dietary restrictions are catered to if advanced notice is given.
Overall, the Pousada Mosteiro de Amares is a perfect place to stay for one or two night as you explore the Minho region of Portugal and the Geres National Park.  It's also the perfect place to arrange your wedding or reception.
Amenities in the Pousada Mosteiro de Amares
Set in historical and aesthetically beautiful surroundings
Restaurant
Bar
Minibar in room
Outdoor swimming pool
Tennis court
WiFi Access
Parking
Laundry service
Safe
**Please note: As part of my Rough Guide research, I was a guest of Oporto Adventure Tours. **
Facts: The Pousada Mosteiro de Amares offers 32 rooms and is open all year round.  Prices average at EURO €201 a night in Mid-Season (01APR-28JUL and 18SEP-31OCT) for a double room.  Weekend rates (Sat night) creep up.
Book your accommodation at Pousada Mosteiro de Amares where you can see the deals on offer.
I thoroughly enjoyed my night at the Pousada Mosteiro de Amares.  It was an alternative place to spend the night, seeped in history and beauty.  I found myself wondering if a monk had slept in my room before it was converted, and my overactive imagination wondered if he would be visiting me that night!  But no, the only noise I could hear, through my open window, was the hoot of an owl in the wooded valley of the National Park in the distance.
If you're looking for something a little different during your stay in this region, don't miss out on the opportunity to stay here.
PIN for later